Looking for ways to have more money? Whether you are struggling to make more money or save more money, money issues can cause a lot of stress. Use these ways to get free money.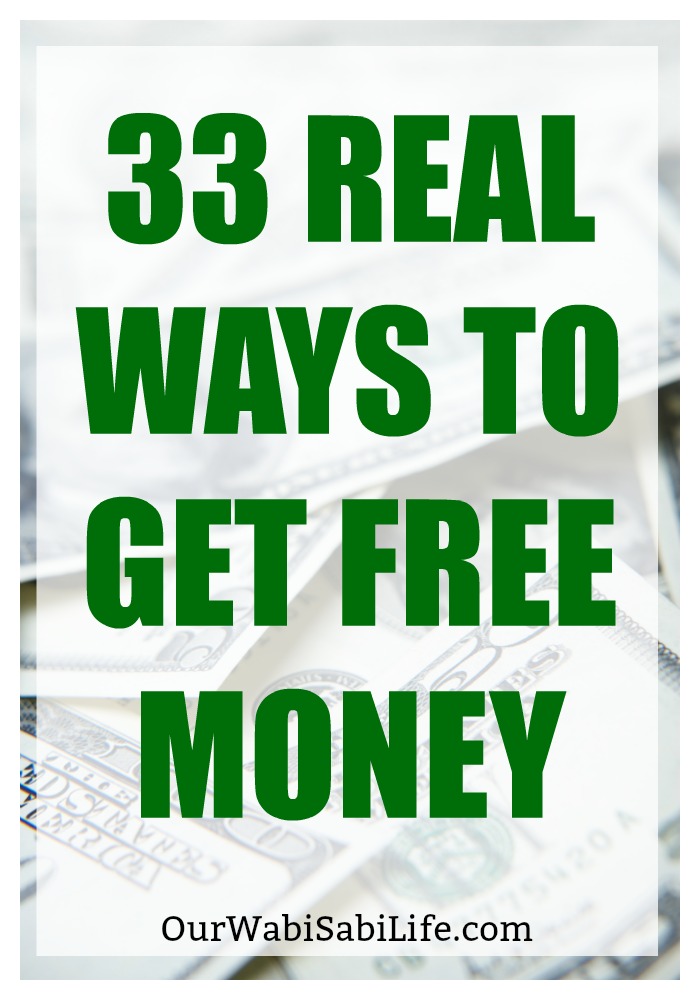 Yes, you read that correctly. There are ways to get free money. There are ways to get free money from the government, free money for college, free money from crowdfunding sites and free money from online sites.
Ways to Get Free Money from Companies
One of the easiest ways to get free money is to take advantage of promotional offers and bonuses from companies. This ways to get extra money is doing things like opening a savings account or a new checking account, or by applying for a credit card. Companies offer these bonuses in order to get new customers and you get the money by signing up. That is free money for doing something that you might be in the market for anyway.
Sometimes these companies pay up to $100, but most often it is a smaller bonus like $5 to $10. While this may not sound like a lot of money, and you certainly are not going to get rich from it, combining the money from many of these companies and it could add up to hundreds and even thousands of free dollars.
Finding these companies in order to earn free money can be hard. Use this list in order to find ways to make extra money that you can use to save money or use towards a larger purchase.
If you are looking for other ways to make more money try:
Free Money from the Government
There are many programs that help people and provide free money. Most people don't know about these programs that are offering free money.
Money for College
When Joey started college a few years ago, I was blown away with how much it was going to cost. When I went to college I went to a local community school and it was all covered by financial aid.
Ways to get money for college
The first thing to do when looking for free money for college is to look into financial aid. Parents fill out the for and it helps them to see how much money the family qualifies for. In addition to that financial aid, there is also the PELL grant. This is a grant that does not need to be paid back. While this is free money for college, it won't cover the full cost of school. The maximum amount is $5,920 per semester. There are factors that determine how much you will get and you might not qualify for the maximum. Check out the website to learn more about this grant, how it works and how to apply.
Help to Avoid Foreclosure
Many people struggle to make their mortgage payments. This can lead to foreclosure. There is a government program called HOPE, the Home Ownership Preservation Foundation. It is a website that is designed to help people stay in their homes. With more and more people struggling against foreclosure and the issues with the housing market, this program can be just what you need in order to stay in your home. Learn more about possibly getting help with your mortgage and have a plan set up for you. Call the organization on 888-995-HOPE, or visit its a website at 995HOPE.org.
Help with Renting or Buying a Home
There is a part of the government called HUD, which is the United States Department of Housing and Urban Development. HUD is designed to support home ownershipand rentals. It is a great resource for anyone who is a homeowner, who wants to be a homeowner or tenants. HUD offers cash for things like down payments and closing cost. To get more information and to see how it can help you, visit HUD.org. There is also a rental assistance page with information about the Housing Choice Voucher program, also known as Section 8. This program can help pay part or even all of your rent.
Unclaimed Money
As you leave one job and start another sometimes you don't get that last check. Sometimes you start a bank account and then forget about it and you move, or just start using another bank account. Or maybe you have put down a security deposit with a utility company and never gotten it back when you moved. This money is waiting for you.
There is a website named Unclaimed.org that is there to help you find money that you have coming to you. This website is run by a government agency that is holding over $3 billion dollars in money that is owed to people.
When you are ready to look for money that is owed to you, go to unclaimed.org and click your state. Then search your name to see if there is money owed to you.
If you have lived in multiple states, you can search on a federal level by using MissingMoney.com.
Unclaimed Pension Benefits
As you work at different jobs, you might have had a job that started a pension plan in your name that you have forgotten about as you have moved from one job to another. You could be owed pension benefits. According to the Pension Benefit Guarantee Corporation, there are 38,000 people who haven't claimed the pension benefits that they are owed. This adds up to more than $300 million dollars
How to find pensions you might be owed
Step 1: Go to https://www.pbgc.gov/search/unclaimed-pensions.
Step 2: In the search box, enter your name or the name of any company you've ever worked with and hit "Search."
Step 3: Click on your name (if the displayed results show it.)
Step 4: The next page will tell you how to contact them to get the money owed to you.
Cash to Make Your Home Energy Efficient
If you need to make your home more energy efficient, then the governement have free money to help you do that. Things like having the house properly insulated, buying energy efficient windows and installing weather stripping can go a long way to reducing your energy bills. The government is helping people with the Weatherization Assistance Program. They are willing to help people with up to $2500 to make their homes more energy efficient.
Get Help with your Taxes
Taxes themselves are stressful for most people. Trying to figure them out is even harder. It can cost a lot to get the taxes done by a professional. There is an initiative from the IRA called Volunteer Income Tax Assistance (VITA). It is for people with low income to help them get their taxes done. For more details on the initiative, visit the website, or call 1-800-829-1040. It isn't free money but it can save you about $100, which is like getting free money.
Get Cash Back from Websites
There are a lot of sites that let you get money back when you shop using their sites or report your shopping to their sites. It is easy to do, and it is money you are spending anyway. It is a simple way to get money back.
Coupon Cactus offers both discount coupons and cash rebates. The sign-up bonus is $3, the minimum requirement for cashing out is $10.
Ebates has been around since the late 90's but these days, it is growing in popularity. It is a cash back site that pays you to shop through their website. As you search their deals, and most of the times they are great deals, you get money back on what you spend. If you do a lot of online shopping, you would be crazy to not use Ebates. Also, as you refer friends to Ebates, you will earn $25 per referral. Right now, there is a bonus for joining: Either a $10 Walmart Gift Card or $10 Ebates cash bonus. You get $10 just for signing up.
Sign up for ExtraBux and you will earn 30% cash back on anything you buy through their site. That is a great saving on something you want to buy anyway. Also, when you sign up, you get $5 just for signing up and providing some details. The cashback rate is high and there are over 2,500 stores to shop from.
BeFrugal is just like Ebates. It is a cashback and coupon website. As you are shopping, you earn money back as you are buying what you already want to buy. Also, just for signing up, you earn $10.
MrRebates is another site like eBates. It has over 2,300 participating stores and the number is still growing. There is a $5 sign up bonus and you can cash out when the account reaches $10.
ShopAtHome is a cashback and deals website. When you sign up for the site, you can get another $10 bonus!
Free Money for Opening New Savings and Checking Accounts
There are a lot of different banks that offer sign up bonuses. The bonuses are usually dependant on things like adding a deposit or maintain the balance. Be sure to check what each account needs in order to get the free money.
When you open a Chase Total Checking account, and use the available coupon, you can get a total of $350. When you open the account with at least a $25 deposit and have a direct deposit within 60 days of opening the account, you will get $200. Open a saving account and get an additional $150.
If you have a child in your life under the age of 12, open a Citizen Bank CollegeSaver account. When the child turns 18, you will receive $1000  plus interest if you make the madatory monthly deposits each month, children under the age of 6 – $25, children 6-11 $50.
Take advantage of the U.S Bank Start Smart Savings program. As a member, you will recieve a $50 bonus when you are a new customer oprning a Silver Checking or if you have a money market account. When you open the Silver Checking Package, you will need to schedule a qulifying transfer from your money market account. Once both accounts have been open for 12 months, you will receive your bonus.
Free Money for Opening New Credit Cards Accounts
There are credit card companies that are happy to pay you for getting one of their cards. You can use this money any way you want. If you have good credit this is a great idea to get a little extra cash. Just make sure you are making good credit decisions.
With this card, you can get 10,000 bonus ThankYou points.
Get $150 back in the form of a statement credit, when you spend $1,000 in the first three months on purchases on this card.
When you spend $1,000 on purchases using this card in the first three months, you get $250 back in the form of a statement credit.
Once you have been approvedfor the Capital One VentureOne reward Card, you will get 20,000 bonus points once you spend $1000 in the first three months. Using the point converstion, this is like $200 in travel rewards.
With the Savor Dining Rewards, your get 3% on all dining charges, and between 1% to 2% cash back on other purchases. You will receive $150 in bonus cash if you spend $500 in the first three months.
This credit card offers 30,000 American Airline AAdvantage miles if you make $1000 worth of chrges in the first three months. Some flights are available for 7500 points so you should be able to book several flights.
This card offers 50,000 American Airline binus miles with you spend $5000 in the first three months.
This card offers 60,000 American Airline AAdvantage points when you spend $3000 in the first three months of opening the card. This is a great deal for someone who flies often.
With this travel card, you will earn 25,000 American Airline bonus miles when you spend $750 in the first three months.
This card goves you 30,000 binus points as a ThankYou when you spend $3000 in the first three months. These points vary in value depending on how you redeem them.
With the Expedia+ Card, you will earn 15,000 Expedia+ points that can be used towards free travel when you spend $1000 in the first three months.
With this card, make $2000 worth of purchases in the first three months and you can earn 25,000 Expedia+ Bonus points. Redeem these points for free travel stuff, like flights and hotel stays.
Free Money for Transferring Your Prescription
being the ones to fill your prescription is a big business. All of the pharmacies are competing for your business. These different pharmacies are offing anything from cash or gift cards to get you to become a new customer and use them for your prescriptions.
RideAid will give you $25 wellness+ BonusCash within 24 hours of you transferring your prescription to them.
Safeway is offering up to $75 in gift cards when you transfer your prescription to them.
Other pharmacies offer these kinds of deal off and on during the year. Look for the coupons and ads and then you can take advantage of their offers as well.