Every Spring we build fairy houses. It has been a tradition since my boys have been very little. We love fairies. So as the weather turns nice, we start building new houses, since the weather tends to make our old ones, um, not so nice.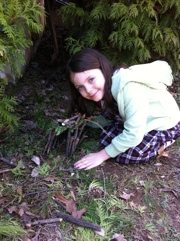 See as much as we love the fairies, we refer them outside. When things start to go missing in my house, it is usually those mischievous fairies at work. So with a new house, and some fresh flowers, some new furnishings, and nice leaves, we have happy fairies who help make our yard beautiful and leave our things alone.
We start with some sticks to make the walls. Add some rocks for seats. Some nice moss for bedding and leaves for comfort. Once Serenity even made food. She made a kitchen and set crumbs in there. She checked the next day and was so happy to see the crumbs were gone, the flowers moved and the bed rustled, because the fairies slept in it.
Recently I was visited from a different fairy, the Fairy Hobmother. The goal of the fairy Hobmother is to flutter through the blogosphere, spreading light and joy. Popping by from his site to say Hello, he brings gifts to the bloggers he visits.  And if you are interested in receiving a visit from him, be sure to comment on this post, and maybe he will stop by and pay you a visit.