This post contains affiliate links. If you buy something from them, I earn a small percentage that helps keep The Spring Mount 6 Pack running.
I love making crafts and my kids love to play things that we make. When we received a copy of Wee Felt Worlds- Sweet Little Scenes to Needle Felt to review, we were thrilled. I have done crafts with felt before and I have done yarn crafts before but I had never ventured into the world of roving. Roving is essentially carded wool drawn into long continuous strands. It is available online and in small and large craft stores. It comes in al kinds of colors. IN general, the medium to coarse wool works best for needle felting.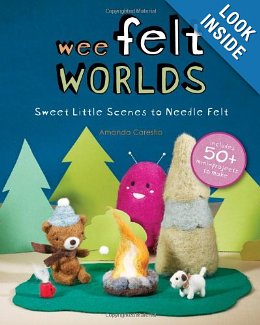 To make these needle felt crafts, all you really need is wool roving a felting needle and somewhere to work. That means, for little investment, people can jump in and start making the fun scenes in this book. Scenes like a forest campout, complete with trees, campfire a bear and his pup or Little Miss Crafty and her crafting area. If dinosaurs make your little one happy, there is a dinoland, with several types of dinosaurs, including my favorite a stegosaurus, fossils and a nest with eggs. In our house, aliens is a big theme (does that explain the Alien StickMan?) so we can make a spaceship, alien girl, a planet, and an alien living room. Kids can play with a circus, a candy shop, a science lab, a woodland that can also go along with the camp out scene, or even a pirate island. The pirate island contains a pirate map, pineapple tree skull, and a crab. There is even a Deck the Halls scene to make.
How much fun for kids to have a hand in making these cute play scenes or knowing that someone cared enough to make these scenes for them. One year, I made my kids food for their play kitchen with felt, and even now 6 years later, while it may be  tattered and beat up, we call it well-loved, it is still their favorite part of playing kitchen. These play scenes can be that for many children.