As women, we are busy. It doesn't matter if you have no kids or 15, women are always working on something. And as part of our nature, we tend to leave the things that matter to us, or are essential to us as last on on our list. For our own well being, it is important that there are certain things that we always make time for.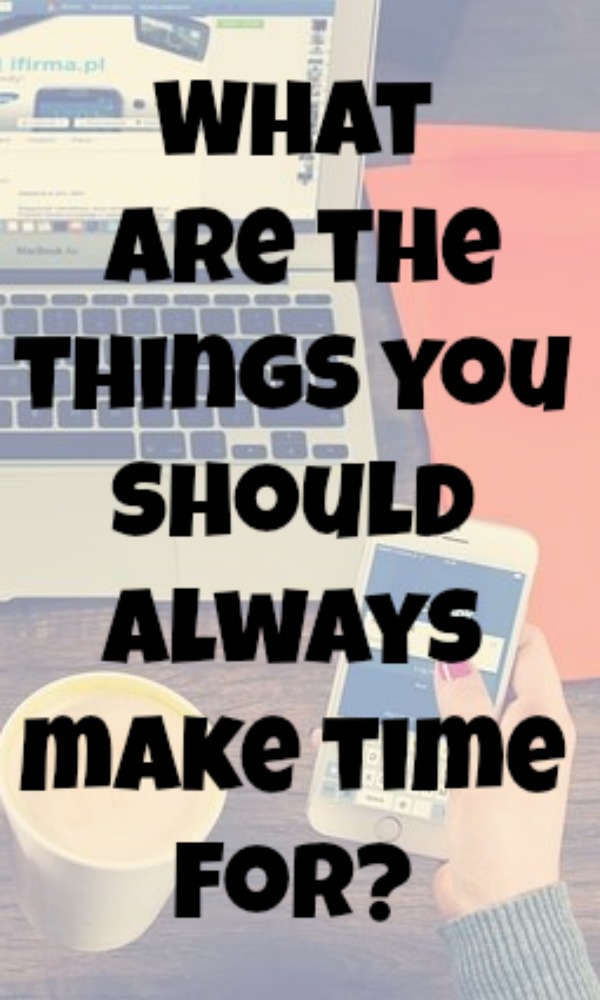 1. Make your bed: That sounds silly, doesn't it? Not only does the bed look nice when you make it, it also starts the day off with an accomplishment. It may be a small one, but it is easy to complete and it is something off the to do list.
2. Take Care of Your Skin: You know what is a great feeling? Having someone say, What? How can you have a kid who is 18? By taking care of your skin that can be a real statement. Skin that is well hydrated tends to develop less wrinkles. Dry skin is actually 2 times as likely to develop wrinkles. Use a great moisturizer in the morning and at night.
3. Lay out the gym clothes the night before: Heading to the gym, or just getting a good workout in can give you great motivation. Besides being the best for your health, it can give you a great start to the day. With the clothes sitting out waiting for you, you are less likely to blow it off that morning.
4. Get social: No, I don't mean on social media. Make time to talk to other people. You might not have time for a girls day out every night but making it a point to get together with friends often is great for your mental health. People who do not have good social connections suffer physically. It is the same effect as someone who smokes 15 cigarettes a day. If you are feeling like there isn't someone to connect with, try just giving a compliment. See someone who has a great bag, or a perfect pair of earrings, tell her. It makes her feel good and you too.
5. Drink your water: Any kind of dehydration can affect your mood and energy level. It can also affect your ability to think clearly. Keep a bottle of water close by, so that you can sip while you are busy with other tasks.