The Walmart gift cards and information have been provided by P&G.
As soon as people hear that I work from home they almost always say, I wish I could work from home. It would be so much easier. I smile and say, yes I love it. But here is the thing. Working from home is actually a lot harder than you think.
Unexpected Visitors: First of all, people show up unannounced because you are home. And you get asked to do this and that for people, again, because you are home. Not that I mind seeing them or helping out but, would you show up at someone's job, evne on their break to chat. No you most likely would not, because they have work to do.
Obnoxious Officemates: Have you ever tried to concentrate on something, it doesn't matter how small, and the kids are bickering in the other room, because "I don't want to watch this", "That is my doll" "But I wanted to play with the trucks" . I swear every single time I get in a good flow, someone starts to fight or yell, or something falls from somewhere very high and I have to wait and listen for "Oh no!" or the cries. With my kids, I am never really sure which one it will be.
Sleep: When you have a regular job, you go in a certain time, usually not before the sun has come up, and you leave at a normal time, usually around dinner. Then you are done for the day. not when you work from home, at least not with my work. I am up by 6 and stumble half asleep to my computer, prying my eyes open. I get some work done before the kids get up.  I try really hard not to work with the kids are home unless they are busy doing other things (See point above) or if they are sleeping. I would just rather spend time with them. Plus, it saves my sanity. Then after the kids are in bed, I am back in the office. Until late. I mean, really late. If I am off the computer by midnight, it is a good night.  But notice if on a good night I am asleep after 12, and up by 6, that is not a lot of time to get in sleep.
Being a Mom: See, like all of the other parents out there, my kids are first and fore most. So we spend time together and we play. I am a coach for cheerleading. There are doctor appointments, and hair cuts. Clothes shopping and school projects. We have gymnastics and tumbling lessons and  Just all the things that the kids need and do. This means, more time running and just being busy.
So, what does this all mean. It means, when my husband comes into the living room and I am working, with 4 hours of sleep and he says, of yeah we need Tide, or he comes in and says Willow used all the Charmin as clouds for her Hello Kitty doll to jump on, I swear I use to get that twitch. You know, the I am going to lose my mind on you if you ask me to attempt to fit the going to the store into my day. But I have learned. I stay calm and open a new browser screen on my computer, or open my phone and take a breathe.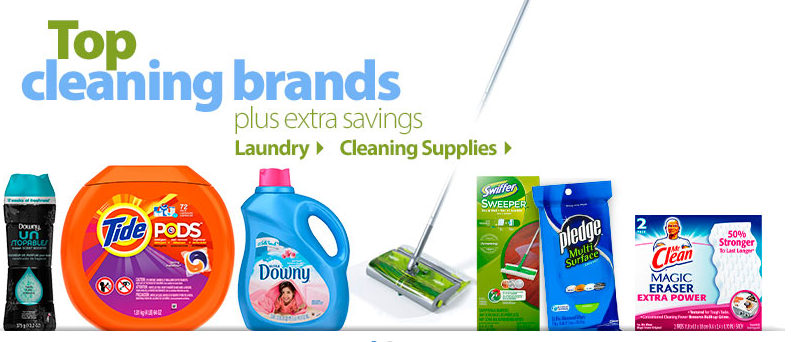 I use Walmart.com or the Walmart app on my phone to order all of the household items we need. That means, I can keep everything in stock, and save that last bit of sanity that I have. Since it is Walmart, I get the great prices that I love. And with an order of $50 or more, the shipping is free. It comes straight to my house, no added cost, and no more attempting to run to the store in between activities.
Do you shop online? How does it make your life easier?