Pilates is an exercise modality that is classified as a mind-body exercise. It calls for full attention to, and awareness of, the entire body. It is this principle that can make a basic exercise challenging and effective for even an advanced student.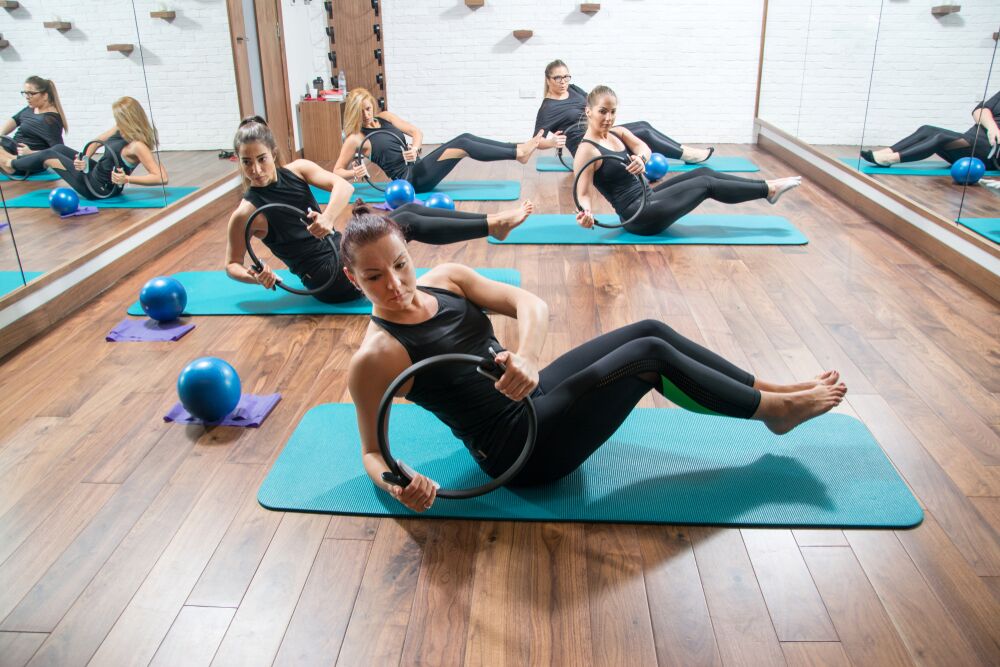 The exercises that make up what we know as Pilates are widely known for their core-strengthening properties. Celebrities such as Kate Winslet, Madonna, and Mandy Moore swear by Pilates classes to get that sleek and toned physique that are their trademarks. But how does Pilates work? How does it actually get you the strong core that you need?
The ten principles of Pilates
There are ten principles that Pilates is based on. These are the following:
Concentration
We've already spoken about the fact that Pilates is a mind-body exercise. This means that you need to focus your mind very squarely on performing the movements that are required so that both mind and body become in sync. If you don't do this, it'll be very easy to slip up with something and you'll be very likely to injure yourself.
Control
This is probably the fundamental principle that can be found in Pilates. When engaged in this exercise, it is important that each movement of the body is made in a slow, controlled manner rather than swinging the body parts into position. By using controlled movements, various muscles are required to work together to help the body to develop greater coordination and balance. Control also prevents injury and helps the individual to realize the full functional benefits from each movement.
Centering
This practice is about physically bringing one's focus to the center of the body which is located between the lower ribs and the pubic bone.
Breathing
When you prepare for the movement, you'll breathe in. As you exhale – or breathe out – you'll move on the effort and connect the pelvic floor and abdominal muscles. In most cases, the effort will be on the concentric phase of the movement. Although in some cases the effort may be on the eccentric phase of the movement.
It is strongly advised that participants do not hold their breath while exercising. Precision during breathing should be taken during the negative phase of the movement so that the abdominals are engaged properly and that placement of the ribcage is not compromised.
Flowing movement
Pilates is done in a flowing manner. Fluidity, grace, and ease are goals applied to all exercises. The energy of an exercise connects all body parts and flows through the body in an even way.
Postural alignment
Having an aligned posture is essential for al exercises to be carried out correctly.
Ribcage placement
The ribcage position affects the alignment of the upper back when lying on your back in a neutral position to maintain the sense of the weight of the ribs resting gently on the mat. In other words, maintain the normal curve of your upper back. Do not push off or push your ribcage into the mat. Pay particular attention to the placement of your ribcage when inhaling or while performing overhead arm movements.
Scapular stability
Stabilizing your shoulder blades on the back of your ribcage is as important as contracting your abs during the initiation of every exercise. This will help you avoid strain through your neck and upper shoulders. To achieve proper placement a sense of width should be maintained across the front and back of the shoulders. Make sure you don't allow your shoulders to round forward too much or squeeze together toward the spine. Your shoulders should not be lifted too far or over depressed. Placement should be somewhere between these two positions – in other words: in neutral. The should blades have a large range of motion so remember to maintain stability.
Pelvic placement
This refers to how your pelvis is placed when you're lying down, on your back, on the mat. Your lower back can either be neutral or it can be imprinted on the mat. Often, when you see a person lying in an imprinted position, you do not see a space between the lumbar region and the floor. It is important to note that the lower back is not jammed onto the floor but rather that is it lengthened and almost parallel to the floor.
Leg and foot positioning
This involves your legs and feet with your hips.
Every single movement in Pilates gets its power from your abdominals. So when we said above that you need to inhale to prepare, at the same time that you do this you'll contract your abdominals and will use the power that is generated from this area to assist you in performing the exercise. As these muscles are integral in every Pilates exercise that you do, these muscles will soon become toned.