Print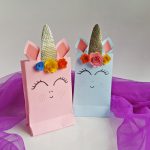 Unicorn Goodie Bags
With only a few supplies, you can make these unicorn goodie bags with the kids. Use as party favor bags or as a gift bag.
Supplies for Unicorn Party Favor Bags
Colored paper bag

Colored craft papers – 4-5 different colors

Pencil – to trace template

Scissors

Craft glue

Golden glossy craft paper

Black and brown sharpie
How to Make Unicorn Gift bags
Take the colored paper bag and use a black sharpie to draw the unicorn face on it. Keep it nice and simple, I drew the eyes, nose and mouth. Use brown sharpie to draw freckles on both cheeks of the unicorn face.

Select different colored craft papers and trace the patterns from the template on the papers. The template includes – 3 spiral patterns for the flowers, 2 outer ear and 2 inner ear patterns and 1 horn pattern.

Use the spiral patterns to create rolled flowers. Glue the inner ear patterns on the outer ear patterns.

Take the ear patterns and fold the bottom corners inwards and glue to secure the fold.

All items ready? First glue the horn on the top side of the bag.

Now glue the ears. Apply a thin layer of glue along the bottom side of the ears and attach the glued area with the bag.

And finally glue the flowers on the bag. Allow the glue to dry.

You can add more details if you want to. Use different colored bags and different colored craft papers to create the flowers and other items for more variation.