Print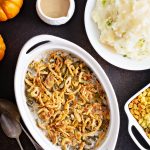 The Best Healthy Green Bean Casserole
This healthy green bean casserole is perfect for anyone who loves this classic side dish but wants a version that is lighter on fat and calories. Easy and Delicious, no one will know it is healthy too.
Preheat the over to 350 degrees.

In a large skillet, melt the butter and sautee the mushrooms and onions.

Meanwhile, boil the fresh green beans in the chicken broth for 10 minutes. If using frozen green beans, boil according to the directions on the bag. Drain.

Add the green beans to the mushrooms and mix in the cream of mushroom soup.

Once it is combined well, pour it into a greased casserole pan. Top with the fried onions. Be sure to spread them out over the entire casserole.*

Bake for 30 minutes or until it is heated through.

*If adding cheese do not add the french fried onions yet. Bake for 20 minutes, pull the casserole out, add the cheese and top with french fried onions and then bake for an additional 10 minutes until the cheese is melted and casserole is baked through.