This post may contain affiliate links.
If you are like my house, we love Duct Tape. There are so many designs and styles. And there are so many things to make with them. My daughter and I am working our way through this list of 25 Free Duct Tape Crafts.
Want more ideas? Check out these duct tape crafts.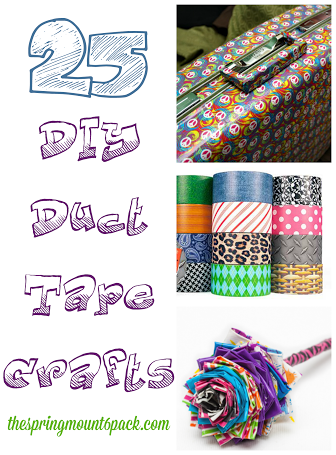 Duct Tape Crafts
1. Duct Tape Suitcase
2. Toddler Shoes
3. Duct Tape Binoculars
4. Neon Bow Shoe Clips
5. Duct Tape Drums
6. Duck Tape Flower Pens
7. Storage Cubes
8. Treat Bag
9. Pocket Notebook
10. Beaded Bracelet
11. Cardboard Polka Dot Pig
12. Custom (Sturdy) Gift Bags
13. iPad Sleeve
14. Floral Clutch Purse
15. Cardboard Bowling Game
16. Student ID Case
17. Adorable CD Monsters
18. Duct Tape Belt
19. Mickey and Minnie Gift Card Holders
20. LEGO Man Costume
21. Duct Tape Garden Gifts
22. Tassel Bookmarks
23. Duct Tape Hammock
24. Covered Notebook
25. Duck Tape Rosette Wreath