Any item made out of heavy-duty fabric normally comes out strong and durable. Even though this is so, there are many factors that influence the durability of products made out of heavy fabric. During sewing, there are multiple things to consider depending on how heavy the fabric is.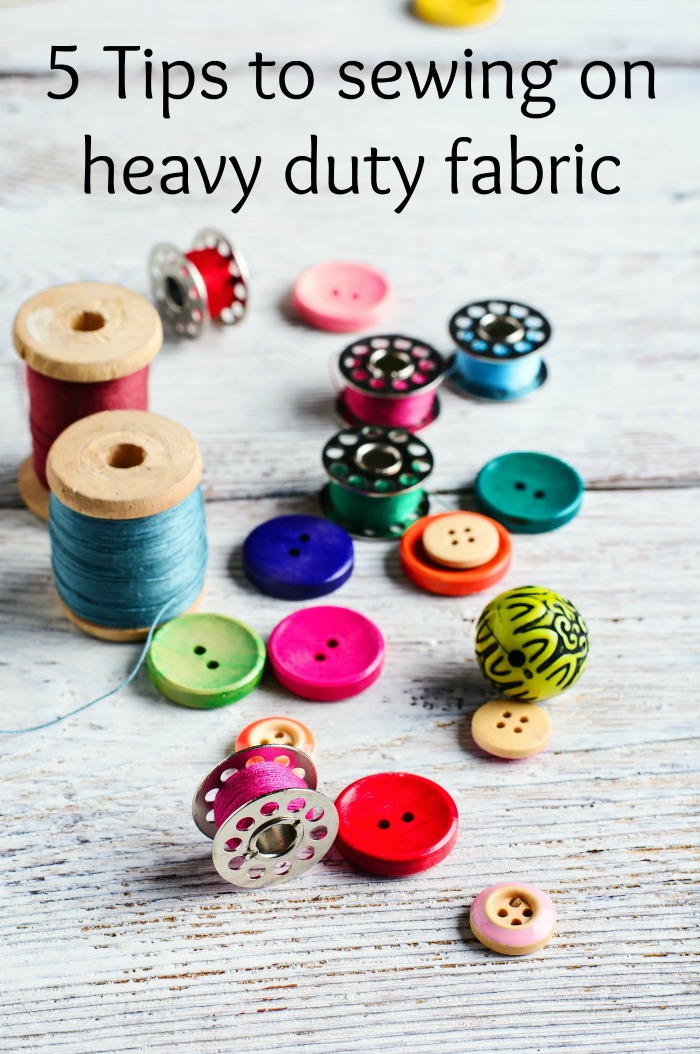 Heavy-duty fabric can be difficult to sew, but with the right tools, it can be a smooth process bringing out an excellent piece. Some tips that you can use to sew heavy duty fabric include
Strengthen the seams and stitches
In order to come up with a durable and strong piece, weak parts of the fabric need to be fastened so as to strengthen them against strain and tearing. When sewing, parts like corners or points where two pieces are joined should be given a high priority. The type of stitches used should be able to reinforce the seams to create stronger seams.
Correct the sewing Machine settings
With the right sewing machine settings, any kind of fabric can be stitched. In order to determine how strong the fabric will be after getting stitched, try out by stitching a small piece of fabric to see how it would appear. Make some adjustments on the upper thread tension and play around with the thread checking to see if the tension settings will work well.
Try sewing with different stitches ranging from zig-zag, straight among others and settle on one that works best. Work with the pressure foot as you stitch, increasing the pressure to know which settings work.
Use strong needles and thread
The type of thread used will determine whether you fabric will hold on together or rip off. Thin threads are not ideal for stitching when handling heavy duty fabrics. The best thread to use is a thick thread which keeps the seams together. The fiber used to make the thread will also influence the strength of the seam. Most heavy threads made out of cotton fiber will take a while to tear when under stress as compared to other fibers like synthetic fibers.
The needle used when sewing heavy fabric has to be heavyweight so that it doesn't succumb to the pressure of sewing and end up breaking. Heavy fabrics like denim or canvas work well with a denim needle size 90/14 or 90/100. Find needles that will stitch checking the size to ensure that it's the right size.
Use a heavy interface
For those that sew bags using simple fabrics, a heavy fusible interface should be applied onto the fabric. The interfacing can also be sewn-in between the outer layer and lining or the bottom to make it thicker, firmer and stronger to carry items in case of travel. This saves you from spending on bag replacements.
Use sharp scissors
Tools used when handling heavy fabric like scissors should be sharp and in good working condition.  This ensures smooth cutting of fabric with straight edges that are easier to stitch.
The best sewing machine should be able to stitch all kinds of fabric. At grandmalikestosew.com, you can choose from the top heavy duty sewing machines picking out on one that will best suit your needs.