Looking for a yummy Oreo mousse recipe? This one is perfect for a St. Patrick's Day dessert and anytime you want an amazing dessert.
Baileys Oreo Mousse Recipe in Chocolate Cups
How good does Baileys Oreo Mousse Recipe in Chocolate Cups sound? I love mousse. It is one of the desserts I always choose when we go out to eat. This version of mousse is perfect for all the time and even better for as a St. Patrick's Day dessert. It is a fantastic mouse recipe. Don't let the green chocolate cups make you worry that this is too hard to make. They aren't that hard but even if you wanted skip the cups completely, the mouse is still a fantastic dessert recipe.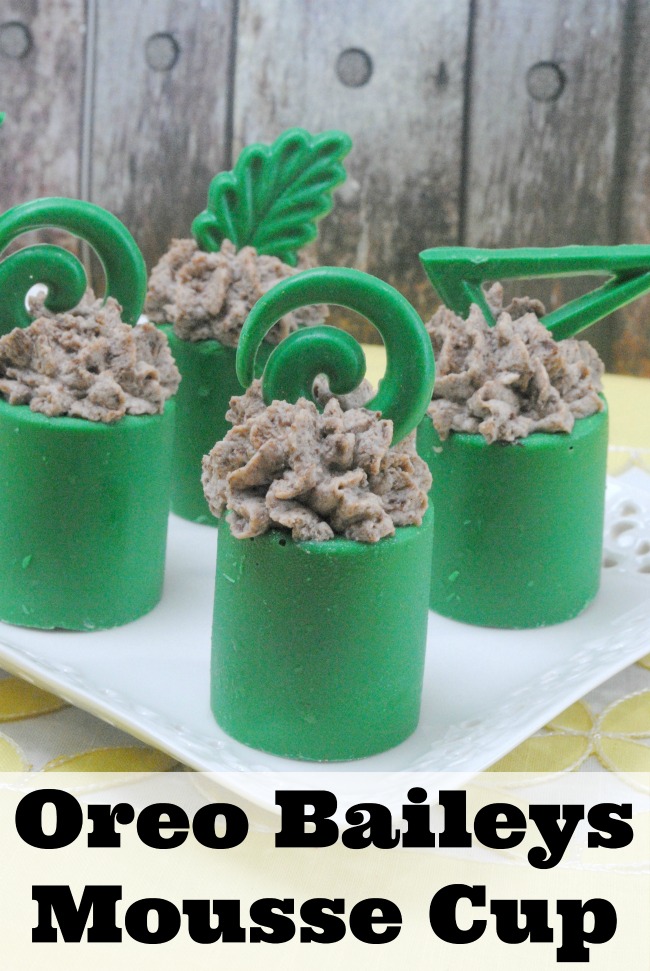 Have you seen our St. Patrick's Day items in the Our Wabi Sabi Life shop? Things like home decor and fun for kids like St. Patrick's Day placemats or scavenger hunt.
Baileys Oreo Mousse Recipe in Chocolate Cups
Cup Ingredients:
2 bags Ghirardelli White Chocolate wafers
1/2 tsp Creme de Menthe Flavor
3-5 drops of green gel food coloring
Wilton 590-0118 8 Cavity Round Silicone Shot Mold, Green
Candy Piece mold
Wilton 2115-2102 Accessories, Chocolate/Candy Plastic Mold
Mousse Ingredients:
3 egg yolks
6 Tablespoons powdered sugar
1⅔ C heavy whipping cream
5 oz Ghirardelli Chocolate wafers
6 Oreos crushed
2-3 TBSP whole milk
3 tablespoons Balieys
Chocolate Shot/Design Directions:
Set up a double boiler. On the bottom, fill a saucepan with water. On top, have a heat resistant bowl. Pour the candy melts, into bowl. Heat the water in order to melt the chocolate.
Stir the chocolate as it starts to melt.
Once it is melted, remove from heat.
Pour in the Creme de Menthe Flavor and stir well.
Add in the food coloring. Stir until you have the color you want. Start slowly. It is easier to add more color later; you can not take any away.
Carefully pour the chocolate into the shot glass molds and the design molds.
Place in the freezer until the chocolate sets, about 2 hours.
Remove from the freezer and carefully remove from the molds.
Set aside.
Mouse Directions:
Add egg yolks, powdered sugar and ⅓ cup heavy whipping cream together in a medium sauce pan on low. Whisk constantly until it begins to thicken almost doubling in size.
Remove from the heat and add the white chocolate wafers while removing from the stove top. Continue to stir until the chocolate has completely melted.
Stirring often allow the chocolate to cool to room temp.
With an electric mixer, beat the rest of the whipping cream until stiff peaks form.
Slowly begin to whisk in 1/4 of the stiff whipped cream into the chocolate custard until it lightens.
Gently fold in the rest of the cream.
Add in the crushed Oreo's stirring to mix well.
Add 1 tablespoon of milk (at a time) if the mousse is too thick for piping.
Spoon the mousse into a pastry bag with a large tip begin to fill the shot glass working in a circle motion fill the green chocolate shot glass.
Store in the refrigerator.