I am taking part of a weekly link up where there is a featured ingredient each week. I love this because it gives me another idea for a recipe to share with you. This week the featured ingredient is cabbage. I do not cook much with cabbage because only my one son and I like it. So I broke out the recipe that I love to make when I have cabbage on hand.
This recipe is featured in Fix It and Forget It for Entertaining for slow cookers. I have altered it a little to suit the way we like it. The original recipe called for caraway seeds and I can never find them when I am looking for them. I also make ham stock from the ham bones, so while the recipe calls for beef stock I use ham stock. I also add a little extra water.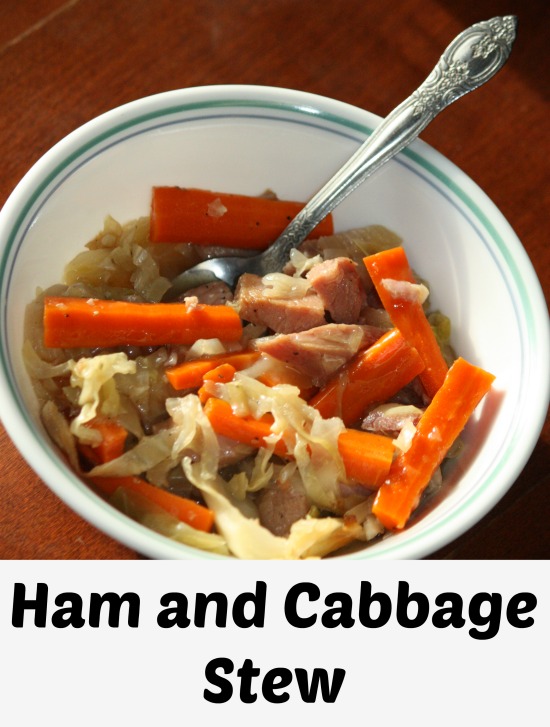 Ham and Cabbage Stew
1/2 lb cooked ham, cubed
1/2 cup diced onions
1 garlic clove, minced
4 cups of shredded cabbage. I like mine in bigger pieces, so I cut mine instead of shredding it with a grater.
2 sliced carrots
salt and pepper
2/3 cups of ham stock
1 cup of water
1 Tablespoon of cornstarch dissolved in 2 Tablespoons of water
Optional: I do not use these but it is called for in the original recipe if you are interested: 1 4oz can of mushrooms and 1/4tsp caraway seeds
Add all of the ingredients into the slow cooker except the cornstarch and water mixture. Cook for 4-6 hours on low. About an hour before the stew is done, add in the cornstarch mixture to thicken it slightly.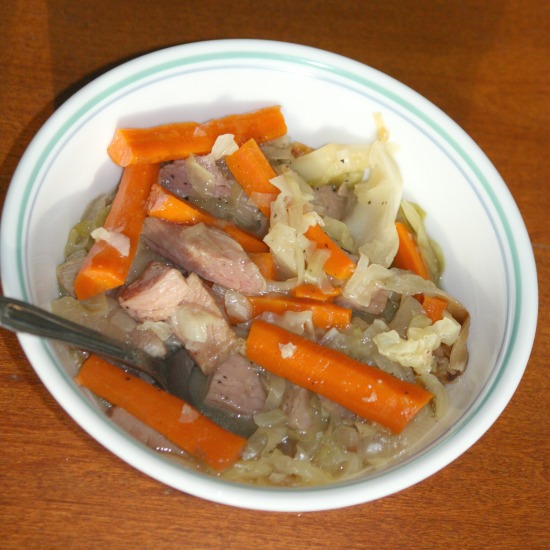 Want more recipes with Cabbage? Check out these!