Looking for snow tubing in the Poconos? Camelback has the largest snow tubing area in the country. And it just got better. Check out the fun we had when we went Camelback Snowtubing.
Snow Tubing in the Poconos
I have said many times on this site that I am not a fan of the cold or the snow. But I am getting there. The more time the kids and I spend playing in the snow, the more I am starting to find ways to like being in it. I have also learned the skill of layering.
Camelback has helped me find fun in the snow. Over the past few years, I have taken the kids snowboarding and snow tubing and it has been a blast. This year, Camelback has brought something new to the fun.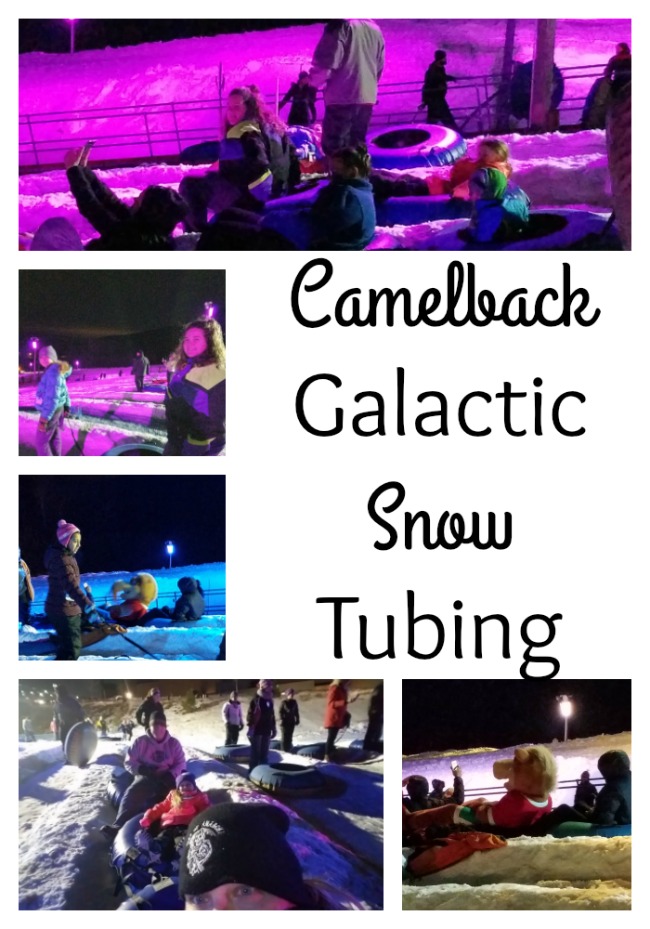 On December 21st, Camelback officially debuted the new Galactic Snowtubing. Camelback already has the largest snow tubing mountain with 42 high-speed lanes, and a magic carpet to get riders to the top with their tubes. Now when snow tubers are there at night, they get the fun of lasers, music, and an amazing LED light show.
Camelback Snowtubing
Snowtubing is so much fun. All of the kids love it. Even my 7-year-old, on her first snow tubing trip, was riding by herself by the 2nd run. My 13 year old thinks it is more fun to ride with a partner.
For Camelback snow tubing, children who are at least 33″ tall, they can go snow tubing. From 33″ to 43″ must ride double with a ticketed adult. Over 43″, kids can still ride doubles (Anyone can) but they can also ride by themselves. All children under 14, must be accompanied by a ticketed adult.
In addition to Galactic Snowtubing, Camelback has also added a new Base Camp 1 Lodge. Guests can get their snow tubing tickets, relax between runs, and warm up with a cup of hot cider or hot chocolate, or the Camelback tradition of waffles, day and night.

A visit to Camelback can offer many activities. There are skiing and snowboarding, snow tubing and if you stay at the Camelback Lodge, you can go also go to Aquatopia Indoor Waterpark as well as the different activities located in the lodge.
Camelback Lodge & Aquatopia Indoor Waterpark offers the nation's best Ski, Splash & Stay package! A one-night stay includes accommodations at the slope-side Camelback Lodge, access to the 84-degree Aquatopia, the largest indoor waterpark in the Northeast, and up to four free lift tickets and snow tubing tickets – a $267 value. (Day/date restrictions apply.)
Save money at Camelback Lodge when you book with TripAdvisor, the world's largest travel site.