Going camping is an exhilarating experience. However, a significant portion of intended fun is spoiled by rainy conditions. What do you do with a bunch of disappointed campers when the rain is falling? When you're stuck in a wet tent, you'll need to engage in the following activities to keep campers in a good mood.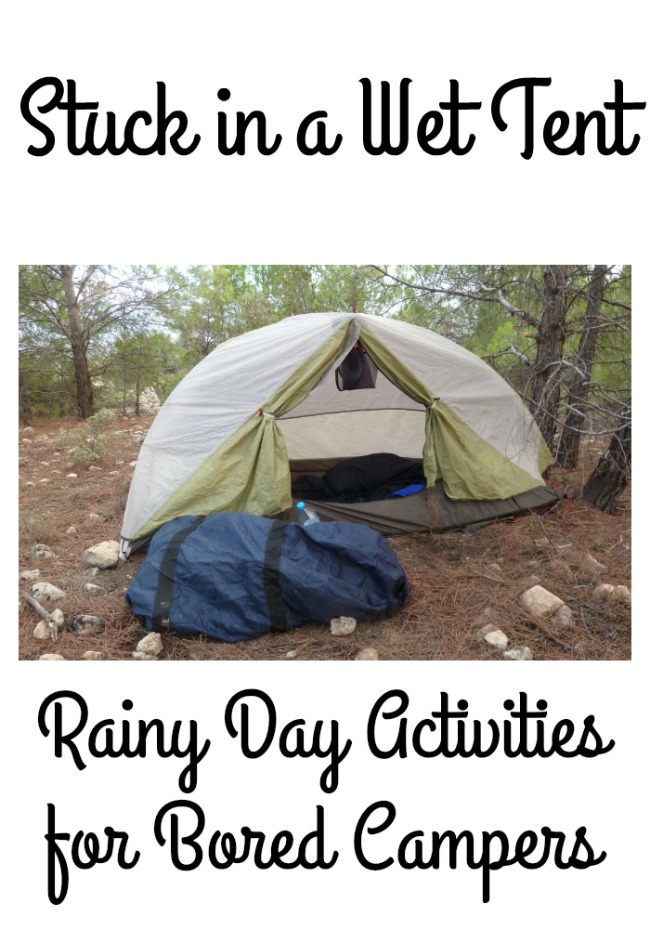 Rainy Hike
Rain will put a damper on a majority of activities, but as long as you have rain ponchos and water resistant shoes, you can take campers on a hike. A lack of exercise inspires rambunctious behavior, so it's good to keep the campers somewhat active when it's raining. As long as there is no lightning taking place, it's safe to go on a short excursion through the woods to spot birds, etc.
Coloring Books
Coloring is a meditative exercise. Have the campers color individually or in teams. Present them with a prize for the best piece. Those who are not coloring can serve as judges. Alternatively, while on the hike, have kids collect a bunch of leaves. Place the leaves under thin sheets of paper and rub over them with crayons. The kids will enjoy creating impressions of the leaves on the pieces of paper.
Playing Cards
Playing cards have been entertaining young and old people alike for a long time. However, current card games are more involved and intricate than war or poker. Some decks are for role-playing or involve a lot of strategies. Read about a number of games at online stores and choose decks that are age and content appropriate.
Short Stories
Kids love being creative. Have them get in teams and write a short story about a particular topic. Since kids are more interested and motivated by competition, offer a prize to the group with the best story. Some kids can come up with ideas and others can be illustrators. Have the kids read and present the story. Every camper gets a vote as to which group has the best story.
Theater Productions
Have kids get in groups and prepare a production to put on for the rest of the campers. The play can be one act or longer depending on the interest of the kids. Kids can get in costume, write lines for one another, and create props. Counselors can go around and help kids generate ideas for stories, costumes, and props. If it will make the kids more excited, encourage the adults to get involved in the acting too.
Scary Stories
All kids like to hear about urban lore and get scared. Buy books online before camping or download kid-appropriate scary stories from the Internet. Have kids get in a circle and read aloud to them. To encourage more interaction, have some kids read as well as have the group guess as to what happens next in the story.
Colorful Bracelets
Buy a bunch of gimp, string, and beads from an arts and crafts store. Have kids spend time creating bracelets and necklaces to give to parents, friends, favorite counselors, etc. It is a great and productive way to spend time while the rain passes.
Matthew Roberts is a Dad who, quite frankly, is just a big kid himself! He loves spending time with the kids, getting them off of the electronics and out into the big wide world to build dens and splash in puddles!