This post contains affiliate links. If you buy something from them, I earn a small percentage that helps keep The Spring Mount 6 Pack running.
Mother's Day is right around the corner. Why not make her a special treat that will make her feel like she is spending her day in Italy while taking her health into consideration.
Chocolate, Almond and Wheat Germ Biscotti Recipe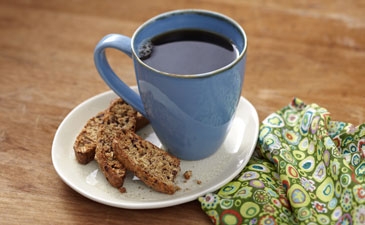 Ingredients
1/2 cup Kretschmer Honey Crunch Wheat Germ
1 1/4 cups all-purpose flour, plus extra for shaping dough
1/4 teaspoon salt
1 teaspoon baking powder
3/4 cup light brown sugar
1/2 cup sliced almonds
3 ounces finely chopped bittersweet chocolate
3 large eggs
1 teaspoon vanilla extract
Directions
Preheat oven to 350° F. Toast almonds by spreading nuts in a single layer on ungreased shallow baking pan. Bake 10 to 15 minutes, until golden, stirring occasionally. Set them aside.
In large bowl mix together wheat germ, flour, salt, baking powder and brown sugar. Then stir in almonds and chocolate.
In separate bowl, whisk together eggs and vanilla. Pour the egg mixture into the dry ingredients, then use your hands, mix until the dough comes together. Divide the dough in half and form each into a 10 x 3-inch log. If the dough is too sticky to work with, flour your hands before shaping the dough into a log.
Line a baking sheet with parchment paper. Place the log on the prepared baking sheet and bake in the oven for 25 minutes or until firm. Remove the baking sheet from the oven. Cool on a wire rack for 10 minutes.
Lower the oven temperature to 325° F. Transfer logs onto a cutting board and cut each into 1/2- to 3/4-inch diagonal slices. Place the slices, cut side down, back onto the baking sheet and bake for about 20 minutes,or until they golden brown, turning slices over after 10 minutes. Remove from oven and cool completely on wire rack. Store in an airtight container.
Thank you Kretschmer Wheat Germ for sharing this Biscotti Recipe and picture with me. No compensation was received for this post. I just thought they sounded yummy.