This post contains affiliate links. If you buy something from them, I earn a small percentage that helps keep The Spring Mount 6 Pack running.
My son is obsessed with cookie dough. I mean obsessed! He will ask that I give him cookie dough as a present for Christmas. And when I am making cookies, watch out. He is constantly sticking his fingers in it for a taste, as soon as I turn my back. And the upside: It is the one way I can get him in the kitchen with me. Because as soon as he sees the ingredients come out, he is very interested in telling me about his day, following the rules of doing homework in the kitchen and just chatting about what is new.
He just recently turned 16 in March, and he picked a cookie cake, come people call it a cookie pizza, for his birthday treat. But we surprised him with a party and I made these amazing cookie dough truffle pops for him. I used the recipe found at Sally's Baking Addiction, and altered it slightly. They are extremely easy to make and contain no raw egg.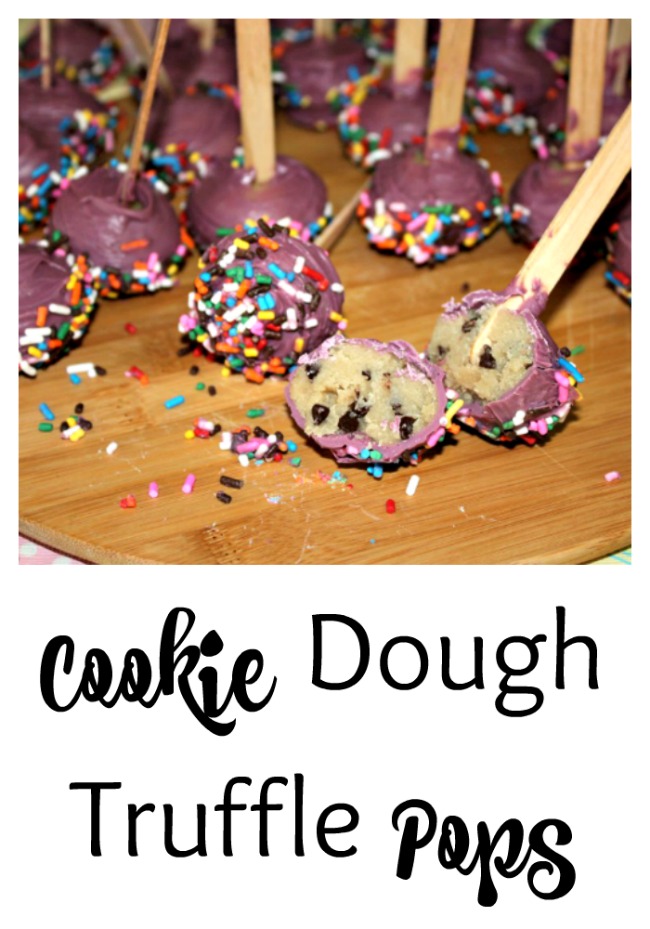 Cookie Dough Truffle Pops
Ingredients:
1/2 cup (1 stick) butter, softened
1/4 cup sugar
1/2 cup light brown sugar
3 Tbsp milk
1/2 tsp vanilla extract
1 and 1/4 cups all-purpose flour
1/2 tsp salt
3/4 cup mini chocolate chips
chocolate candy coating, for dipping (optional)
30 Popsicle sticks
Instructions:
In a large bowl, beat the butter and sugars together, until fluffy.
Add in the milk and vanilla.
Next add the flour and salt. Combine on low until it is well mixed.
Stir in the chocolate chips. Some recipes I have seen for this say to chill it for 30 minutes so that it is firm enough to roll. My dough is always fine to roll, so you decide.
I use a cookie scoop for my cookies, if you do not have one, use a regular spoon, about 1- 1/12 tablespoons. Roll doll into balls, placing on a cookie sheet with parchment paper, wax paper or a silicone mat.
Add a Popsicle stick to each ball, if you want.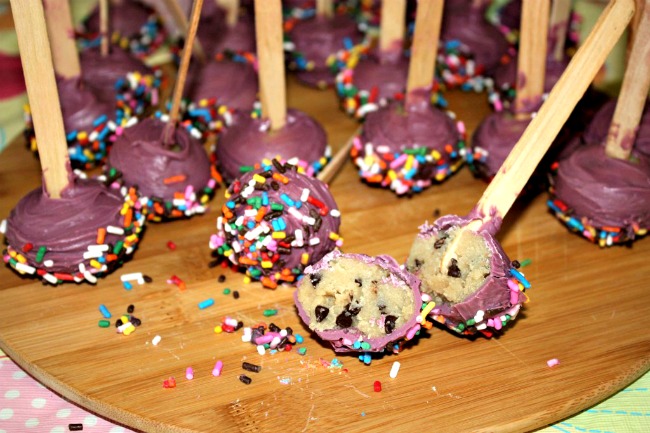 Freeze for 15 minutes.
If you want to cover your cookie dough in chocolate: Melt the candy coating according to the package.
Take the cookie dough balls from the freezer, and swirl them around in the melted candy. We choose to then dip ours in sprinkles.               The coating will dry fast because of freezing the dough first. Store the cookie dough balls in the refrigerator, in an air tight container for up to a week.