I come from a big family. There are 5 of us kids and while my brothers are a lot older than me, I can always remember living with at least a handful of them at all times. When I was about 13, I use to help my mom make dinner for the whole lot of us.  One of the very first things I ever made, that I was never shown how to make, was on a night where I needed to make dinner, during a snow storm, and we didn't have very much on hand. I was extremely proud of what I thought was my own creation. It is something that I make from time to time at home, and my kids devour it.
It is a great dinner to make when I am short on time and want something inexpensive to make. My family loves rice and we make it often, and since we have recently discovered Della Rice, I swear we are making it even more often. I am loving all of the flavors of rice. Della Rice is available in five varieties (Jasmine, Basmati, Light Brown Basmati, Jasmine with Roasted Garlic, and Arborio) at ShopRite's in the Northeast and at grocery stores nationwide. Please visit Della's storefinder online to find out where you can buy delicious Della Rice.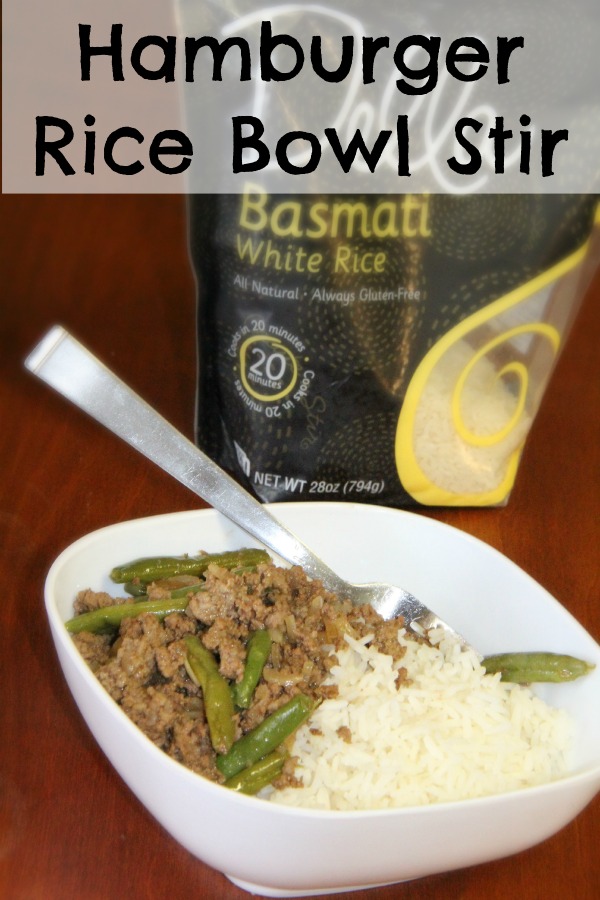 To make this Hamburger Rice Bowl is easy.
Ingredients
1-2 pounds of hamburger
Della Rice
2 packets of onion soup mix
Worcester sauce
veggies
Start cooking your rice. How much rice is negotiable? My family loves rice and we always make extra.
While your rice is cooking, brown the hamburger in a frying pan.
Once the hamburger is cooked and drained, add in the onion soup mix, with about 1/2 of water.
If you are adding in fresh veggies, this is when you would add them. If they are veggies that take a longer amount of time to cook, microwave them a bit to get them started. If you are using canned veggies, drain them before adding them.
Use 4-5 dashes of Worcester sauce.
Cook on simmer while the Della rice finishes cooking.
Add the rice into a bowl, the add the hamburger over top of the rice. And serve. I like to stir mine together, my kids like to eat them separately.