Are you wanting to make a hearty dish for dinner but are out of ideas? Our Homemade Sloppy Joe Sauce is easy to make, delicious, and a favorite that's been around for generations. Making it from scratch is so simple that once you make it, you'll ask yourself why you wanted so long to make it yourself.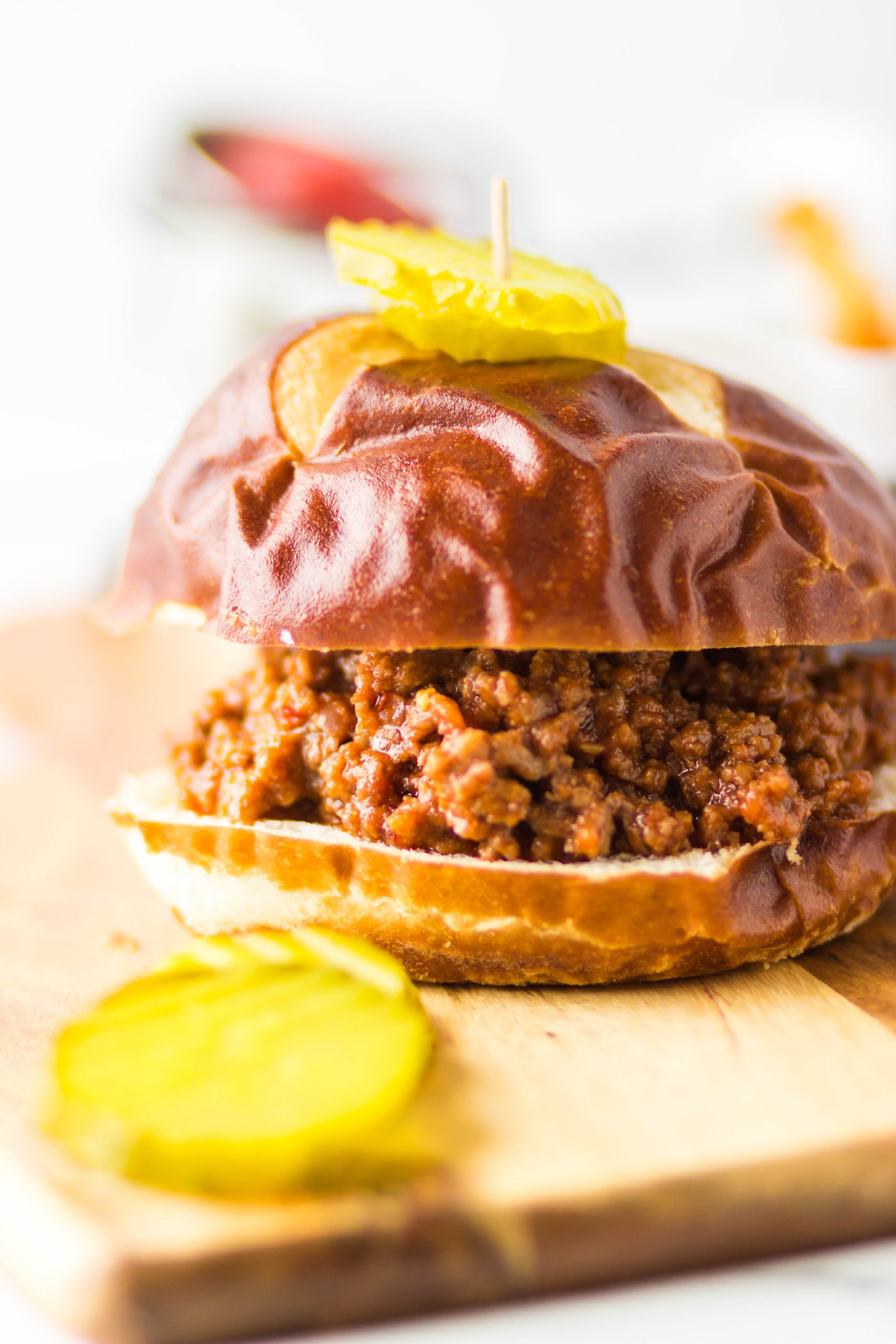 Sloppy joes are a classic recipe that has been enjoyed by many for decades. Each cook has their own secret combination of ingredients that makes their recipe unique and delicious.
The history of sloppy joes is not entirely clear, but there are several theories. One theory suggests that during WWII, families needed a quick and filling meal that could be stretched out to feed larger families, leading to the popularity of sloppy joes. These sandwiches could also be served on two slices of bread instead of buns.
Another theory is that sloppy joes became popular in the 1940s thanks to a cook named Floyd Angell, who lived in Key West, Florida. Angell served his version of the sandwich on Cuban bread with pickles and mustard.
The last theory is that a cook named Joe in Sioux City, Iowa, created a sandwich with loose meat that became popular with locals. This sandwich later became known as the "sloppy joe" and has been a beloved American classic ever since.
If you're in the mood for another simple yet tasty sandwich, be sure to take a look at our other easy sandwich recipes.
Jump to:
Ingredients
80/20 ground beef: This refers to ground beef that is 80% lean meat and 20% fat. This ratio of fat to lean meat gives the meat a good flavor and texture, as well as helps it stay moist during cooking.
Onion: Sweet or yellow onions are commonly used in sloppy joes. Onions add a sweet and savory flavor to the dish and can also provide some texture.
Garlic: This adds a savory and slightly spicy flavor to the sloppy joe filling. Fresh minced garlic is preferred, but pre-minced garlic can also be used.
Montreal Steak Seasoning: This is a blend of spices and herbs that typically includes garlic, onion, black pepper, coriander, and dill. It adds some depth of flavor and a little bit of spice to the dish.
Worcestershire sauce: This is a savory sauce made from vinegar, molasses, anchovies, and other spices. It adds a complex umami flavor to the dish.
Light brown sugar: This is a type of sugar that is made by combining granulated sugar with molasses. It adds sweetness and helps balance out the acidity from the ketchup and mustard.
See recipe card for quantities.
Instructions
At the bottom of the post, you will find complete instructions to make this dish.
Substitutions
If you prefer not to use ground beef, you can substitute it with ground pork, turkey, or chicken.
Another option is to try using agave nectar, honey, or maple syrup as a replacement for brown sugar.
In addition to ketchup, you can also use canned diced tomatoes or tomato sauce for a slightly different flavor.
If you're not a fan of green peppers, they can be left out, but they do add a nice crunch and flavor.
If you don't have fresh onions, onion powder is a good substitute.
Similarly, if you don't have fresh garlic, minced garlic, garlic granules, or garlic powder can also be used.
Variations
Slow cooker – Just brown your hamburger as normal then put all of the ingredients into the slow cooker. Cook on high for anywhere from 2 to 3 hours or on low for 4 to 6 hours.
Vegetarian – tofu, black beans, and lentils work well.
Spicy – if you want your sloppy joes to have a little more kick, try adding warm spices such as chili powder and paprika. These types of spices really add a nice depth of flavor too.
BBQ sauce – seriously, you really need to add some into the sauce. It really adds a delicious spin to the dish.
Leftovers
As with all sauces, leftover sloppy joes are actually better the next day. Everything has had a chance to marry together. Of course, since you don't want the family to get tired of eating sloppy joes for a second night, change up the menu plan and make these instead with the leftovers.
Baked potatoes – bake them as you normally would, then top with warmed up sauce, cheese, and sour cream.
Tator tots – bake the tots according to the directions on the package. While the tots are in the oven, heat up the sauce. Then when the tots are done, remove from the oven and top with the heated sauce, add some cheese, then place back into the oven so everything can warm up.
Nachos – grab that bag of tortilla chips, lay them in a baking sheet, add the reheated sloppy joe sauce on top, and sprinkle with your favorite cheese. Then, place in a 350-degree oven and bake until the cheesy is melted. Serve them up as you would normal nachos with lettuce, tomatoes, jalapenos, and sour cream.
Equipment
skillet
cutting board
knife
wooden spoon
Storage
Refrigerator: Let the mixture cool down then place the leftovers in an airtight container. The sloppy joes will be good for up to 3 or 4 days at the most.
Freezer: After the sauce as cooled, place the leftovers in a container that is freezer safe. Label and then place in the freezer. Normally this is good to freeze for up to two months.
Reheat: If you are removing the sauce from the freezer, place it in the fridge so it can thaw overnight. Then reheat either on the stovetop or in the microwave.
What Sides Go with This Dish
One of the best things about making sloppy joes is that it pairs so well with so many different sides. And if you are making French fries for example and someone else prefers Tator tots, you can definitely make some of each. That way everyone gets their favorite side.
Fresh fruit
Chips
French fries
Tator tots
Pickles
Potato salad
Macaroni salad
Side salad
Corn on the cob
Top tips
One of the best ways to really let your flavors combine together is to let the mixture simmer for 15 to 20 minutes. That way not only do the flavors marry together but it also allows the sauce to reduce and thicken more.
If you are adding the peppers and the onions, sauté them in a separate pan while the ground beef is cooking. That way they are ready to go once the beef is finished cooking.
To really add a special kick to the sauce, add a bit of that leftover bacon grease you keep on the stove to the pan.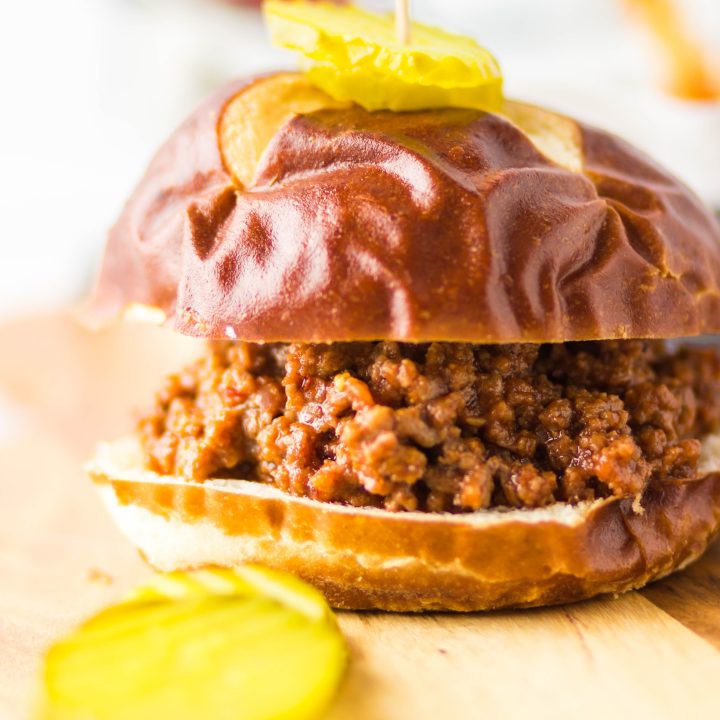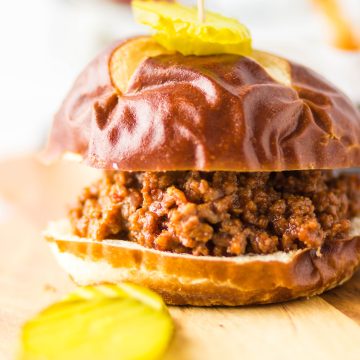 Homemade Sloppy Joe Sauce
Are you wanting to make a hearty dish for dinner but are out of ideas? Our Homemade Sloppy Joe Sauce is easy to make, delicious, and a favorite that's been around for generations. Making it from scratch is so simple that once you make it, you'll ask yourself why you wanted so long to make it yourself.
Ingredients
1 ½

pounds

80/20 ground beef

1

green pepper chopped

⅓

cup

sweet onion diced

2

cloves

garlic minced

3

cups

ketchup

2

teaspoons

yellow mustard

1

tablespoon

Worcestershire sauce

1

tablespoon

Montreal Steak Seasoning

1

tablespoon

light brown sugar

½

cup

water
Directions
Cook your ground beef in a large skillet over medium high heat.

Once the hamburger is done, add in your green pepper, garlic, onion, and steak seasoning. Stir everything together and cook for 10 minutes or so until the onions are translucent and the peppers have softened. Stir occasionally.

Reduce the heat to simmer and then add in the ketchup, Worcestershire sauce, water, and brown sugar. Stir and simmer for 20 minutes making sure to stir every 10 minutes.

If you want the buns toasted, place them in the toaster and toast them to your liking.

Top with the sloppy joe mixture and enjoy!