When it comes to the best Mango Salsa Recipe, you absolutely need this Spicy Mango Salsa recipe. It is incredibly easy to make and the taste is amazing.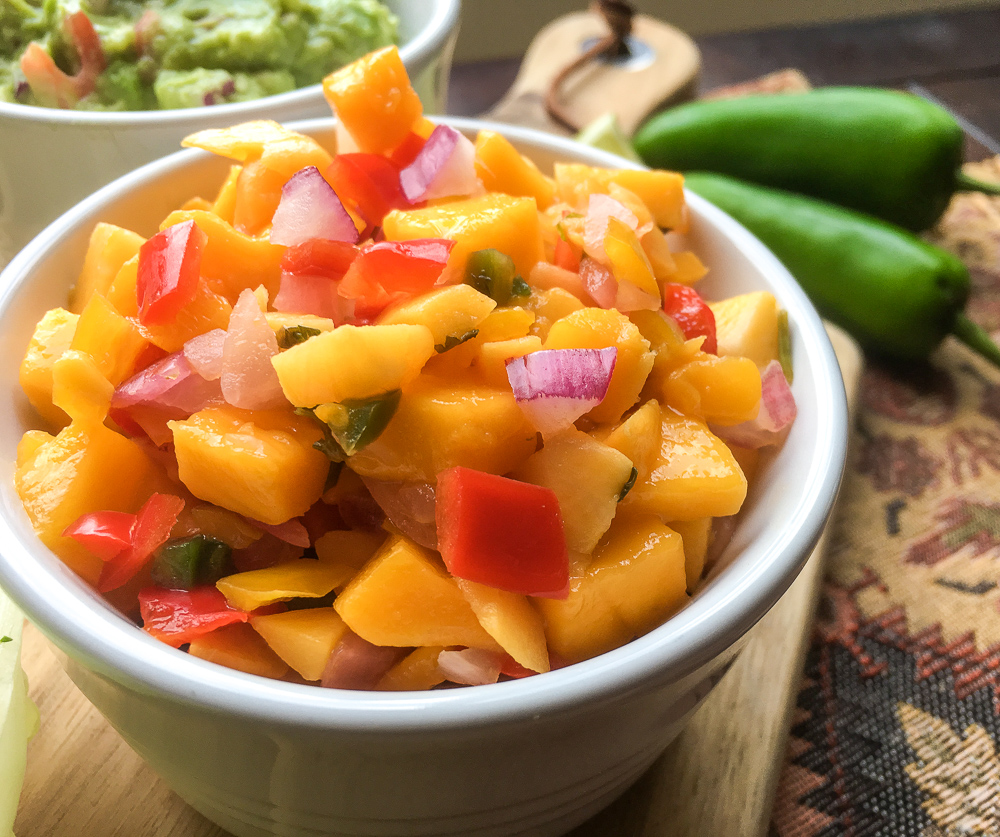 Mango Salsa Recipe
This Mango Salsa recipe is one of those recipe that people think, what that can not be good, but when they try it, they become instant fans. It is light and refreshing, sweet from the mango, spicy from the pepper and has just the right amount of acidity from the lime juice.
How to Store Spicy Mango Salsa
Whenever I make spicy mango salsa, I make it in a glass bowl and that is how I store it as well. The acidity in the recipe reacts with some bowls and I have found this the best solution. Store the spicy mango salsa in the refrigerator when you are not eating it.
What Makes this Mango Salsa Recipe Spicy
With this Mango Salsa recipe, the jalapeno is what causes it to be spicy. You can also use habaneros or whatever spicy pepper you like.
Can I Make this a Pineapple Mango Salsa
While this mango salsa does not have pineapple in it, you can easily add it and it would taste amazing with the spiciness of the peppers. Pineapple Mango Salsa can be used in all the same ways as this Mango Salsa Recipe.
Is This Spicy Mango Salsa Hot
When you make this spicy mango salsa you can control the heat and make it hotter or less hot as you like it. Removing the seeds and the ribs of the jalapeno helps to control the heat since this is where most of the heat is. By just adding the flesh of the pepper, you get the flavor without as much heat. If you want it to be hotter, you can leave the rib and seeds or you can use a hotter pepper. You can also add more hot pepper if you want to increase the heat.
What to Serve with Mango Salsa
There are a lot of foods that this Mango Salsa would taste amazing on. You can use to top Altlantic cod or use it with Spicy Black Bean Tacos. You can also eat it tortilla chips or make your own cinnamon sugar tortilla chips. Another options are
How Long Does Salsa Last
When you store this salsa in the refrigerator it will last about 5 days. The acidity in the limes will start to break down the peppers causing them to get mushy and then it does not taste as well. I think the taste is best on day 2 and 3, and usually throw away any remaining salsa away after that.
How Many Weight Watchers Points in this Mango Salsa Recipe
This recipe comes in at 0 Weight Watchers Points of deliciousness on all plans
Have you joined our Weight Watchers Facebook Group? Free recipes and support. Perfect for everyone!
Want to Weight Watchers for almost free? Get a Year's Membership for the Price of a Month – Learn More About Healthi – Use Code Coach_DebiMurray to save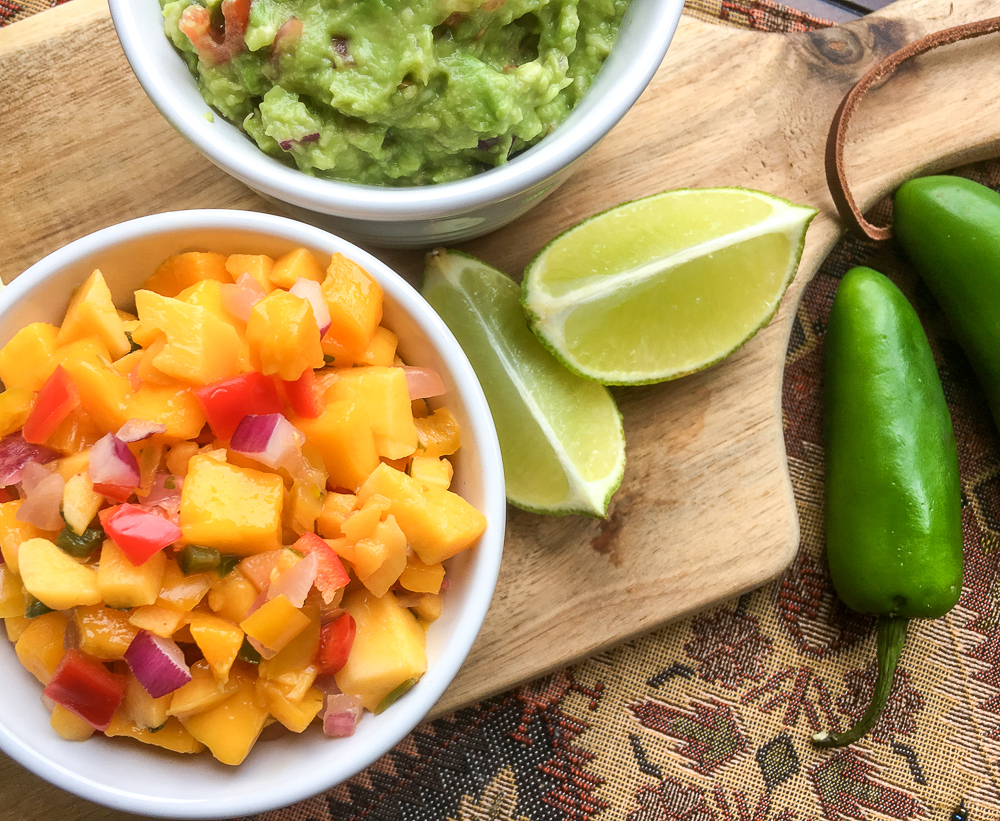 Ingredients in Mango Salsa
Mangos
Red bell pepper
Red onion
Jalapeño
Cilantro
Fresh lime juice
Sea salt and black pepper
How to Make Spicy Mango Salsa
Combine mango, bell pepper, red onion, jalapeño, cilantro, and fresh lime juice in a medium glass or other non-reactive bowl. Season with salt and black pepper, to taste, and stir to combine.

Serve immediately or cover and place in the refrigerator until ready to use. Enjoy!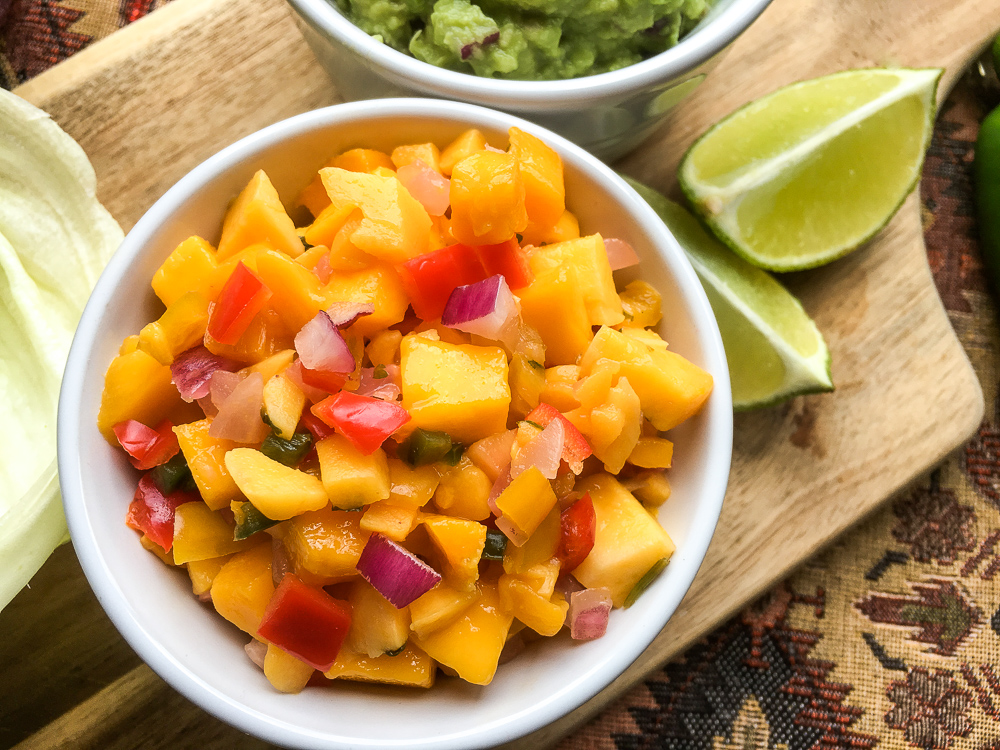 Looking for more side dish recipes
Need more ideas and help to stay on track with Weight Watchers?
Save Money on Weight Watchers- Get a Year for the Price of a Month – Everything You Need to Know About iTrackBites – Use Code Coach_DebiMurray to save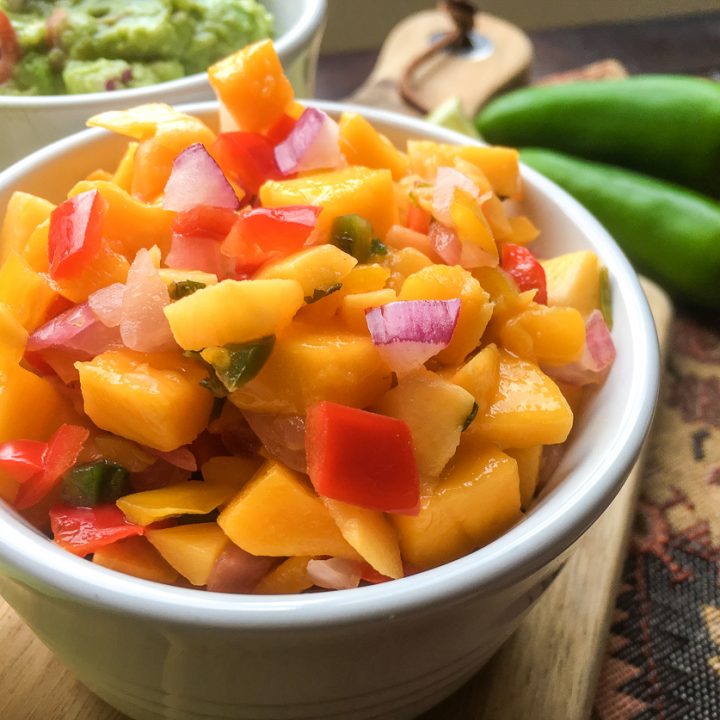 Spicy Mango Salsa Recipe
This fresh mango salsa offers a nice blend of sweet and spicy flavors. It is delicious paired with our Spicy Black Bean Taco Wraps or served on top of some grilled Atlantic cod. It also makes a fantastic snack when served with some sweet potato or even traditional tortilla chips. You'll definitely want to give this one a try!
Ingredients
2

medium

mangos peeled and chopped small

1

medium

red bell pepper chopped small

½

medium

red onion diced small

½

medium

jalapeño finely minced

3

T.

fresh cilantro finely chopped

2

T.

fresh lime juice

Sea salt and black pepper to taste
Directions
Combine mango, bell pepper, red onion, jalapeño, cilantro, and fresh lime juice in a medium glass or other non-reactive bowl. Season with salt and black pepper, to taste, and stir to combine.

Serve immediately or cover and place in the refrigerator until ready to use. E