If you were reading the past weeks, you would have seen that Monster Jam was coming to a town kind of close to me March 8-10th. We were all very excited to head to the show this weekend. What is it about giant trucks, loudly running over cars and mounds of dirt, jumping into the air that just gets everyone excited?
At the Wilkes Barre show, we got to watch Hooked, Spider-Man™, Stone Crusher,  El Toro Loco®, Son-Uva Digger®, and my all time favorite, Grave Digger®. We were so happy that Grave Digger was there. Having grown up in North Carolina, at the Outer Banks, just 30 minutes from the Grave Digger's home town, we often stop by the shop to look around.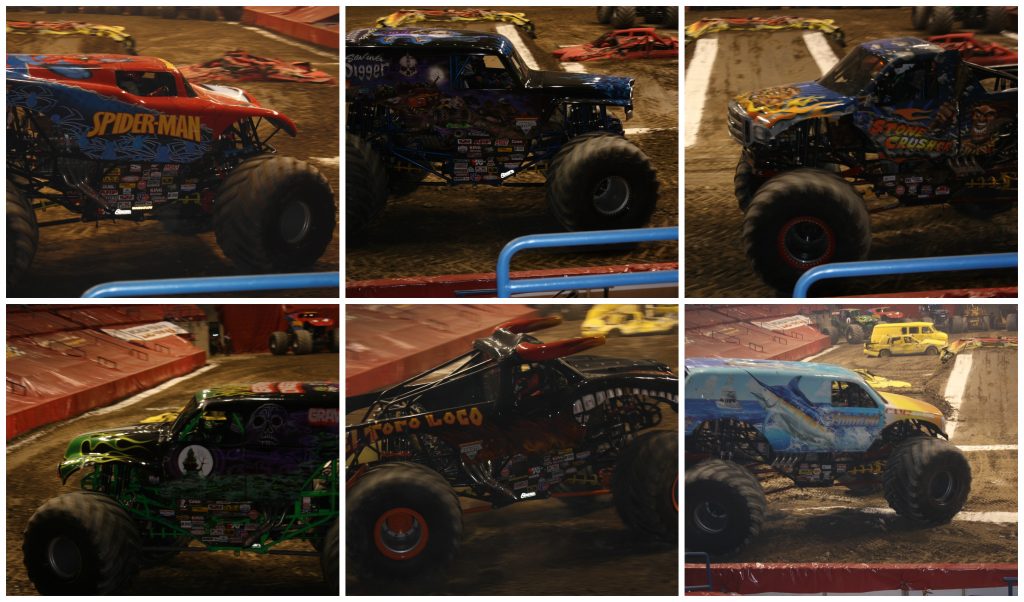 The show was absolutely spectacle. As the show opens, the trucks start in a wheelie competition. These giant trucks rev their engines and the goal is to get the best wheelie over mounds of dirt as high as cars, with CARS on the other side. Each truck takes its turn. The amount of air these things get is amazing.  El Toro Loco® was lucky enough to win the competition.
Next each truck participated in a race. The trucks pair off to see who races over the dirt mound and car to he finish line. One wins and moves on. After 2 rounds, the last 2 trucks standing face off. It came down to  Hooked and Son-Uva Digger®.  Hooked beat Son-Uva Digger® to win the races.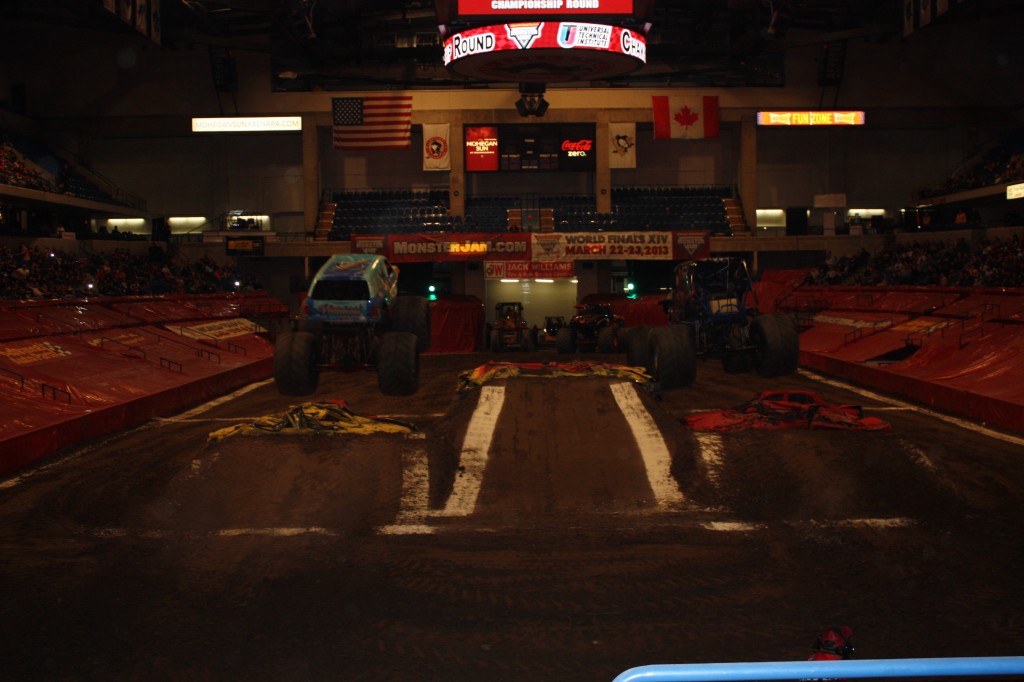 After the first competition is over, there is some smaller demonstrations. The smart jet car makes its appearance. This tiny smart car races around the tracks, shooting fire out the back.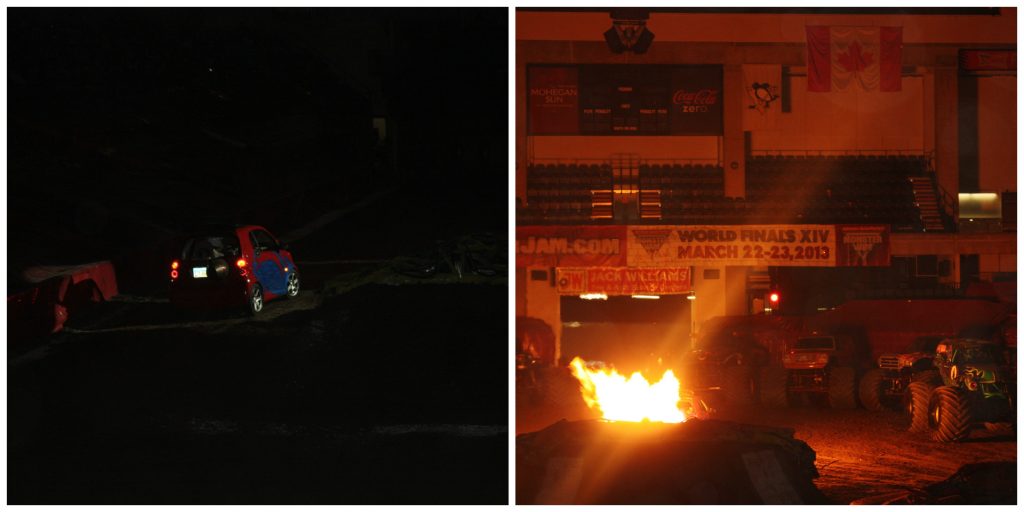 They take a short intermission and then before the final competition out comes Galactar and the Robot. This obscure white truck comes out and before you know it, it is like a real-life transformer. Galactar and the Robot are standing like, well, robots almost reaching the ceiling.

Lastly is the freestyle competition. This is when each truck gets 60 seconds to race around and do its own thing, showing off. For this competition, they add more cars to the field. It is so cool to see what each driver comes up with to fill their time. Sadly for Stone Crusher, with 9 seconds left, he had some truck trouble. Son-Uva Digger® and Grave Digger®, of course, rocked it, in my completely non-bias opinion, totally should have won. Grave Digger® ended is time doing donuts in the field. El Toro Loco® was the winner. I am betting it was those freestyle wheelies and that air he pulled in the jumps.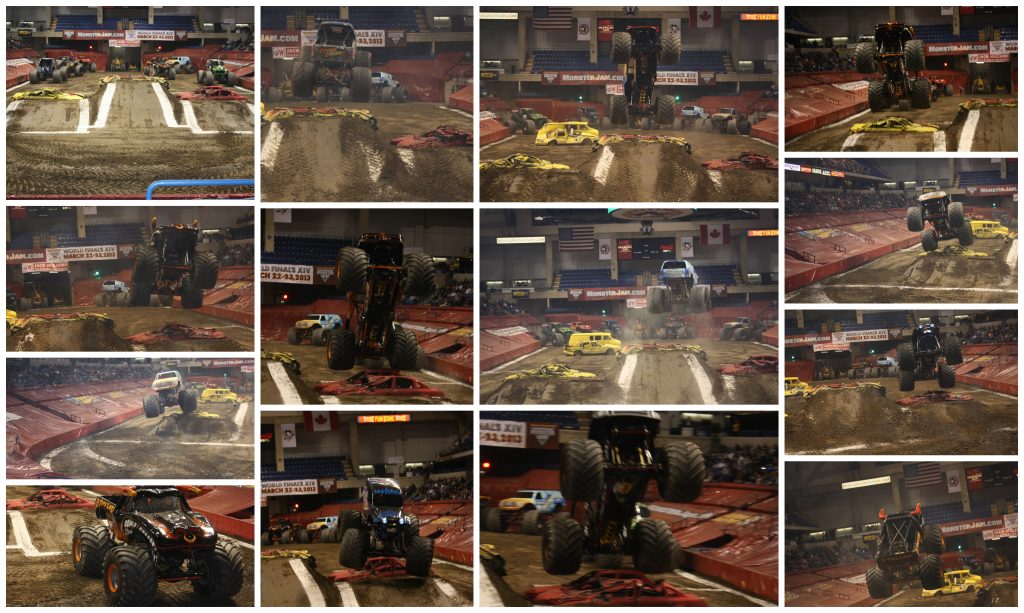 If Monster Jam is coming to a city near you (check it here: MonsterJam.com) it definitely is a fun night. My children loved it, ages 3, 9 and 15. And the biggest kids in the house, hubby and I, were on the edge of our seats, cheering the trucks on, even though we are not usually into car shows. The show is very interactive and entertaining, with chances to win prizes and hearing the drivers talk. At the end, there is a chance to get autographs from the drivers, maybe even get some of the swag you won or purchased signed. Be sure to remember to bring ear plugs for everyone. It is, of course, very loud. But ear plugs fix that. If you forget, I am sure the gift stands will have them, or gets super cool ear mufflers like these: