Love sugar scrubs? These Rose Vanilla Exfoliating Sugar Scrub Soap Cubes are a perfect gift idea, whether it is for a Valentine's Day gift idea or to give to someone just because.

Rose Vanilla Exfoliating Sugar Scrub Soap Cubes
I love sugar scrubs. I love to make them and give them as gifts. Who doesn't love a way to pamper themselves and have silky soft skin? It makes a simple gift that is easy to keep on hand. If you are looking for other sugar scrub recipes, try Pumpkin Pie Sugar Scrub, DIY Salted Caramel Coffee Sugar Scrub and a fun scrub for kids, Root Beer Sugar Scrub.
So, with Valentine's Day fast approaching, I wanted to think of a new sugar scrub that would be perfect to give as a Valentine's Day gift. Rose Vanilla Exfoliating Sugar Scrub Soap Cubes are perfect.
This exfoliating sugar scrub are made with soap. It makes them gentle enough to use everyday. The shea butter soap leaves skin silky and clean, while the coconut oil provides deep moisturizing. The sugar works do exfoliate the skin which leaves skin looking beautiful.
If you have read my recipes or crafts in the past, you know I try to buy everything online. I hate going to the store and trying to find what I need. I would much rather order it online and have it all at my front door in 2 days. It just makes my life easier. I don't have to go from place to place tracking everything down.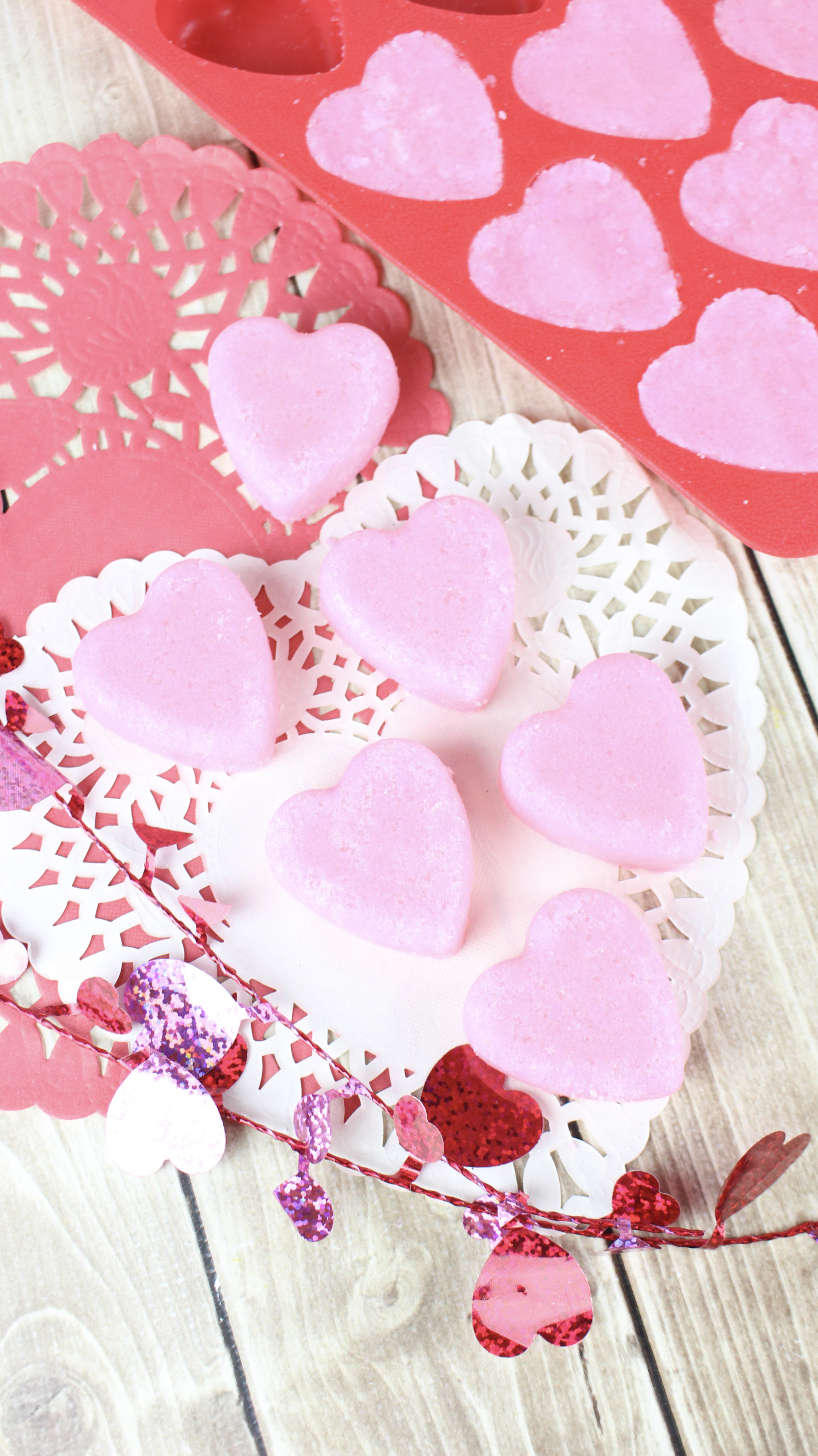 INGREDIENTS
1/2 cup melt and pour soap (I used shea butter)
1/4 cup coconut oil
8-10 drops rose absolute essential oil
1/2 teaspoon vanilla extract or flavoring
1 cup sugar
Red or pink soap colorant
Optional - Wilton white sugar crystals
Heart Silicone mold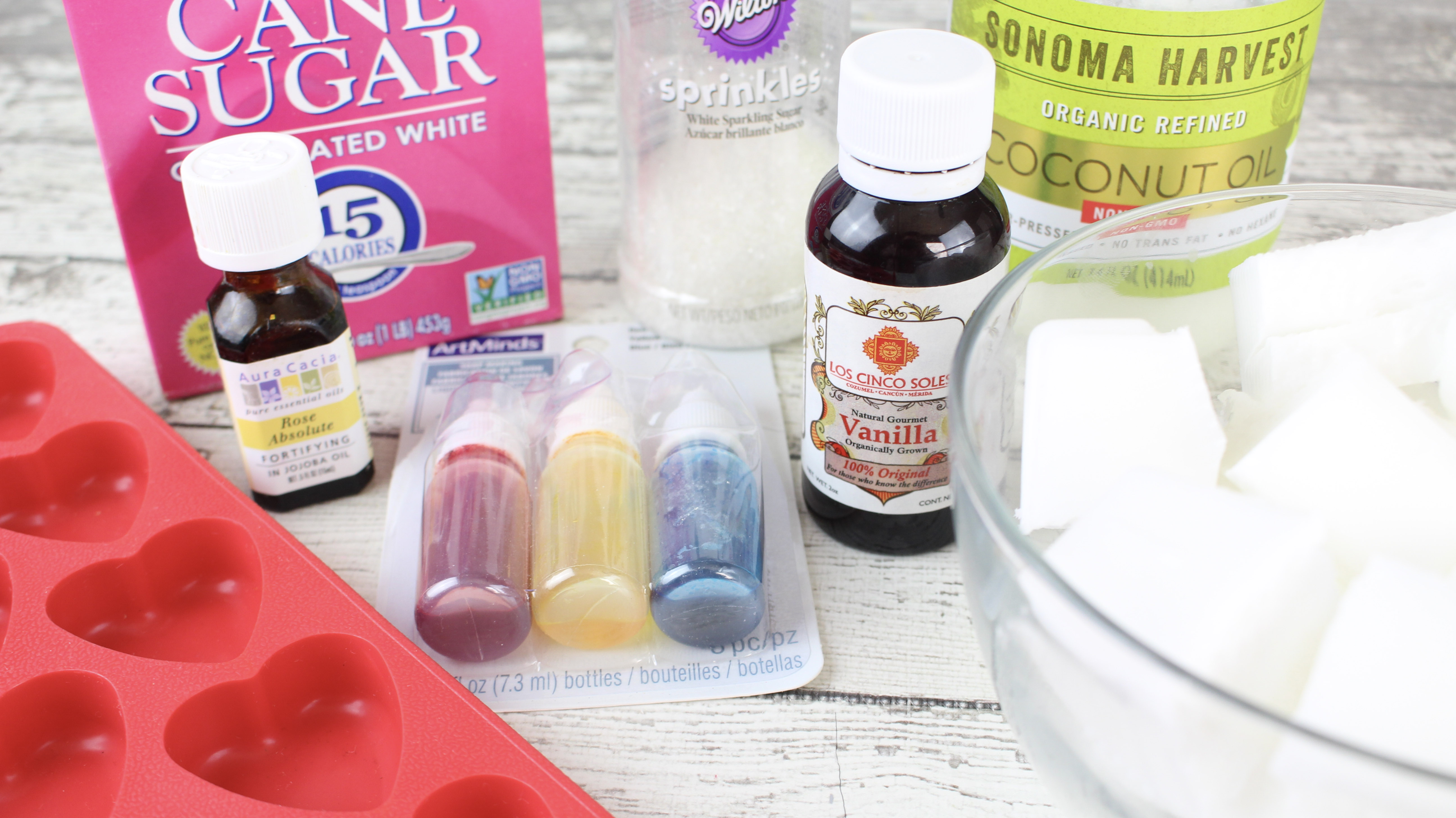 Tips to Make Rose Vanilla Exfoliating Sugar Scrub Soap Cubes
DIRECTIONS
1.  Shred or cut the melt and pour soap into small pieces and place in a medium microwave safe bowl.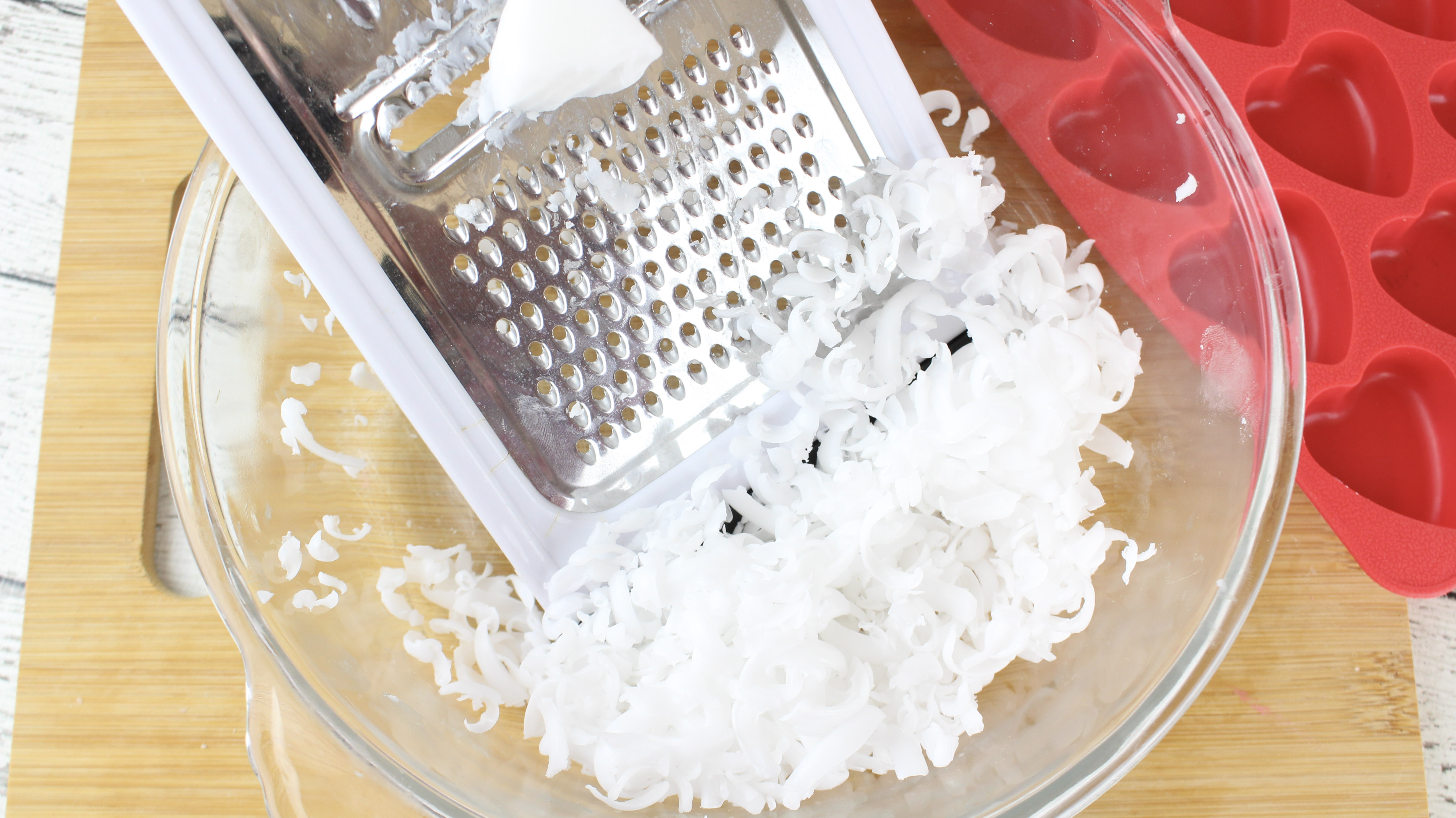 2.  Add the coconut oil to the shredded soap and microwave for 45 seconds or until melted.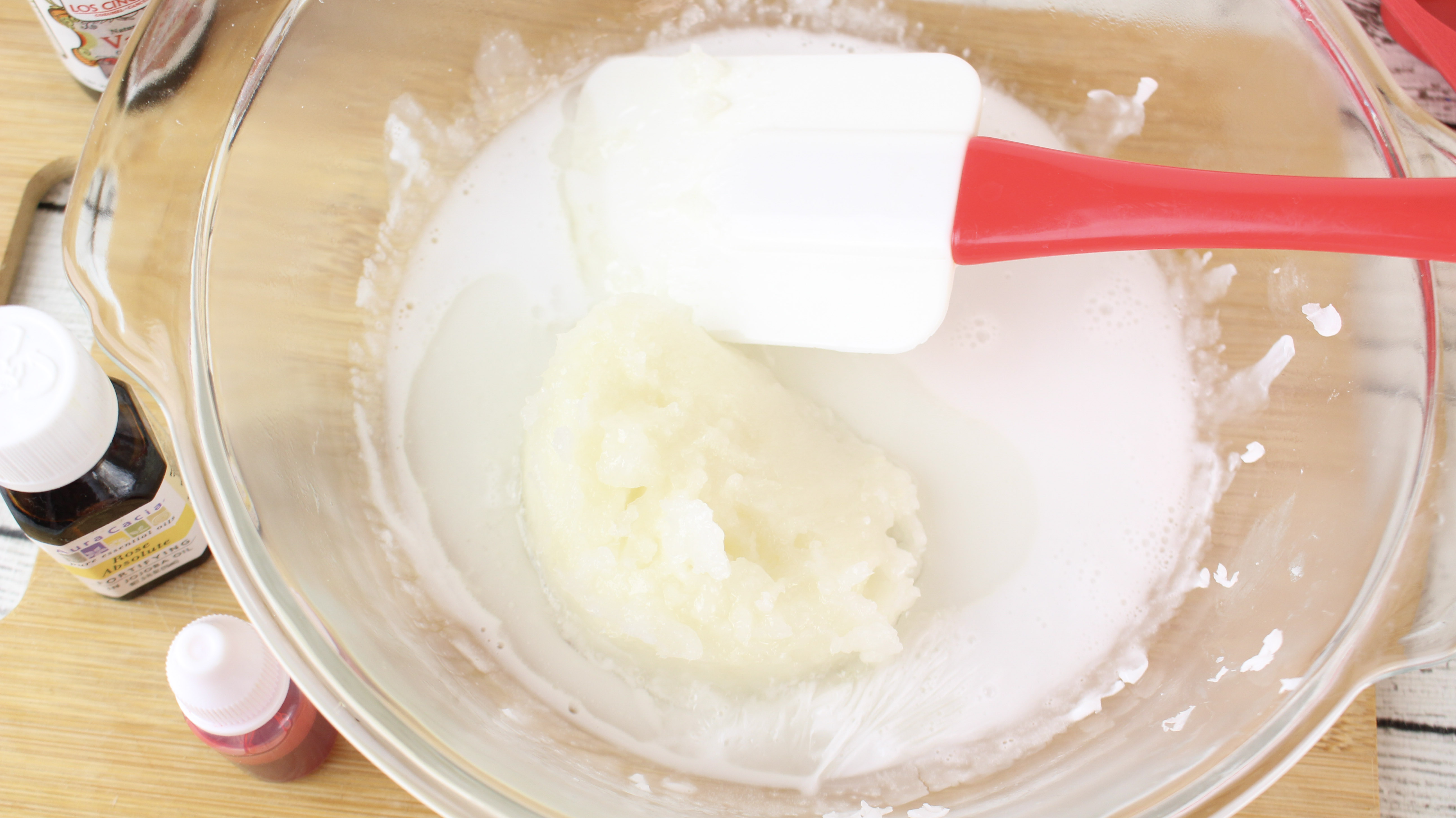 3.   Add the rose essential oil and vanilla flavoring and stir well to incorporate.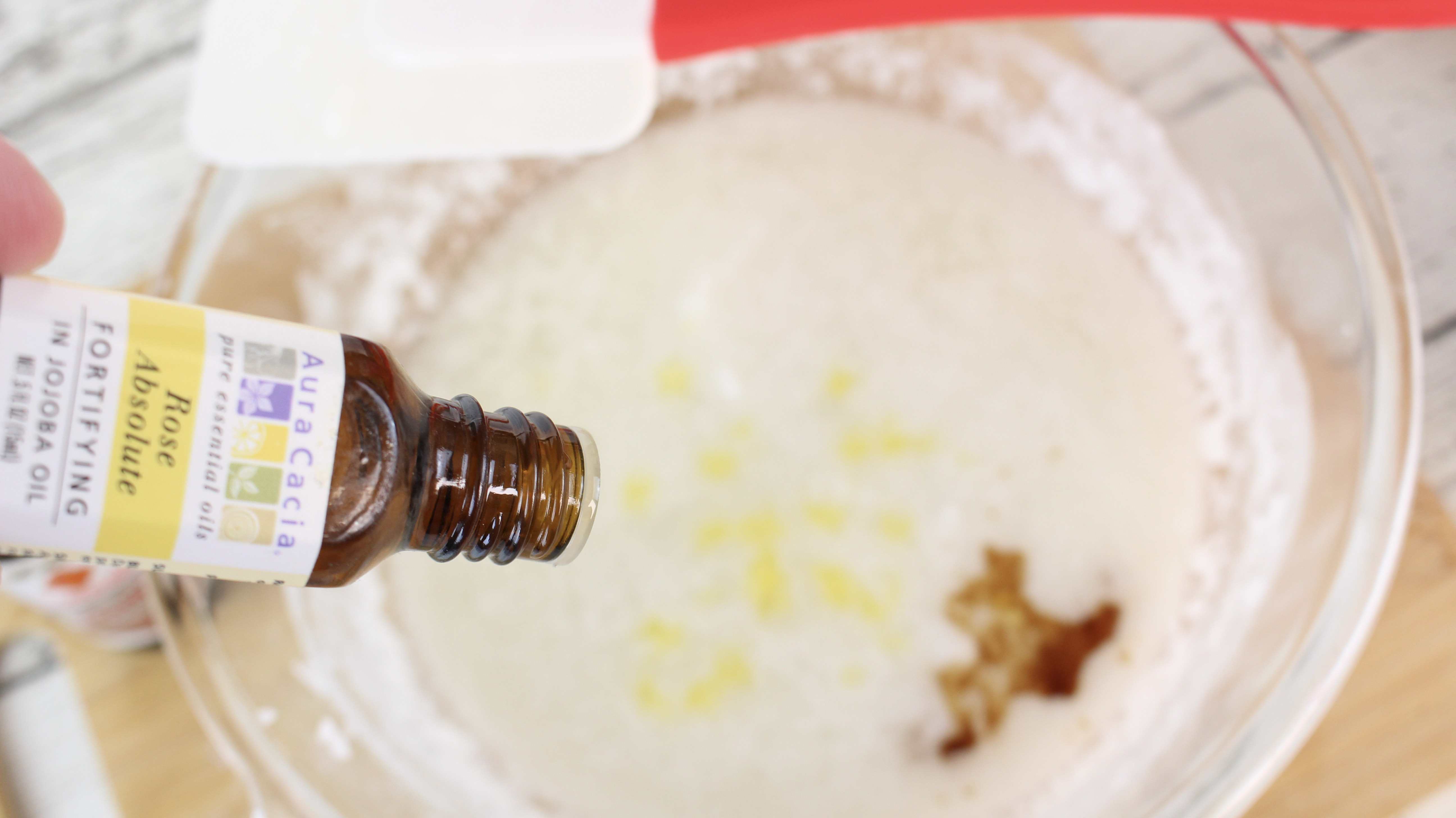 4.   Add the soap colorant of your choice and mix well until you achieve your desired color.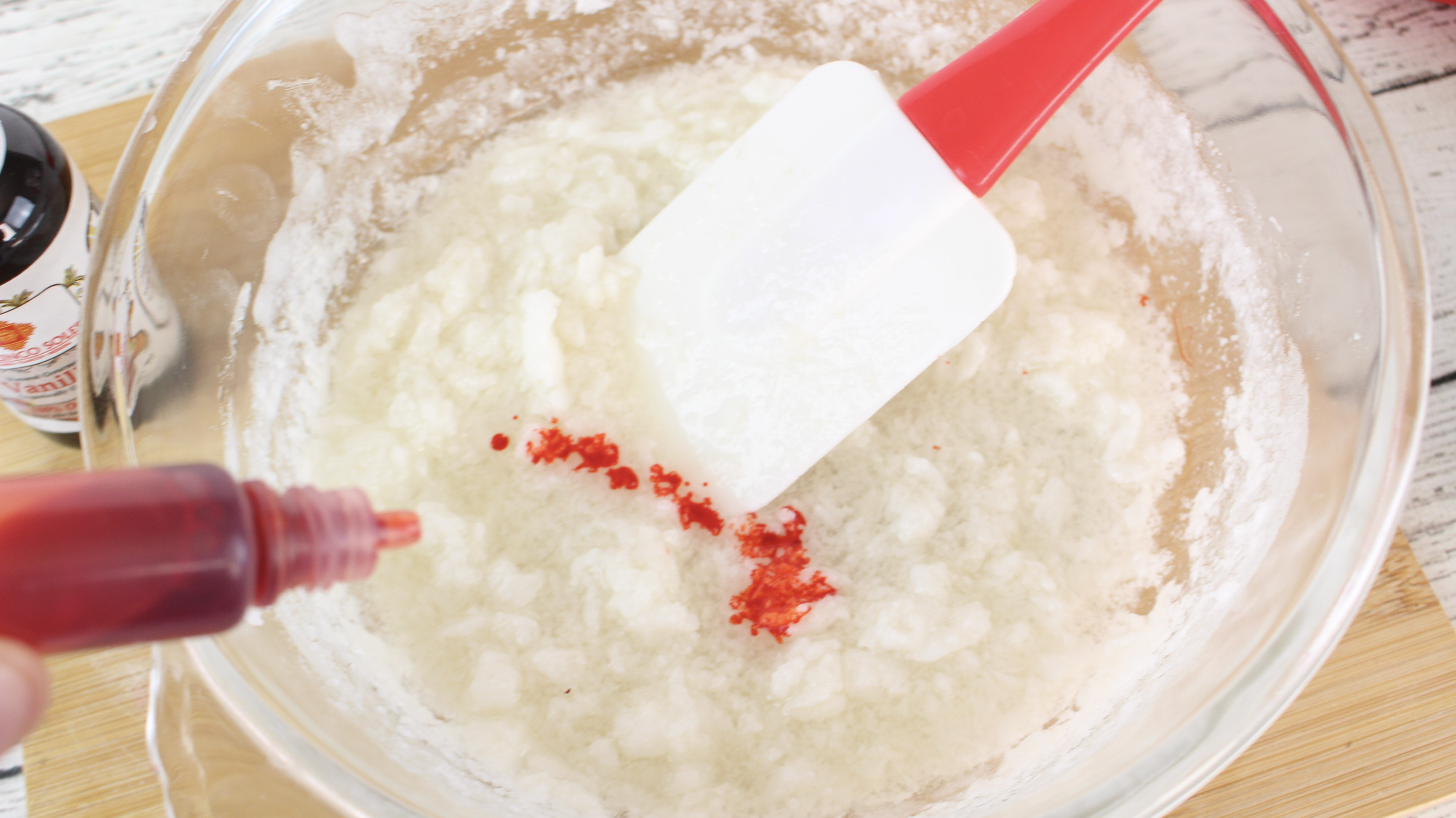 5. Add in the sugar and mix well.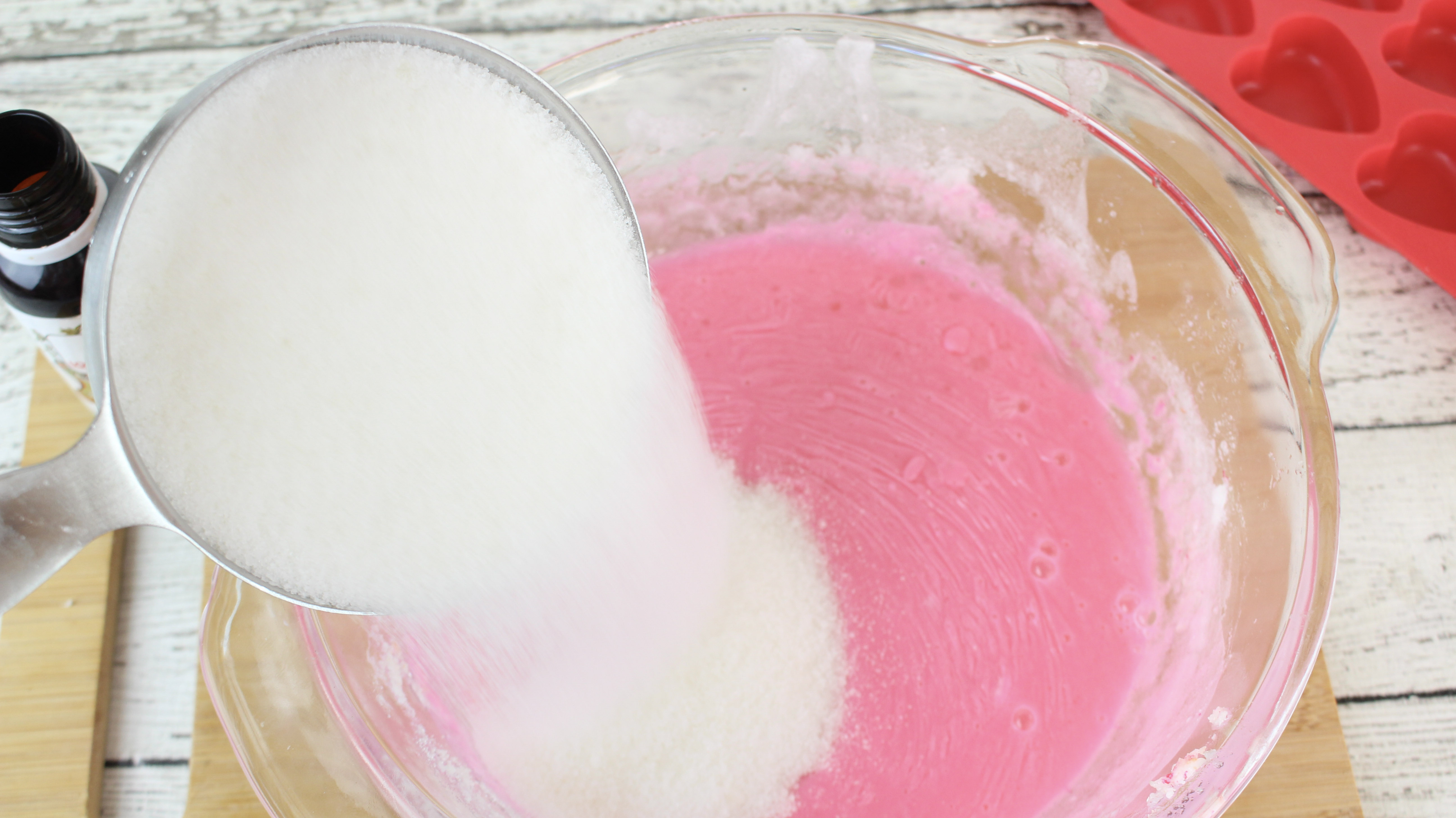 6.   Sprinkle a small amount of the sugar crystals into each mold (this is optional but it will give an extra sparkling effect on each  heart).
7.   Transfer the sugar mixture into each heart mold, pressing down firmly and filling up to the top of each mold.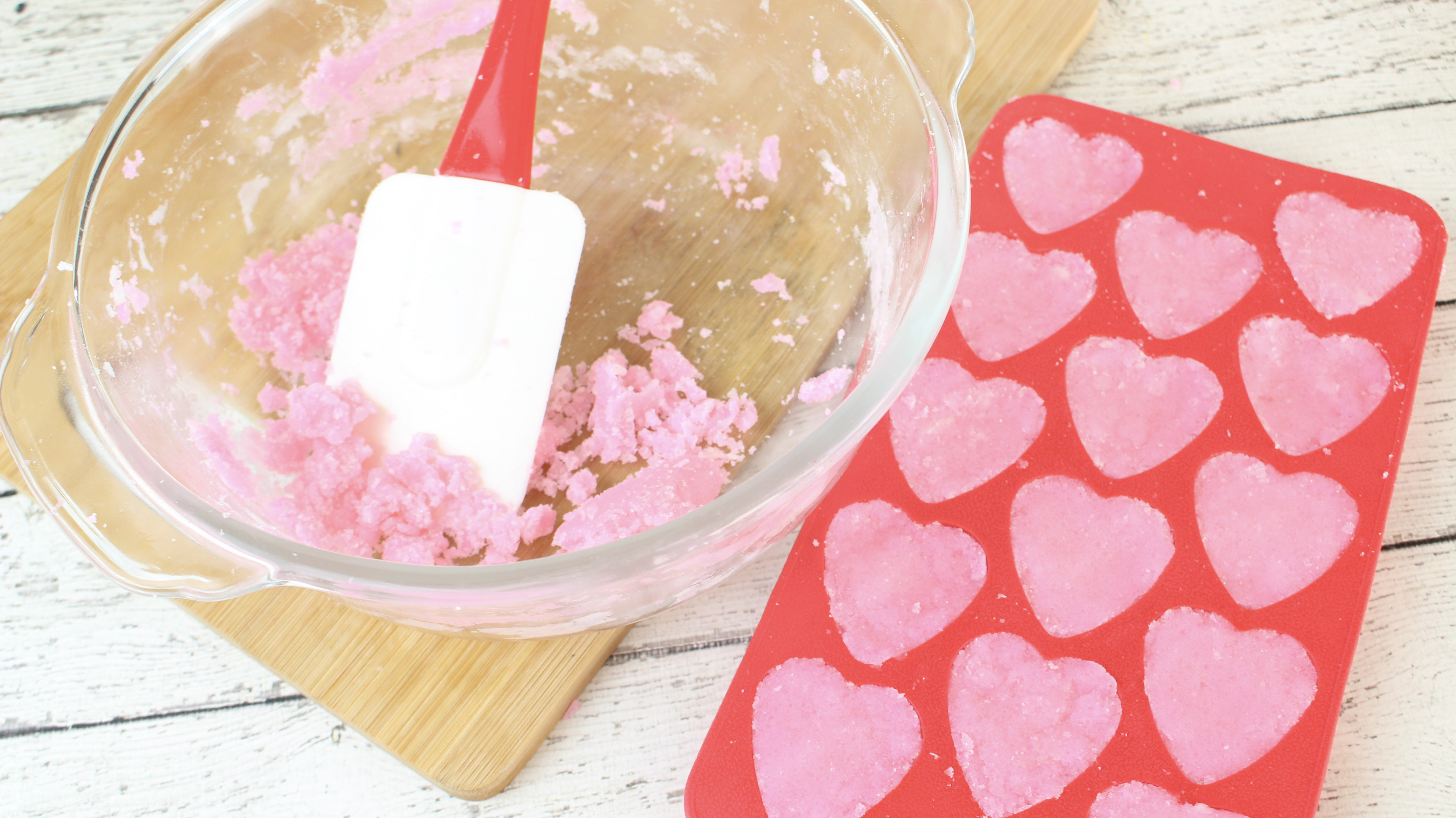 8.   Freeze for 1 hour and release the exfoliating cubes from their molds.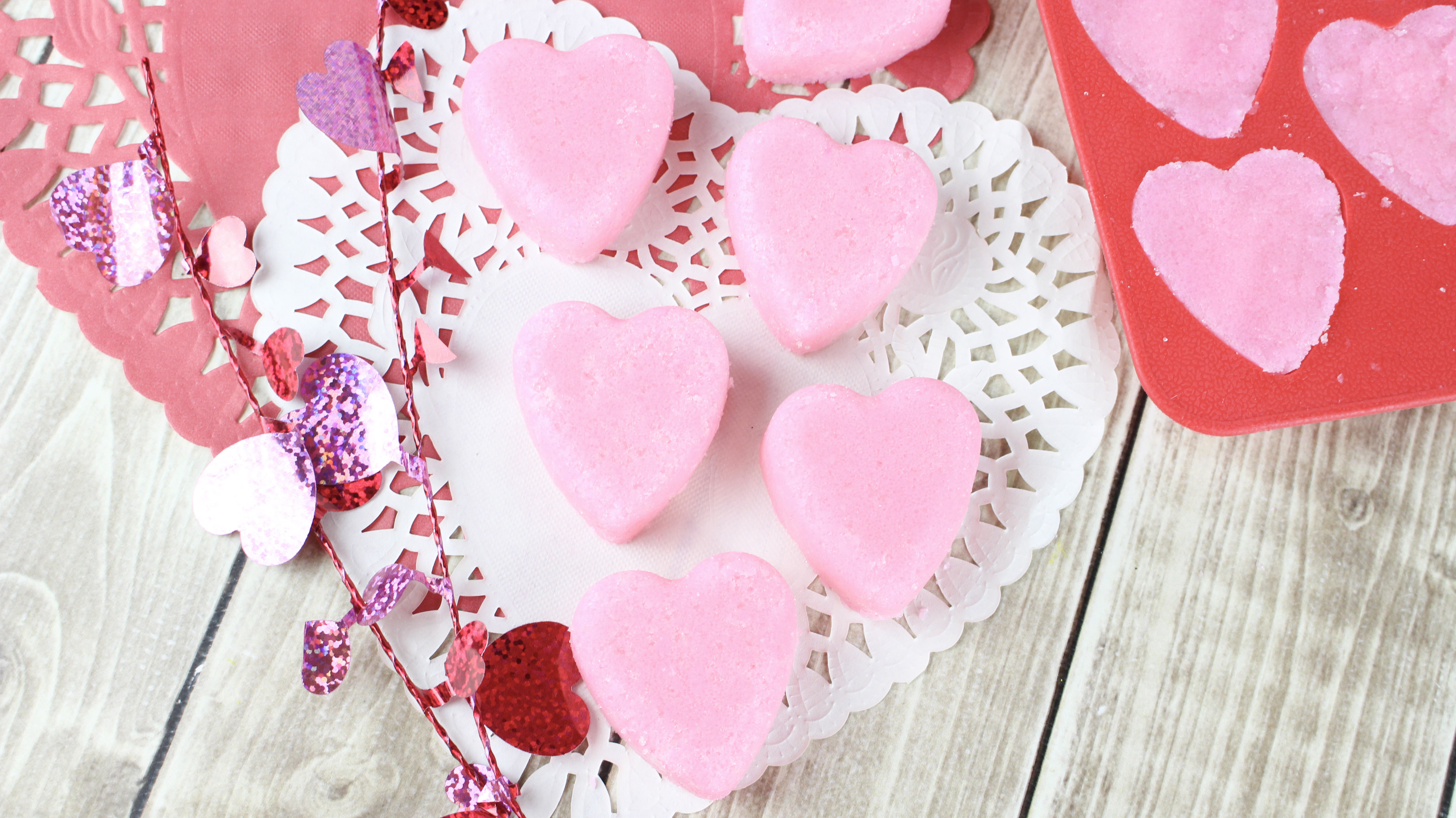 9.   Store in an airtight glass container for up to 3 months. A mason jar works great for this. Other options are saving a food jar. Remove the label and once it is clean and dry it will be ready to use.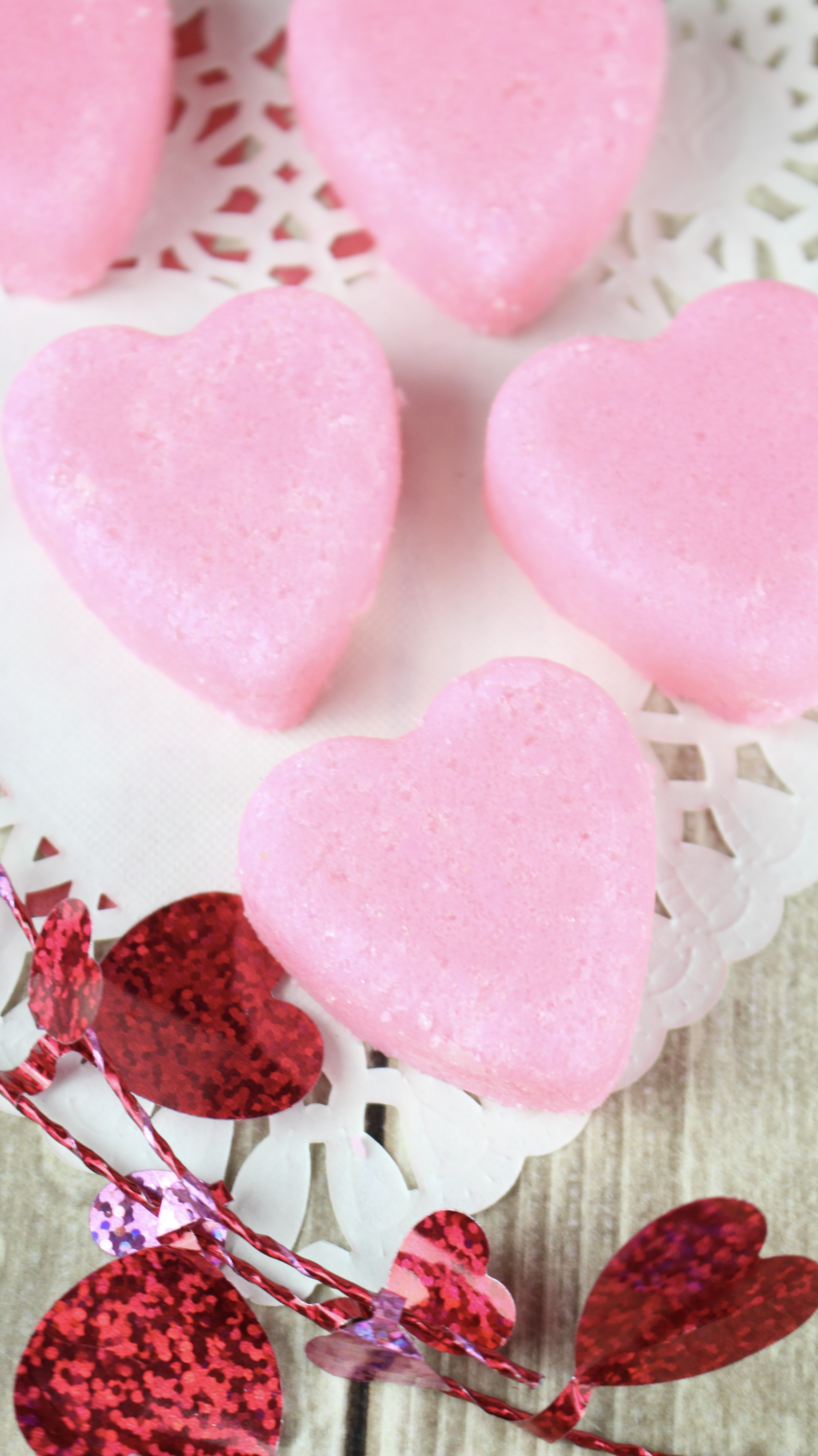 Yields: 1 dozen Sugar Scrub Soap Cubes