I love these cute crochet shark slippers. Everyone gets such a kick out of them. Whether you are looking for a free crochet shark slipper pattern or shark crochet slippers that are already made and ready for purchase, these shark slippers are too cute.

Shark Eating Feet Slippers
I have always been a knitter. My grandmom taught me when I was young. I fell in love with it right away. What I could never get the hang of was crochet. I have tried several times but just can't get it. I used to have a pattern in this post for shark eating feet slippers. I always wanted to make it but I could never get the pattern to work for me.I just can't seem to get the crochet thing. But when I see these shark slippers crochet, I really want to give it another try.
Want a crochet pattern to make your own?
Tips to make Crochet Shark Slippers
You will need either knitting needles or a crochet hook, depending on the the pattern you are using. Remember, you need to have a specific size to make sure your pattern comes out to the right size.
Yarn: You will need to make sure you have gray yarn and white yarn.
I like to have a storage bag. I like the ones that hold my yarn, needles and my project. This yarn storage bag is perfect.
Recently, I found out that the Shark eating feet slippers crochet pattern was no longer online at the original link. I did find the crochet pattern on Raverly. So I started looking for a new pattern. I have found several patterns that can be bought online through Etsy.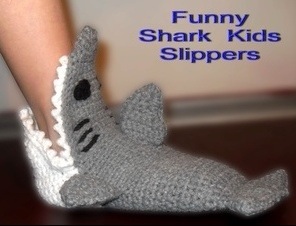 Shark Eating Feet Slippers
Here are some crochet pattern for shark slippers:
Shark slipper pattern for kids/adults
If you would like a pair of shark slippers and you can't crochet, like me, you might like a pair of crochet shark slippers that are already made. These shark slippers are really cute and shark lover will love them.