This post contains affiliate links. If you buy something from them, I earn a small percentage that helps keep The Spring Mount 6 Pack running.
My kids LOVE fruit and yogurt. When I throw things in a cup, it is a guarantee that it will be a hit. So needless to say, we tend to make a lot of parfaits. Who doesn't love fun food? Getting ready for St. Patrick's Day, the kids and I decided to do something a little different. We wanted to make an Irish flag in our parfait. So simple and great way to celebrate St. Patrick's Day. This parfait can be used as a St. Patrick's Day dessert or as a way to learn more about Ireland or as a St. Patrick's Day learning activity. Whatever you decide to make them for, the end result is still the same… Yummy St. Patrick's Day fun.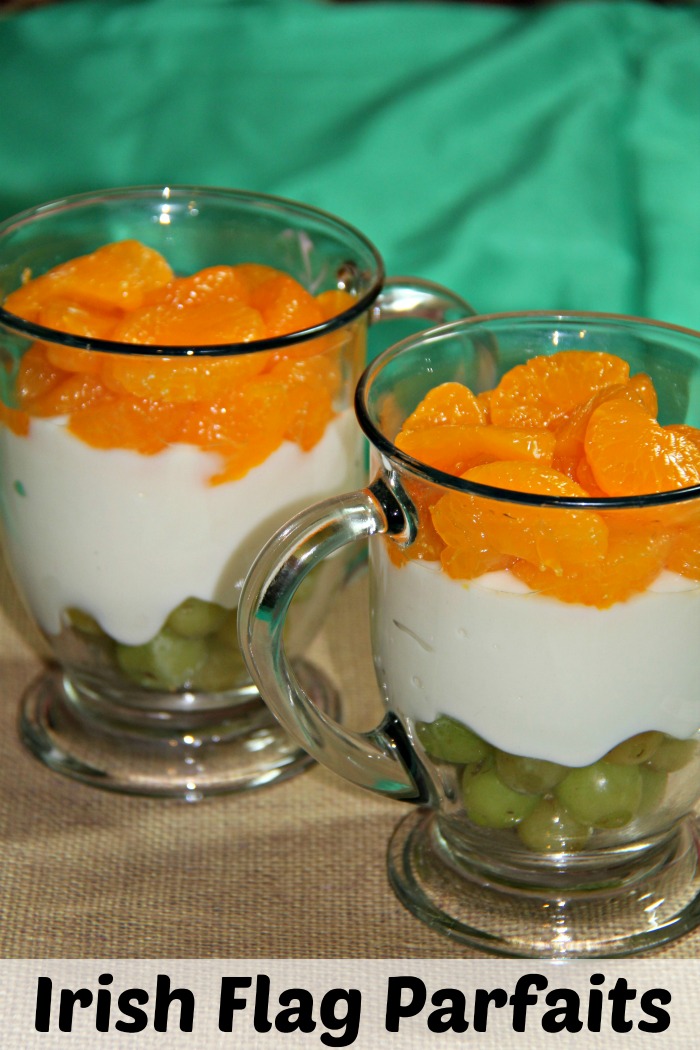 Irish Flag Parfait: Simple St. Patrick's Day Dessert
This is a simple rendition of the Irish flag. Since the colors of the flag are orange on top, white in the middle and green on the bottom, it comes together rather easy.
What you need:
Clear Glass or Cup
Green Grapes
Vanilla or plain yogurt- Regular style or Greek
Mandarin Oranges
Start by placing the green grapes in the bottom on the glass. This makes up the bottom on the flag.
Next comes the yogurt. You could also use whipped cream or even cool whip for a dessert. The regular style of yogurt does tend to drip down between the grapes. If this bothers you, use a Greek style yogurt which is thicker.
After draining the mandarin oranges, add them to the top of the yogurt.
That is it. You are ready to eat your Irish Flag as part of your St. Patrick's Day Dessert. You can also make these up ahead of time and leave them in the refrigerator.  They store well for about 2 days, covered.