I remember hearing about pressure cookers when I was little. I remember hearing how they could get things cooker quicker things that normally took a very long time. I never really thought about them much. Then as I got older, I saw them featured on Iron Chef. They would use them a lot to cook tough selections of meats. Those meats that need to be cooked for a very long time in order to become tender and just fall off the bone. It was the only thing I thought you could really do with a pressure cooker. Well, that and use them for canning.
Pro Tip: Right now, Instant Pots are very popular. Pressure Cooker recipes can be used in an Instant Pot. I have heard many say that they like their Instant Pot better than a pressure cooker.
Then my mom, who has an obsession with QVC, bought a pressure cooker. She didn't know what to do with it, so she gave it to me. I was able to find one recipe I liked on-line, and I made Red Beans and Sausage. As much as I liked it, I kind of just put it on a shelf and left it be. Cooking in it was great, it cooked everything really fast. But I had to go out of my way to search for something to make i it, and most of the recipes I found online were all pretty much the same.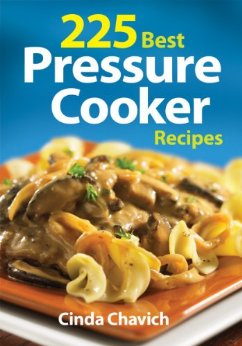 Then I received a copy of 225 Best Pressure Cooker Recipes. I was pretty excited. I had a new reason to break out the pressure cooker and it wasn't a hassle to find recipes. 225 recipes is a lot of recipes to try.
The first recipes I tried from the book was Chicken braised in cider. It was simply amazing, and definitely something I had never thought of. Normally getting chicken that tender through braising can take a very long time, much like a stew, that tastes best when it simmers all day. This recipe takes 40 minutes in the pressure cooker.
Did you ever think you could make speedy fried chicken in a pressure cooker? We love fried chicken but hate how bad it for you. But even when I want a splurge night, I hate how much is involved in making friend chicken. Then for a family my size, it takes a long time to make that much time. I can make it in the pressure cooker. The recipes features a much healthier version. It is not actually fried, but taste just as amazing.
This cook book even features desserts, which you know is my weakness. I get my fill of espresso chocolate cake lemon-lime cheesecake, coconut creme caramel, even cranberry pudding with an eggnog sauce. There are 23 delicious desserts just waiting to make their way into our weekly menu.
Have you ever used a pressure cooker? Are you looking for new recipes to try. I would highly recommend adding this recipe cook book to your collection.
Does your Instant Pot Say Burn? Learn what the message means and how to prevent it.