Want to cool off while in the Poconos this summer? Camelbeach Waterpark is the place to be. Camelbeach offers 2 great water parks and is perfect for making family memories.

Staying at Camelback Lodge? Use this link to save money at Camelback when you book with TripAdvisor, the world's largest travel site.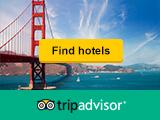 Making Memories at Camelbeach Water Park
Summer is in full swing. That means it is time to beat the hot summer heat and do something fun. In the Pocono Mountains area, that means one thing. Heading to Camelbeach Waterpark. The ultimate summer amusement park. It is also the biggest waterpark in the area.
To start our summer day off right, we recently spent a hot summer day at Camelbeach Water Park. There are 37 different water rides, slides, and attractions. There are both types of water slides: closed tube water slides and open tube slides, the Blue Nile Adventure River, which is a lazy river ride, the Flow Rider, Wave Pool, a regular pool, areas for the little ones that offer play structure slides and safe water areas for even the littlest of kids.
I highly recommend starting your trip to Camelbeach Waterpark with a cabana. I have always been the person who thought that something like that was not worth the added expense. But you know what? I'll never go back. When we arrived, we received fresh fruit and our locker. The cabana proved shade that lowered the temperature by around 10 degrees. How nice would that be when it is a hot 90+ degrees. We had the shade, 2 lounge chairs, and 2 beach type chairs and 2 chairs at a table. There was a server to bring us anything that we needed while we were at the cabana. In the afternoon, we received some cookies and brownies, that you can imagine the kids loved. It was really nice to able to leave our towels somewhere and not have to worry about them and that we could leave out water sitting there, in the shade. If you have little ones who are getting worn out, there is a comfy, cooler place to relax and let them eat lunch, grab a nap and just recoup before heading back out to the water.
Camelbeach Water Park has 37 rides from mild to wild, with smaller play structures, like Kahuna Lagoon, to bigger rides like the water slides. There is a wave pool and a regular swimming pool. Camelbeach does offer a speed pass so that you can bypass the lines and get right onto the ride.
Our first ride at Camelbeach Water Park: The Flow Rider. Imagine a place where you can always surfer or boogie board, in the same place, with lots of fun and safe. That is the Flow rider. Seriously so much fun. Who doesn't want to go on a ride that is like surfing or body boarding without the worry of the ocean?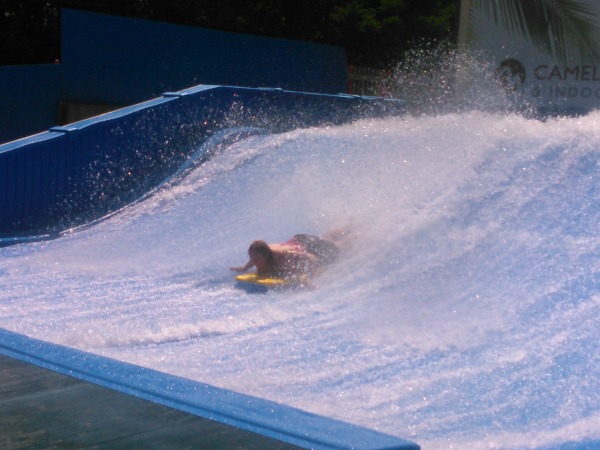 There are many different types of water slides, depending on what you are looking for. There are closed tube slides as well as open tube slides. There were several that even my daughter, who is only 38 inches, could still ride. There is nothing worse than having to watch her sad face when the big kids get to go off on a ride and she can't.
But Camelbeach Waterpark has taken that into consideration and they have several areas that are meant just for the littlest park goers.
There are 3 areas that are just the right size for the little ones. Camel Kids, Camel Cove, and Kahuna Cove. All of the areas were just as much fun for my big kids to play and splash as they were for Willow, except for Kahuna Cove. That one is right next to the wave pool and my kids would not get into those waves fast enough.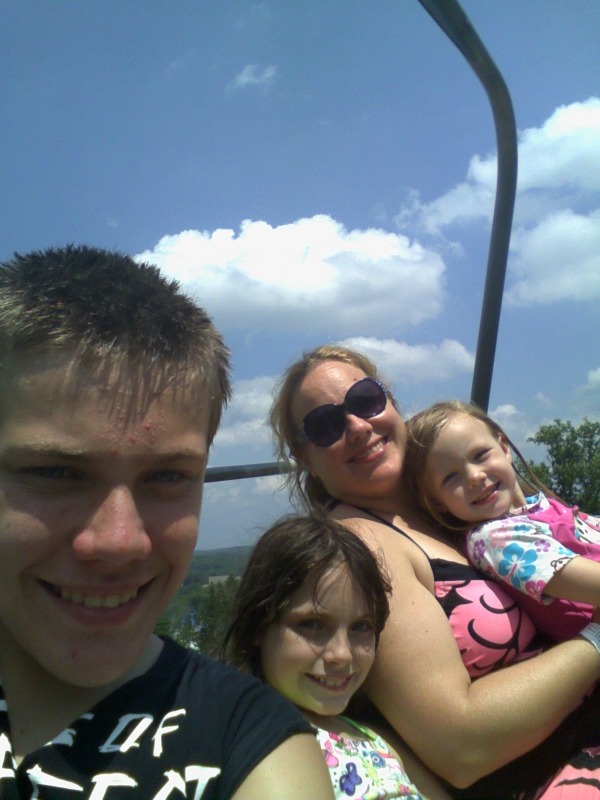 All of the kid enjoyed the Sky Ride too. As we were riding up, we were lucky enough to even see a baby deer looking for food. The view riding up is amazing. We walked over to see where the ziplining started from and the view from the top of the mountain was amazing.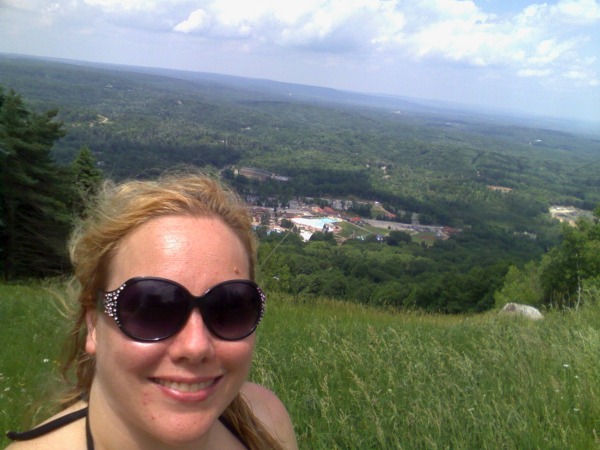 But for us, our favorite ride, I think, will always be the river ride. I love laying back and relaxing on the tube as we float around. The kids love to try to connect our tubes together by holding on to each other.
We called it a day around 5 so that we could check in at our hotel, The Chateau Resort, and get ready for our dinner at Desaki. But we headed back the next day to check out some of the fun at Adventure Zone.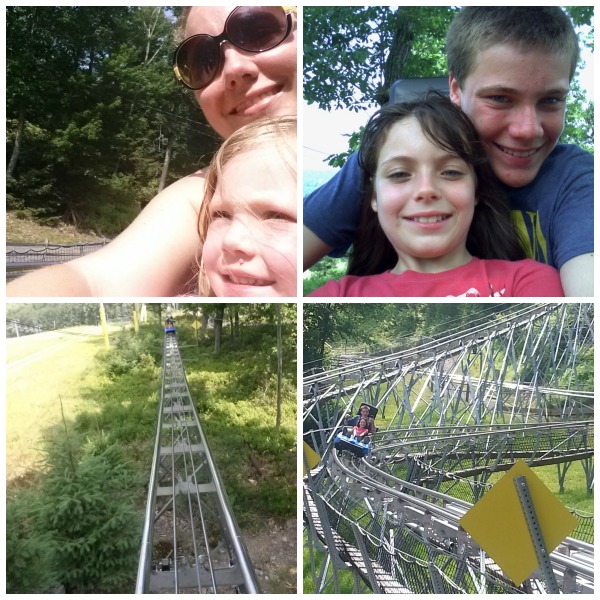 First, we walked down to the Camelback Mountain Adventure area, connected at the other end of the water park, and rode the Mountain Coaster. We took the 4 1/2 minute ride up the mountain. Then you push your levers forward, and off you go. You get to control how fast you are going, which is a nice change of pace if you are riding with a younger child. Unless you have a kid like mine and wants to go as fast as possible.
After the Mountain Coaster, we headed into the Adventure Zone, which is also accessible through the water park, to have some fun. There are 3 attractions in this part of the park. The Euro Bungee, Climbing Wall, and the Free Fall.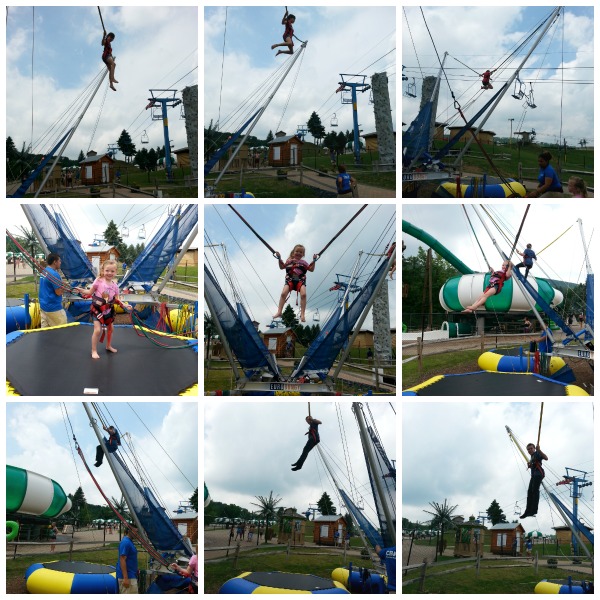 First, the kids did the Euro Bungee. You might have seen these are fairs and carnivals. The riders are weighed, buckled into their harness, and attached to bungee cords while standing on top of something that looks like a blown up trampoline. And then they jump. And bounce. And if they are really good they can do flips. But either way, they jump up about 20 feet up.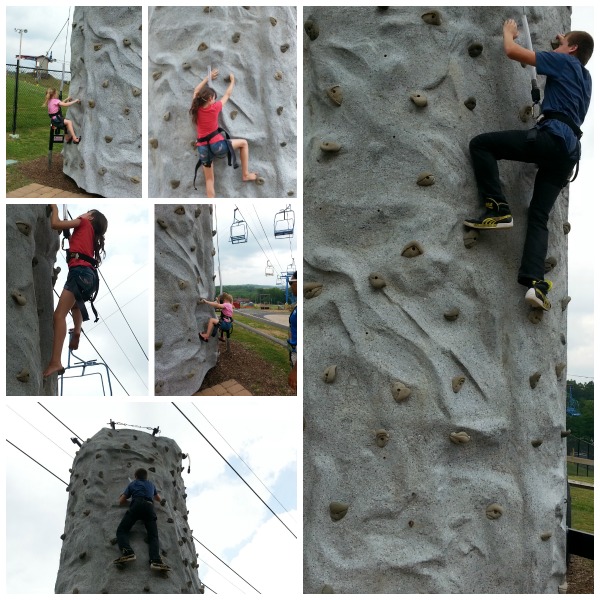 Then we did the rock climbing wall. The wall gives the climber 2 levels, the more challenging side where all of the handholds are underhanded and the easier side that have over handholds. Everyone gets to climb the wall twice. Since you are harnessed in and secure, there is no risk of falling or getting injured. Even Willow was able to give the wall climb a chance.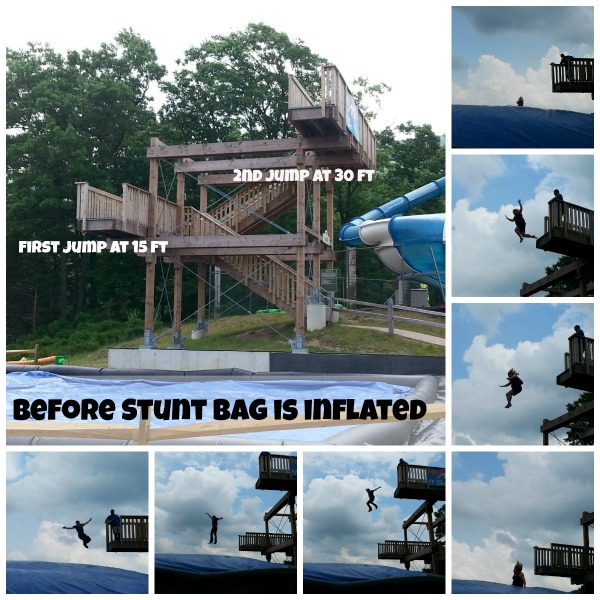 Then, Joey and I got to do the Free Fall. This was the one thing we were looking forward to most. Basically, you climb up to the platform and jump. You are not attached to anything. Ever wondered what it would be like to jump out of a 3rd story window. Here is your chance. And since you are jumping onto the same thing that the stuntmen jump onto, you get the thrill without the injury. Your first jump is off the 15-foot platform. The instructor tells you how to jump, but more importantly, how to land. Then you climb off the stunt balloon and climb up to the 30-foot platform. That one gave me pause for a second. It is higher than it looks. But so much fun. I have never felt anything like it before. Just jump out, lift your legs like you are sitting and fall. Talk about losing my stomach. And it was a total rush.
Starting in the Spring of 2015, there will be an additional indoor water park and a lodge so that you can stay right on the premises. There will be 453 deluxe guest suites that will come complete with a fireplace and balcony, some will have loft space and bunk beds for a cozy home away from home feeling. There will be:
Double Queen Sofa Suite: Double Queen Sofa-style room contains 2 queen beds with a queen size sofa sleeper, that will sleep up to 6 guests.
1 Bedroom Suite: 1 Bedroom Suite contains a master bedroom with a king bed and master bathroom, connecting living room with sofa sleeper, Murphy bed, and a second bathroom, that will sleep up to 6 guests.
2 Bedroom Suite: 2 Bedroom Suite contains a master bedroom with a king bed and master bathroom. It will also contain a second bedroom with 2 queen beds, a connecting living room with sofa sleeper and a second bathroom. All in all, it will sleep up to 8 guests.
That means Camelback Mountain and Waterpark will be a place you can visit all year-long no matter what you are looking for. For me, I have 2 kids that love to snowboard at Camelback Ski Area, but as for me, and my youngest, we will pass. So we could spend the day chilling out in the indoor water park, the other kids can snowboard in the ski area (and I am still right there in case there is any problem) or beat the outdoor waterpark and then all come together at the end of the day. We will also be able to enjoy the Family Arcade & Game Center, an Indoor Ropes Course, a 9-Hole Glow In The Dark Mini-Golf, a Laser Tag Arena and Laser Maze, Mini-Bowling, and a kids club activity center.
Have you ever been to the Poconos? Have you ever been to Camelbeach Mountain Waterpark?