Coconut Poke Cake Recipe. Few recipes are easier than this one, but it's also a favorite in our house. This is an easy and elegant dessert that will impress anyone who tastes it! So simple and so delicious, poke cakes take a simple cake to a whole new level.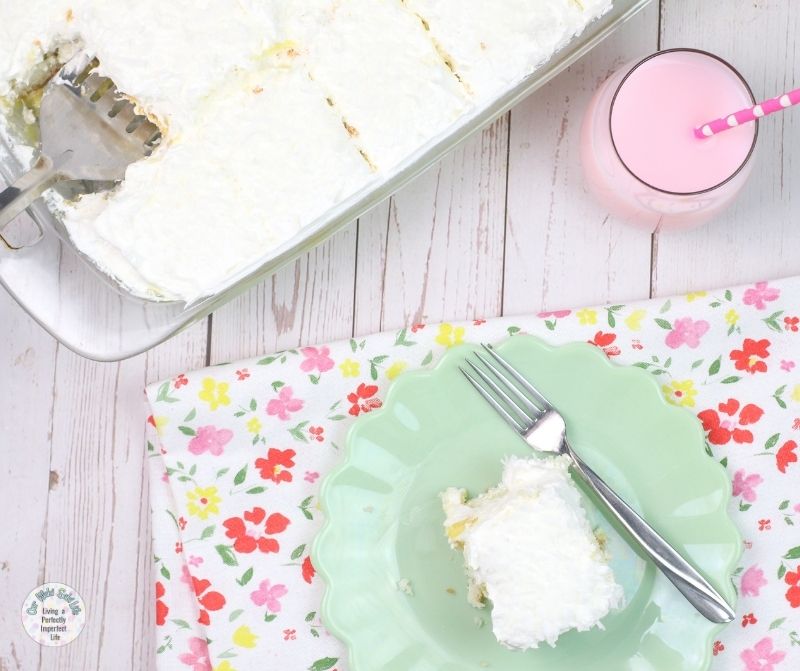 Instagram is one of my favorite places to be. Join us as we share our Perfectly Imperfect Life with recipes, crafts, parenting, and fun! Be sure to check out our stories for real-time fun!
Coconut Cream Poke Cake
When it comes to desserts, this recipe is perfect. Even if you're not a great cook, you will never fail with this recipe. Hundreds of times I've made this recipe and it always turns out well. Even families have given it the seal of approval every time I make it for them! (Yes, even teenagers!) What makes this recipe so good? The simple ingredient list is what I think is the key.
What Is A Poke Cake?
Poke cakes are a special kind of cake that has been around for decades. The original recipes were made with the boxed mix but they can also be made with homemade cake mixes. In fact, I think the recipe works best if you use these types of mixes instead of a regular from-scratch cake. While some people call them Hawaiian cake, these are actually named after the way you make them. You poke holes in the cake and then pour a delicious liquid mixture over it, making sure to fill all of the holes.
Why is it called a poke cake?
You have to poke holes in the cake, which is where it gets its name. When you poke the holes in it, it will absorb the liquid and create a really moist cake that's so good. When I think about it, I don't know why they aren't called soak cakes! They are also known as trifle cakes.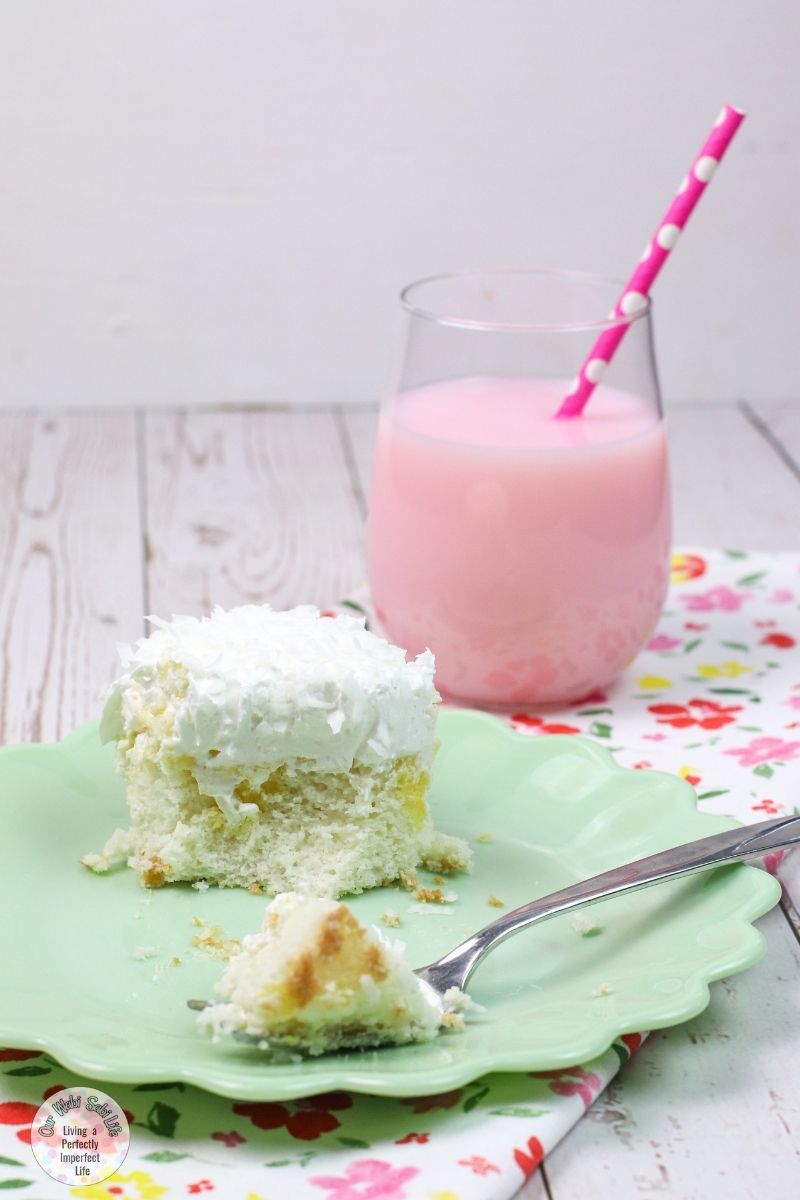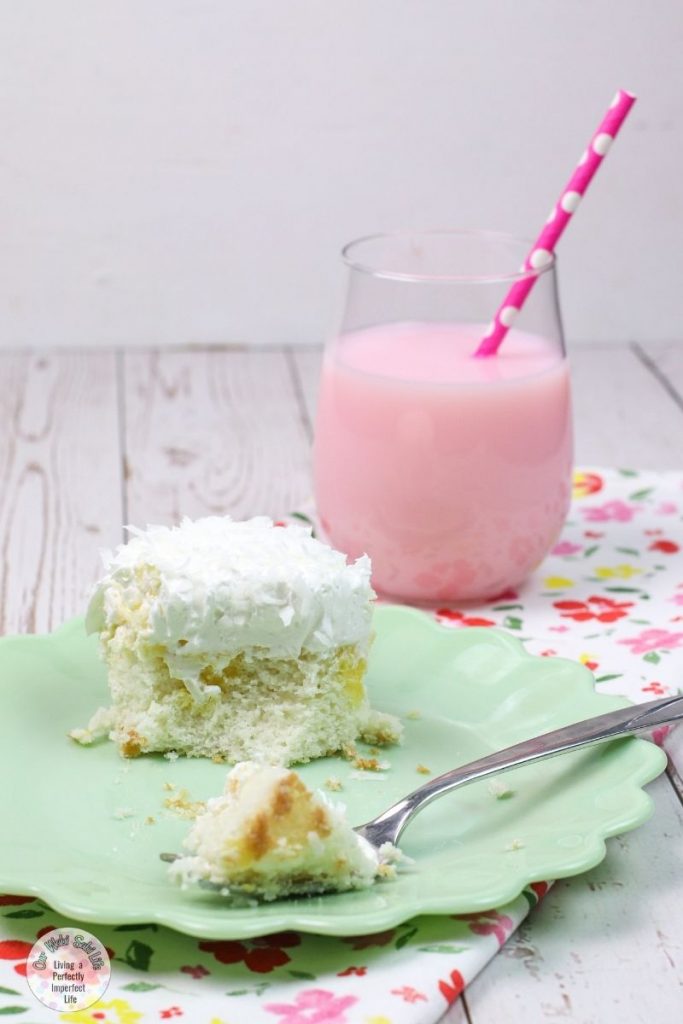 What's So Great About Poke Cakes?
The poke cake recipes are just so simple. For this coconut version, you only need to make a few holes in the cake with a toothpick or fork. Then, pour a delicious mixture called the soak over the baked dessert. This is what makes it so moist and yummy!
Are Poke Cakes Easy to Make?
The poke recipes aren't difficult at all. That's why they've become very popular. If you know how to make a box mix and some other simple recipes like pudding, in this case, coconut cream and coconut milk, you're good to go. The simplicity of the recipes is what makes them so great because they can be made by anyone in your family or even your guests!
Coconut Poke Cake Uses Plain Cake Mix For The Best Results
I really think homemade desserts taste better than anything you would buy from a store or restaurant. But there are some desserts that taste better when you make them with a box mix. This is one of those recipes! Call me crazy but I totally think the boxed cake mixes work best for this recipe. It comes out light and fluffy, which is really important for a great poke cake. Make sure to use the exact ingredients called for in the recipe. When you make it with your own ingredients, the cake will turn out a little bit different.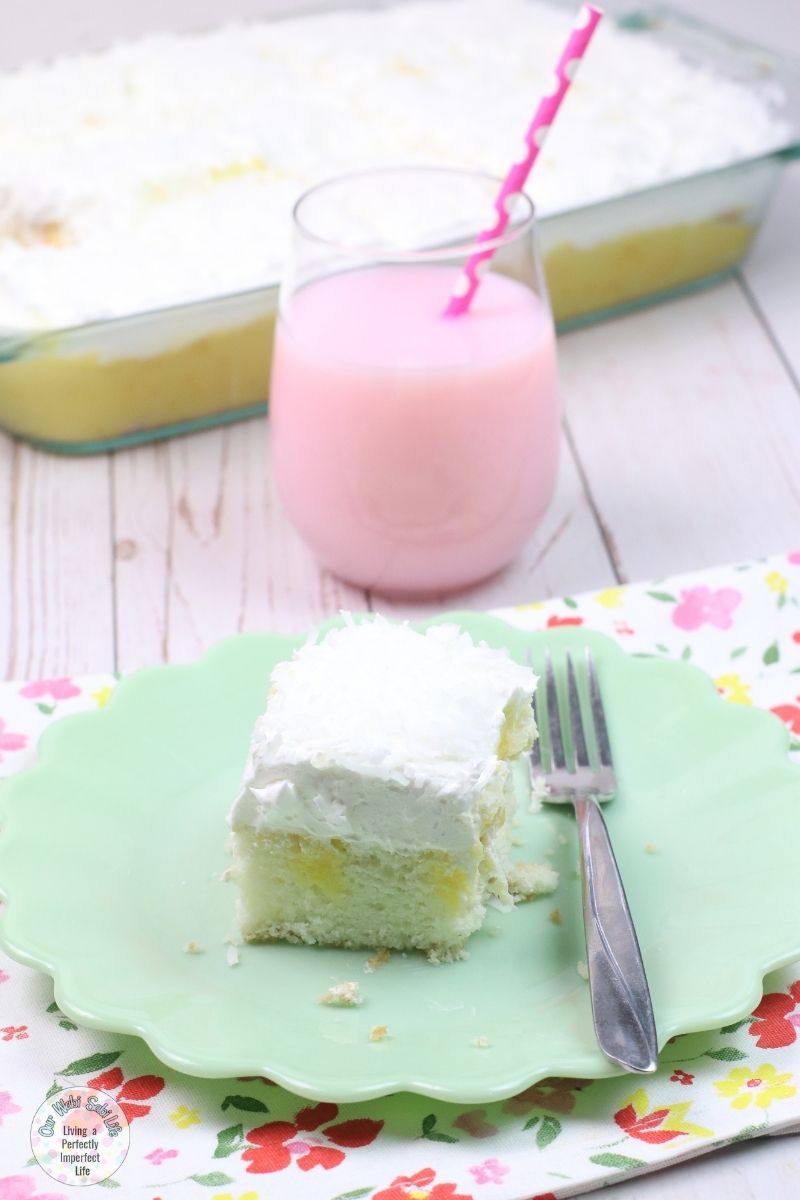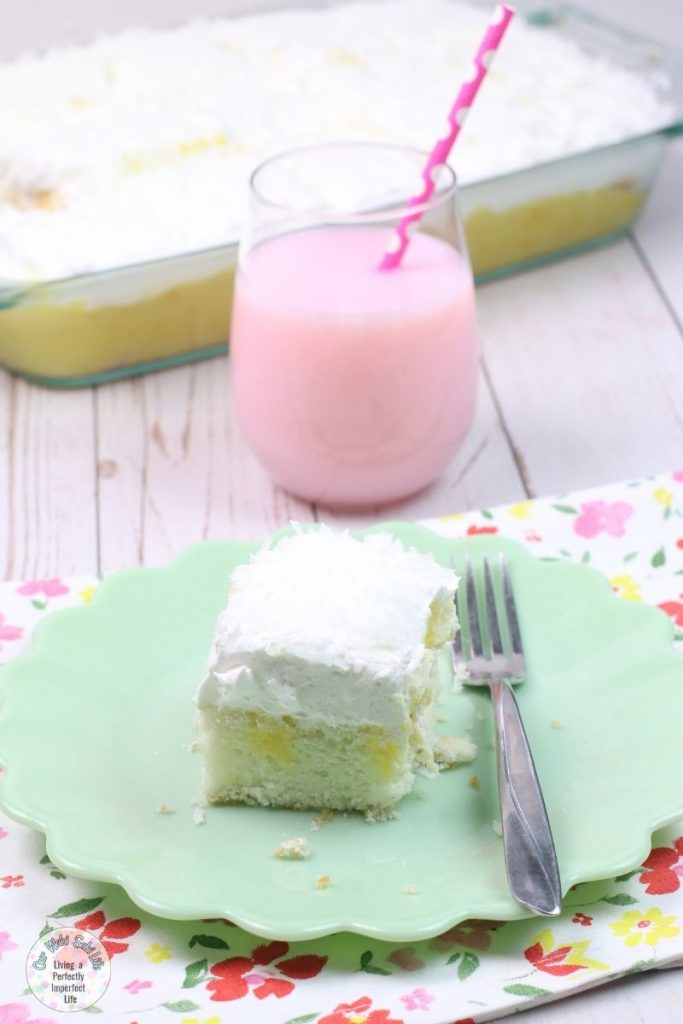 What kind of box mix should I use?
It's best to use a white mix when making this recipe. A vanilla flavor won't be as tasty. Yellow cakes tend to taste more buttery, which is not a bad flavor, but not exactly what you want with this poke cake.
What Makes It Coconut?
The coconut element in this coconut cream poke cake this cake comes from coconut cream, coconut milk, and shredded sweetened coconut.
What if I can't find coconut cream
If you have trouble finding coconut cream you can also use coconut pudding or french vanilla pudding. Mix the pudding together with 1 cup of boiling water. Then combine that with the coconut milk and continue like normal.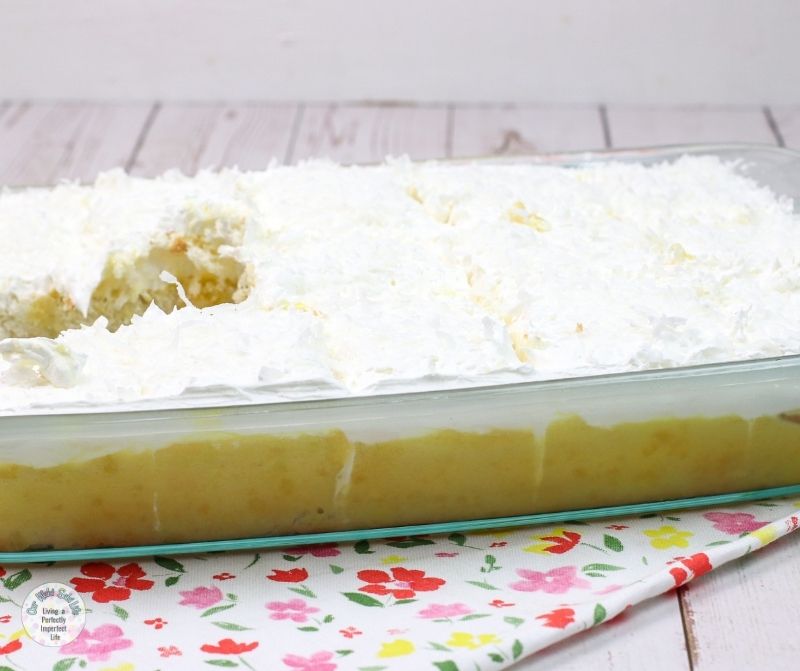 Can It be Made in Advance
The coconut poke dessert can be stored in the refrigerator which means that it is easy to make it in advance. It will last for about 3 days when stored properly.
How to Store Coconut Cream Poke Cake
You can store this at room temperature however after the first day the cake filling will start to get watery. You can solve this by placing the whole pan in the refrigerator for a few hours before serving. This can also just keep it stored in the refrigerator. The most important part of storing this cake is to make sure to keep it covered. Otherwise, it will get stale from exposure to air.
CAN COCONUT POKE CAKE BE FROZEN?
I love when I can make a cake and then freeze the leftovers, but this is not one of those kinds of cakes. When the filling thaws, it tends to separate, and then it has a weird texture. I do not recommend freezing it.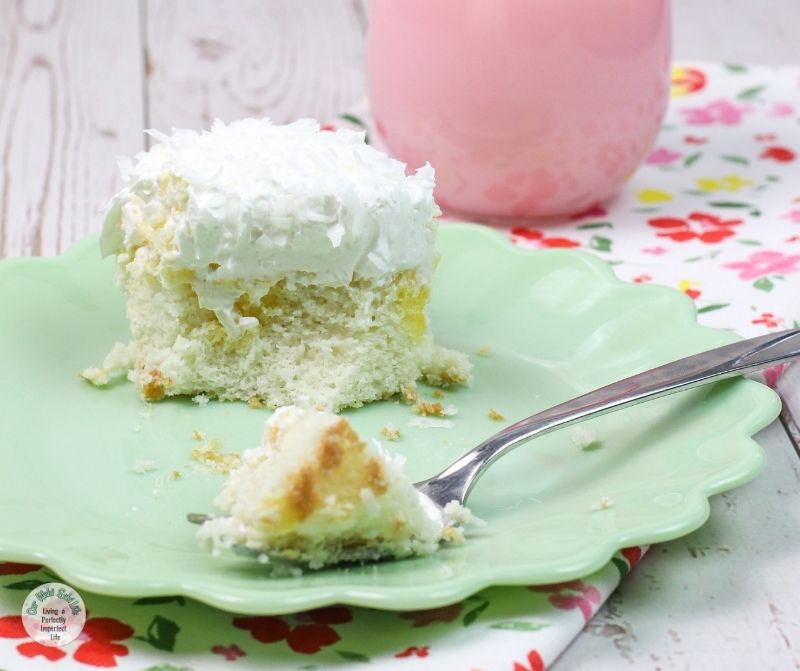 How Much Does This Dessert Cost to Make
This is an inexpensive dessert to make. It comes out to $6.18 for the entire recipe, and that comes out to about $0.26 per slice. I would say this is a great dessert idea and I love that it doesn't break the bank.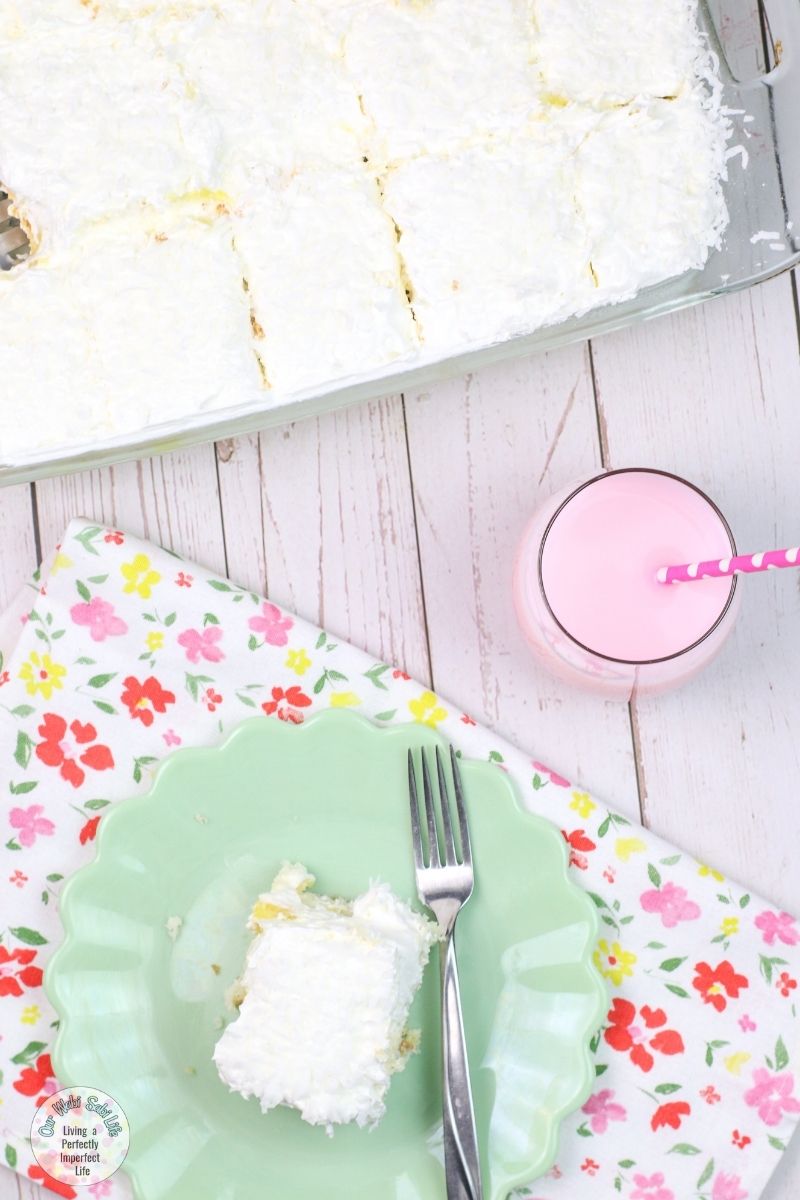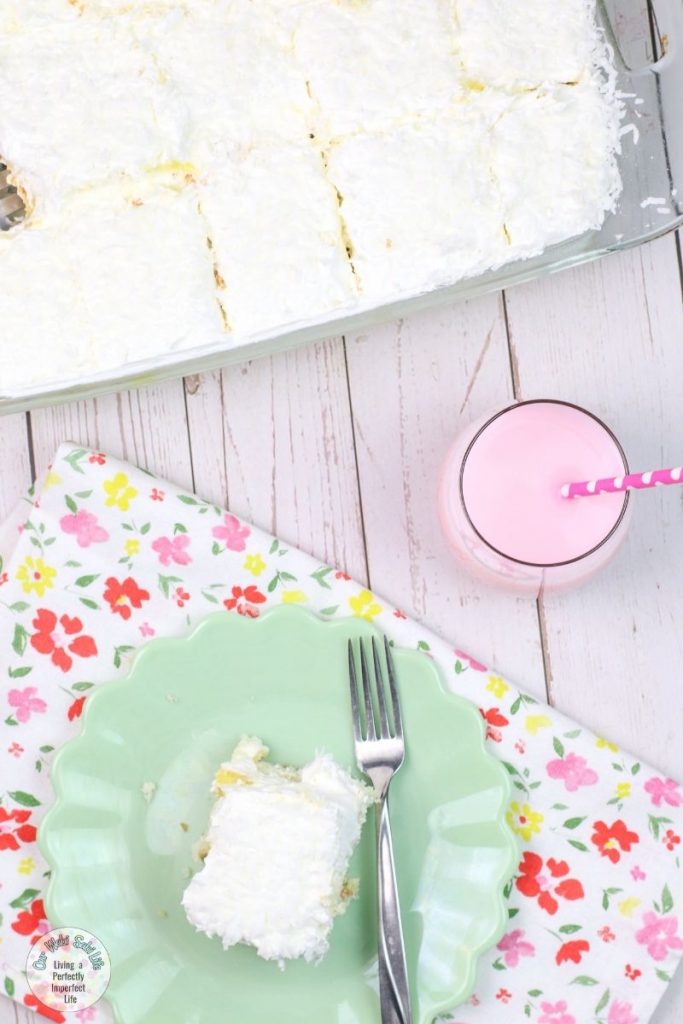 Love Recipes? Join our Facebook Group, The Best Must Try Recipes, Easy Delicious Recipes for Everyone
Ingredients
White Box Mix– This will be used for the base of the batter.
Vegetable Oil– You can use Canola Oil as a substitute.
Eggs– Be sure to use these at room temperature.
Water– This will be added into the cake batter.
Coconut Cream– This will be poured into the holes of the cake.
Coconut Milk– This will be mixed with the coconut cream to pour into the cake.
Whipped Topping– This will be spread on top of the finished cake.
Coconut– You will need a bag of Sweetened and Shredded coconut to sprinkle on top.
How to Make a Coconut Poke Cake
To start, set the oven to 350 degrees and use a non-stick cookie spray such as Pam to grease a 13×9 pan.
First, in a large mixing bowl, combine the vegetable oil, and egg whites using an electric mixer on medium speed.
Secondly, follow the baking instructions, then set the cake aside to cool thoroughly.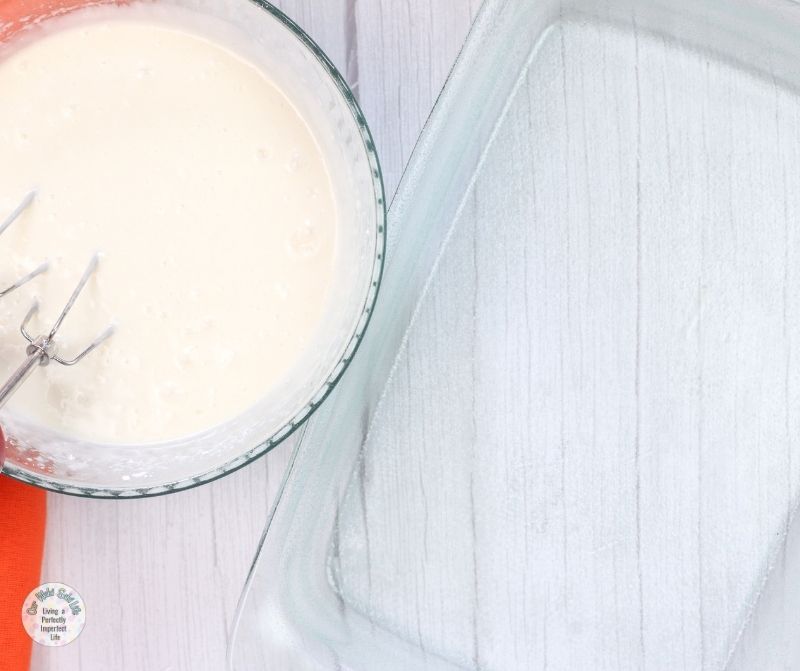 Thirdly, poke holes into the cooled cake using a fork, chopstick, or the handle of a wooden spoon.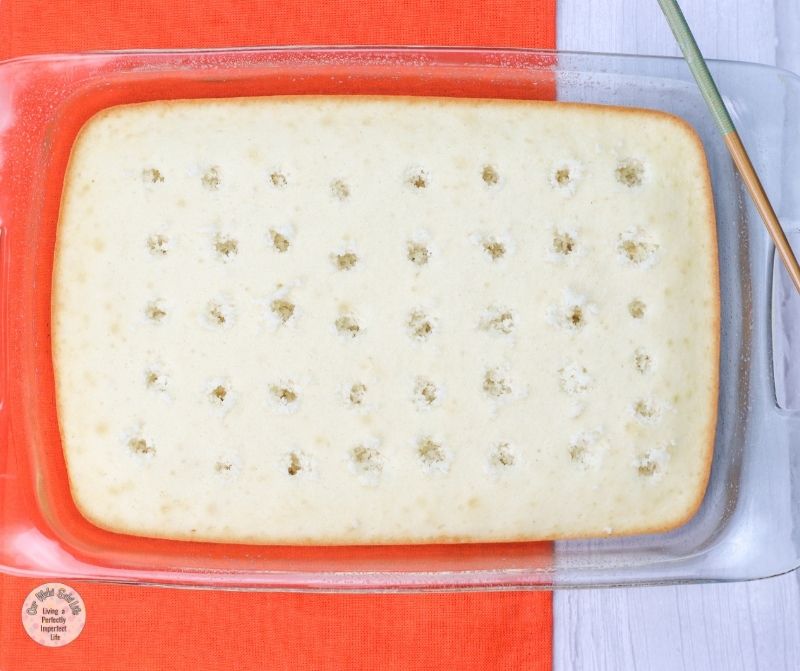 Next, combine the coconut cream and coconut milk in a small bowl until dissolved.
In addition, add the contents of the bowl over the pre-poked holes.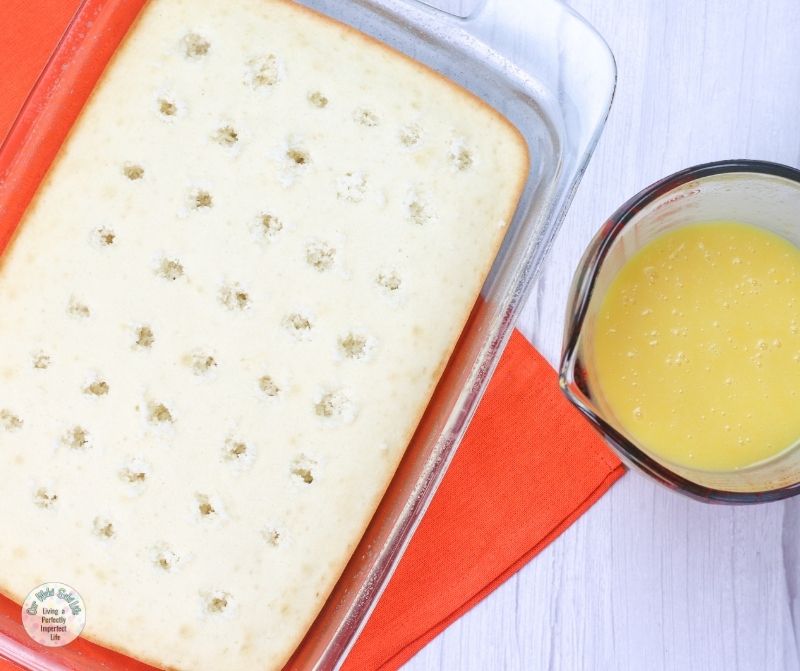 Finally, cover the cake with the whipped topping, then place it in the fridge for 4 hours to cool before serving.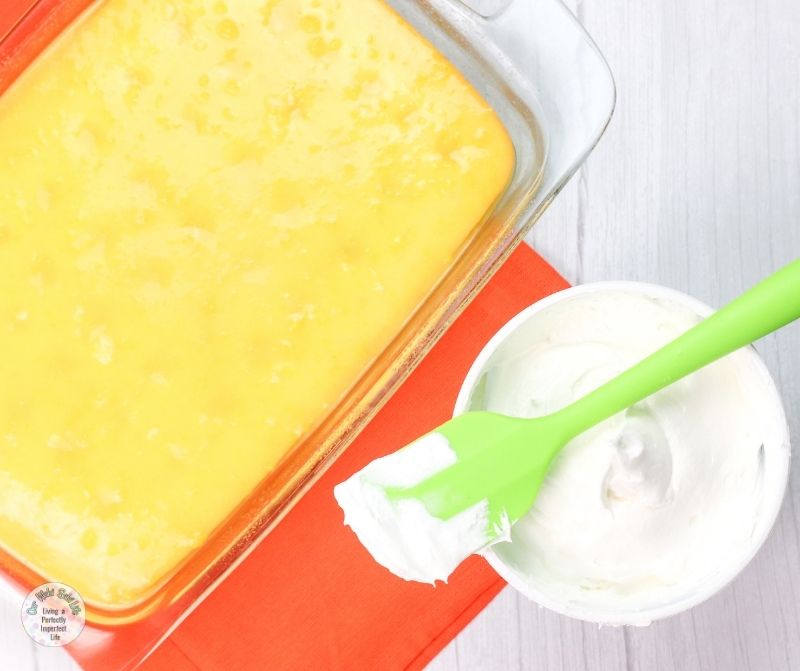 To finish, sprinkle the sweetened coconut on top of the cake.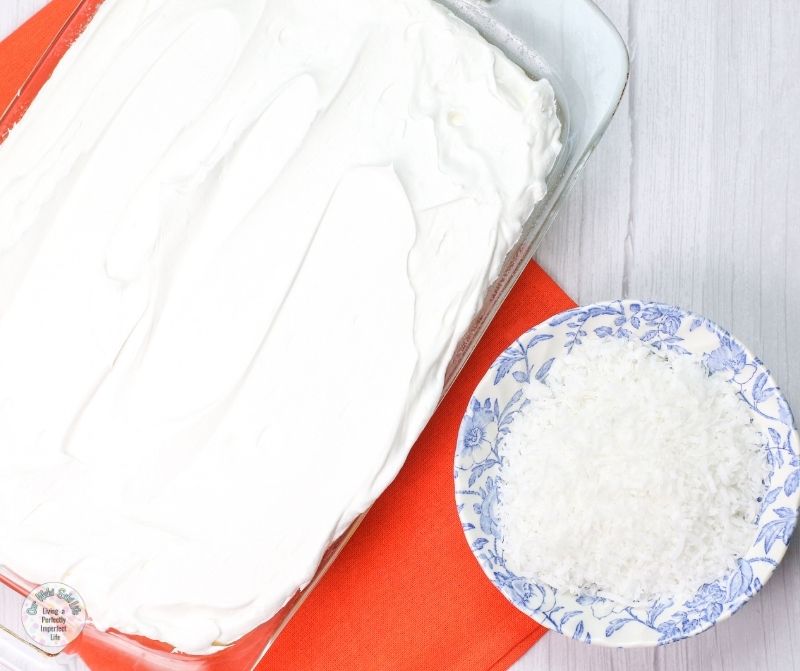 Furthermore, place in the fridge until ready to serve.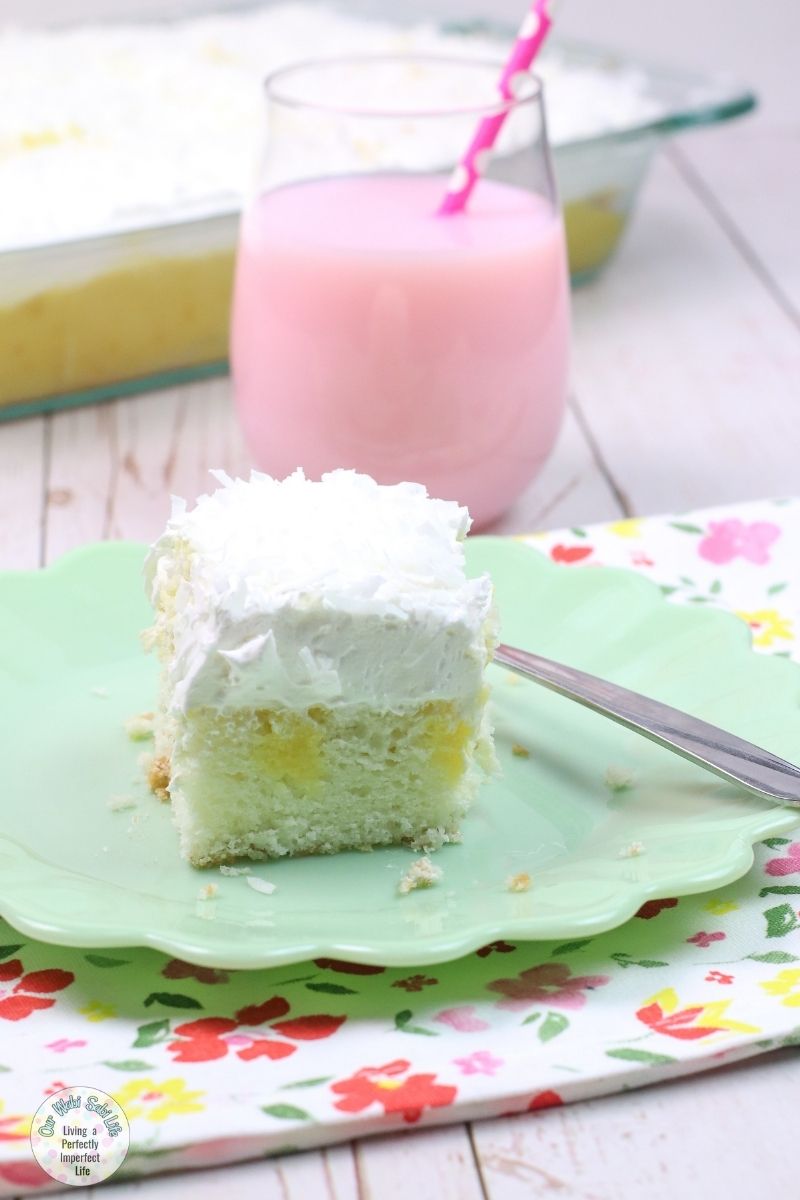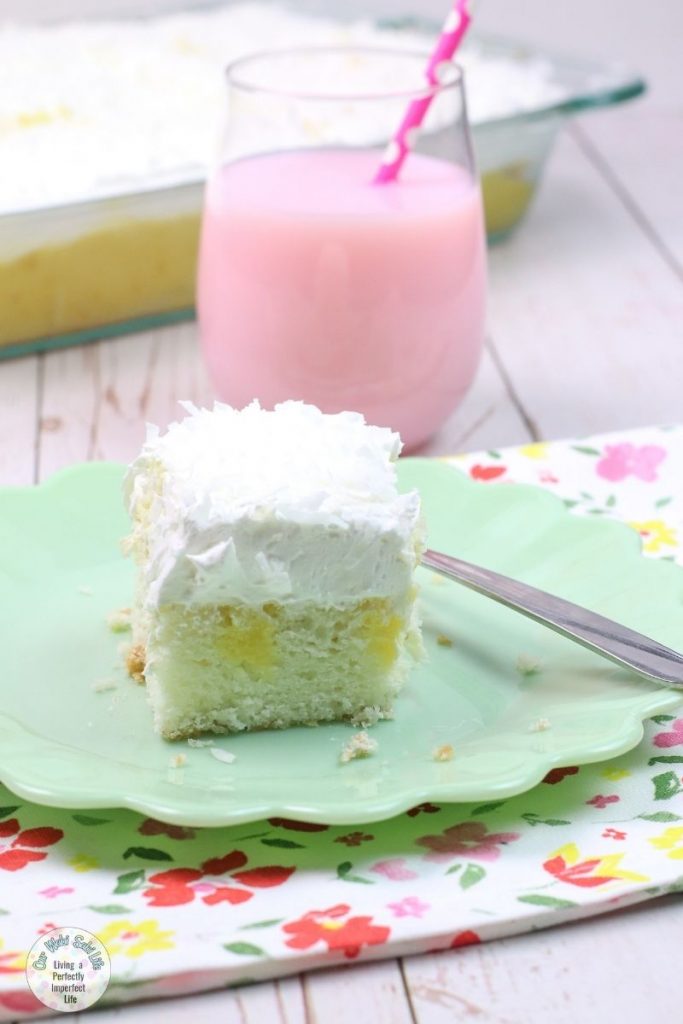 Are you on Facebook? We are too. Join us as we share our Perfectly Imperfect Life with recipes, crafts, parenting, and fun!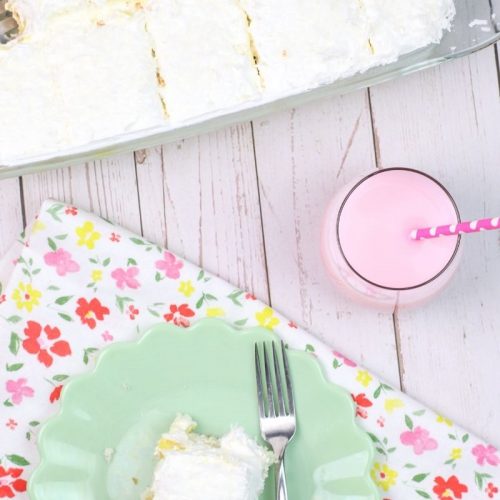 Coconut Poke Cake Recipe
Coconut Poke Cake Recipe. Few recipes are easier than this one, but it's also a favorite in our house. This is an easy and elegant dessert that will impress anyone who tastes it! So simple and so delicious, poke cakes take a simple cake to a whole new level.
Ingredients
1

white cake mix box

1/3

cup

vegetable oil

4

egg whites

1 ¼

cup

water

3.94

oz

Coconut Cream or French Vanilla Jello Pudding Mix

1

cup

boiling water

1

cup

coconut milk

8

ounce

Whipped Topping

14

ounce

sweetened shredded coconut
Directions
Preheat oven to 350°. Spray a 13×9 pan with non-stick cooking spray.

Add cake mix, vegetable oil and egg whites to a large mixing bowl. Using an electric mixer, mix on medium speed until well combined.

Bake cake according to package instructions. Allow the cake to cool completely.

Using a fork, chopstick or the handle of a wooden spoon, poke holes in the top of the cake.

In a small bowl, mix the pudding and boiling water and coconut milk until completely dissolved. Pour over the cake, making sure to pour over and into all the holes.

Top with whipped topping and cover and chill for 4 hours before serving.

Add shredded coconut to the top of the cake. Keep refrigerated until ready to serve.
Nutrition
Calories:
249
kcal
Carbohydrates:
32
g
Protein:
2
g
Fat:
13
g
Saturated Fat:
11
g
Trans Fat:
1
g
Cholesterol:
1
mg
Sodium:
240
mg
Potassium:
108
mg
Fiber:
1
g
Sugar:
22
g
Vitamin A:
7
IU
Vitamin C:
1
mg
Calcium:
59
mg
Iron:
1
mg