Looking for a Grinch drink for Christmas? Try this simple fruity alcoholic Grinch cocktail. It is a tasty drink that the adult guests will love at a Christmas party.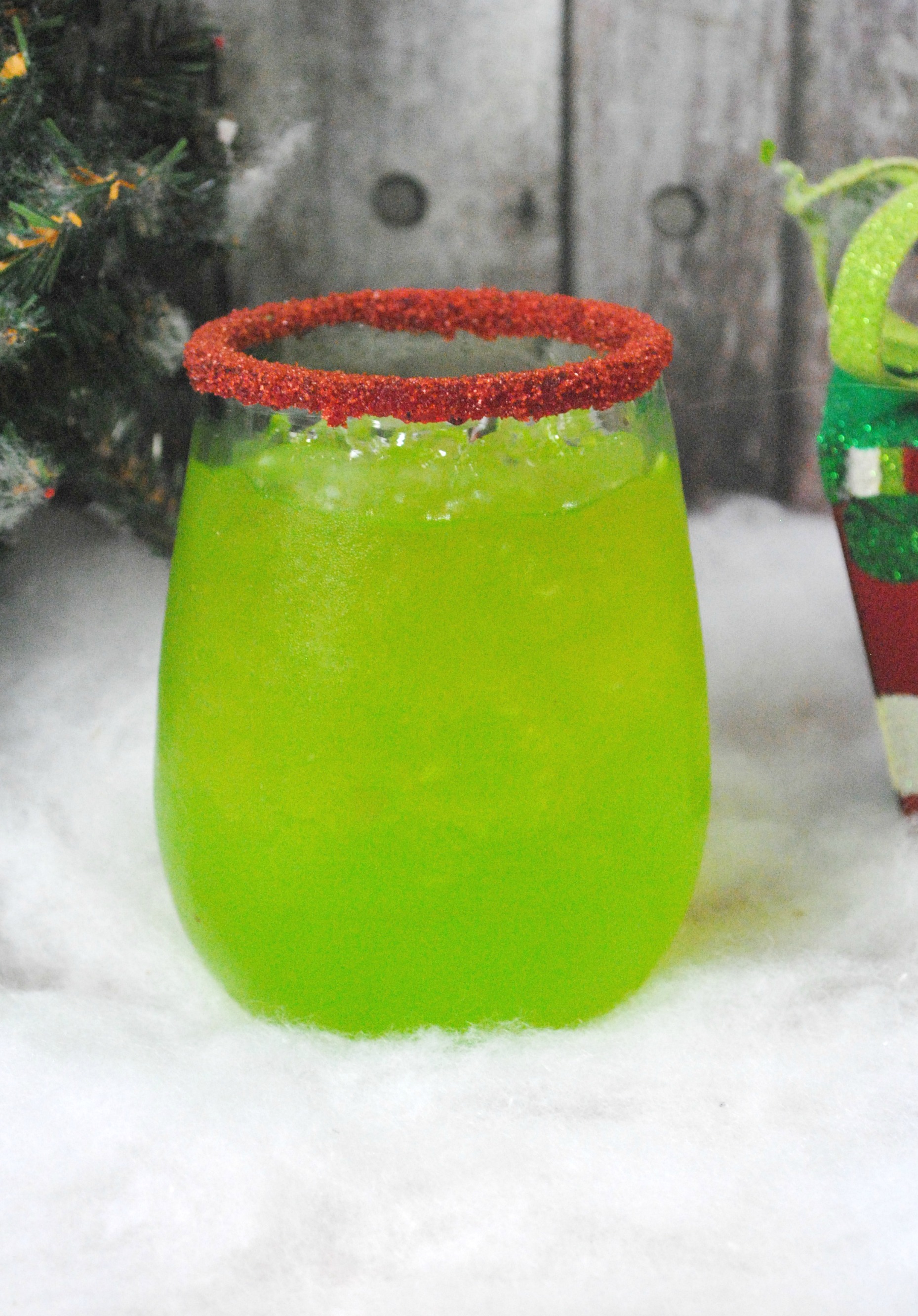 Grinch Cocktail
Looking for an amazing Grinch Drink? This delicious fruity alcoholic Christmas cocktail is light and refreshing. This drink will put a smile on your face and grown your heart 10 times.
This Christmas cocktail is one everyone will love at the holiday party. It is a mild drink and the pineapple juice makes it nice and fruity. It is one of those that you can change up the measurements. If you want to be able to take the alcohol in this Christmas drink, add a little more vodka or a little less juice. The simple syrup adds a nice sweetness. Plus the soda adds a nice carbonation.
Can It Be Made Ahead
You can make this Grinch Cocktail Recipe a few hours before you need it. It is one of my favorite holiday drink recipes because of how easy it is to make. I wouldn't make it more than that because the Sprite in this Grinch cocktail recipe will start to lose its fizz.
Is This a Strong Drink
While this does have rum and other alcohol in it, it is not considered a strong cocktail recipe. The other alcohols are not that high in alcohol content which keeps this a not so strong drink.
Why is Easy Grinch Punch Recipe Green Color
This drink is green because of the alcohols in it. The Blue Curacao combines with the Midori and creates this beautiful bright color.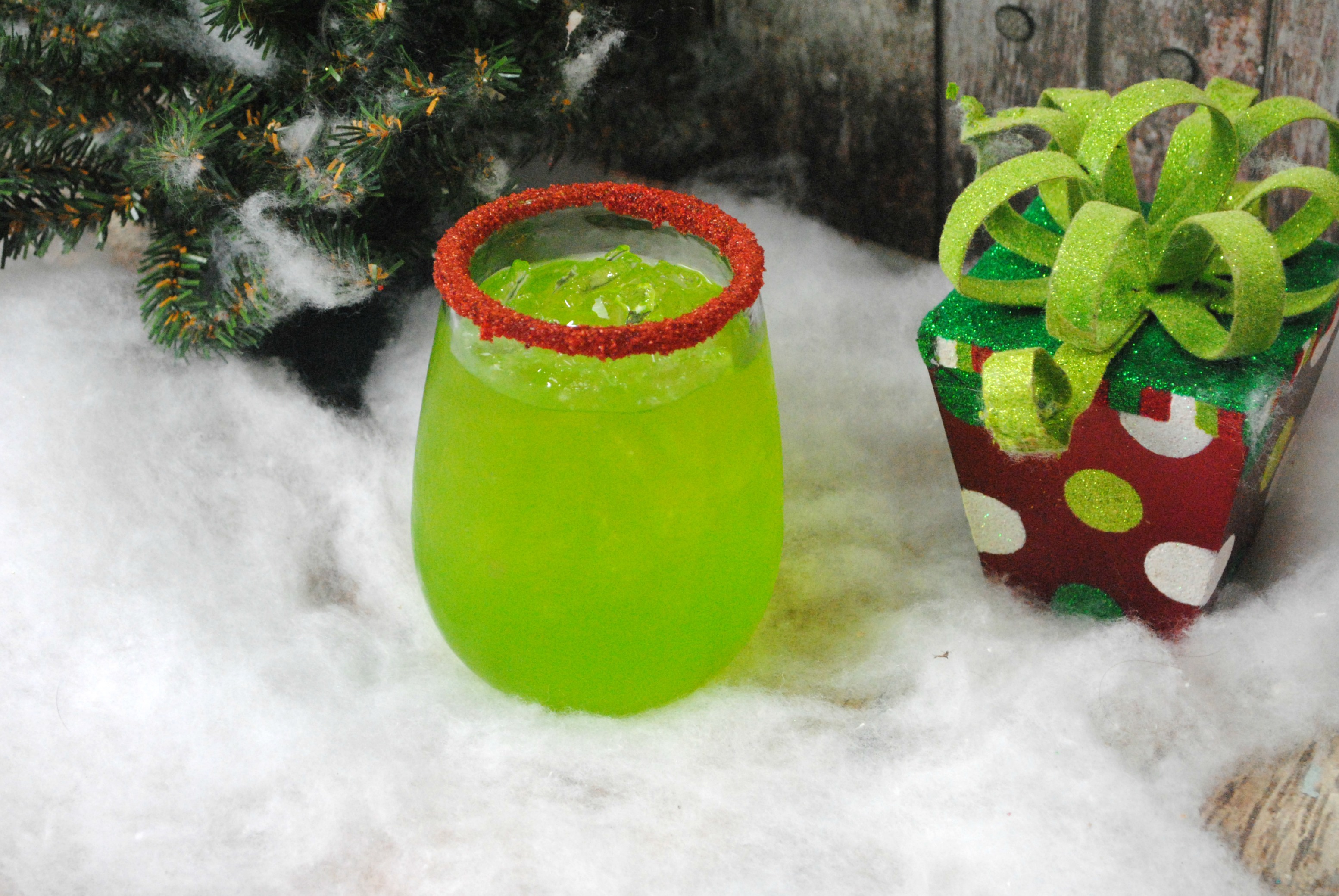 Ingredients
Get the full list of ingredients, with measurements, and step by step directions at the bottom of the post in the printable recipe card.
Vodka
Blue Curacao
Rum
Midori
Pineapple juice or orange juice
Lemon Lime soda like Sprite. Ginger Ale can also be used.
Simple Syrup
Red sanding sugar : You can either buy red sanding sugar or you can make your own sanding sugar.
How to Make Grinch Drink
Prep time 5 minutes
Add simple syrup to a plate, set to the side.
Add red sanding sugar to a plate, set to the side
Then roll rim of the glasses in the simple syrup or lemon lime soda then into the red sanding sugar
Set glasses to the side
Add ice to the glass
In a cocktail shaker add your liquors and juice.
Pour your mix into your glass
Top off with the lemon lime soda. You can also add a maraschino cherry.
Enjoy you Grinch Drink
Christmas Drink Recipes like Grinch Drink
You are going to love these other cocktail recipes.
Punch recipes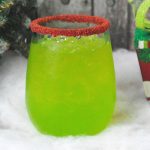 Print Recipe
Grinch Cocktail
Ingredients
1/2

oz

Vodka

1/2

oz

Blue Curacao

1/2

oz

rum

1/2

oz

Midori

5

oz

Pineapple juice

1

splash Sprite

Simple Syrup

Red sanding sugar
Instructions
Add simple syrup to a plate, set to the side.

Add red sanding sugar to a plate, set to the side

Then roll rim of the glasses in the simple syrup then into the red sanding sugar

Set glasses to the side

Add ice to the glass

In a cocktail shaker add your liquors and juice.

Pour your mix into your glass

Top off with Sprite

Enjoy