Our Ground Beef Pizza with a creamy garlic white sauce and topped with caramelized red onions and sautéed green peppers, is a delicious twist for family pizza night.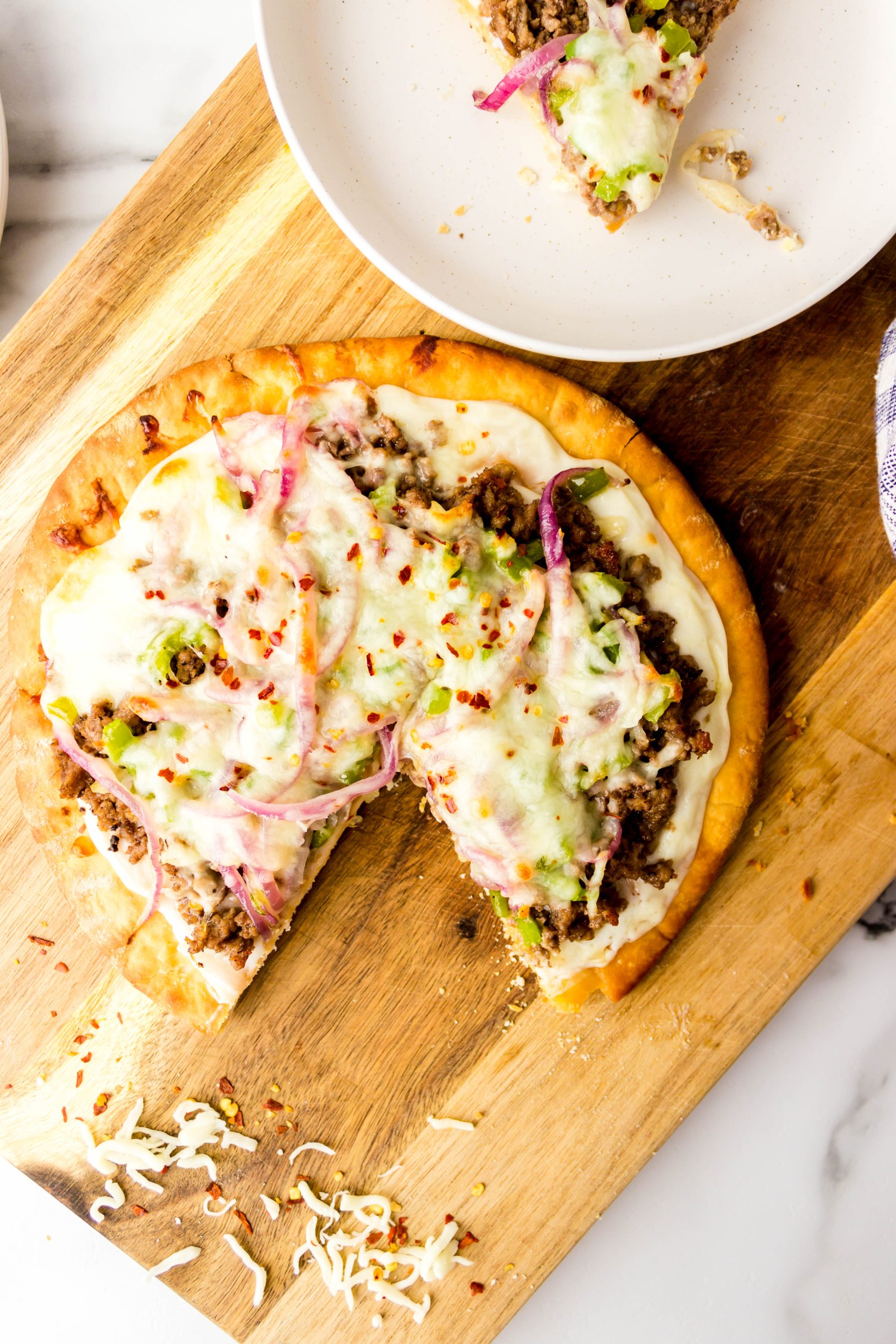 I think one of the best parts about making homemade pizzas is how versatile they are. You can make them with basically any type of toppings, sauces, and you can make them in your oven, on your grill, or even in a pizza oven.
And not only can you enjoy pizza for dinner, but you can also whip up a pizza to enjoy for breakfast that is topped with your family's favorite breakfast combinations.
Some of our family's favorite homemade pizza recipes are my Philly Cheese Steak Pizza and this really fun Heart Shaped Pizza recipe that is great not only for Valentine's, but also for any time of the year.
Jump to:
Ingredients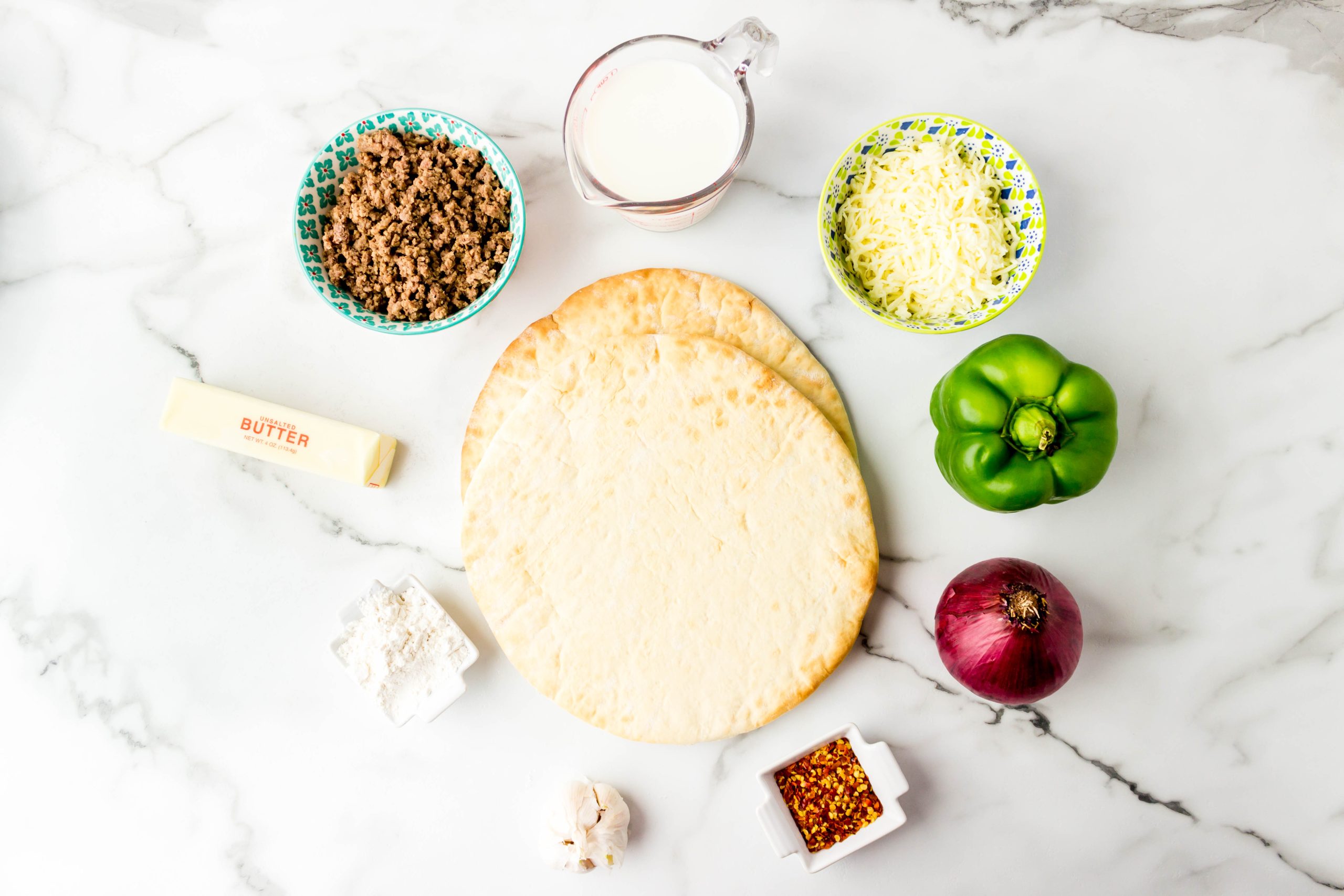 pizza crust-homemade or store bought.
ground beef – I normally use 80/20.
red or sweet onion – you can even use white or yellow.
green pepper – fresh or frozen will work.
garlic – fresh or minced.
Montreal Steak Seasoning
shredded pizza cheese or mozzarella
crushed red pepper flakes – this is optional.
Unsalted butter
All-purpose flour
Milk
See recipe card for the complete list of ingredients and the quantities needed.
Instructions
You will find complete step-by-step instructions at the bottom of the post.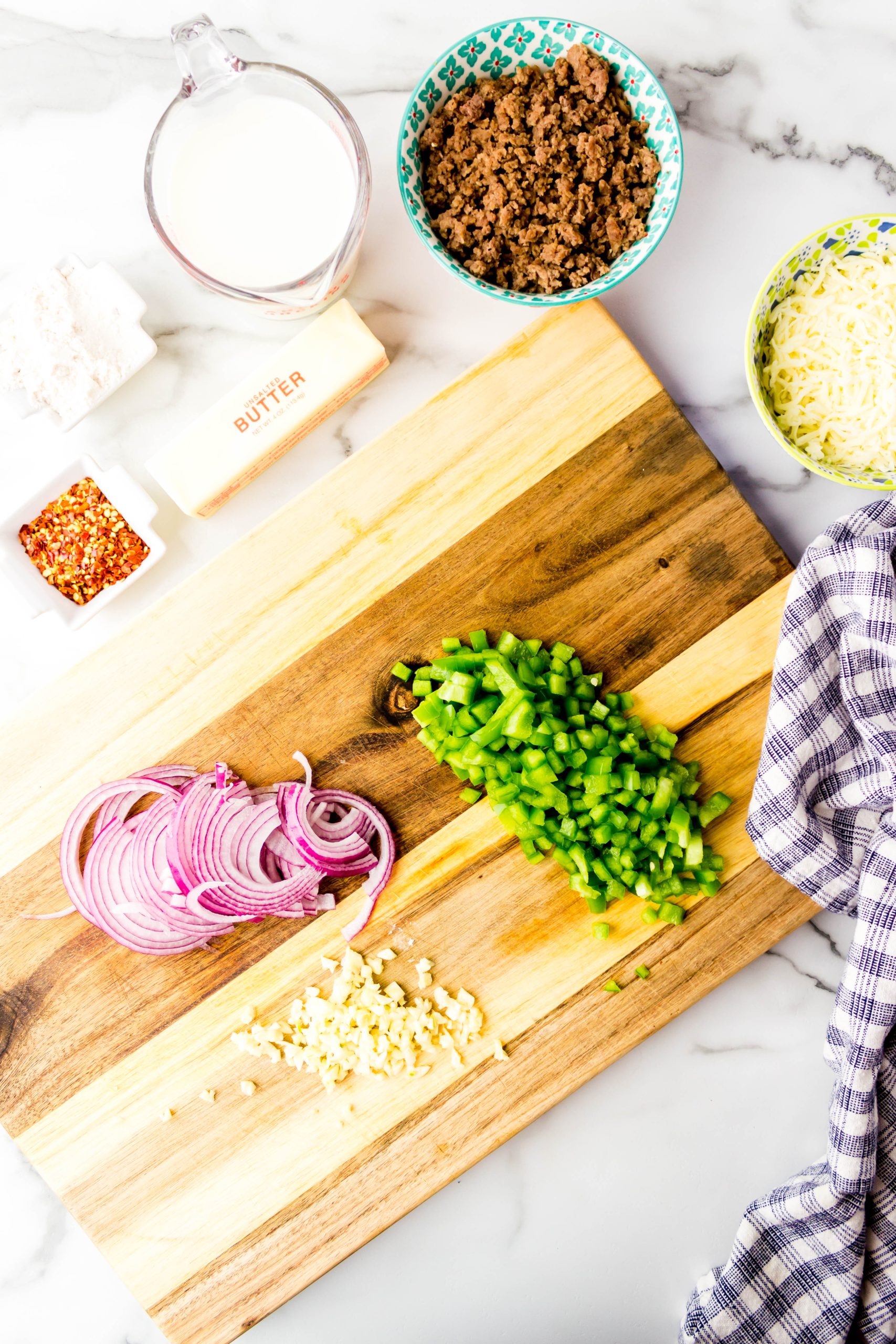 Preparing the vegetables.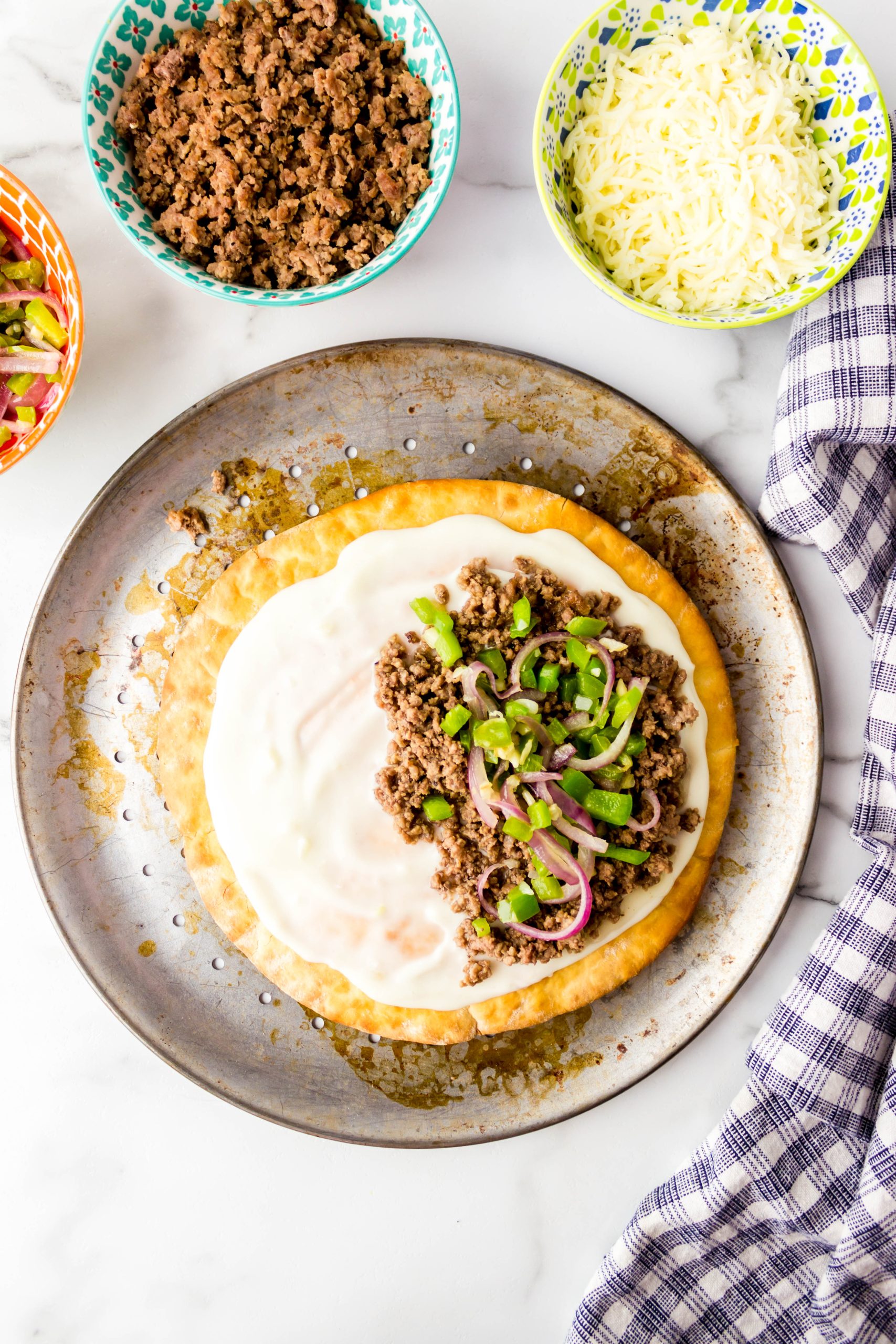 Adding the layers of garlic white sauce and the rest of the ingredients.
Substitutions
Ground beef – you can use 70/30 or 90/10, however, I feel that 80/20 gives you the best flavor and fat content.
Garlic – you can use garlic powder.
Variations
Red sauce – you can use a red pizza sauce instead of the white garlic sauce.
Banana peppers – either add those or just add a few on the side when serving up the pizza.
Kid friendly – I made two smaller pizzas and made one with just the creamy garlic sauce and the hamburger for my kids as they do not like onions and peppers.
Storage
Refrigerator: Store any leftovers in either an airtight container or in a large plastic bag.
Tip: I prefer to store them in a plastic bag, so they don't lay on top of each other and stick to each other. However, if all you do have is an airtight container, just add a piece of waxed paper between the slices. That way they don't stick together.
Freezer: You CAN freeze these, however, it's really don't recommended. You do lose a lot of the flavor and the crust may change it's texture.
Top tip
Just have fun when making homemade pizzas for dinner. Let the kids get involved with adding the toppings.
FAQ
How to season ground beef for pizza
The best way is to add your seasonings, such as Kosher salt, black pepper, and Montreal steak seasoning (or another type that you prefer) to the ground beef and mix it together then brown it. You can also add seasonings such as Italian seasoning, onion powder, or garlic powder.
How do I get my pizza crust bottom crispy?
Prebake the crust in a hot oven and place it on the bottom rack. That way it gets all of the heat from the bottom of the oven.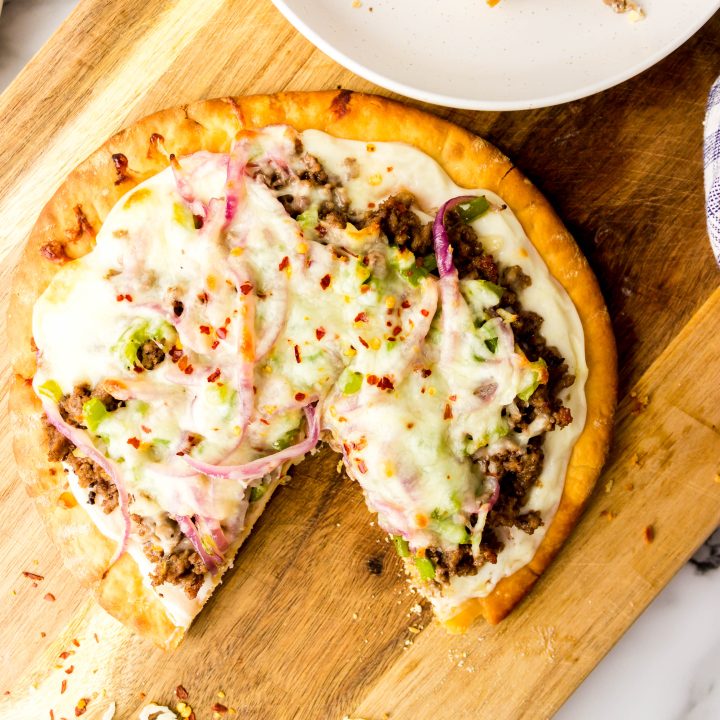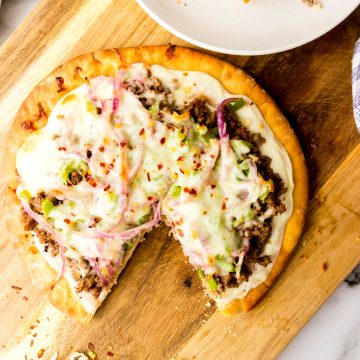 Ground Beef Pizza
Our Ground Beef Pizza with a creamy garlic white sauce and topped with caramelized red onions and sautéed green peppers, is a delicious twist for family pizza night.
Equipment
Small saucepan

large skillet

spoon

medium skillet

pizza pan

Pizza Cutter

pastry brush

medium-sized bowl
Ingredients
Pizza
large pizza crust – either homemade or storebought. You can also use 2 smaller pizza crusts

1

tablespoon

extra virgin olive oil

1 1/2

pounds

80/20 ground beef

1

tablespoon

Montreal steak seasoning

Kosher salt and black pepper

to taste

3

garlic cloves

minced

1

medium

red or sweet onion

cut into thin slices or rings

1

large

green pepper

diced

2

cups

shredded mozzarella cheese

1 to 2

teaspoons

crushed red pepper flakes

optional
Creamy White Garlic Sauce
Directions
Preheat oven to 450°F.

Prepare the pizza dough if homemade. If store-bought, then lay the crust on the counter.

Using your pastry brush, lightly brush some olive oil all over the top of the pizza crust.

Place the pizza crust on the middle rack in your oven and bake for 10 minutes so the crust has a chance to bake before adding any of the toppings on.

Next, turn the burner to medium and heat your skillet. Add in the hamburger, the Montreal steak seasoning, and salt and pepper to taste.

While the ground beef is cooking, prepare your vegetables.

Once the crust is done, remove it from the oven and set aside.

Add the peppers and onions in the smaller skillet and cook until the onions are translucent, then add in the garlic and cook for a few minutes more.

Then it's time to make the sauce. In a small saucepan, melt the butter. Then add in the flour and stir continuously for approximately one minute so that the flour can cook. Then slowly add in the milk and then the minced garlic. Bring the mixture to a boil and stir constantly until the mixture begins to thicken. Once it has thickened, remove from the heat.

Place the pizza crust onto a pizza pan or baking sheet. Then spoon the white sauce on top of the pizza. Then top with the hamburger and the veggies. Next add the cheese and the crushed red pepper flakes.

Place the pizza pan into the oven and bake for 10 – 15 minutes or until the cheese is nice and bubbly. Remove from the oven when it's done, serve and enjoy.