Cheese platters are perfect for serving guests before the main meal. The elaborate arrangement of cheeses and cured meats has become the centerpiece of many events, but this changed during the time of restrictions. Maybe it's boredom or creativity wanting to escape, but cheese platters and charcuterie boards made their way to many homes worldwide.
What used to be an elaborate platter served during weddings and shared by a group of people has become a regular sight in many home center tables enjoyed by a couple of people while binge-watching movies on streaming sites.
When browsing social media sites for cheese gifts and ideas, #cheeseplatter will give you half a million hits on Instagram alone. People have been obsessed with creating the perfect cheese platter and taking beautiful photos to post on social media.
Whether you're making a cheese platter for your own consumption or giving it as a gift, you need to be able to create something that'll wow and impress people.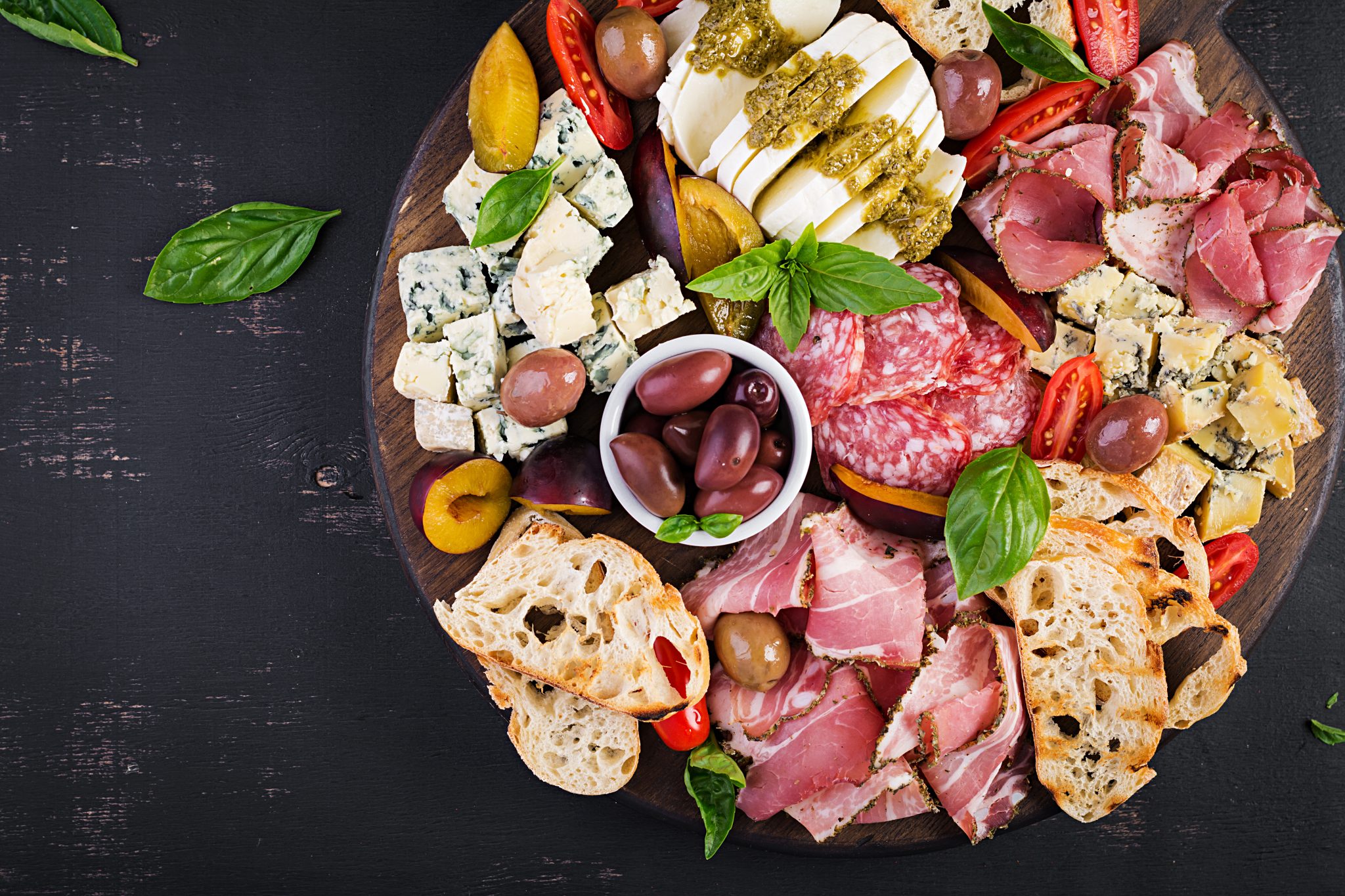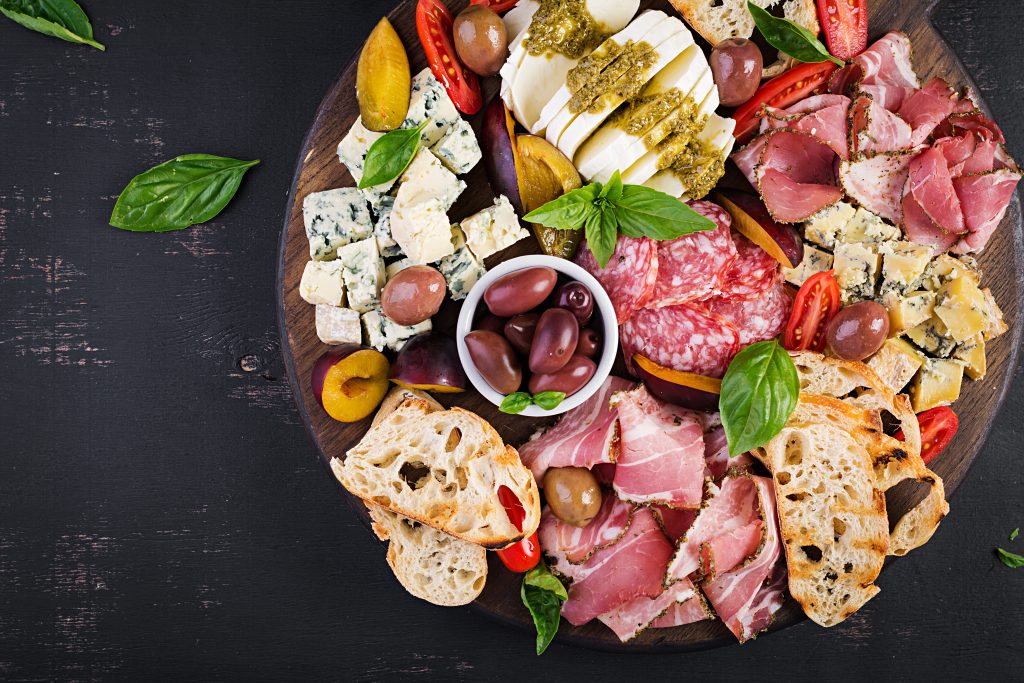 Here are the steps to build your perfect cheese platter:
1. Pick Your Board
Depending on how many will partake, you need to choose the best board size so everything you place on top will fit. It'll also be nice to have personalised cheese boards, so your presentation will be extra special.
Many cheese platter enthusiasts have a selection of cheese boards with their names engraved in various shapes and sizes. This way, they can have something to use for small or big occasions or even just on a night they feel like indulging in cheese and wine while sharing their thoughts with their partner.
2. Select And Lay Your Cheeses
In choosing the cheese you'll display, there are no hard and fast rules—you can put any cheese that'll make you happy. The most popular one to use and the most delicious is Manchego. It's sheep's milk with tangy, nutty, and sometimes grassy nuances. The consistency is perfect for pairing sweet and savory crackers, serrano ham, olives, almonds and walnuts, and marmalade.
You can also pick Gouda, brie, cheddar, and goat cheese. It's important to remember to have various shapes and textures to elevate your platter. You may slice, cube, shave, and roll up your cheese to create a dramatic effect.
3. Choose The Best Accompaniment For Your Cheese
Cheese pairing is essential in choosing the items you'll put on your board. Keep in mind, there are cheeses that complement certain fruits and wine, so when laying your items on the board, you may put those that go well together beside each other.
Cheddar goes best with just about anything. Gouda, meanwhile, pairs well with fresh grapes, dried apricots, sliced apples, and prosciutto. Regarding the wine pairing, Gouda goes well with Pinot Grigio and Reisling.
The creamy texture and buttery flavor of brie are best with sliced baguettes and fresh berries like raspberries and blueberries. It'd also be nice to drizzle a bit of organic honey, so a small jar of honey with a wooden dipper will be a great accent on your platter.
Accompaniments like cured meats, crackers, fresh and dried fruits, and jams should be well arranged on the platter. Consider height, texture, and layers when setting them on your board, and remember to avoid using items with liquid or too much moisture to prevent your board from getting messy and unsightly.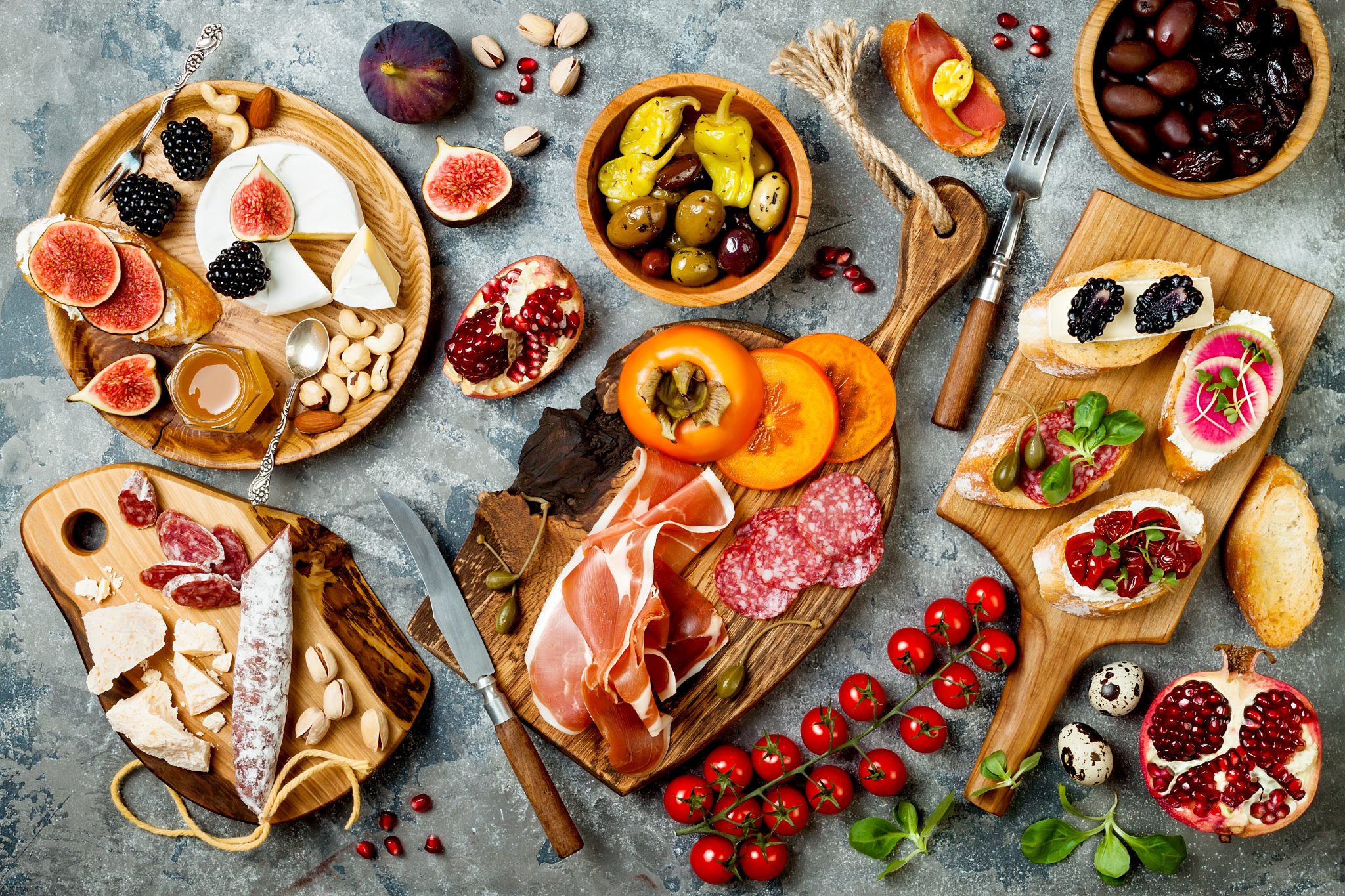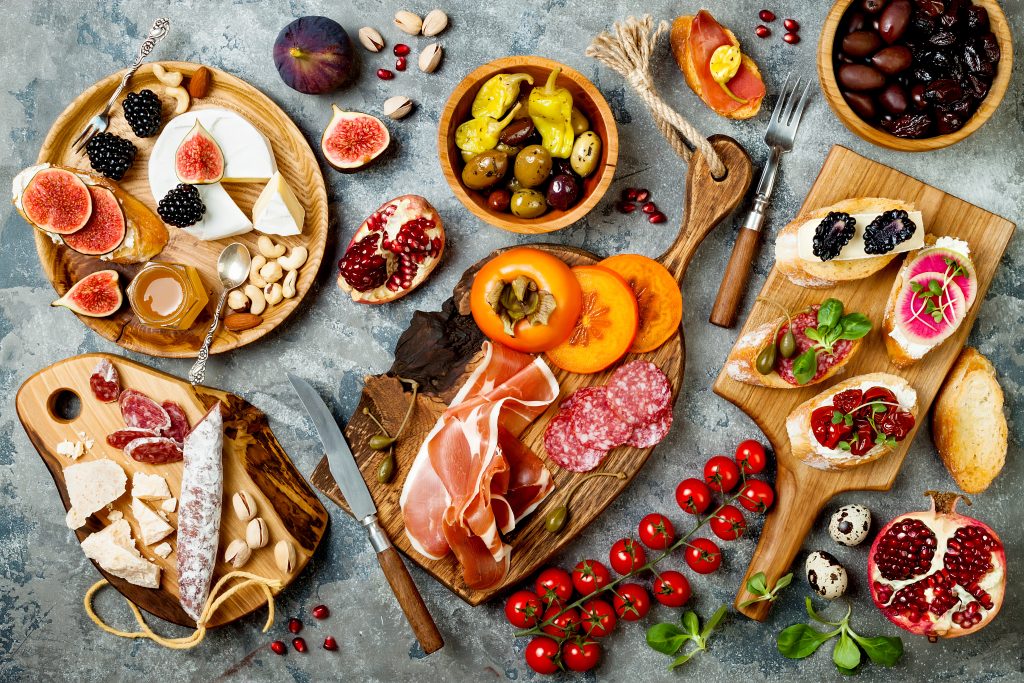 4. Add Your Nuts And Fruits
As previously mentioned, lay your cheeses and meats beside the items that complement them. You may choose both dried and fresh fruits. A note, though, on fresh apples, you may slice them, but don't spread them out to prevent darkening; or you may also wrap the thinly sliced apples with prosciutto, so the apples won't be exposed to air, causing them to darken.
Choose an assortment of nuts like almonds, walnuts, pistachios, and macadamias. Keep them simple, salted or unsalted, but you may pop a flavored sweet coated nut just for fun.
5. Sprinkle A Few Extra
If you still have a few spaces to fill on your board, you may sprinkle a few exciting items like salted pretzels, olives, pickles, sliced cucumbers, and even chocolates. Additionally, you may want to place a few dips to please the younger guests. If you find that round items tend to roll off the board, you may try placing them on ramekins.
The goal is to make your board look full and festive, so you may also want to decorate it with a few sprigs of fresh herbs like dill, thyme, chives, rosemary, and tarragon. The aromatic smell of these herbs will surely entice and whet the appetite of your guests.
Conclusion
Cheese platters are an excellent way to entertain guests on any occasion. They make for a beautiful centerpiece and will surely liven up any party. There's also something for everybody since the smorgasbord of items is extensive. When making one, choose the best cheeses and ingredients and lay them on unique boards to dazzle anyone you'll share it with.