This post contains affiliate links. Shopping from these links, I earn a small commission that helps keep The Spring Mount 6 Pack running.
My daughter is so strange. She will tell you she does not like cake, but will devour a cupcake so fast, you will wonder where it went. But she will turn down every piece of cake she is offered. I have never understood it. So, when she wants cake, we make cupcakes. Her class was having a teddy bear picnic and she wanted to take in cupcakes. Well, what else would be a perfect treat for a teddy bear picnic? Teddy Bear Cupcakes, of course.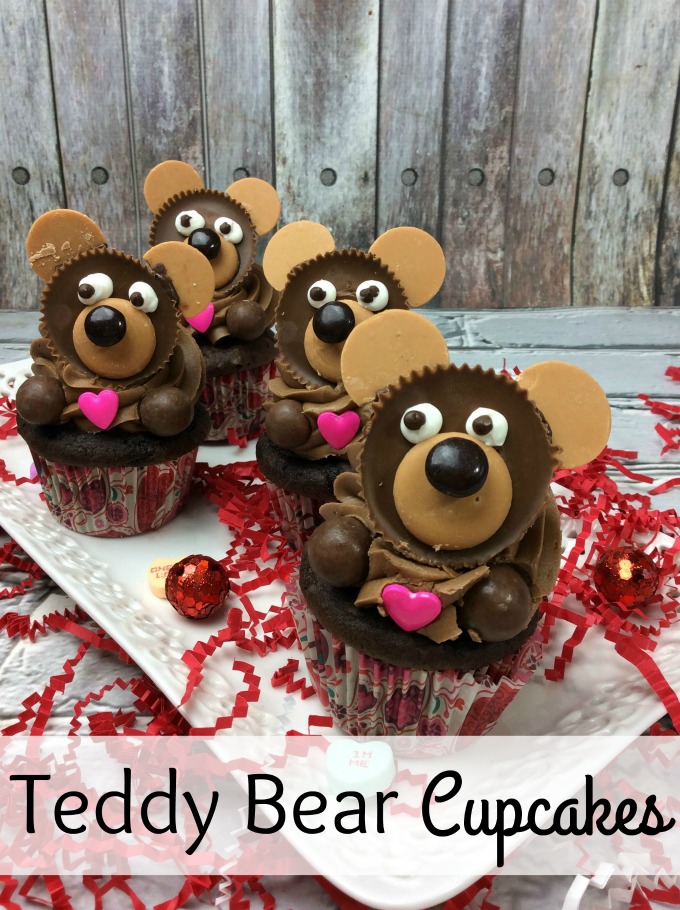 Teddy bear picnics are so sweet. It is when all the kids get to bring in a teddy bear and a blanket and the parents get to come too. All together we have a picnic. The kids get extremely excited and it is fun for everyone involved. That is why these teddy bear cupcakes are so great for a a teddy bear picnic.
Tip: I prefer silicone cupcake pans. My cupcakes tend to come out more even and I think they bake more evenly. Also, no need for a cupcake liner. When I do use a metal tin, I use silicone cupcake liners. I don't have to stress about always having to buy and then throw out the cupcake papers. (This is a 24 pack, it is a better value than the 12 packs.)
Tip: To make creating the cupcakes easier and to help it look more professional, you will need a few specialty items: Pastry Bag and tips. I use these whenever I make cupcakes for pretty looking cupcakes. I also use them for decorating cookies. This is an inexpensive set but has everything you need.
Tip: I can never find peanut butter candy melts at the stores around me. Since I hate running to a store and not finding what I need, I get mine straight from Amazon. I tend to order all my candy melts, chocolate and white, at one time for convenience.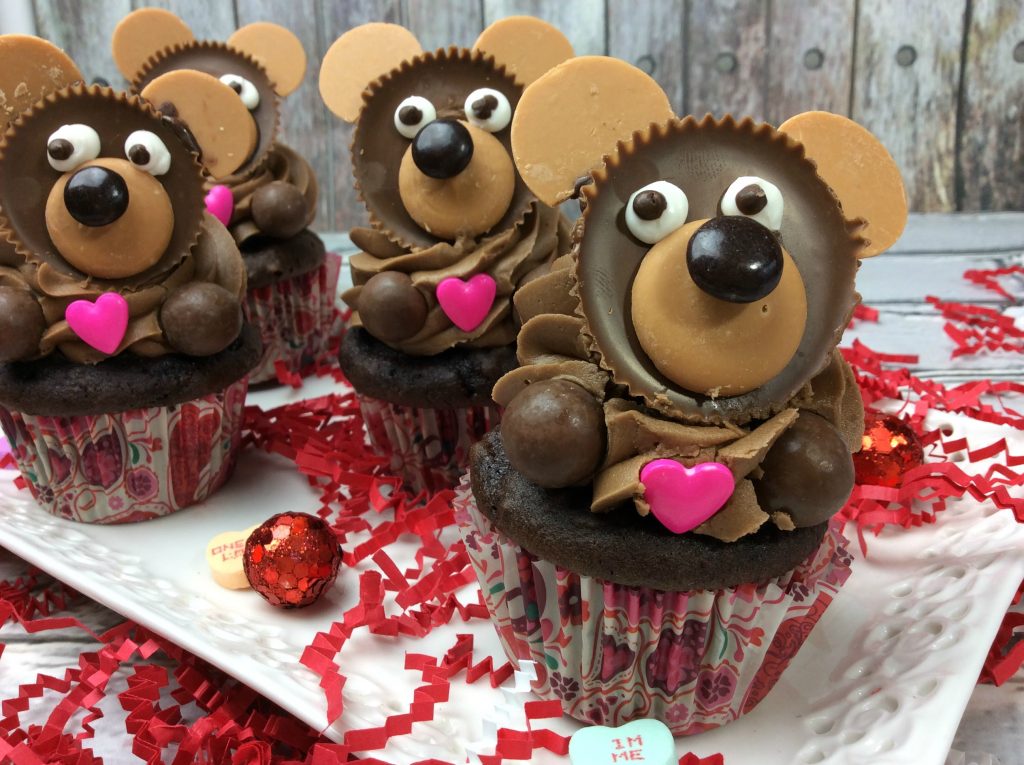 Cupcake Ingredients
2 C sugar
1 3/4 C flour
3/4 C cocoa
1 tsp baking powder
1 tsp baking soda
1 tsp salt
2 eggs, room temp
1 C whole milk, room temp
1/2 C canola
2 tsp vanilla
1 C boiling water
Icing Ingredients:
1 C unsalted sweet cream butter, softened
3 C + 1/2 C powder sugar
1/2 C cocoa
2 tsp vanilla
3-5 TBSP heavy whipping cream.
Reese Bear
6 Reese peanut butter cups, regular size, wrapper peeled away
a box of whoppers
peanut butter candy melts, used for the ears and mouth
1/2 bag of white candy melts, melted
1/2 bag of chocolate candy melts, melted
2 bags of piping bags
a container of candy hearts
Cupcake Directions
Preheat oven to 350 degrees.
Line cupcake tins with paper liners.
Whisk the sugar, flour, cocoa, baking powder, baking soda and salt in a mixing bowl.
Combine the eggs, milk, oil and vanilla in a bowl.
Add this to the dry ingredients beating on medium until the batter is smooth.
Gradually add the boiling water, milk and oil and blend together until the batter is smooth.
Using a medium scoop fill the paper lined cupcake tins with the prepared batter.
Bake at 350 degrees for 20-25 minutes until an inserted toothpick comes out clean.
Allow to slightly cool before transferring to wire racks.
Chocolate Frosting Directions
Beat powder sugar, butter and cocoa powder in a bowl.
Incorporate the vanilla and chocolate until well blended.
Add in the heavy whipping cream, and continue to mix until stiff peaks form
Scoop the frosting into a pastry bag with a large tip.
Twist the open end of the pastry bag to push the frosting to the tip.
Create the Bear
Melt the candy melts according to the packages
Pour each candy melt into a disposable bag
Take some peanut butter candy melts, 2 for each cupcake, cut in half.
Take the chocolate in the piping bag, cut the tip, and pipe on some chocolate onto the ear
Place the wax onto the edge of the Reese cup and hold it until it dries
Repeat with the other ear
Place a dollop of the chocolate candy onto the back of the peanut butter candy melt and the place in the middle of the bear.
Take the white candy melt and add two white dots for eyes
Add a small chocolate dot as the pupil using the chocolate
Place onto the top of the cupcake
Add two whoppers to act as the arms
Place the heart in the center of the whopper candy.