Unicorn Eggs are perfect for any unicorn lover. This is a fun unicorn craft project that is perfect to have a unicorn Easter or to make for as unicorn party food. These Unicorn Eggs would be fun for kids to create on Easter or as a unicorn party craft.
Unicorn Easter Eggs
My daughter loves all things unicorn. She has been begging for the Unicorn Hatchimal. She has loved unicorns she was very young. We are always making unicorn foods and unicorn crafts. She is asking for a unicorn birthday party too. When we get ready for her unicorn party, we will certainly include these Unicorn Easter Eggs as one of our Unicorn Crafts. I think we will also make a unicorn costume for her to wear. We have this adorable Unicorn headband that will be perfect.
Another fun thing to do make this Unicorn Egg for is to have it "hatch" into a unicorn. Have the kids make their Unicorn Easter egg, then leave it in a special place. If it is for the bunny, leave it near the Easter baskets, but this could be done by making a special box to place the egg in. The next day or so, have the Unicorn egg disappear and in its place is a new unicorn to play with. Kids will be amazed that their unicorn egg could turn into a real unicorn. This would be a great idea for a unicorn party.
Unicorn Crafts for Kids
I love when we can find Easter Eggs that the kids can do that are more than just dying eggs. I want them to have fun and create something they love to show off. Unicorn Eggs fall into the unicorn crafts for kids area and make it extremely fun for kids to make for Easter. I love that this Unicorn Eggs craft is so simple it is easy for kids of all ages to make.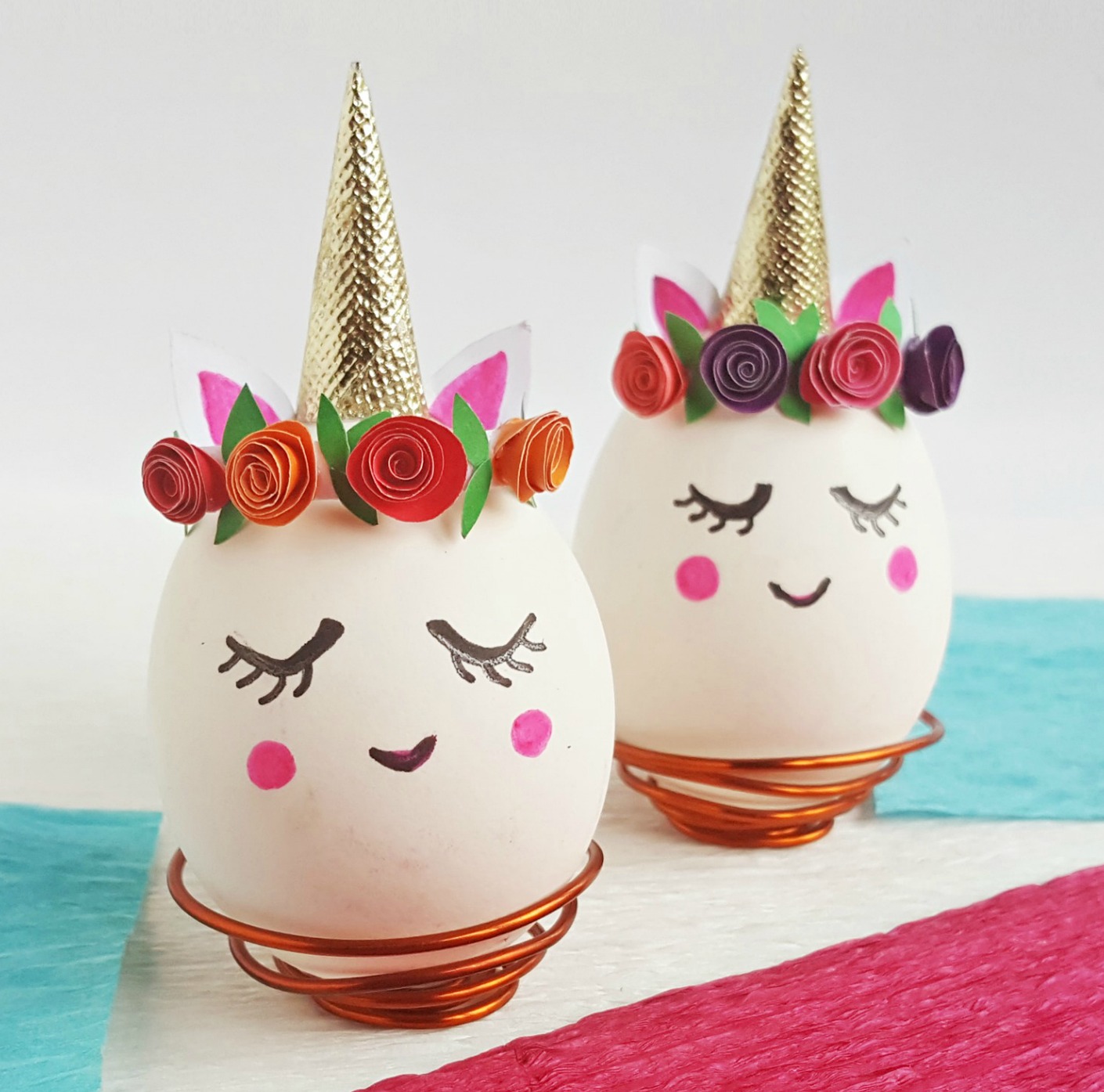 Easter Egg Craft Project
The kids love making this Easter egg craft project. The unicorn eggs look great in an Easter Basket filled with fun multi-colored crafts, as well as, just sitting by itself. How excited will the kids be when they show off their Unicorn Eggs to everyone. Your kids will think Mom or Dad rocks for sure.
RELATED: Want other another Easter Egg idea? Try Dye Easter Eggs with Whipped Cream. Create an easy Easter Bunny Basket to store all the Easter Eggs the kids make. Make some Easter Punch for everyone to enjoy either while decorating eggs or on Easter day.
DIY Unicorn Eggs
There is a video with step by step pictures on how to make this Unicorn Easter Egg at the end of the post.
Supplies to make Unicorn Easter Eggs:
Egg
Black sharpie
Pink marker
colored construction paper
All purpose adhesive
Scissors
Craft pliers – cutting and looping
Pencil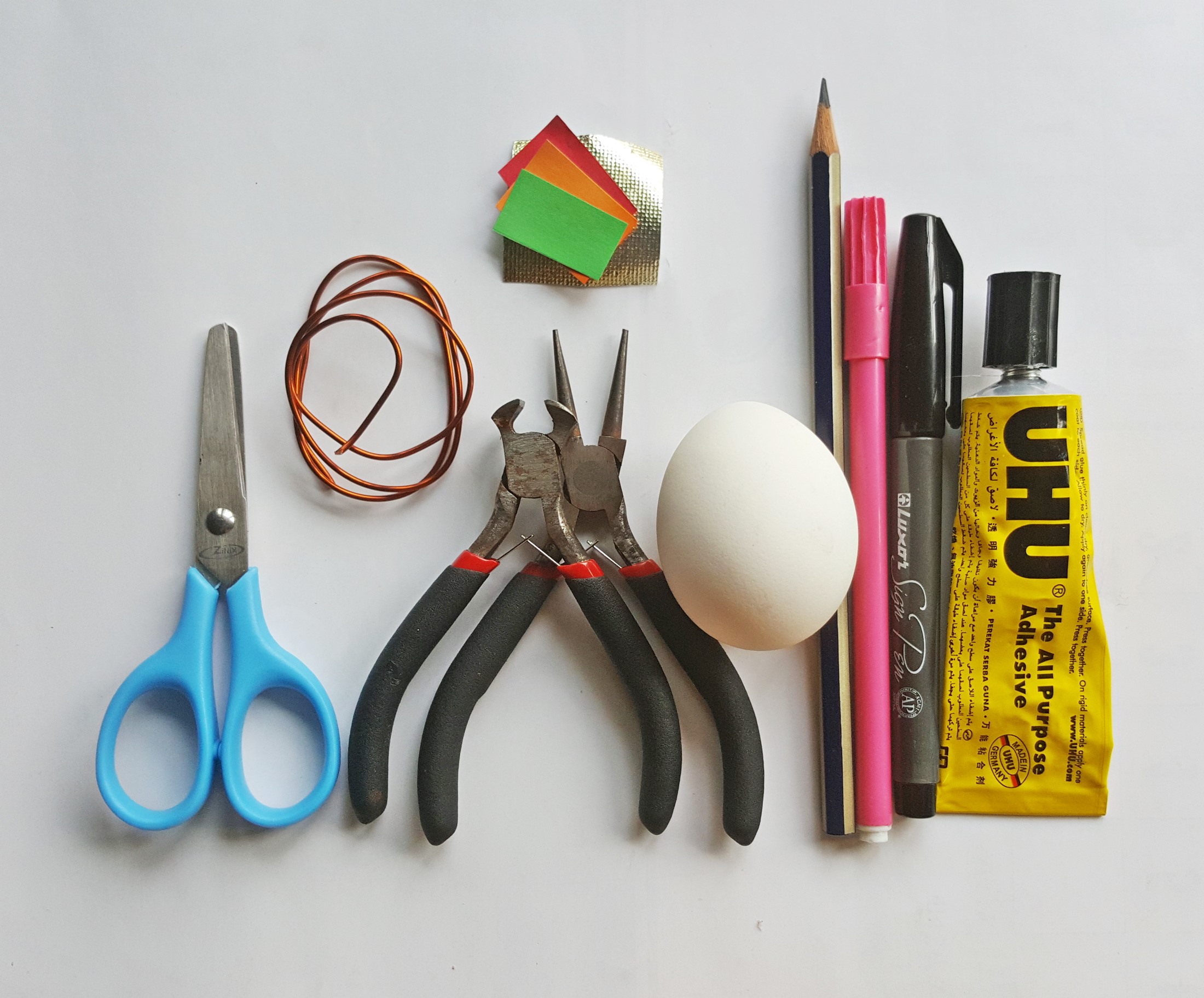 Instructions:
Wash, clean and dry the egg. Use a pencil to draw the eyes and lip of the unicorn on the egg. Keep it simple.
Carefully draw over the traced pencil patterns with a black sharpie. Use a pink highlighter pen to create 2 blush patterns on both cheeks of the unicorn egg.
Use colored craft papers to create rolled rose – cut a spiral and roll it from its open end towards the center and then glue the roll with the center! Cut small leaf patterns from green craft paper.
Cut a strip of white paper (or matching with the color of the egg). Glue the flowers and leaves on the strip, keep the items adjacent (flowers and leaves).
Take the bundle of the craft wire and create a small loop at its open end. Wind the wire around the loop until it reaches near the radius of the egg. Cut off wire from bundle once you're done winding it. This step might be too difficult for young children.
Keep the coiled wire on a flat surface and hold the center of it with your thumb. Use the other hand to pull the outer coils upwards. This will be the egg stands.
Use a golden glossy craft paper to create a small horn; the size of the horn would depend on the size of the egg. You could even turn this into a Unicorn Egg Candle by gluing a small glittery birthday candle to the top instead of this horn. Just be sure to watch it carefully.
Glue the horn on the top side of the egg. Glue both open ends of the floral strip from step 4 and place it on the top end of the unicorn egg (this will be the garland). Cut 2 ear patterns and glue them on both sides of the horn. And finally, place the egg on the stand. You can also glue the egg with stand.
Grab more eggs and get creative!
How cute would these unicorn eggs be for a unicorn party craft? I have found more and more that I use Easter Egg crafts for other holidays and events. I think it is something that kids love to do. It is simple and inexpensive, making it perfect to do with large crowds. Plus, kids can take these home and have it as a snack at a later point. Everyone will love this simple unicorn craft for kids.