No matter what kind of healthy eating plan you follow, it is important to eat a healthy breakfast. Why is a protein breakfast so important? Having a protein-packed breakfast can keep you feeling full longer and can satisfy your appetite.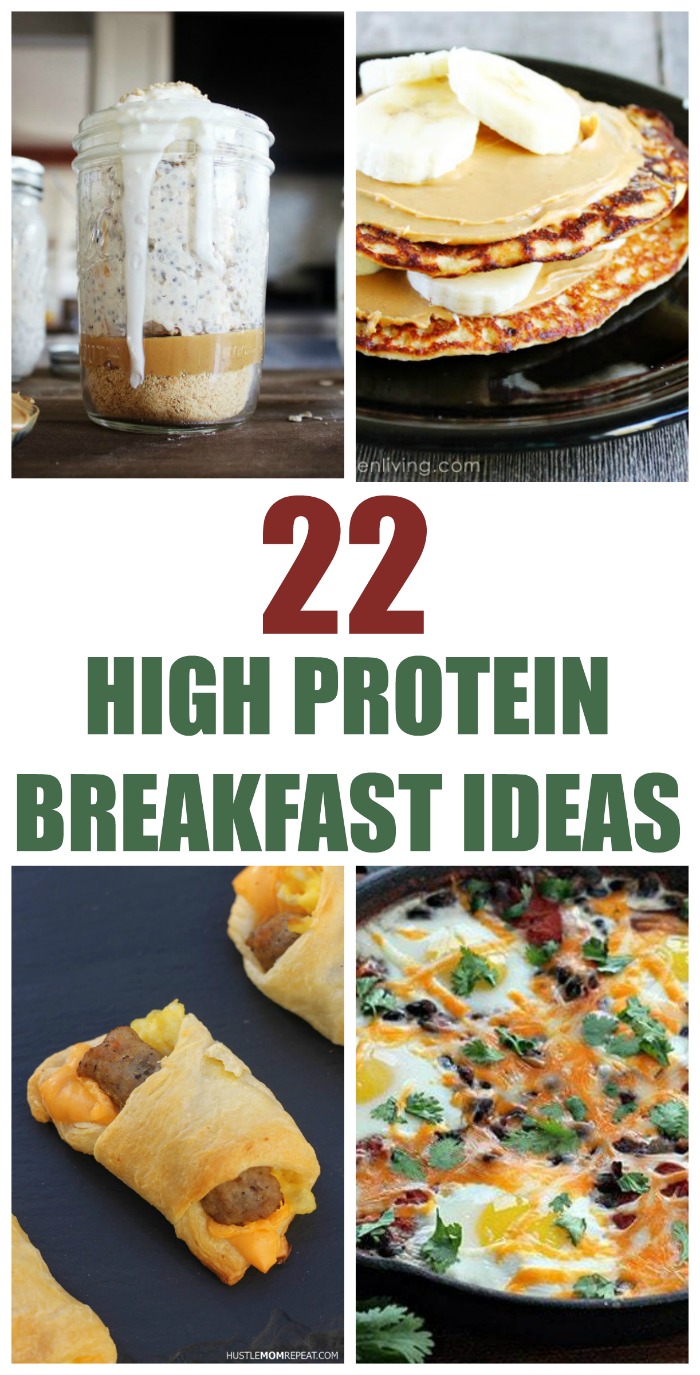 High Protein Breakfast Ideas
Finding high protein breakfast ideas can be challenging, especially if you want something more than eggs and bacon. Many of the other breakfast ideas are full of carbs and very little protein. The high protein breakfast recipes here are great because it is more than just the same old eggs and a side of meat.
If you are looking for a fast high protein breakfast that is eggs: Lightened Up Sausage, Cheese and Eggs in a Mug and Spinach and Feta Omelette in a Mug.
22 High Protein Breakfast Recipes
Start the day out right, with a healthy high protein breakfast that will keep your sugar in check, boost your metabolism, and help you feel great!! Click on the links below to grab these high protein breakfast recipes! Don't forget to let my friends know you found them at Our Wabi Sabi Life

Peanut Butter Banana Protein Pancakes by Creative Green Living
Instant Pot Egg Bites by Penny Pincher Jenny
Breakfast Roll-Ups by Hustle Mom Repeat
Chocolate Protein Overnight Oats by Strength and Sunshine
Cheesy Vegetarian Overnight Breakfast Casserole by Crayons and Cravings
Tomato & Cheese Omelette Muffins + Tuttorosso by The Little Kitchen
Banana Bread Pancakes with Caramelized Walnut Syrup by Were Parents
Peanut Butter Cheesecake Overnight Oats by We're Parents
Vegan Chickpea Scramble by Strength and Sunshine
Layered Rainbow Chia Pudding by Creative Green Living
Homemade Potato Breakfast Bake by That Guy Who Grills
Protein Granola by Gluten Free on a Shoestring
Ham, Cheese & Veggie Omelet Casserole by Mama to 6 Blessings
Spinach and Sausage Quiche with Potato Crust by Midlife Healthy Eating
Mexican Bean Breakfast Skillet by The Kitchen Magpie
Chocolate Chip Protein Pancakes by Everyday Shortcuts
Low Carb Egg Muffins with Cauliflower and Parmesan by April Golightly
Microwavable Egg Omelet in a Mug by Walking on Sunshine
Healthy Spinach Egg White Muffins by Whisk Affair
Overnight Oatmeal Pumpkin Pie Oatmeal by Creative Green Living
Corned Beef Hash Breakfast Skillet by Peace Love and Low Carb