For those of us who love Halloween, we know that ultimately, it is all about the costume. Okay, some would argue that it is all about the candy. But, other than the candy, it is all about the costume. And the best way to have a costume that is unique and affordable is to MAKE it! I don't think there is anything better than DIY Halloween costumes.
Whether you are looking for a great costume for yourself, or looking for great costume ideas for your kids, these 15 Creative and Fun DIY Halloween Costumes are sure to inspire you. From simple to elaborate, there is something here for just about every budget and level of skill.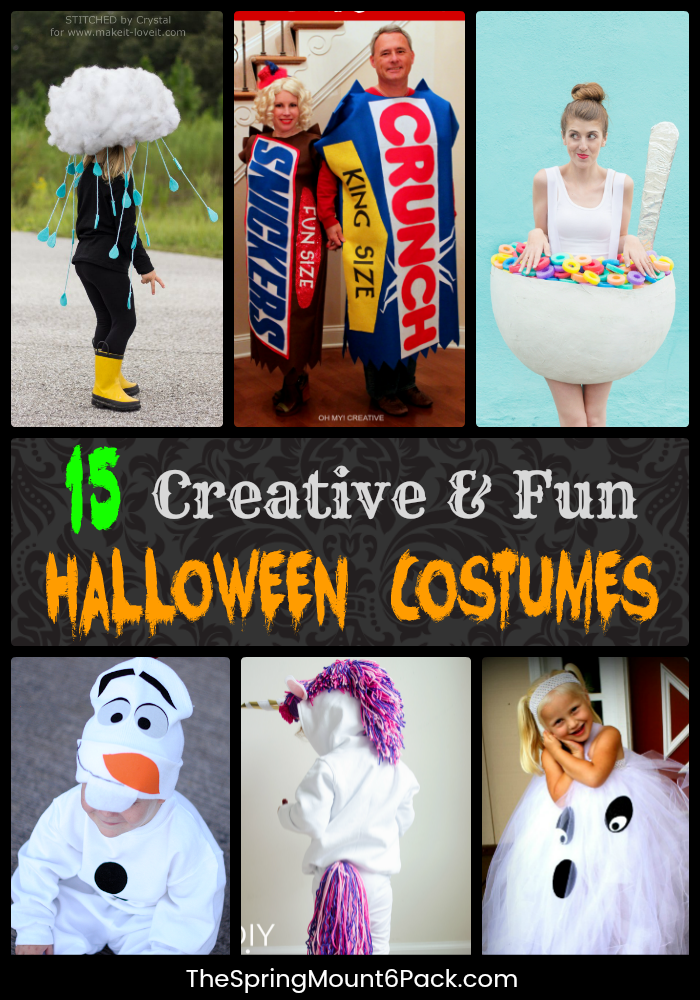 It's never too early to start planning that great Halloween costume. You might even want to make it a project that you and your child can do together. As you look through this great list of costumes, you may find it hard to choose just one. But ultimately, I'm sure you will find your perfect costume. And that perfect costume will mean even more when you and your kids can say, "I made this myself!"
What are the best DIY Halloween costumes you ever made?
1. DIY Cotton Candy Halloween Costume
3. Make a Quick & Easy RAIN CLOUD COSTUME For All Ages
5. DIY: Scuba Diver Halloween Costume
6. DIY Unicorn Costume Tutorial
7. DIY Scuba Diver Halloween Costume
8. Rag Doll Halloween Costume DIY
10. Kid's Ghost Costume – Easy DIY
11. DIY Halloween Costume: Crazy Scientist
13. Last Minute "Little Bandit" Costume
14. DIY Candy Bar Halloween Costumes
15. DIY Thomas the Train Inspired Halloween Costume
If you want to make a simple Halloween costume, even when most of the items on hand, there are still a few things that you still need. Here are a few items that you will need to make these costumes.
1. Disney Princess Frozen Anna Child Wig With Braid
2. Blue Squid 14 Color Face Paint Kit
3. 5-piece Halloween Pirate Costume – Mask and Accessories
4. 54″ Fully Lined Deluxe Vampire Cape-Halloween Costume Accessory