Spring is all about bright, colorful, and fun treats and desserts! That's why whether or not you love sweet or salty or a combination of both, our Easter Pretzels made with Peeps is a must make to showcase on your Easter Dessert Table!
EASTER PRETZELS
I love chocolate covered pretzels. I could eat them every day. The combination of salty and sweet is simply perfect! Another reason I love these pretzels covered in chocolate treats are that they are totally portable! You can eat them on the go and there is no clean up needed.
If you are looking for yummy dessert ideas for Easter, I have a few that I think you will enjoy! Like my Easter Egg Cookies! These bright and fun cookies will had a fun splash of color to your table. Another family favorite is my Bunny Butt Cheesecake! This adorable cheesecake will definitely garner laughter when your guests see these mini cheesecakes! Of course a classic dessert that everyone loves is my Jell-O Parfait!
Before you started on these easy snacks, here are a few helpful hints and suggestions.
WHAT KIND OF CHOCOLATE IS GOOD FOR MELTING AND DIPPING?
Any type of chocolate chips, bark, or wafers will work great when it comes to what type of chocolate melts the best. Normally the higher in cocoa content works the best.
The only problem though when melting chocolate chips is that when the chocolate dries, it leaves odd looking streaks in the chocolate.
One of my new favorites though is to use Ghirardelli Chocolate Wafers! I think they melt smoother and don't lose any of their chocolate flavor.
HOW DO YOU MELT CHOCOLATE?
There are two ways to melt chocolate for dipping.
The first way is to follow the directions on the package for melting the wafers in the microwave. The second way is with the double boiler system.
I happen to be a fan of using the double boiler. Granted, the microwave way is definitely faster, however, I think it's easier to heat it up too long in there. I personally think the temp is easier to control when you use the stove top to melt chocolate.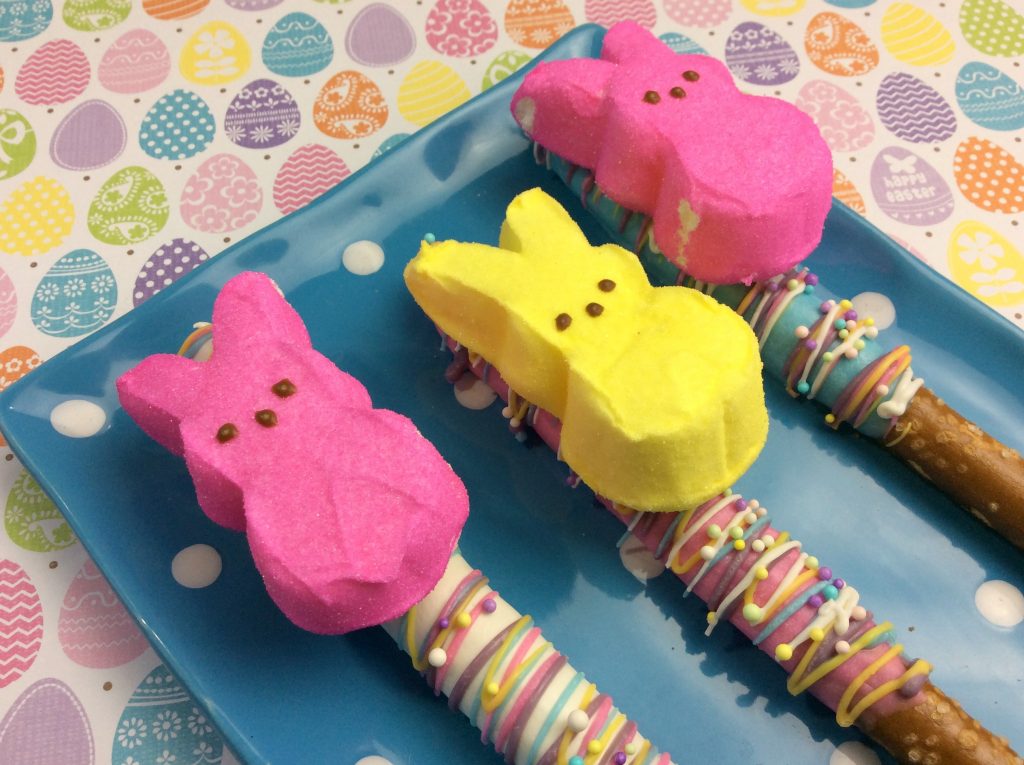 How to Make Chocolate Covered Pretzels
That part is easy. It is hard to restrain eating all the chocolate covered pretzel rods with Peeps than it is to make them. The kids can easily make them by themselves.
I buy my chocolates online. I find it easier because my store does not always have them on hand. And it annoys me more than anything to go to the store and find they do not have what I am looking for. I do not have time for that. I have included links so that you can order the chocolates.
INGREDIENTS NEEDED TO MAKE THESE EASTER PRETZELS:
Pretzel rods - or you can use any type of pretzels you prefer.
Light Blue Candy Melts - blue is such a great Spring color.
Pink Candy Melts - you can either use bright or pastel.
White Candy Melts - using this color is totally up to you.
Yellow Candy Melts - the wonderful color of warmth and the sun. Perfect for Spring!
Peeps - use a variety of yellow, blue, and pink colored ones.
Easter Sprinkles - any color you prefer.
READY TO LEARN HOW TO MAKE CHOCOLATE COVERED PRETZELS?
The full instructions as well as ingredients needed are listed in the recipe card below. I have included in-process photos below.
MORE EASTER RECIPES