This Instant Pot Gumbo recipe will change your life in the best way possible! Forget about all those hours slaving away over a stovetop or oven. With this new recipe, you can have fresh made gumbo at home with just minutes of prep work for your time! The best part? You can make it any day of the week without worry because it cooks itself!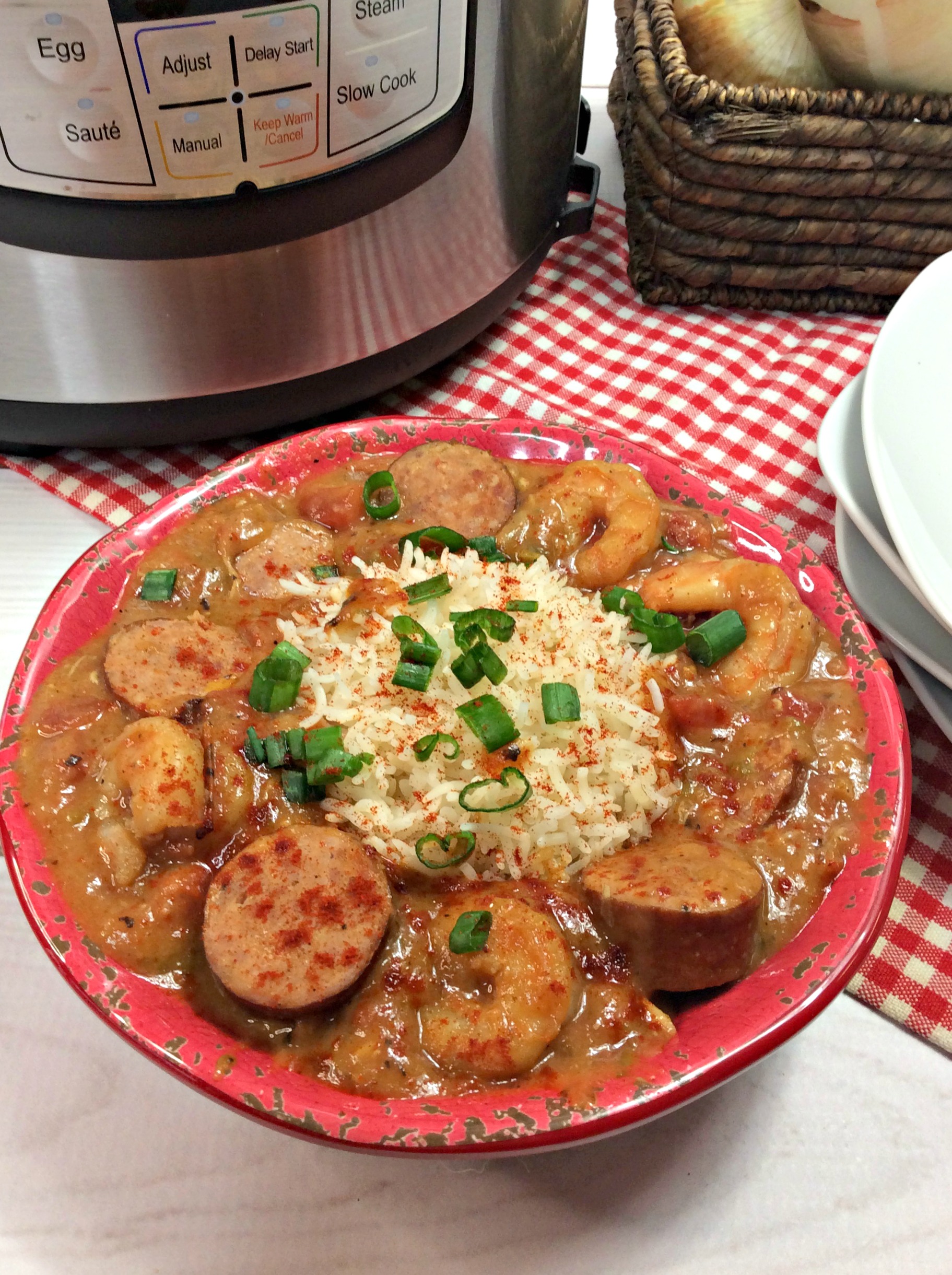 Easy Instant Pot Gumbo
We are excited to share this instant pot gumbo recipe with you! It is a one-pot dish that will be ready in just 30 minutes. The best part about the gumbos is that it can adapt to any preference, so if you want your gumbo spicy then add some chili powder or cayenne pepper; if not then omit those spices and enjoy.
This Instant Pot Gumbo is so delicious and filled with things like chicken, shrimp, onion, pepper, garlic, seasonings, chicken broth, and Cajun sausage. This recipe in general is just immaculate and will surely become a favorite because of the variety of meats and vegetables in it.
Instagram is one of my favorite places to be. Join us as we share our Perfectly Imperfect Life with recipes, crafts, parenting, and fun! Be sure to check out our stories for real-time fun!
Ingredients
Get the full list of ingredients, with measurements, and step-by-step instructions at the bottom of the post in the printable recipe card.
Shrimp- These will need to be peeled and deveined.
Cajun Creole Seasoning- This will be added to the Gumbo.
Olive Seasoning- This will add additional flavoring.
Chicken- You will need chicken thighs for this.
Sausage- You will need to get cajun sausage.
Flour- Use all-purpose flour for the best flavoring.
Onion- You can use white or yellow onion.
Bell Pepper- You will need a green bell pepper.
Garlic- This will need to be minced.
Broth- Be sure to get the chicken broth.
Tomatoes- You will need a can of diced tomatoes.
Pepper- You will need white and black pepper for taste.
Cayenne Pepper- This will add a slightly spicy flavoring.
Thyme- You will need to use dried thyme.
Salt- This will bring out the flavors in the Gumbo.
Brown Sugar- This will add richness to the dessert.
Worcestershire Sauce- This will add a smokey flavor to the Gumbo.
Lemon Juice- Use fresh lemon juice for the best flavoring.
Bay Leaves- You will need small-sized leaves.
Green Onions- These will be used for garnish.
Parsley- You will need one whole bunch of Parsley.
Rice- You will cook white rice to serve with the Gumbo.
How to Make Instant Pot Gumbo
First, you will need to cut the chicken into small pieces. Then, slice the cajun sausage into 1/4 inch pieces.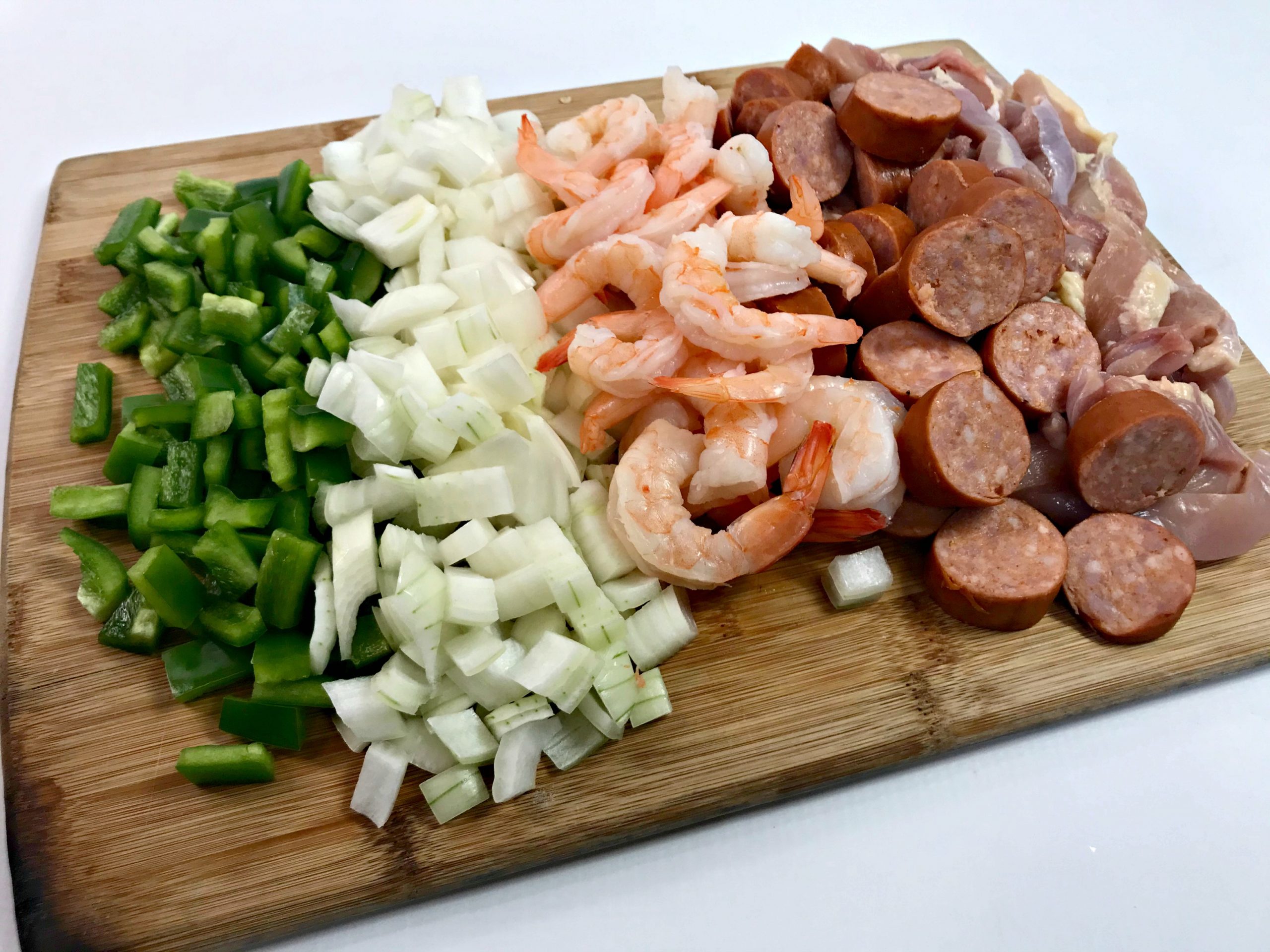 Next, begin prepping the vegetables by dicing the onion and green bell pepper.
Chop up some of the green onion until you have about 2 tablespoons worth.
Bring over the bunch of Parsley and chop to prepare, then cover it up and set aside.
In a small bowl, add in the Cajun Seasoning. Then, add the shrimp to the bowl and toss to coat the shrimp with seasoning. Set aside.
On the Instant Pot, you will see a "SAUTE" option, press it to allow the IP to heat up.
After, put in the prepared sausage and chicken. And, allow them to cook until brown, this will take about 8-10 minutes.
You will see another option on the IP labeled "Cancel", press it to stop the IP.
Remove the meat from the IP and place it on a plate. Set aside and save some of the liquid inside for later.
Again, you will press the "SAUTE" button on the IP.
Next, pour in the Olive oil and mix.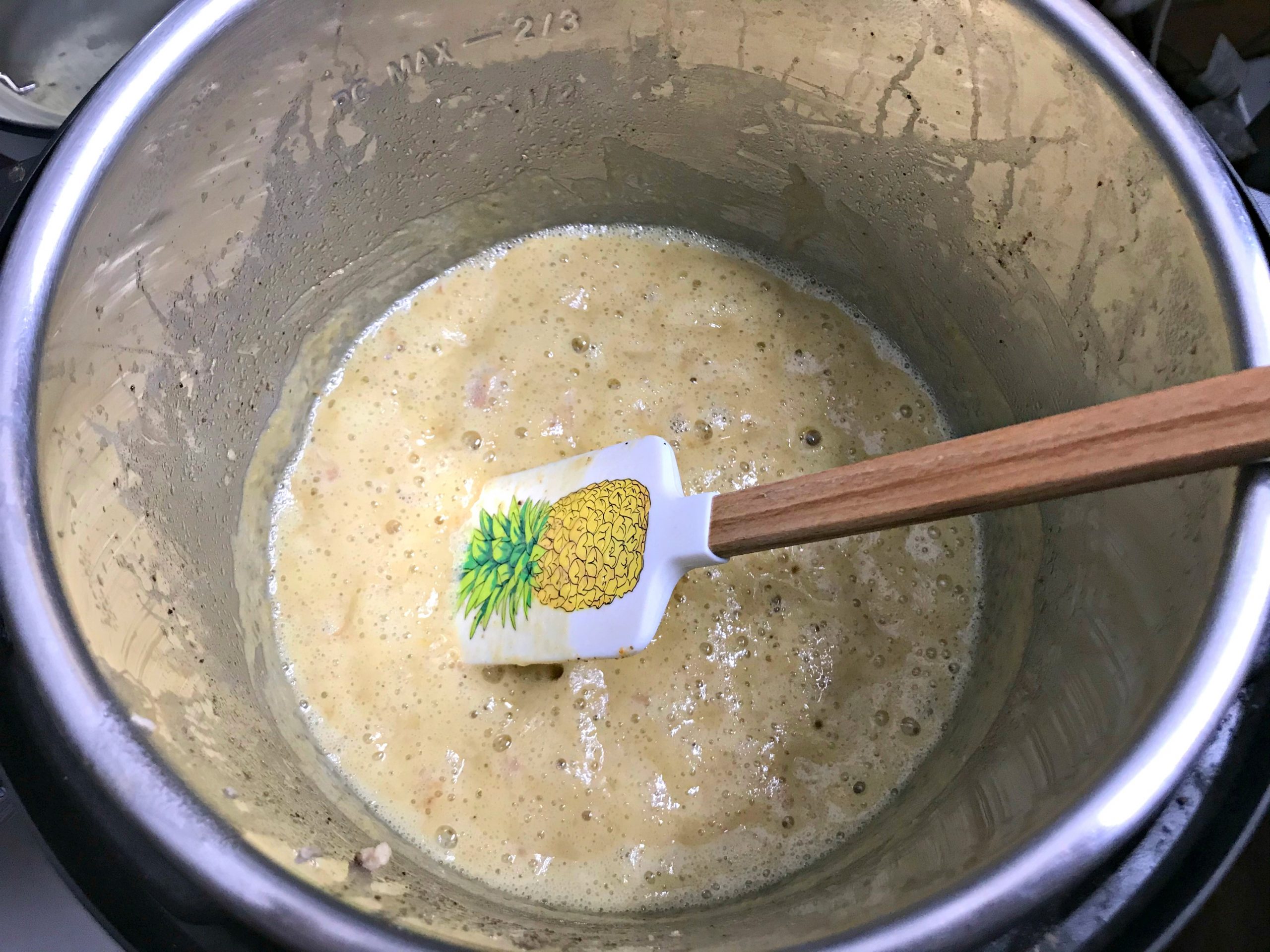 Then, add in the flour and mix to allow it to cook. The ingredients will appear as a dark peanut butter color when done. Make sure to watch it to keep it from burning. This mixture should take about 10-15 minutes until it's done.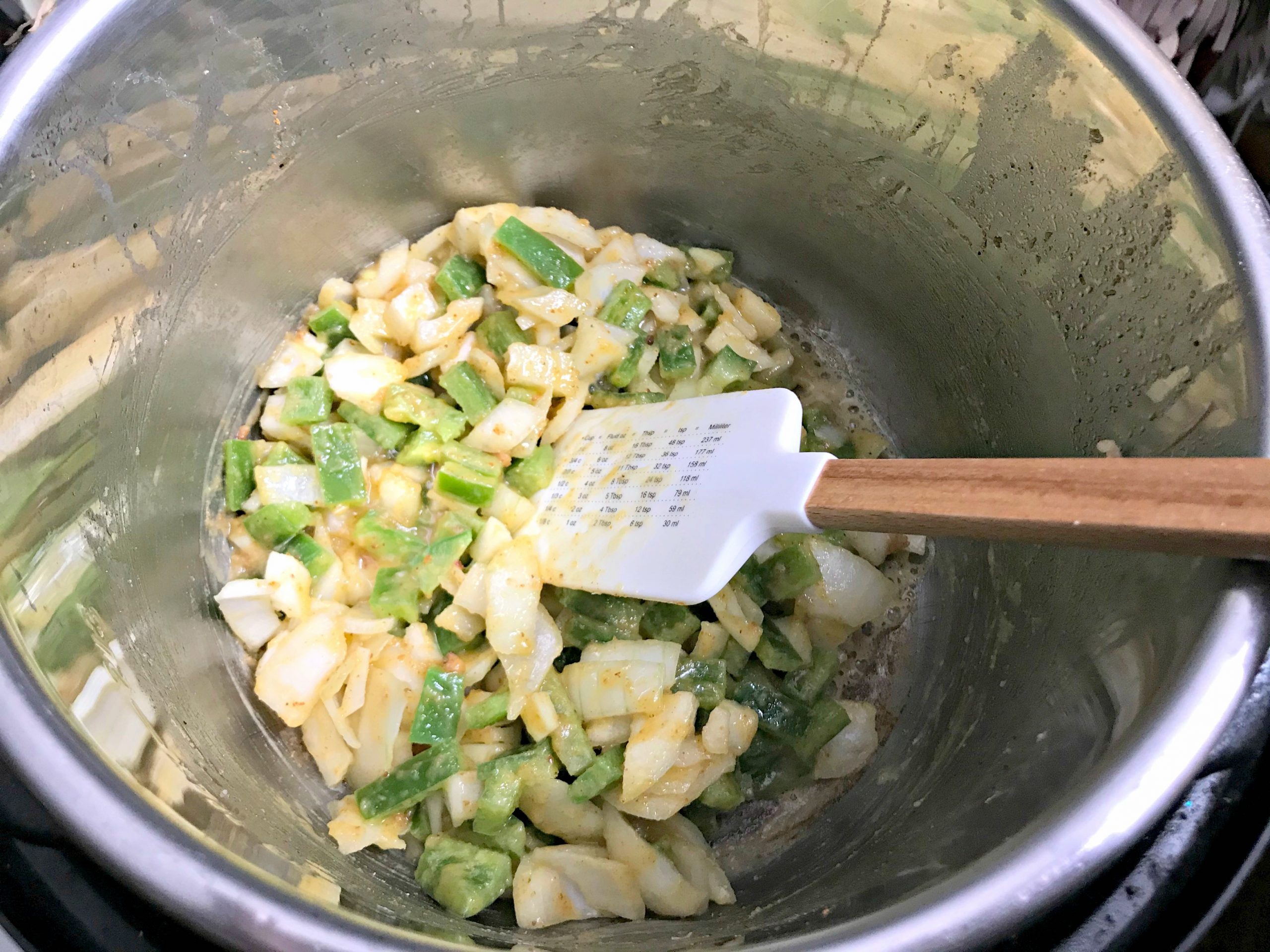 When done, add in all the prepared vegetables and cook until tender. ( About 5 minutes)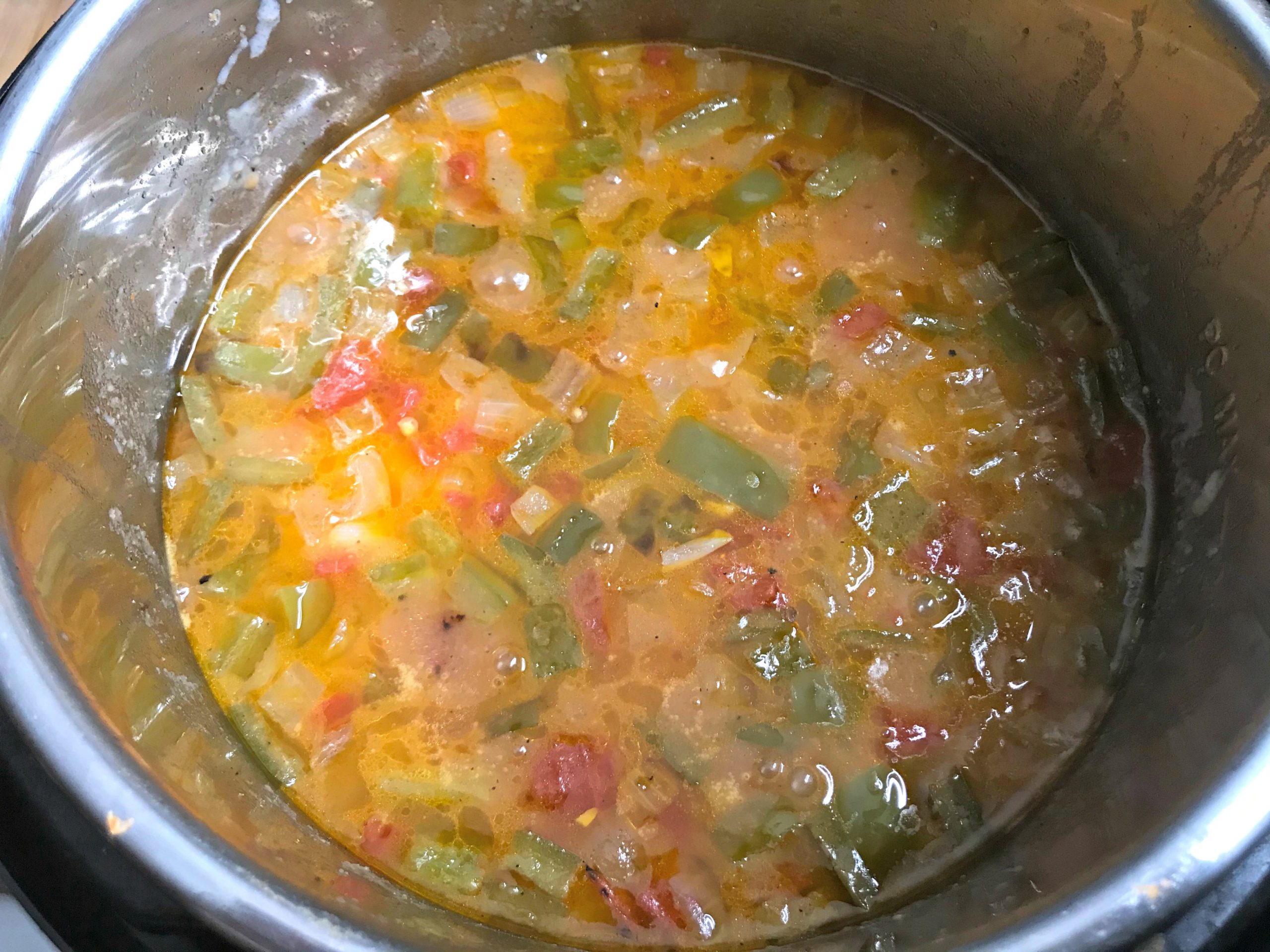 Secondly, you will need to add the broth, tomatoes, brown sugar, Worcestershire Sauce, lemon juice, and all your seasonings which include white and black pepper, cayenne pepper, thyme, salt, and bay leave blending until fully incorporated.
Then, add in the cooked meats and use a wooden spoon to scrape the bottom of the IP to get any burnt bits off the bottom.
Seal the Instant Pot
There will be an option to cook on "MANUEL" or pressure mode. Press it and cook for 4 minutes.
Press the "QUICK" release button to open up the pot.
Right after the stop, you will need to put in the Cajun coated shrimp you prepared.
Set to 10 minutes to allow the shrimp to cook. (It won't need to be turned back on because there will be enough remaining heat in the IP)
Remove the lid and top the Gumbo with the chopped Parsley and Green Onions.
Heat up the rice and place it into separate serving bowls or plates.
Finally, pour the finished Gumbo over the rice.
Serve and Enjoy!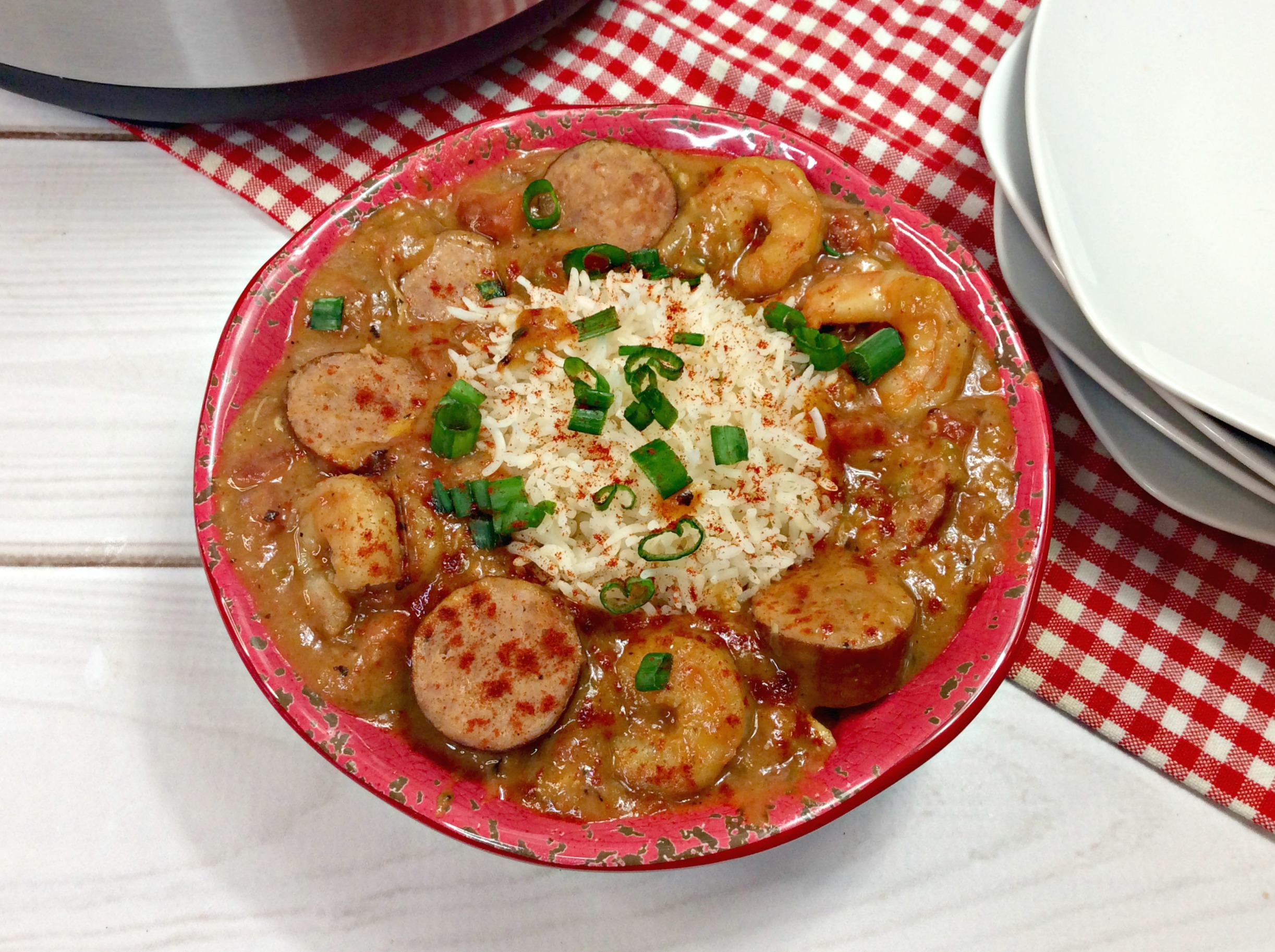 Are gumbo and jambalaya the same thing?
Gumbo and Jambalaya (We have a delicious Instant Pot Jambalaya recipe) are not the same. They are very similar when adding veggies and meats to them. However, Gumbo is normally served separately with cooked rice, whereas, Jambalaya has rice cooked with it.
Can I make gumbo in the slow cooker instead?
Yes, you can absolutely make gumbo in a slow cooker instead. Not only will this allow all the ingredients to fully absorb the flavor of seasonings. This is a great option if you do not have an Instant Pot or want to let it cook all day.
How to store seafood gumbo?
Storing your gumbo is very easy! In this case, the recipe can go in an airtight container or Ziploc bag. You can decide whether or not you want to put it into the fridge or freezer.
How to reheat this sausage and shrimp gumbo recipe?
The best way to reheat the sausage and shrimp Gumbo is by allowing it to thaw out. You can either follow the recipe by leaving it in the fridge or freezer or by placing it for a short period of time in the microwave. After you have allowed it to thaw out, you can reheat it over a stovetop or in a slow cooker.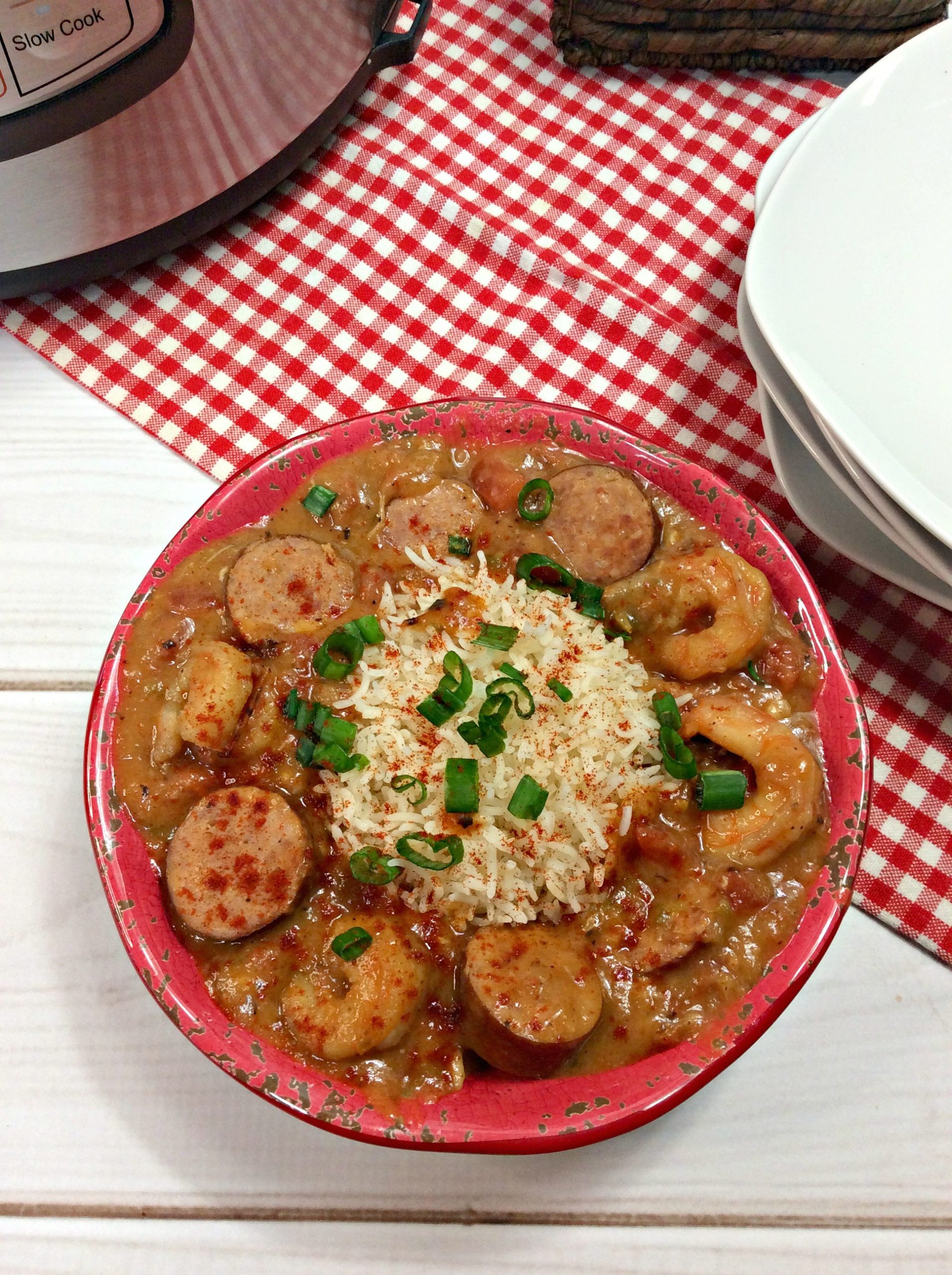 Can gumbo be frozen?
Yes, unlike other foods this Gumbo recipe can be frozen. This is one of the best ways to store Gumbo because it will last for a longer period of time and increase that shelf life. The easiest way to freeze your Gumbo is by putting it into a Ziploc bag.
How long does it last?
This Instant Pot gumbo can last for a long time. The length of time that this recipe lasts depends on how you store it. You can store it in the fridge to last up to 2 days or you can store it in the freezer. Storing it in the freezer will allow the recipe to last 4 to 6 months.
What to serve with Gumbo?
After making your gumbo, you will want to dig in right away. If you don't think this recipe will fill you up enough, then I recommend serving it with something. You can serve this recipe over rice, or you can have sides of bread, like French bread or cornbread.
How Long to Cook Gumbo in the Instant Pot
If you are wondering how long to cook gumbo in the Instant Pot, it takes 55 minutes. This does not include the time it takes for the Instant Pot to come to pressure or for the pressure to release.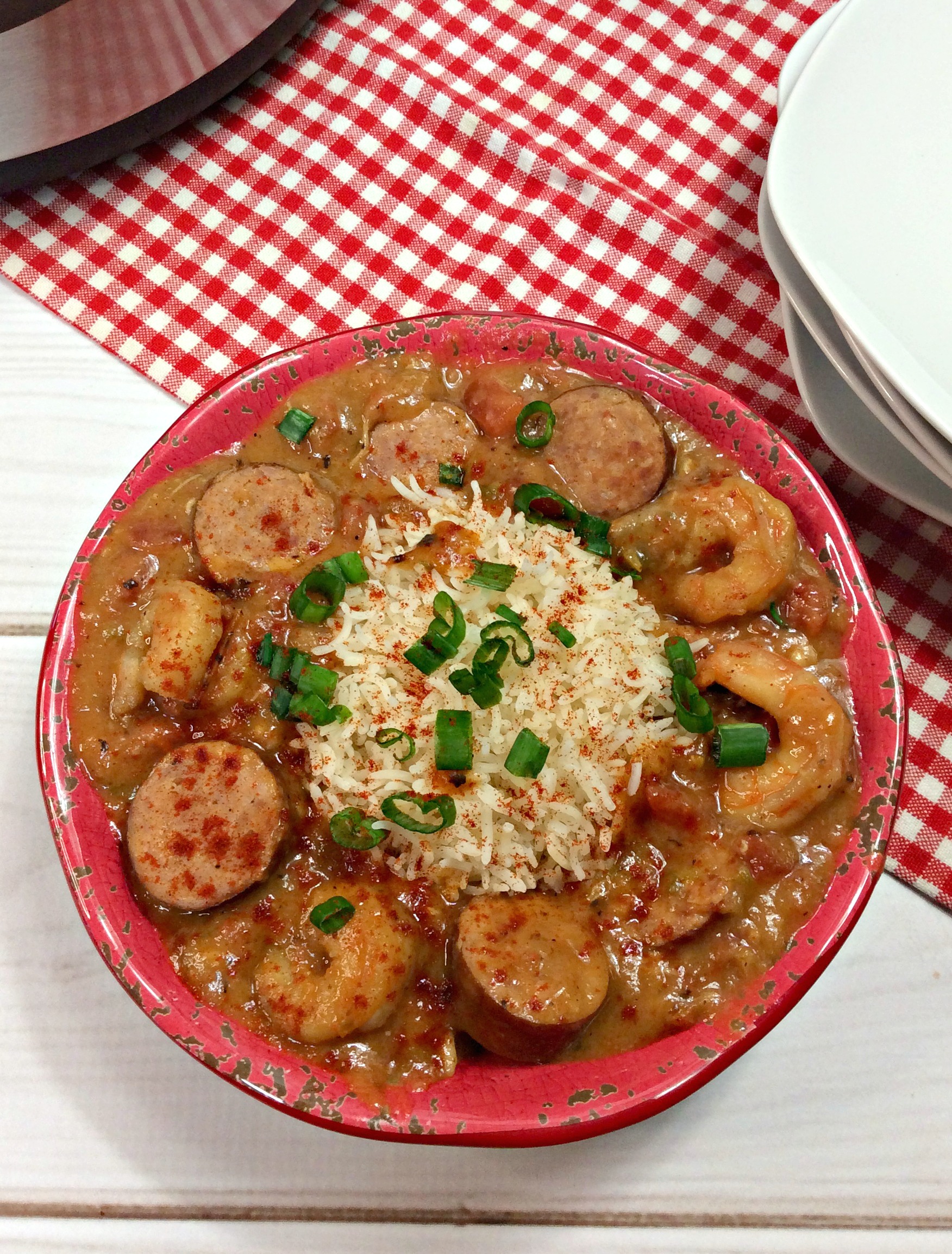 More Delicious Instant Pot Recipes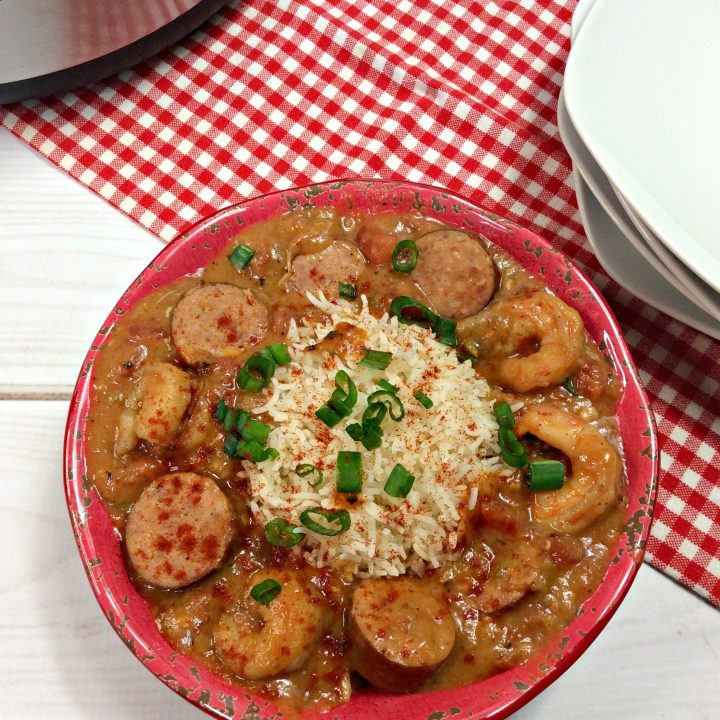 Instant Pot Gumbo
Take a break from the stove or oven with this delicious gumbo recipe made in an instant pot pressure cooker! Quick Instant Pot Gumbo.
Equipment
Small bowl

Instant Pot

Plate

Wooden spatula
Ingredients
1/2

lb

shrimp peeled and deveined

1

tsp

Cajun Creole seasoning

1/2

C

+ 2 TBSP olive seasoning

1

lb.

chicken thighs (boneless and skinless

1/2

lb

Cajun sausage

1/2

C

flour

1

onion

1

bell pepper green

1

TBSP

garlic minced

4

C

chicken broth

1

can 14.5 oz diced tomatoes

1

tsp

white pepper

1

tsp

black pepper

1

tsp

cayenne pepper

1

tsp

dried thyme

1

tsp

salt

1

tsp

brown sugar

1

tsp

Worcestershire sauce

2

tsp

lemon juice

2

bay leaves small

1

bunch of parsley

White rice cooked as per package directions Set aside.
Directions
Cut the chicken thighs into bite-size pieces.

Cut the sausage into 1/4 inch slices.

Dice the onion to equal 1 cup.

Dice green bell pepper to equal 1 cup.

Chop the green part of the green onion to equal 2 tablespoons.

Chop parsley. Cover and set aside.

Add Cajun seasoning to a small bowl.

Add the shrimp rubbing to coat each one.

Set aside.

Press "Saute" on the Instant Pot.

Allow the Instant Pot to heat.

Add the 2 tablespoons of olive oil to the pot of the Instant Pot.

Add the sausage and chicken to the Instant Pot.

Cook both until they are browned. (About 8-10 minutes)

Press "Cancel" on the Instant Pot.

Move the cooked sausage and chicken to a plate.

Set aside.

Reserve the liquid in the pot.

Press "Saute" on the pot.

Add the rest of the olive oil. Stir.

Also, add in the flour.

Stir to blend while continuing to cook.

This mixture should have the appearance of dark peanut butter.

Stir frequently.

Don't burn.

(Cooking may take between 10-15 minutes.)

Once the roux has been made add the onions, bell pepper, and garlic. Stir until the vegetables are slightly soft. (About 5 minutes,)

Add the broth, tomatoes, white and black pepper, cayenne pepper, thyme, salt, brown sugar, Worcestershire sauce, lemon juice, and bay leaves.

Stir until all ingredients are blended.

Continue to stir as you add in the chicken and sausage.

Scrape the bottom of the pot with a wooden spatula.

Continue to scrape the bottom of the pot until there are no burnt bits stuck to the bottom.

Close the Instant Pot.

Cook on "Manual" (Or Pressure cook) mode for about 4 minutes.

"Quick" release then open the Instant Pot.

Directly following the above stop add the shrimp. Stir.

Set aside the Instant Pot for 10 minutes for the shrimp to cook. (No need to turn on as the shrimp will cook in the existing heat in the pot.)

Open the Instant Pot. Garnish the gumbo with parsley and chopped green onions.

Warm the rice.

Scoop some warm rice in individual bowls. Add hot gumbo over the rice.

Serve.