I received a copy of the My Little Pony DVD- Classic Movie Collection for review. All thoughts are my own.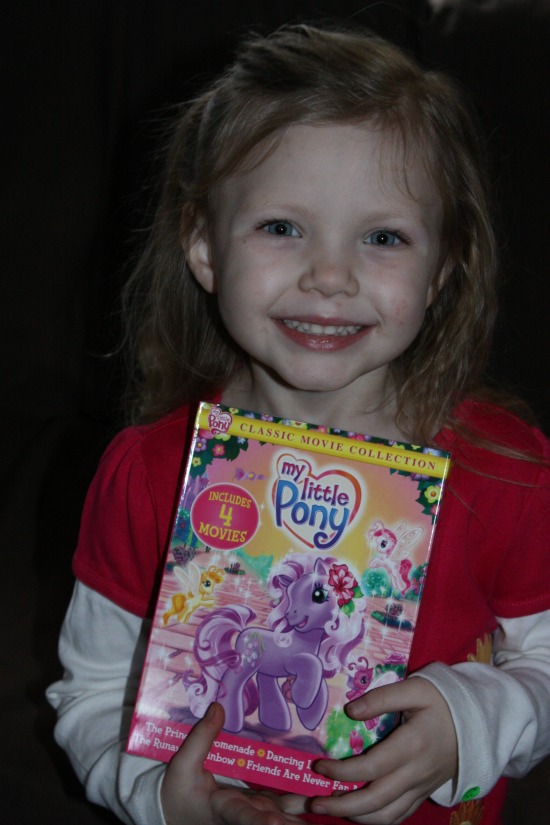 Is there any little girl who doesn't love My Little Pony? So many kids love horses and add some wings and sparkle and most kids are thrilled to see their favorite toys come to life in TV. On January 21, My Little Pony is returning to DVD with My Little Pony: Classic Movie Collection, released by Shout! Factory Kids in collaboration with Hasbro Studios. The 2-disc set contains the films Princess Promenade, Runaway Rainbow, Dancing In The Clouds, and Friends Are Never Far Away.
In the highly popular Princess Promenade, Wysteria is beaming with pride! Her gardens are in bloom, her little Breezie friends are in town, and it's time for Ponyville's fanciest spring parade, the ultimate celebration of flowers! But things don't go according to plan when Wysteria accidentally awakens Spike the Dragon, a sleepy, silly, 1,000-year-old dragon! For you see, legend holds that when a dragon is awakened, a new princess is about to be crowned! But who is the Princess of Ponyville? 

 If it's all about rainbows it must be about Rainbow Dash. And it is. In Runaway Rainbow, Rainbow Dash loves the time of year when Ponyville and Breezie Blossom are all about celebrating rainbows. Meanwhile, in a new magical place called Unicornia, Rarity is being taught how to be a Unicorn Princess and the importance of making the first rainbow of the season. But Rarity embarks on an incredible ride that includes a magic wand, falling through the clouds right into the middle of Breezie Blossom, a visit to Ponyville, meeting Spike the Dragon, and a huge adventure as she tries to get back to Unicornia. She soon realizes that getting home in time to create the first rainbow of the season is not an easy thing to do – but it is fun!

In Dancing In The Clouds, the Friendship Ball is coming up, and Twinkle Twirl needs to come up with a special dance. A roller coaster ride with friends makes her feel like she's "dancing in the clouds," so Sky Wishes helps her make an extra special wish to come up with a dance to make everyone feel that way.

In Friends Are Never Far Away, good friends Sky Wishes and Starcatcher the Pegasus want all of their friends in Ponyville and Butterfly Island to meet. Pegasus ponies are very shy however, so the two plan a special party with music, games and a Pegasus-favorite, ice cream. The party planning doesn't go so smoothly, but it's quite an adventure!
I have been watching My Little Pony since I was a kid. And now it is fun watching my girls get excited to see by these cute, fun ponies. Each of these stories is full of pony fun and great lessons learned.
If you and your little ones love these stories, these DVDs from Shout! Factory Kids are also available:
My Little Pony: A Very Minty Christmas
My Little Pony: Twinkle Wish Adventure
My Little Pony Equestria Girls
My Little Pony: Friendship is Magic – A Pony For Every Season
My Little Pony: Friendship Is Magic – Princess Twilight Sparkle
My Little Pony: Friendship Is Magic – Pinkie Pie Party
My Little Pony: Friendship Is Magic – Adventures in the Crystal Empire
My Little Pony: Friendship Is Magic – Royal Pony Wedding
My Little Pony: Friendship Is Magic – Season Two
My Little Pony: Friendship Is Magic – Season One
My Little Pony: Friendship Is Magic – The Friendship Express