I hate how small freezer are. I swear more things get lost in our freezer. It used to be that there were so many things in the freezer that I would have to search just for something that I wanted. I knew there had to be a better what to organize a freezer, but I was always overwhelmed trying to find a solution. Then I started thinking practically.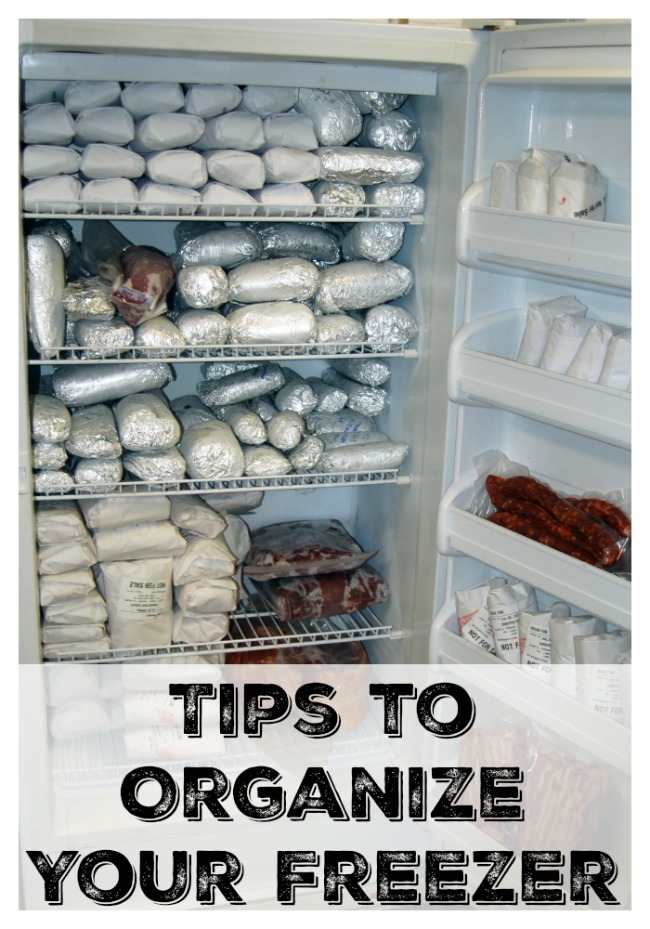 Ways to Organize a Freezer
Wrap proteins in plastic or freezer bags. The packages that meat are sold in are not freezer ready. If left in the regular package, the items will quickly get freezer burn. If buying meat in bulk, break it down into smaller portions. Be sure to label the bags or plastic with what is inside and the date.
When doing freezer cooking, like making sauces, soups or stocks to be used later, try to store them in freezer bags whenever possible. Freeze them as flat as possible. Once they are frozen, you can store them upright if you want. (I have seen people use magazine racks to hold them up) I prefer to store mine laying down. Always write what is inside of the bags and the day it was frozen. Before you know, all of the things in bags start to look like the same food. If you can not store the foods in freezer bags, stackable containers work well too, but they take up more room than freezer bags.
Use a larger bin to hold items that do not stack well or that might roll around. It keeps thing organized. If you do not have a bin that will work well in the refrigerator, try using a cardboard box.
Keep things that are the same type of food together. Just like when organizing a pantry or organizing spices, it is easier to to find things and put things away, if you create zones. Keep breakfast items together, baking items in another spot and frozen fruits and veggies in another.The door is the warmest spot in the fridge. The only thing that you should store on the door is things that are nonperishable. Things like ice packs, alcohol, and foods that are hard, like juices, bread, butter, cheese and flour.
Always remember First in First out. Whenever you add new food into the freezer, always add it behind the older food. This keeps the food rotated and makes sure that you are not using the newest foods before the older foods, allowing the older foods to go bad.
Once you have the freezer organized, it will take you less time to find the things that you need to cook. Less time in the preparation of a meal, means more time enjoying the food and the company.