If you are looking for the best Bacon Alfredo recipe? Wait until you try this recipe? Delicious and creamy, this is the only bacon alfredo recipe you will ever need.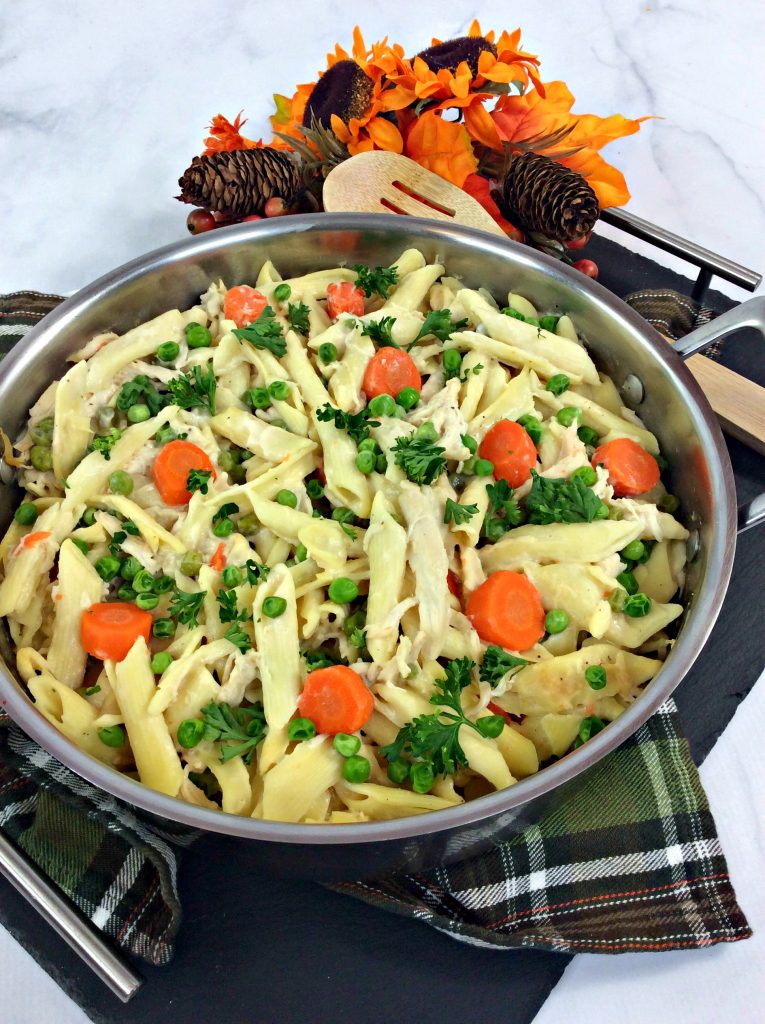 Turkey Bacon Alfredo Pasta
We have a lot of leftover turkey in the house right now, and that means I am looking for new ways to use it. I took my favorite Alfredo recipe and turned it into this bacon pasta recipe.
Is Pasta a Good Way to Use Leftover Turkey
When you are looking for ways to use up leftover turkey, this is a great recipe to consider. It uses several cups of turkey and since it is made with an alfredo sauce, the turkey takes on a whole new flavor. You don't have to use leftover turkey, you can certainly use turkey you cooked especially of this.
How Long Does Bacon Alfredo Last
Typically this bacon alfredo will last 3 days when stored properly. When you make this recipe you want to store it in the refrigerator. This will help it to last the longest. Store it in an airtight container.
Can chicken bacon alfredo be made with turkey
When you are craving chicken bacon alfredo, you can make it with turkey. It is a simple swap and you can change it out for the same amount. if you wanted to make this as chicken, you can use this recipe to make a chicken version.
Is Bacon Alfredo Keto
While this alfredo recipe is made using pasta, it is simple to make it into a keto version. Swap the pasta for spaghetti squash. (Learn How to Cook Spaghetti Squash perfectly) There are also peas in this recipe that are not keto friendly. If you are only looking for low carb you can leave these or swap them for chopped broccoli to add veggies to your dinner.
What to Serve with Alfredo Sauce with Bacon and Turkey
When you make this recipe, you can serve it as is. It tastes perfect and has vegetables. You can also serve it with a side salad or a side of broccoli.
How Many Weight Watchers Points in Bacon Alfredo Sauce with pasta
When you are making this Bacon Alfredo Sauce with pasta, you want to use whole grain pasta for the best point count. The point counts in this recipe are using whole grain pasta. I am also using lightest version of all of the ingredients. I am using turkey breast and not including the dark meat or any skin.
Purple – 4 points
Blue– 8 points
Green– 9 points
You make this recipe lighter by using a pasta substitute. You can use Easy Butternut Squash Noodles or homemade spaghetti squash. If you use these substitute noodles, the points are:
Purple- 4 points – The noodles are free on purple so there is no change.
Blue – 4 Points
Green- 5 Points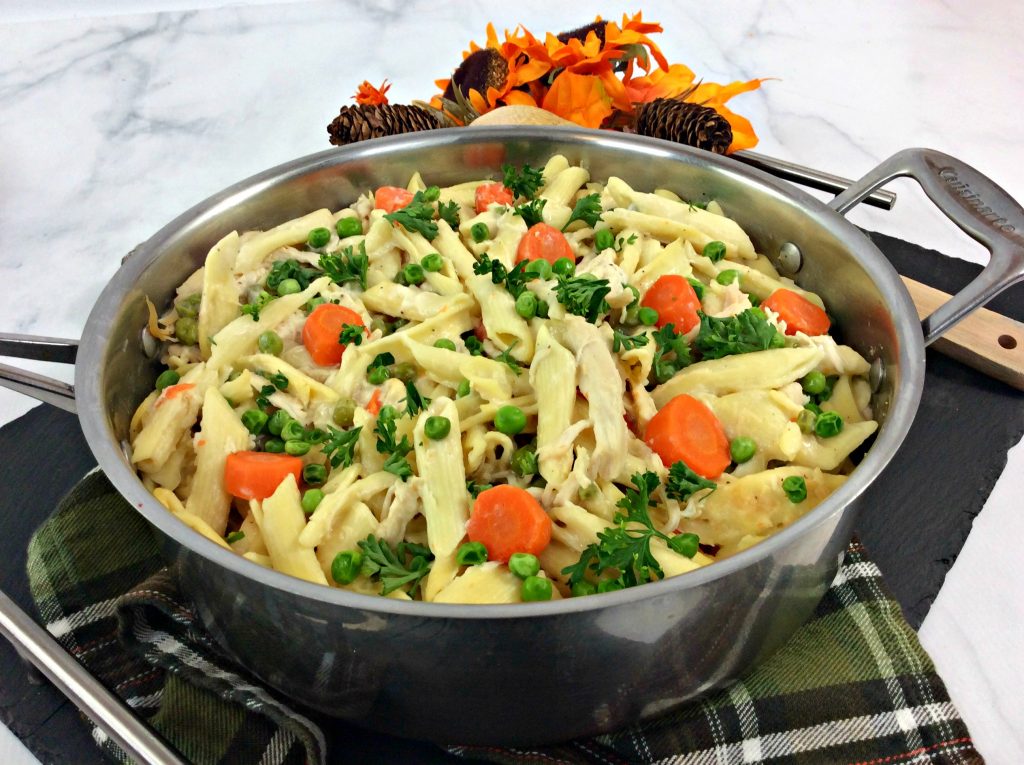 Ingredients in Bacon Alfredo Pasta
Bacon
Onion
Garlic
Chicken broth
Fat Free Half and Half
Penne pasta
Salt
Black pepper
Turkey
Peas
Parmesan cheese
How to Make Turkey Bacon Alfredo Pasta
Add the uncooked chopped bacon to a saute pan over medium heat.
When the bacon has been fried transfer it to a plate, reserving 1 TBSP of bacon grease in the saucepan, Drain excess grease.
Add the diced onion cooking until lightly browned. Carefully add the minced garlic, saute for 30 more seconds.
Slowly pour in the broth, half and half, pasta, salt, and pepper. Stir. Cover, Bring the contents to a boil. Reduce heat to low. Simmer until the pasta is cooked yet firm. (Al Dente)
Add the chopped turkey, bacon, peas, and Parmesan Cheese. Stir to combine. Cover and continue to cook for 2-3 more minutes. (Or until it is warmed and the cheese has melted.)
Remove from heat.
Set aside to allow the sauce to thicken. (About 5 minutes)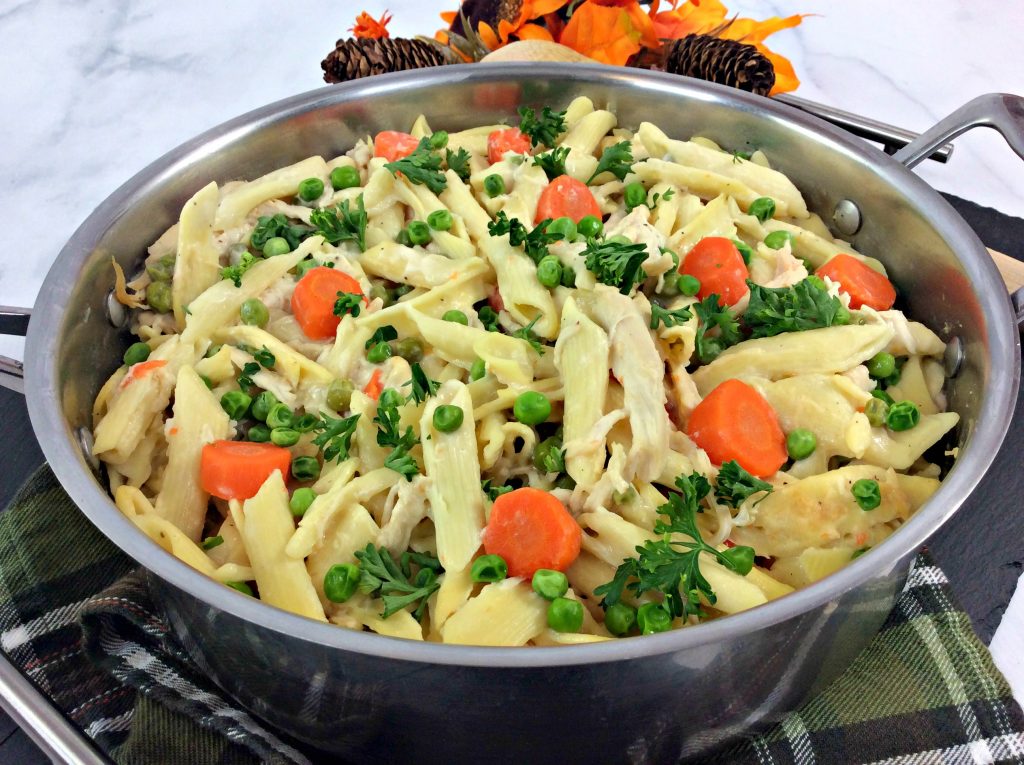 Best Leftover Turkey Recipes
If you are wondering "What to do with leftover turkey?" I got you covered. Here are some of my favorite leftover turkey for the next time you are wondering what to do with leftover turkey.
Want something low carb? Learn how to cook spaghetti squash perfectly every time so it tastes amazing.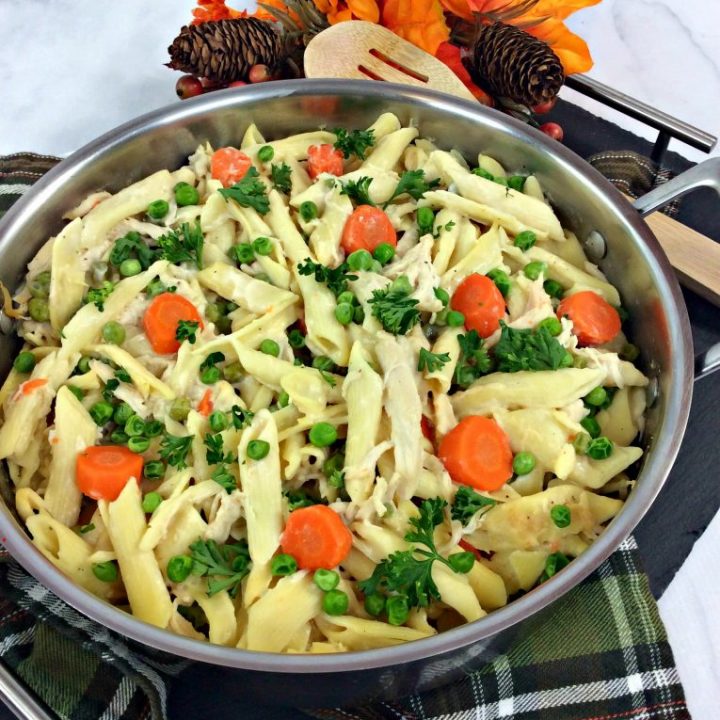 Turkey Bacon Alfredo Pasta
Ingredients
4

slices

uncooked bacon

chopped

1

onion small

diced

2

cloves

garlic minced

2

C

chicken broth

1

C

fat free half and half

2 1/4

C

Penne pasta uncooked

1/2

tsp

salt

1/4

tsp

black pepper

1

Lb

leftover turkey cubed

1

C

peas frozen

2/3

C

Parmesan cheese shredded
Directions
Add the uncooked chopped bacon to a saute pan over medium heat.

When the bacon has been fried transfer it to a plate, reserving 1 TBSP of bacon grease in the saucepan, Drain excess grease.

Add the diced onion cooking until lightly browned. Carefully add the minced garlic, saute for 30 more seconds.

Slowly pour in the broth, half and half, pasta, salt, and pepper. Stir. Cover, Bring the contents to a boil. Reduce heat to low. Simmer until the pasta is cooked yet firm. (Al Dente)

Add the chopped turkey, bacon, peas, and Parmesan Cheese. Stir to combine. Cover and continue to cook for 2-3 more minutes. (Or until it is warmed and the cheese has melted.)

Remove from heat.

Set aside to allow the sauce to thicken. (About 5 minutes)