If you love Chili Mac you will love this version of turkey chili mac. Easy to make and tastes like true comfort food, this is a recipe you have to try.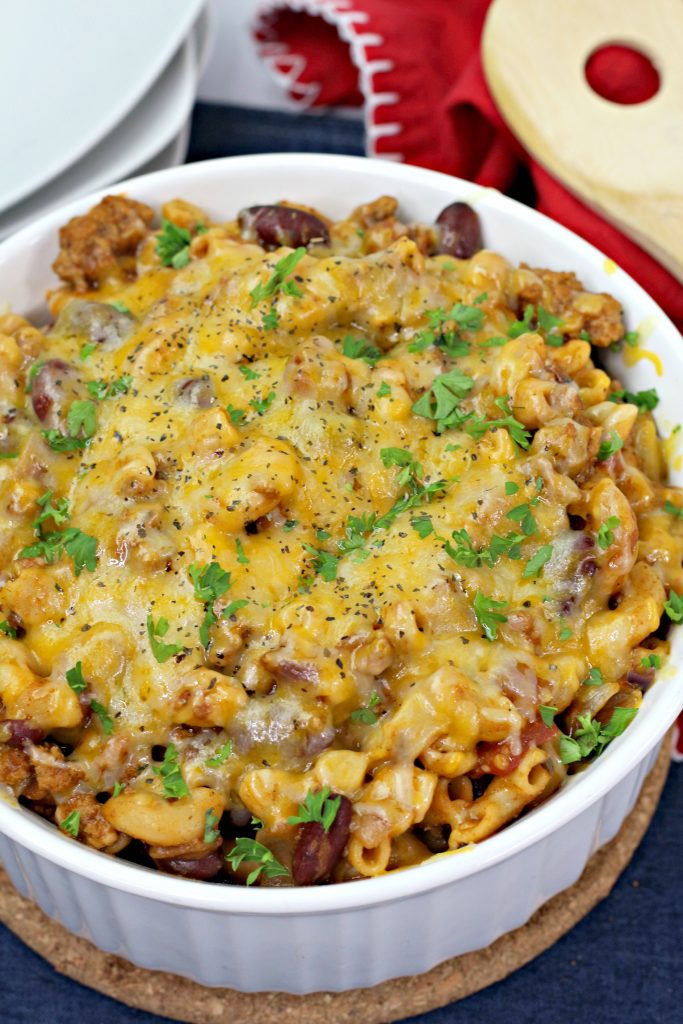 Turkey chili mac
My daughter absolutely loves chili mac. She had it at school one day and begged for me to make it at home. Absolutely, because I love chili mac. I wanted to make a slightly healthier version so we decided to make it with ground turkey breast instead of the traditional ground beef. Feel free to use ground turkey, ground beef, or even ground pork in this recipe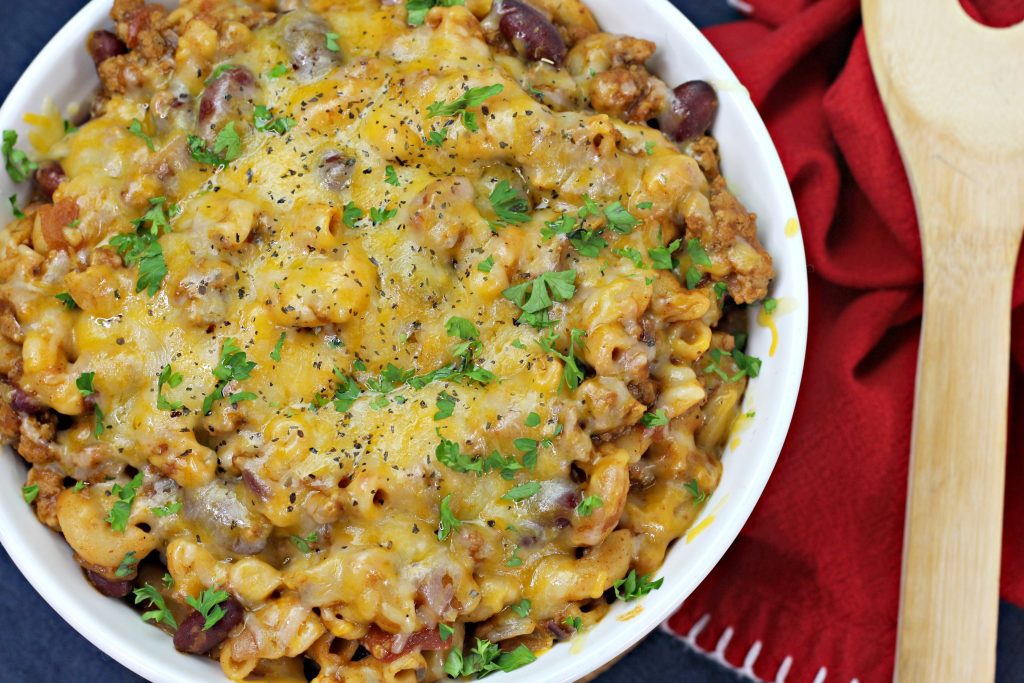 How Long Does a Chili Mac Recipe Last
When you make this chili mac recipe, you want to make sure you store it in an airtight container in the refrigerator. This will help it stay good for as long as possible. When you store this chili mac recipe correctly, it will last about 4 days in the refrigerator.
Can Turkey Mac Chili Be Frozen
If you find you have more mac chili that you can eat before it goes bad, you can store it in the refrigerator. I like to keep it in a freezer bag because it is easier to store. I lay the bags flat this way it takes up less room. Remember to write what it is and the date it was frozen on the bag. It will last about 3 months in the freezer.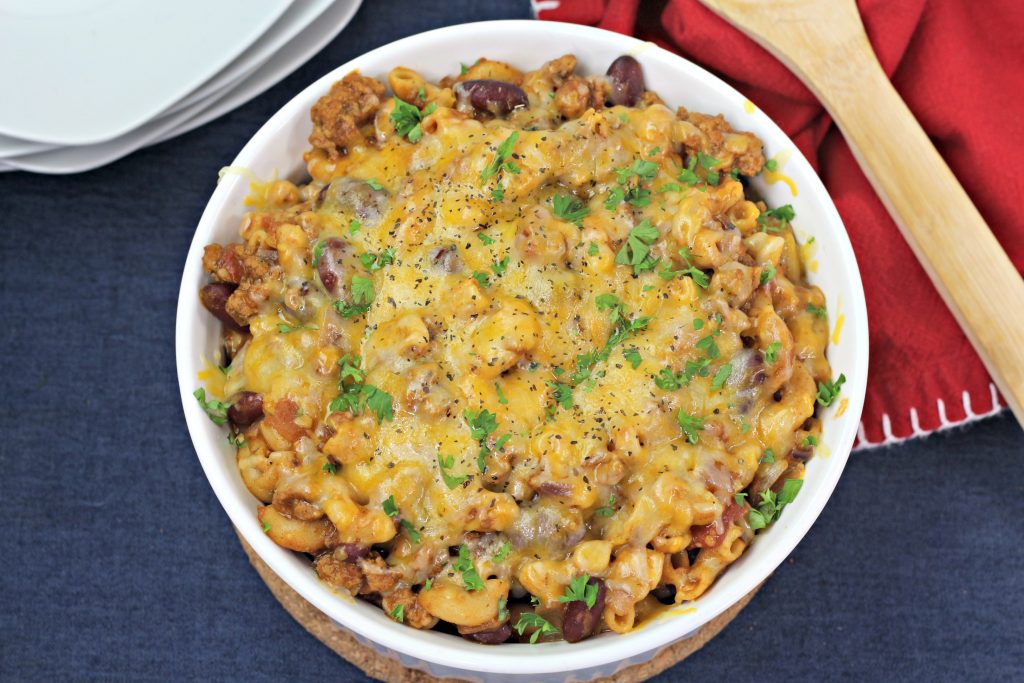 How to Reheat Chili Mac and cheese
When it comes to reheating chili mac and cheese, if I am reheating it for dinner for everyone, I will heat it in a pot on the stove. If I am only reheating a bowl for one person, I will heat it in the microwave. No matter which way you reheat it, be sure to only heat it enough to warm it through. You do not want to make the noodles mushy.
Save Money on Weight Watchers. One Year on iTrackBites for about the cost of 1 month on Weight Watchers. All the same plans and points. Use code
Code_DebiMurray to save
How Many Points in Weight Watchers Chili Mac
Weight Watchers Chili Mac is a healthy dinner idea that just has that comfort food feel. And with that, it does come a little higher in points. This Weight Watchers Dinner comes in at
Purple: 6
Blue: 6
Green: 9
When you make Weight Watchers Chili Mac, you can make it for only 6 or 9 points per serving. If you serve it with a side of vegetables like green beans, carrots or a side salad, you can make this a 6 or 9 point meal that is very feeling and tastes like true comfort food.
If you might be able to make this an even lower point meal if you use less pasta or find a pasta that is lower in points. If you eliminate the pasta and use a type of vegetable noodles, you can bring this recipe down to 1 WW point per servings, but personally, I need the real pasta in this recipe.
Have you joined our Weight Watchers Facebook Group? Free recipes and support. Perfect for everyone!
Want to Weight Watchers for almost free? Get a Year's Membership for the Price of a Month – Learn More About Healthi – Use Code Coach_DebiMurray to save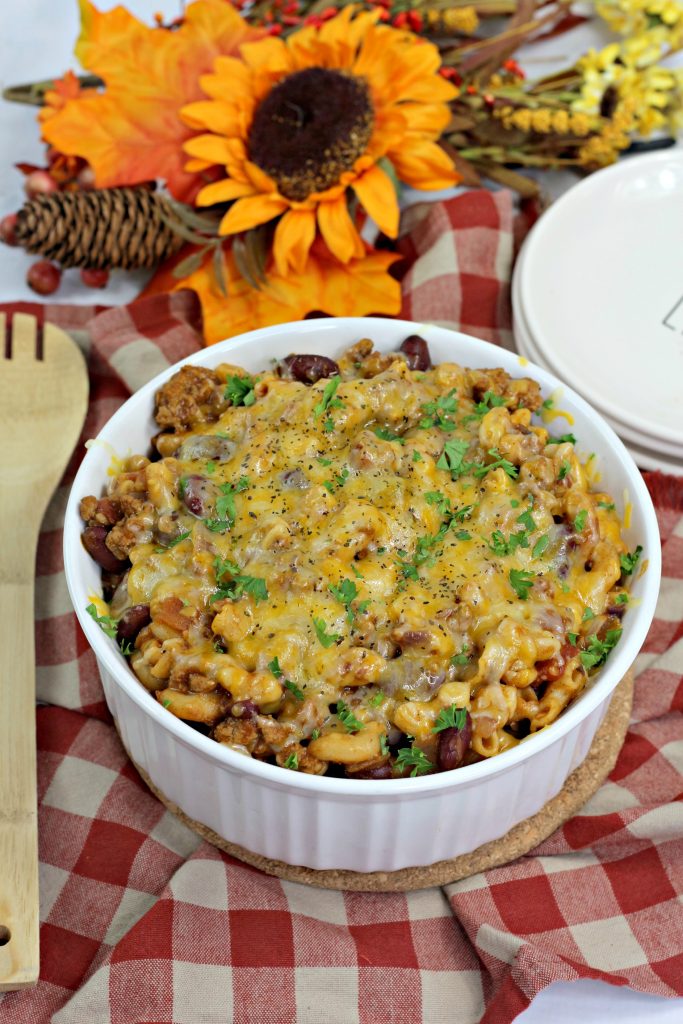 Ingredients in Turkey Chili Mac
Get the full list of ingredients, with measurements, and step-by-step instructions at the bottom of the post in the printable recipe card.
Olive Oil
Ground Turkey breast
yellow onion
garlic
chili powder
ground cumin
fire roasted tomatoes
beef broth
tomato sauce
salt and pepper
dark kidney beans
Elbow Macaroni
Shredded fat free cheddar cheese
Parsley
How to Make Chili Mac
Using a large pot, heat olive oil over medium to high heat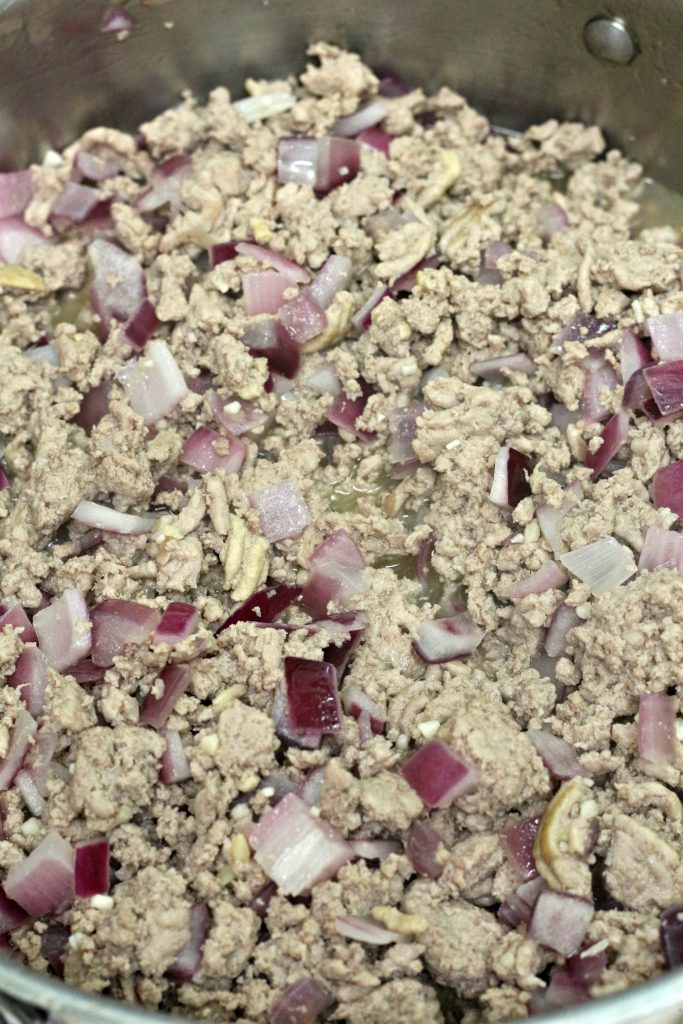 Add the ground turkey and cook for about 8-10 minutes or until no longer pink Add the onion and garlic and cook until the onion is soft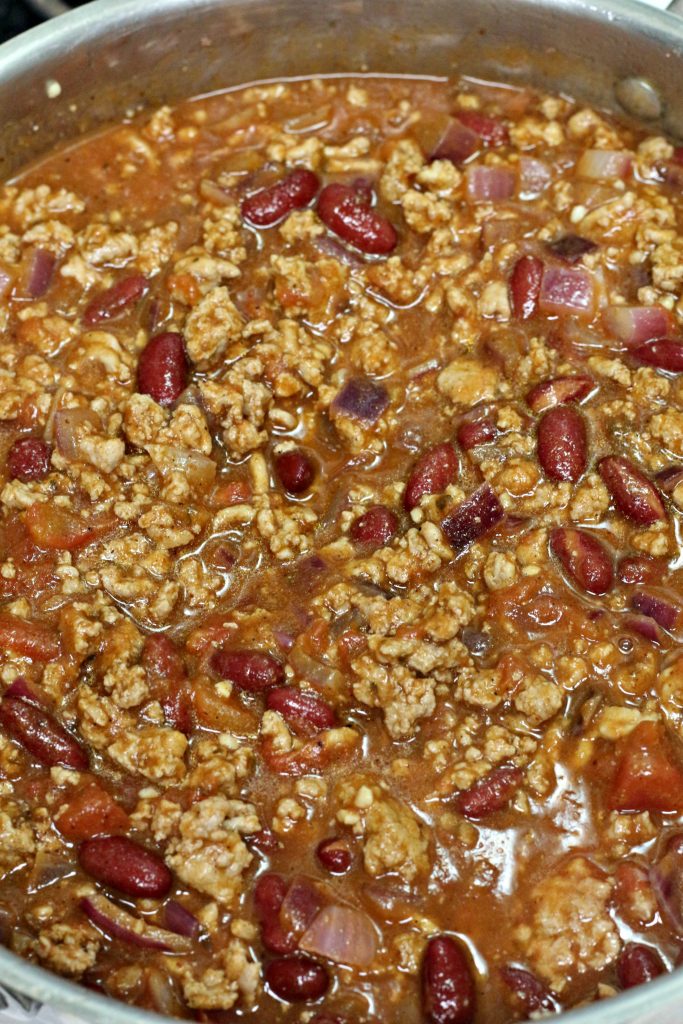 Add in the chili powder, cumin, tomatoes, beef broth, tomato sauce, salt and pepper, kidney beans and macaroni. Stir to combine and bring to a simmer Place lid on top of pop and cook for 12-15 minutes or until the pasta is tender Remove lid and continue to cook for 5 more minutes Sprinkle the cheddar cheese over the top of the pasta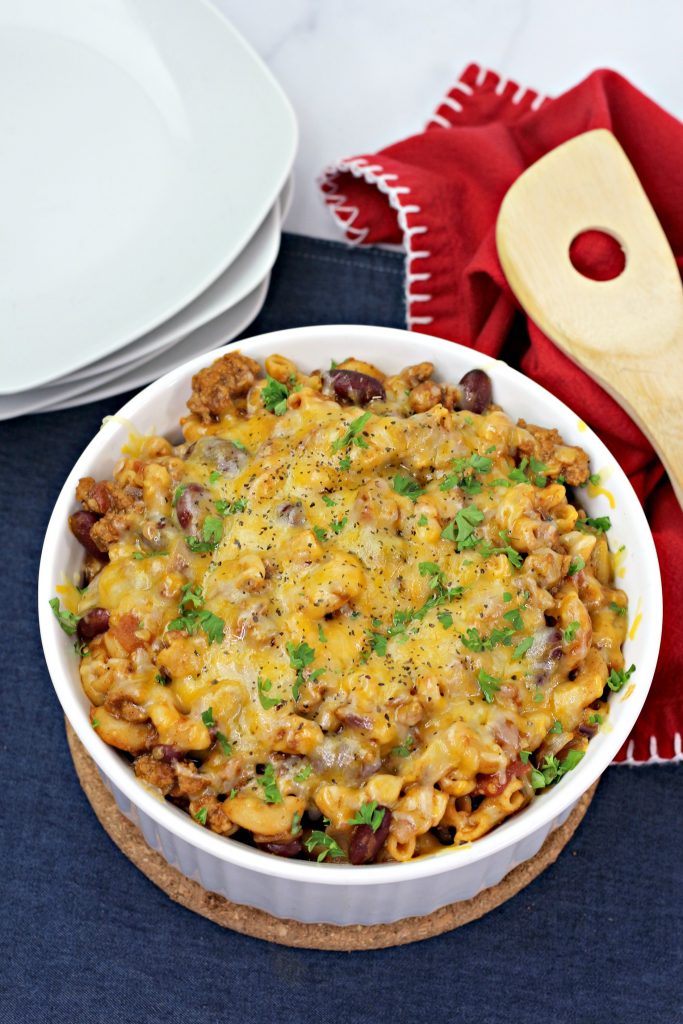 Want More Dinner Ideas
Need more ideas and help to stay on track with Weight Watchers?
Save Money on Weight Watchers- Get a Year for the Price of a Month – Everything You Need to Know About iTrackBites – Use Code Coach_DebiMurray to save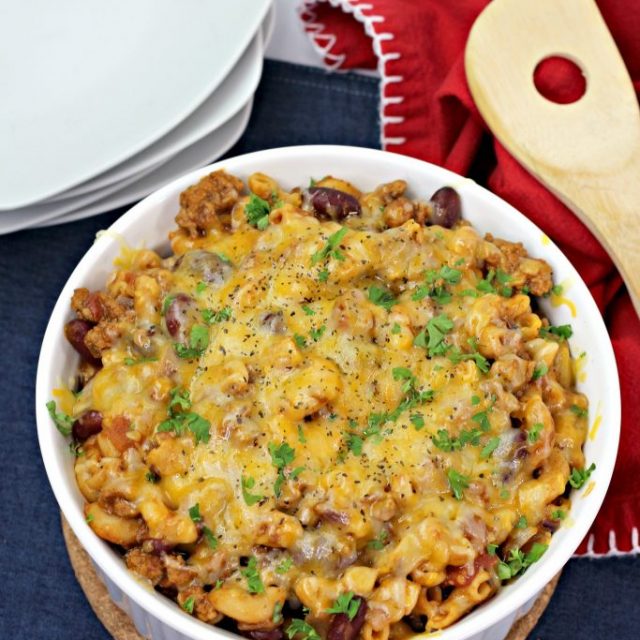 Turkey Chili Mac
If you love Chili Mac you will love this version of turkey chili mac. Easy to make and tastes like true comfort food, this is a recipe you have to try.
Ingredients
2

Tsp

Olive Oil

1

LB

Ground Turkey breast

1/2

C

diced yellow onion

1

tbsp

Minced garlic

2

tsp

chili powder

1 1/2

tsp

ground cumin

1 – 14

oz

can of fire roasted tomatoes

4

C

beef broth

1 – 8

oz

can tomato sauce

pinch

of salt and pepper

1 – 15

oz

can of dark kidney beans

1 – 10

oz

bag of Elbow Macaroni

1 1/4

C

shredded fat free cheddar cheese

Chopped Parsley for topping
Directions
Using a large pot, heat olive oil over medium to high heat

Add the ground turkey and cook for about 8-10 minutes or until no longer pink

Add the onion and garlic and cook until the onion is soft

Add in the chili powder, cumin, tomatoes, beef broth, tomato sauce, salt and pepper, kidney beans and macaroni.

Stir to combine and bring to a simmer

Place lid on top of the pot and cook for 12-15 minutes or until the pasta is tender

Remove lid and continue to cook for 5 more minutes

Sprinkle the cheddar cheese over the top of the pasta