Chocolate Cherry Cupcakes are moist, flavorful, and a fun twist on a traditional chocolate cupcake. Serve up this cupcake with a dollop of vanilla ice cream and its pure perfection.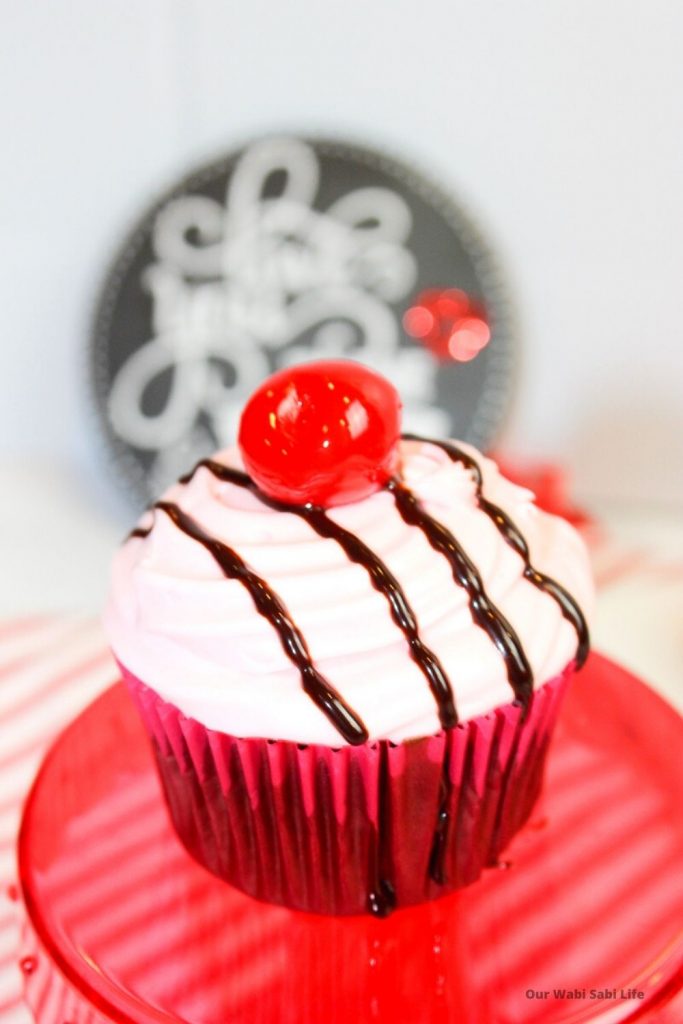 Chocolate Covered Cherry Cupcakes
Valentine's Day is right around the corner. Chocolate-covered anything is one of the first things that people tell me they think of when they are thinking of a perfect dessert for Valentine's Day. Me? I think chocolate-covered anything is perfect for, well, anytime. Just bring on the chocolate.
If you love creating delicious treats for Valentine's Day, I have a few favorites that I think you will really enjoy like my White Chocolate Stuffed Raspberries, my Wine-infused Chocolate Covered Strawberries, and my Hershey Kiss Cookies.
What Kind of Cherry Should I Use
I am using Maraschino cherries in this recipe. I love the candied flavor of them and think that they add so much flavor to the recipe. You can use fresh or frozen cherries and they will work perfectly. I find them a little more expensive depending on the time of the year. Frozen is a great choice if you want fresh cherries without the extra sweetness.
What are Maraschino Cherries?
Maraschino cherries are candied cherries that are soaked in a sugar syrup and then dyed red. They are used in cocktails and baking. It adds so much flavor. Regular cherries are just fresh or frozen cherries that have not been soaked in anything.
Can I Leave the Chopped Cherries Out of the Batter?
Absolutely. If you don't want the cherries in the batter, you can add some of the cherry juice in order to get the flavor of cherries in the cupcakes without adding the actual cherries.
Tips for Making The Perfect Chocolate Cherry Cupcakes
How Do I Make the Perfect Cupcake?
There are two key things that I think make the perfect cupcake. One is to bring everything to room temperature and to keep checking on the baking process. Don't let them overbake.
What Makes Cupcakes Light and Fluffy?
By not overmixing the batter. When you overheat the batter, it can make the cupcakes tough.
Do I Have to Use Cupcake Liners
I don't always have cupcake papers on hand. In that case, I will spray the cupcake pan with cooking spray.
Do you Bake Cupcakes on the Top or Bottom Rack?
Actually neither. Bake them on the middle rack in the middle of the oven. That way it goes baked all the way around at the same temp.
How To Tell When Cupcakes are Done
To test if the cupcakes are done, stick a toothpick in the center of the cupcake. If it comes out with batter on it, then it needs to be baked for a few minutes longer. If it comes out clean, then they are ready to take out of the oven.
Decorating the Cupcakes with Maraschino Cherry Frosting
First, make sure that the cupcakes are cooled completely. If you try to frost the cherry chocolate cupcakes too soon, the cherry frosting will melt off.
You can decorate the chocolate cherry cupcakes with the fun cupcake frosting swirl, or just add a dollop on top. Once you add the cherry on top and the chocolate sauce will bring everything together. If you want to add the pretty swirl, I use this decorating kit.
How to Store Cherry Cupcakes
You can store the cupcakes in an airtight container on the counter for a day or two. After that, I would recommend storing them in the fridge. The frosting will start to get runny if they are stored at room temperature for too long.
If you want to make these chocolate cherry cupcakes ahead of time, I would recommend freezing them. You can either freeze them before or after you decorate them. I like to put them in a freezer-safe bag and then frost them when I am ready to serve them.
How to Freeze Frosted Chocolate Cherry Cupcakes
If you are freezing the cupcakes with the frosting, I would recommend doing it in two stages. First, frost the cupcakes and then place them on a plate. Once they are frozen solid, you can take them out and wrap them individually in plastic wrap or place them in a freezer bag. This will prevent the frosting from getting freezer burned.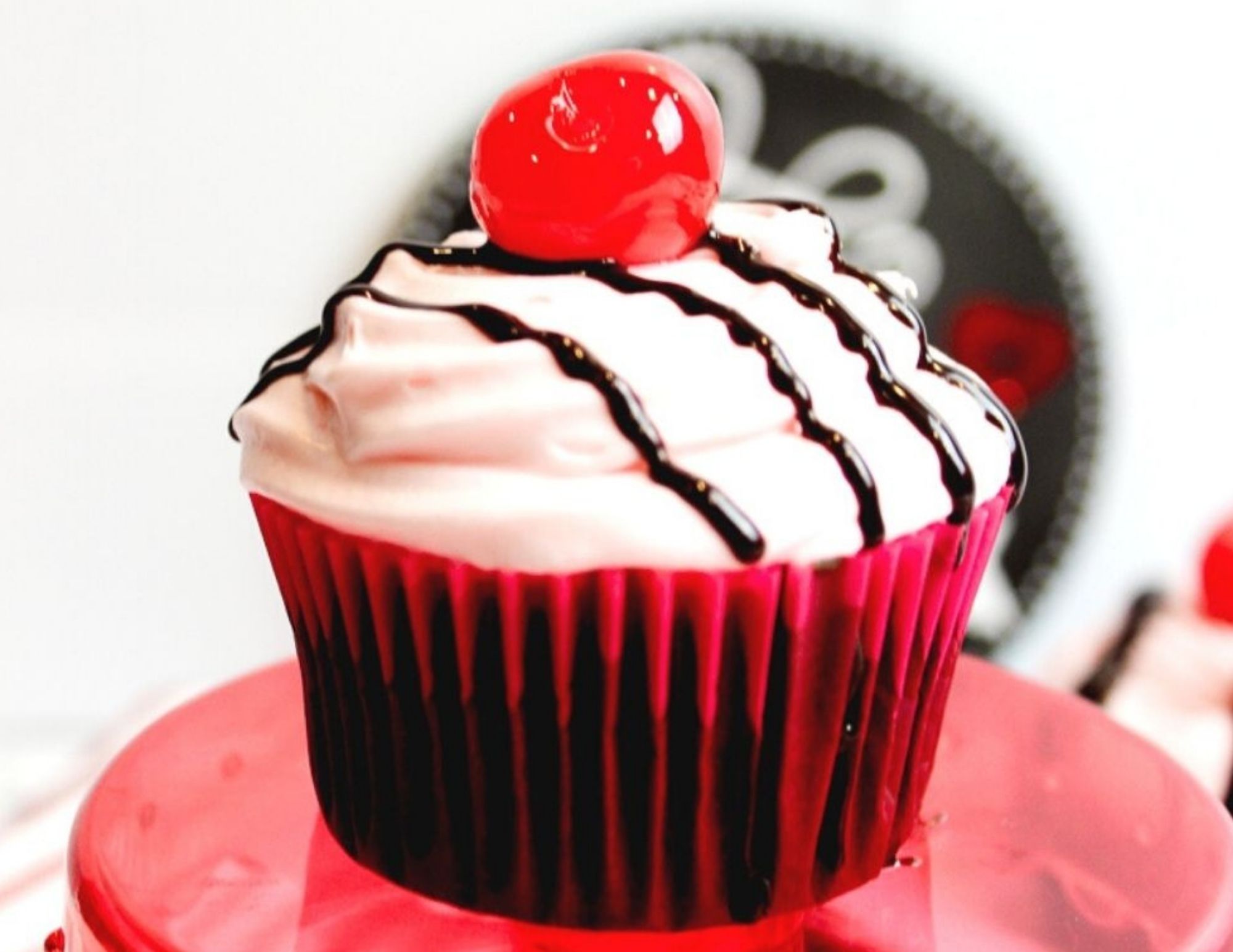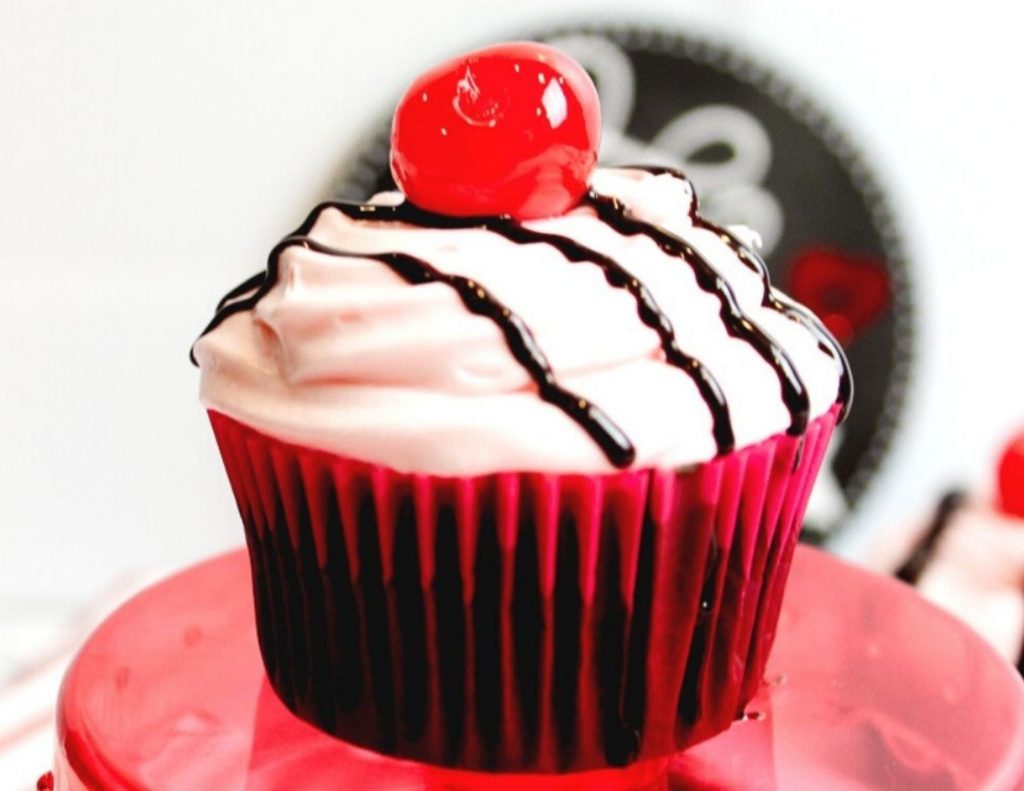 Variation
So I love these cupcakes just the way they are. However, I love a filled cupcake. You can add a filling to this cupcake before you frost it. YOu can use the method I did in Valentine's Day Surprise Cupcakes. It works for any type of filling. I like to add cherry pie filling to the center of the cupcakes. You can also use cherry jam, cherry preserves or anything similar.
How Much Does It Cost to Make Cherry Chocolate Cupcakes
When you make these cupcakes, they will cost about $4.89 as of today using Walmart's website.
Ingredients
Chocolate cake mix or homemade cake recipe
Ingredients for the cake mix– eggs, oil and water
Maraschino cherries – you will use these for flavoring and for the top.
Chocolate syrup – this will garnish the top of the cupcake.
Ready to Make this Chocolate Cherry Cupcake Recipe?
You will find the full list of ingredients as well as the directions below in the printable recipe card. I have included a few in-process photos for your reference.
Step 1: Prepare the cupcake batter mixture according to the directions. Add 1/2 cup of cherries, chopped, to the batter.
Step 2. Bake the cupcakes according to the directions. Use cupcake paper liners.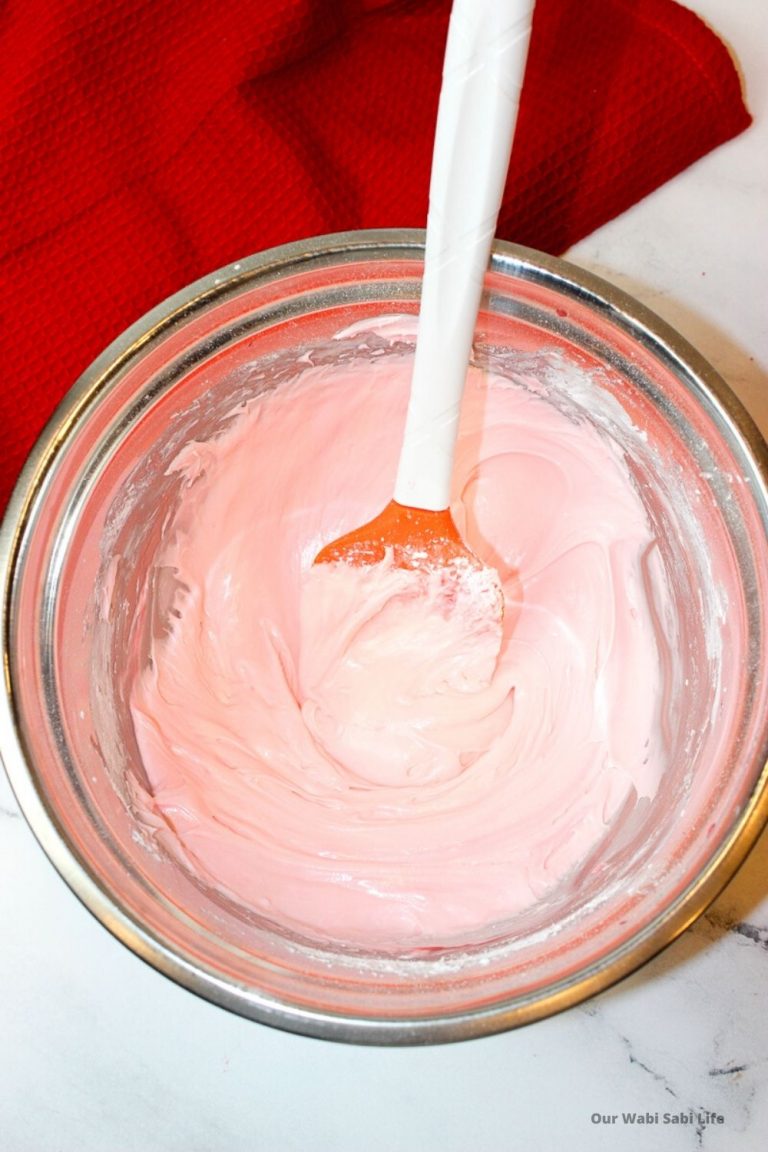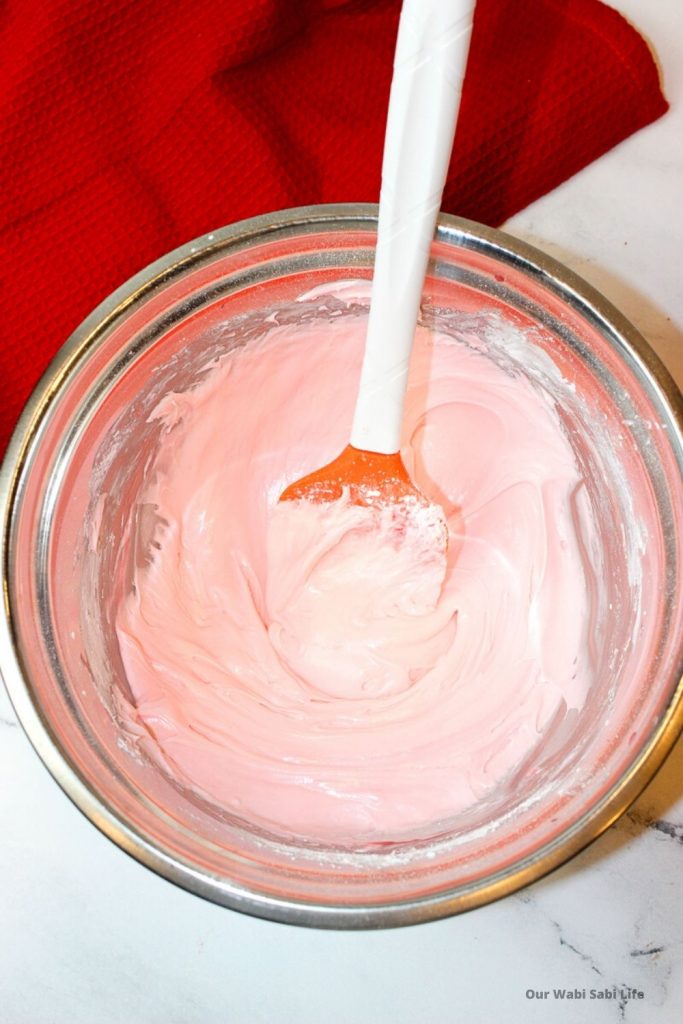 How to Make Cherry Frosting
Step 3: Make the frosting. This is a cherry buttercream frosting.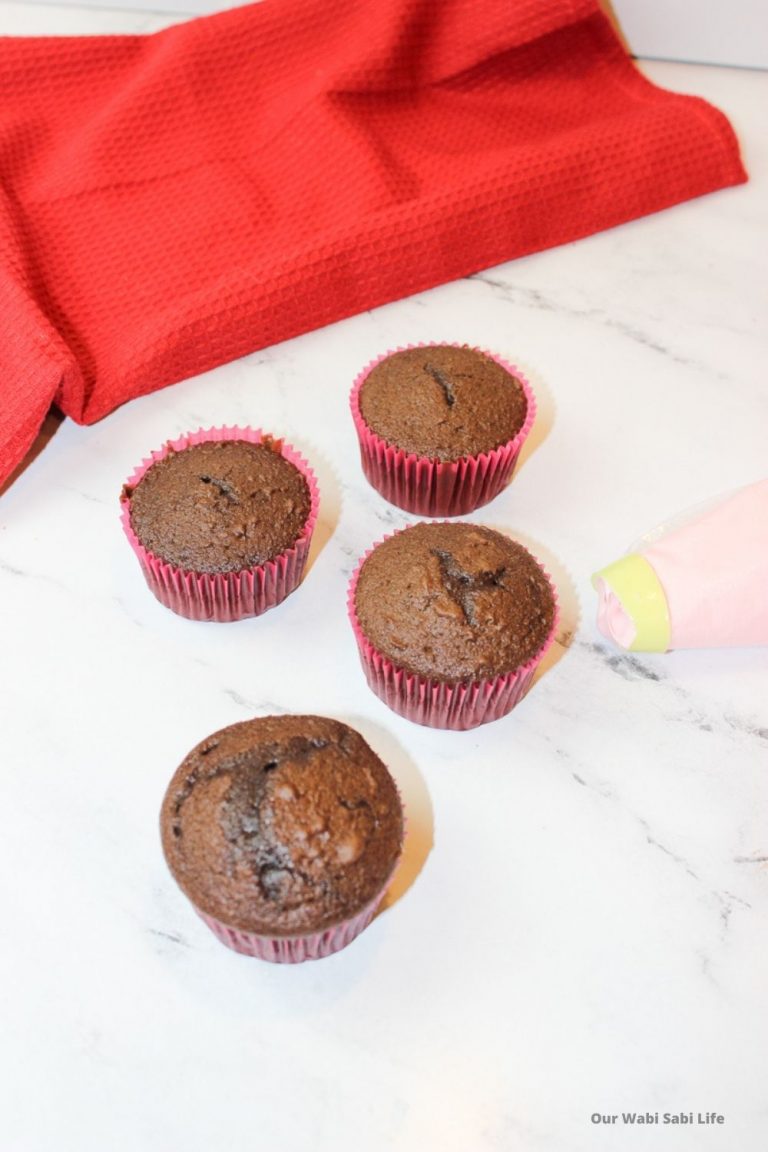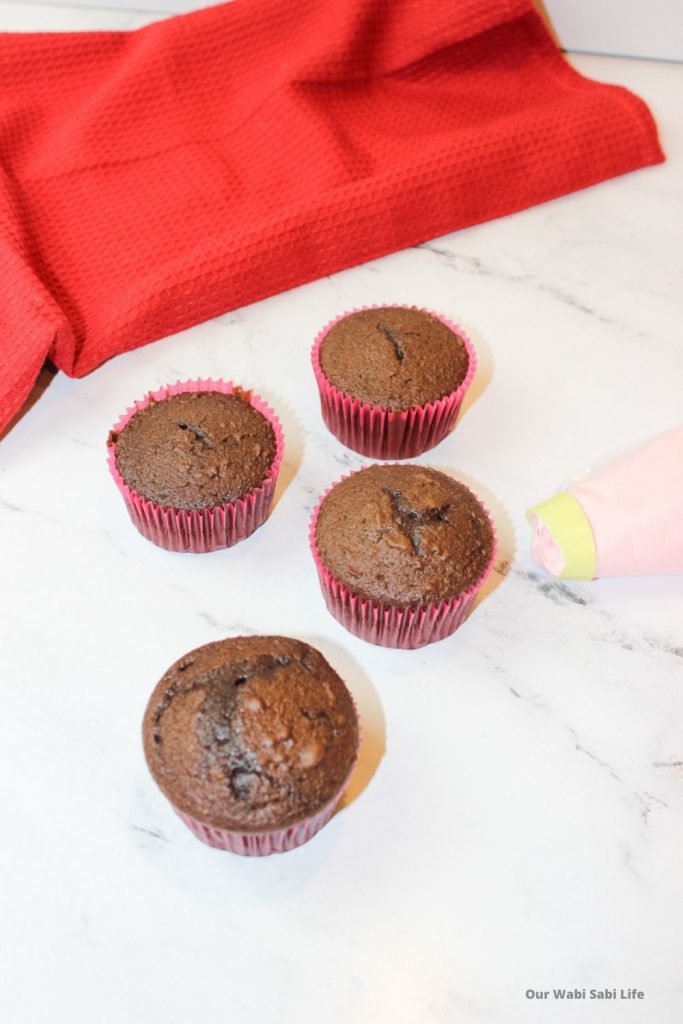 Step 4: Frost the cupcakes and drizzle the syrup on the top. You can use piping bags to pipe the frosting on or add a dollop on top.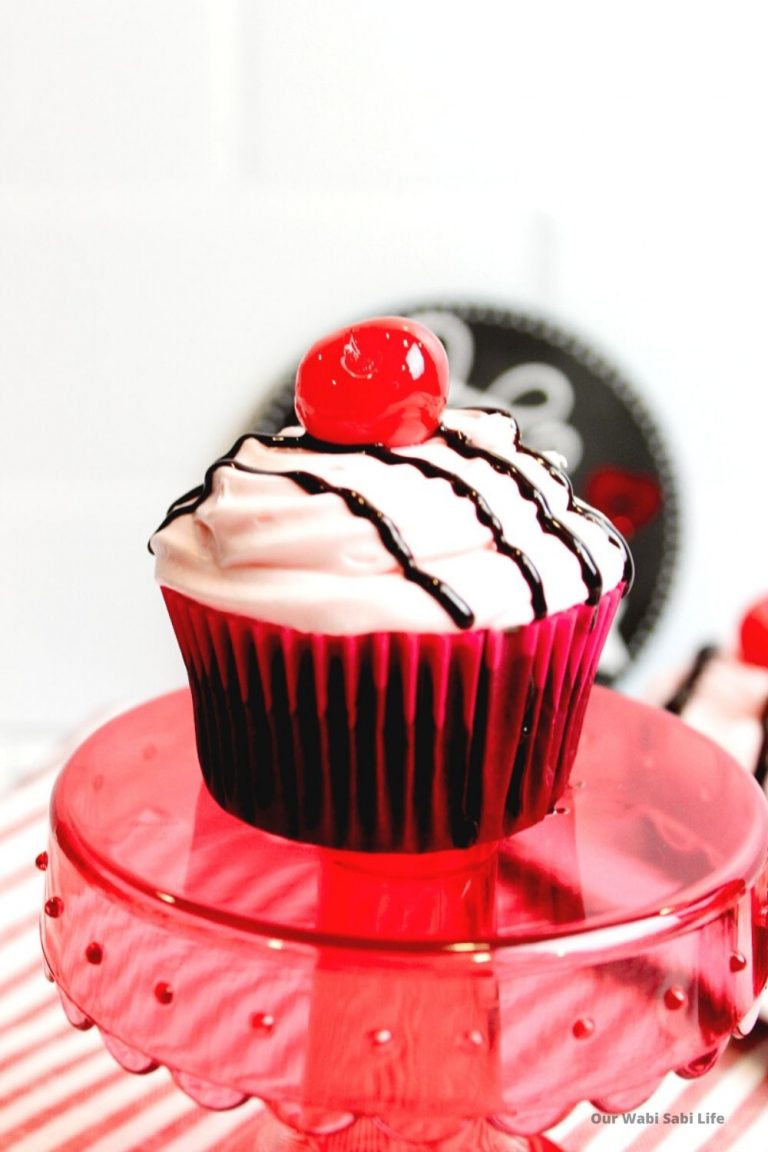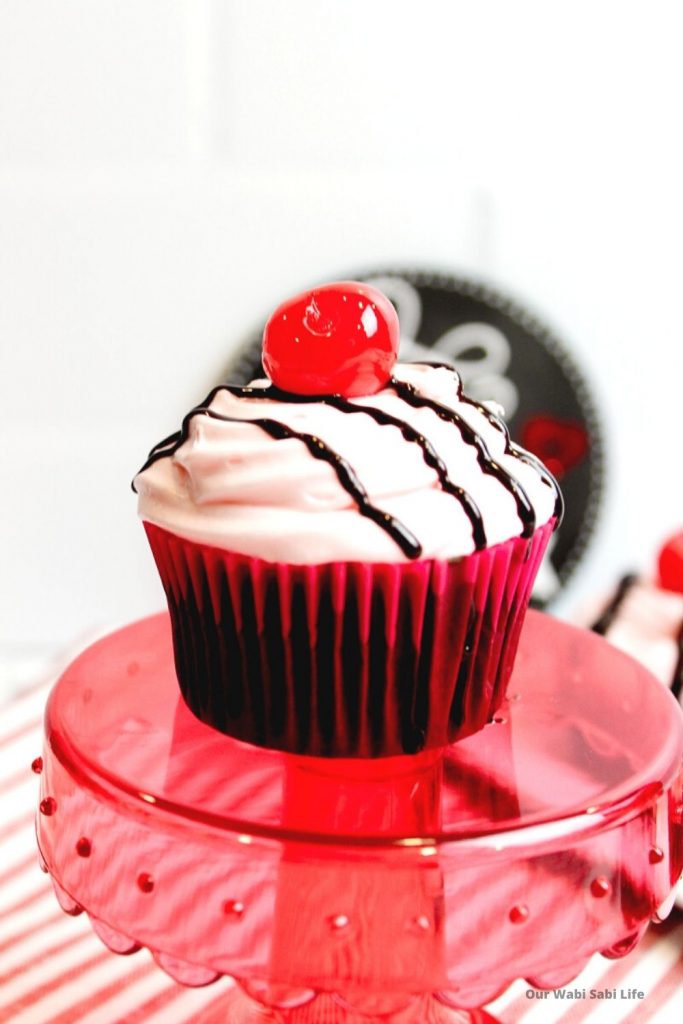 Step 5: Enjoy.
More Valentine's Day Recipe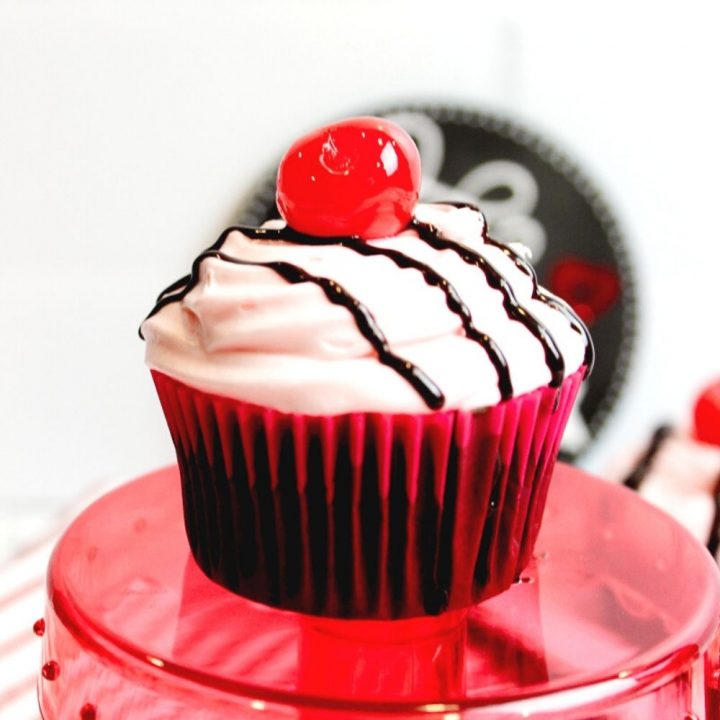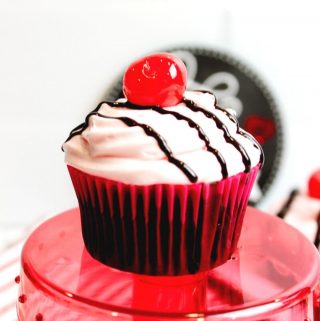 Chocolate Cherry Cupcakes
Chocolate Cherry Cupcakes are moist, flavorful, and a fun twist on a traditional chocolate cupcake. Serve up this cupcake with a dollop of vanilla ice cream and it's pure perfection.
Ingredients
Chocolate Cake Mix

Can be store-bought or homemade

Ingredients to make cake mix

1

jar

Maraschino Cherries

Ghirardelli Chocolate Syrup

6

tbsps.

powdered sugar
Directions
Heat oven to 350 or other required temperature on the cake mix.
Make the cupcakes
Prepare the cake mix according to directions and bake accordingly. Add 1/2 cup of chopped cherries to the batter.

Place the cupcake papers in the muffin tins. Add the 1/4 cup of batter to the muffin tins tin. If you are not using papers, spray the tins with cooking spray.
Make the Cherry Frosting
Add powdered sugar to a large bowl and add in water, 1 tbsp. to get the frosting to the texture you are looking for. Slowly add in one tbsp. at a time of the juice from the cherries. Your goal is for your frosting to taste just like the cherry juice.

After your cupcakes have cooled, frost them, drizzle the chocolate syrup on top and then add the cherry.
Nutrition