Looking for Valentine's Day Cupcake that will thrill the kids? These Valentine's Day Surprise Cupcakes will do exactly that. So easy to make, everyone will love the surprise inside.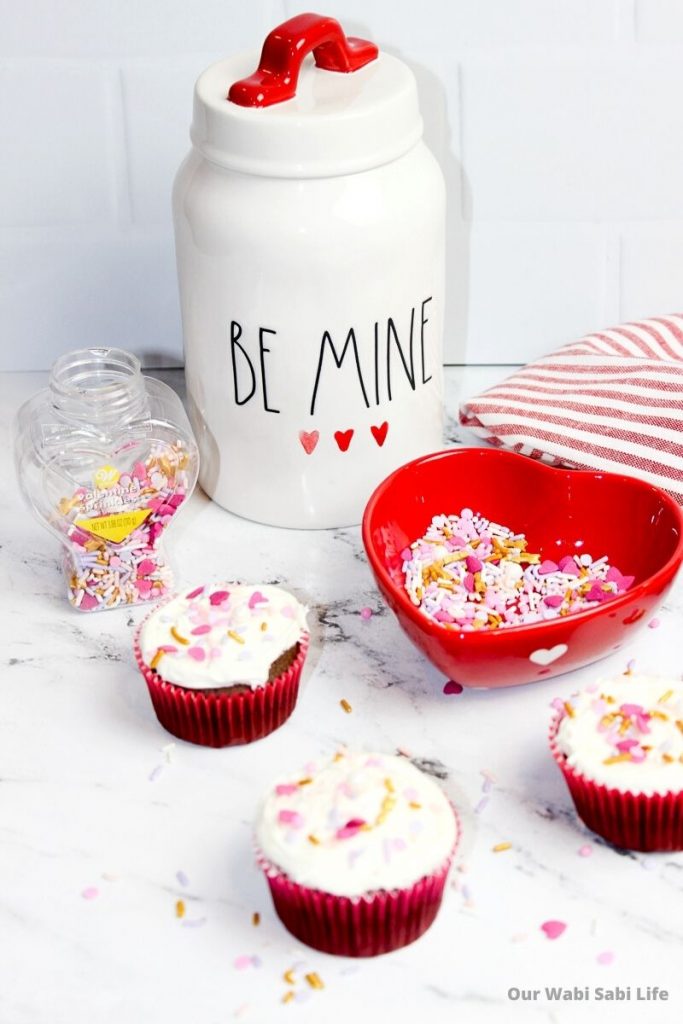 Valentine's Day Surprise Cupcakes
Cupcakes are it when it comes to a dessert for my kids. While they love anything sweet, they certainly like cupcakes. Who can blame them? They are serving size cakes that are packed with deliciousness.
Lately, there are a ton of piñata cupcakes. These are fun-filled surprise cupcakes that will make anyone smile.
If Valentines Day sweets are on your mind, I have a few other simply scrumptious cupcakes that might become new family favorites you must try! Like my Valentines Hot Cocoa Bombs, my Decadent Chocolate Cherry Cupcakes, and of course my Milk and Cookies Cupcakes.
Before you get started on this fun recipe, here are a few tips:
What is a Pinata Cupcake?
Pinata cupcakes are cupcakes that have sprinkles or other candy type filling inside. In our Valentine Cupcake recipe, we have filled the cupcakes with valentine sprinkles. Sometimes, piñata cupcakes are called confetti cupcakes or surprise cupcakes.
How to Get Sprinkles Inside a Piñata Cupcake?
While it looks difficult, it is actually very easy to get sprinkles inside a cupcake. Once the cupcake is done baking and has cooled, simply spoon or cut out a small section in the top using a decorating tip. This is the whole for the filling.
Add your candy or sprinkle filling. You can add as much or as little as you like. Either way will work. Once you have filled the hole with candy, put the top of the cupcake back on or leave it out, it's totally up to you. Now it is ready for frosting.
Surprise Cupcakes
When making surprise cupcakes, you can use any cake recipe you like. For this one, we actually used a box cake mix because it was what we had on hand and I wanted to use it up to empty the cabinet. You can certainly choose whatever cake recipe and flavor you love.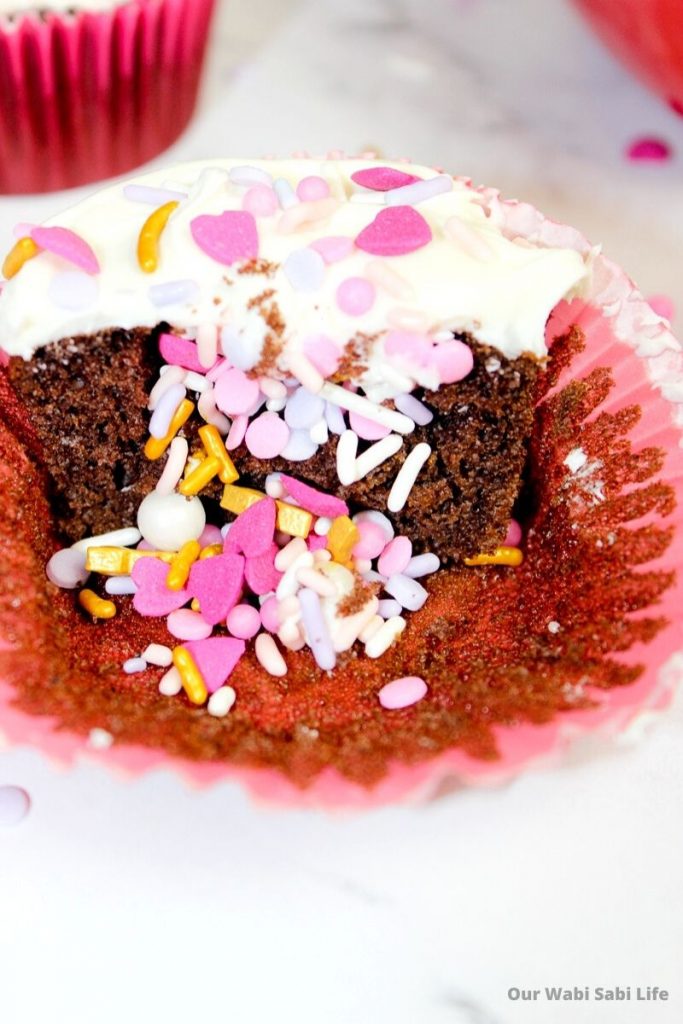 Ingredients
Sprinkles or candy – preferably valentines, however, any you have on hand is great.
Frosting – I used vanilla, however, your family's favorite is perfect.
How to Make These Valentines Day Pinata Cupcakes
Step 1: Make the cupcakes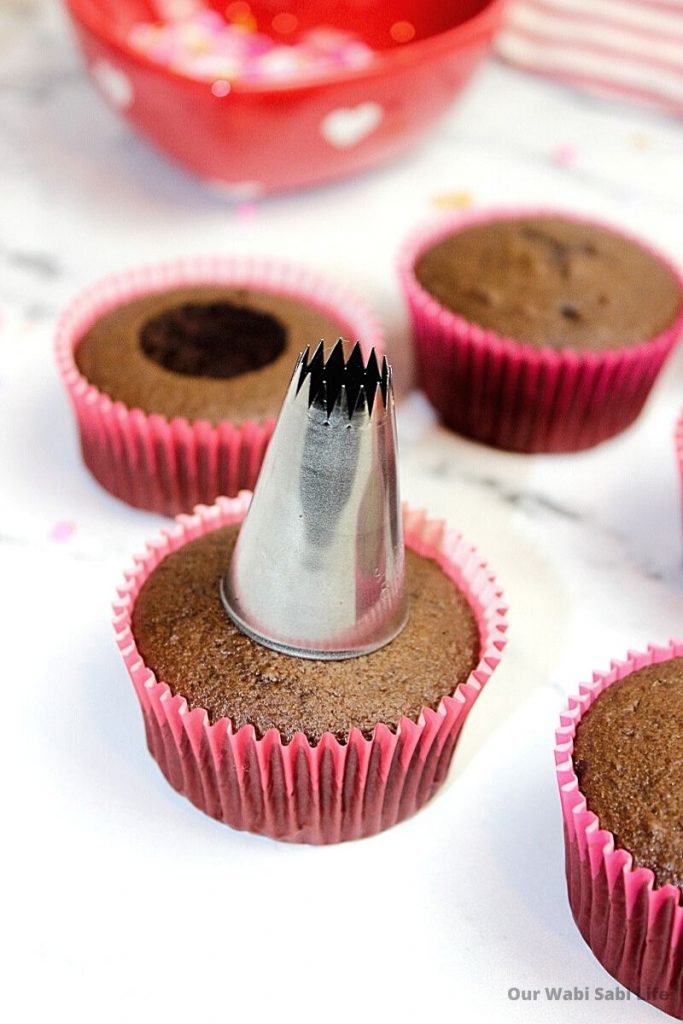 Step 2: Once they have baked and cooled, remove a top section out of the cupcake and add in the sprinkles.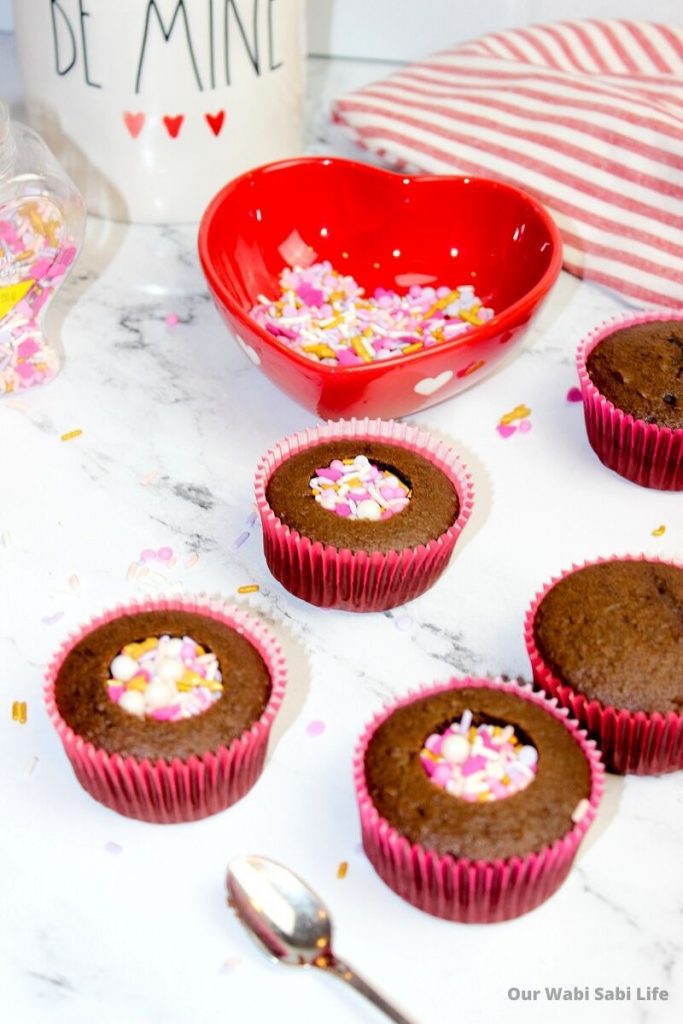 Step 3: Decorate with your favorite frosting and top with sprinkles.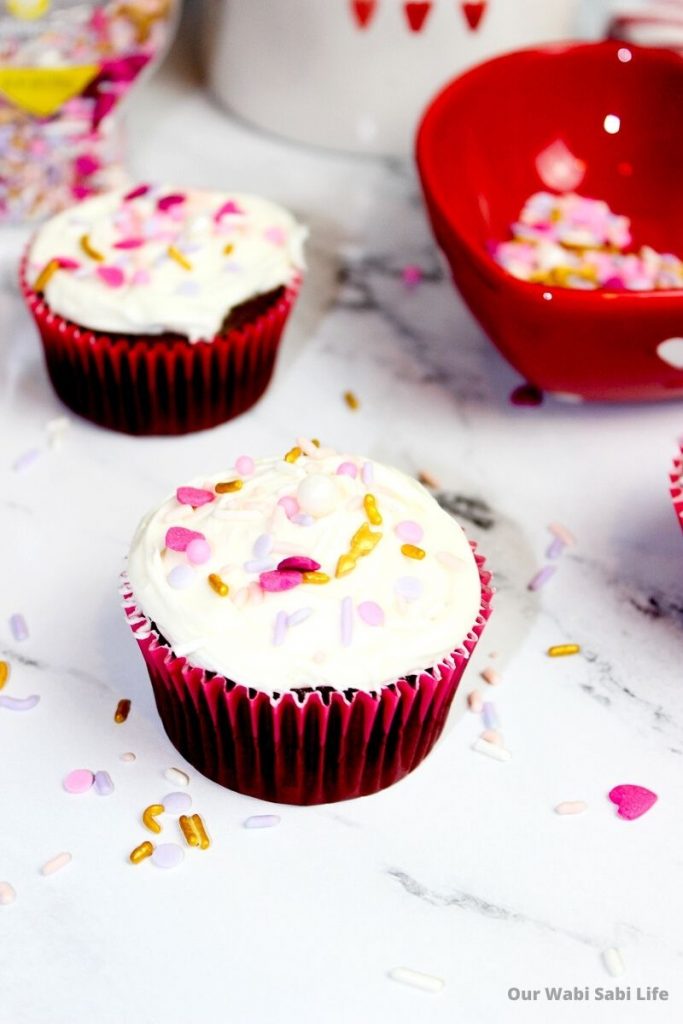 Step 4: Enjoy.
Related Recipes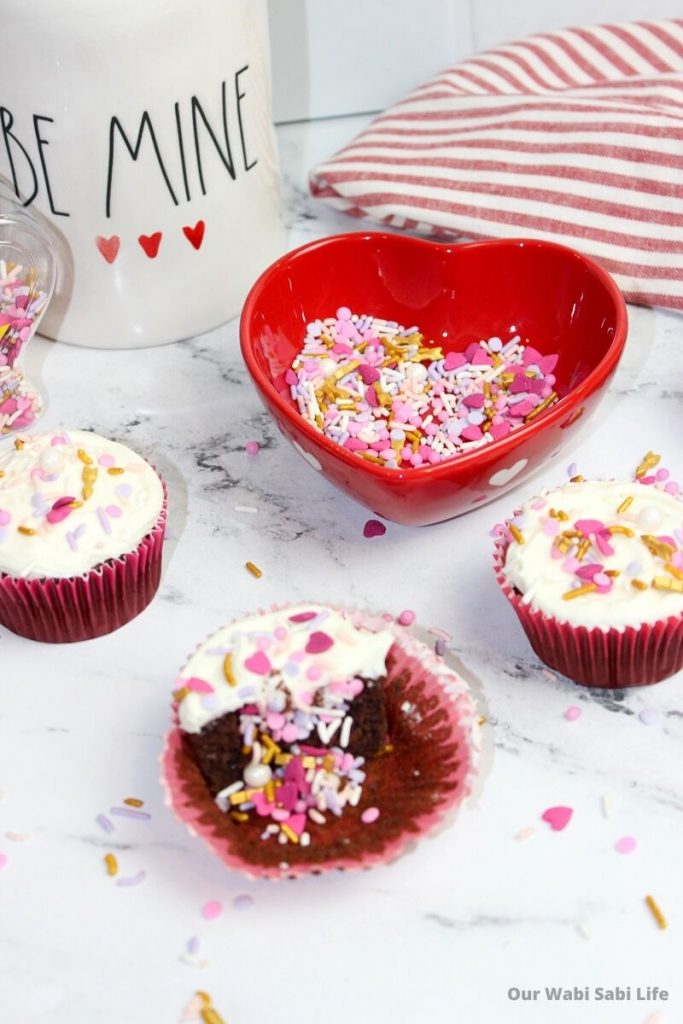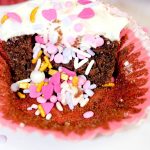 Valentine's Day Sprinkle Cupcakes
Looking for Valentine's Day Cupcake that will thrill the kids? These Valentine's Day Surprise Cupcakes will do exactly that. So easy to make, everyone will love the surprise inside.
Keyword:
Pinata Cupcakes, Valentines Day Cupcakes, Valentines Day Sprinkles Cupcakes, Valentines Day Surprise Cupcakes
Ingredients
Boxed cake mix or homemade cake batter

we used chocolate

Ingredients needed per the cake mix

Vanilla frosting

either homemade or store-bought

Valentines Day sprinkles

whatever type you like
Instructions
Preheat the oven according to the cake recipe you are using.

Line a muffin tin with paper cupcake liners, silicone liners, or spray with cooking spray.

Prepare the cake mix depending on the directions on the mix you are using.

Bake according to directions.

Test the cupcakes when the initial time is up with a cake test or toothpick. If they are not done, put back into the oven at 3 minute increments.

Once the cupcakes are done, let them cool for 10 minutes, then remove them from the pan and let them cool on a wire rack.

Once they have cooled, use the decorating tip or a spoon and create a cavity to place the sprinkles into it.

Add your sprinkles into the cavity and place the top back onto the cupcake.

Decorate with your favorite icing and top with sprinkles.