Christmas is full of get togethers. We often have our parties at my brother's house in his bar. Because we all love to hang out there, because it reminds us of my Grandfather's house, I like to come up with a Christmas cocktail. A specialty Christmas drink, like Cranberry Margarita, that I can make while we are all there celebrating.

This year I am making something new. Since cranberries tend to make their appearance during Thanksgiving and hang out until Christmas, this drink can be enjoyed starting at one family get together and stay until the New Year. The sweet and sour mix in this Christmas cocktail adds a great taste and the simple syrup adds some sweetness that works off the cranberry juice.
This Christmas drink has just enough alcohol without going overboard and being too strong. And personally I love the coconut covered rim. This is one of my favorite drinks. I could honestly drink it all year long.
Love cranberry and want other great tasting cranberry recipes: Cranberry Eggnog Breakfast Bake, Cranberry Sauce with Pear, Rosemary and Ginger, Maple Cranberry Granola Pancakes, and Cranberry Orange Chicken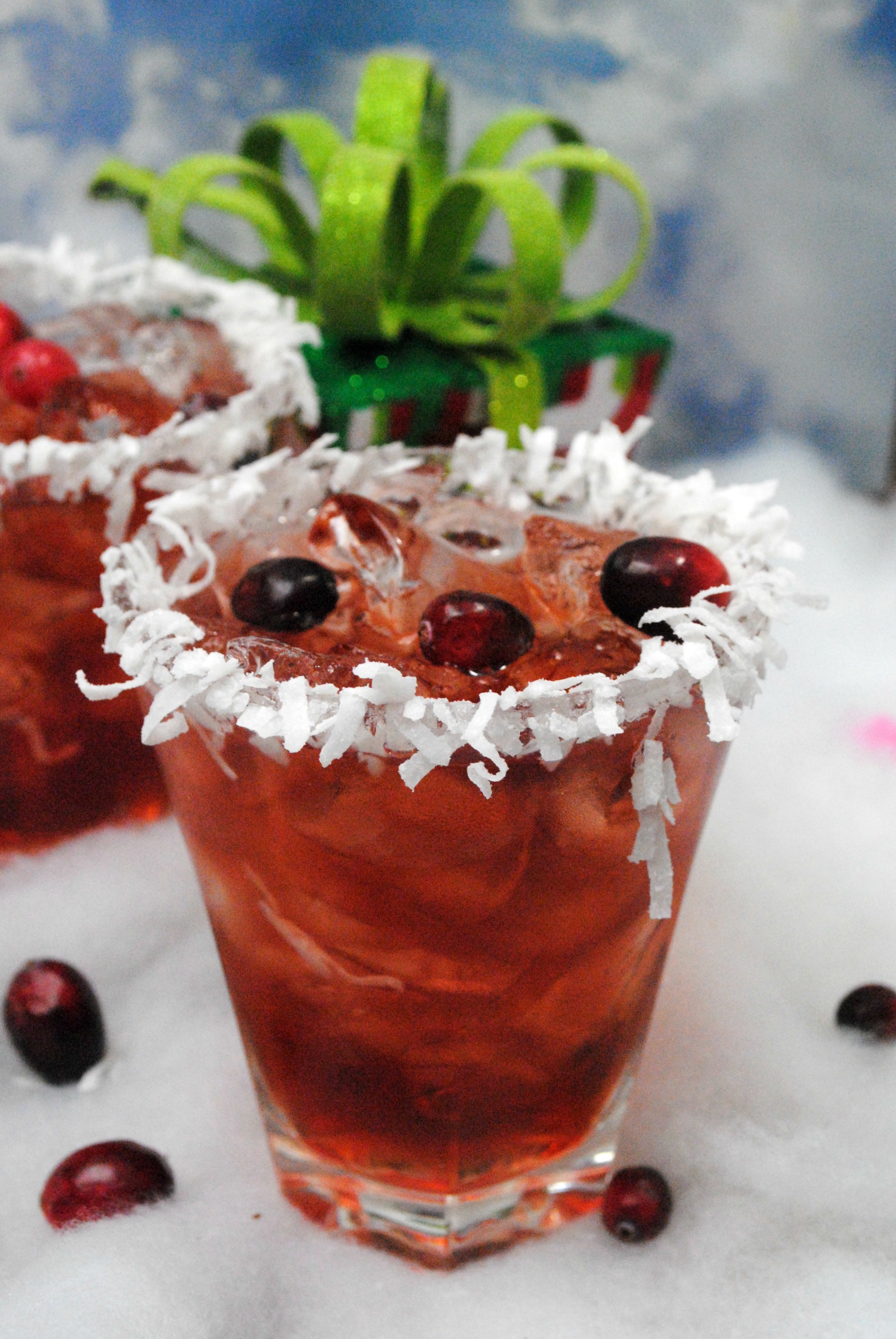 Christmas Cocktail: Cranberry Margarita
Serving portion 4 8oz glasses
INGREDIENTS:
1 1/2 cups cranberry juice
3/4 cup Sweet and sour mix
3/4 cup Gold Tequila
1/2 cup Cointreau
Ice cubes
Coconut
Simple syrup: While simple syrup is easy to make, I like having a bottle on hand. I often buy this simple syrup from Amazon.
DIRECTIONS:
Add simple syrup to a plate, set to the side.
Add coconut to a plate
Then roll glasses in the coconut sugar
Set glasses aside.
Fill your glasses with ice
Add all ingredients together into a bar shaker and shake until blended.
Pour into your glasses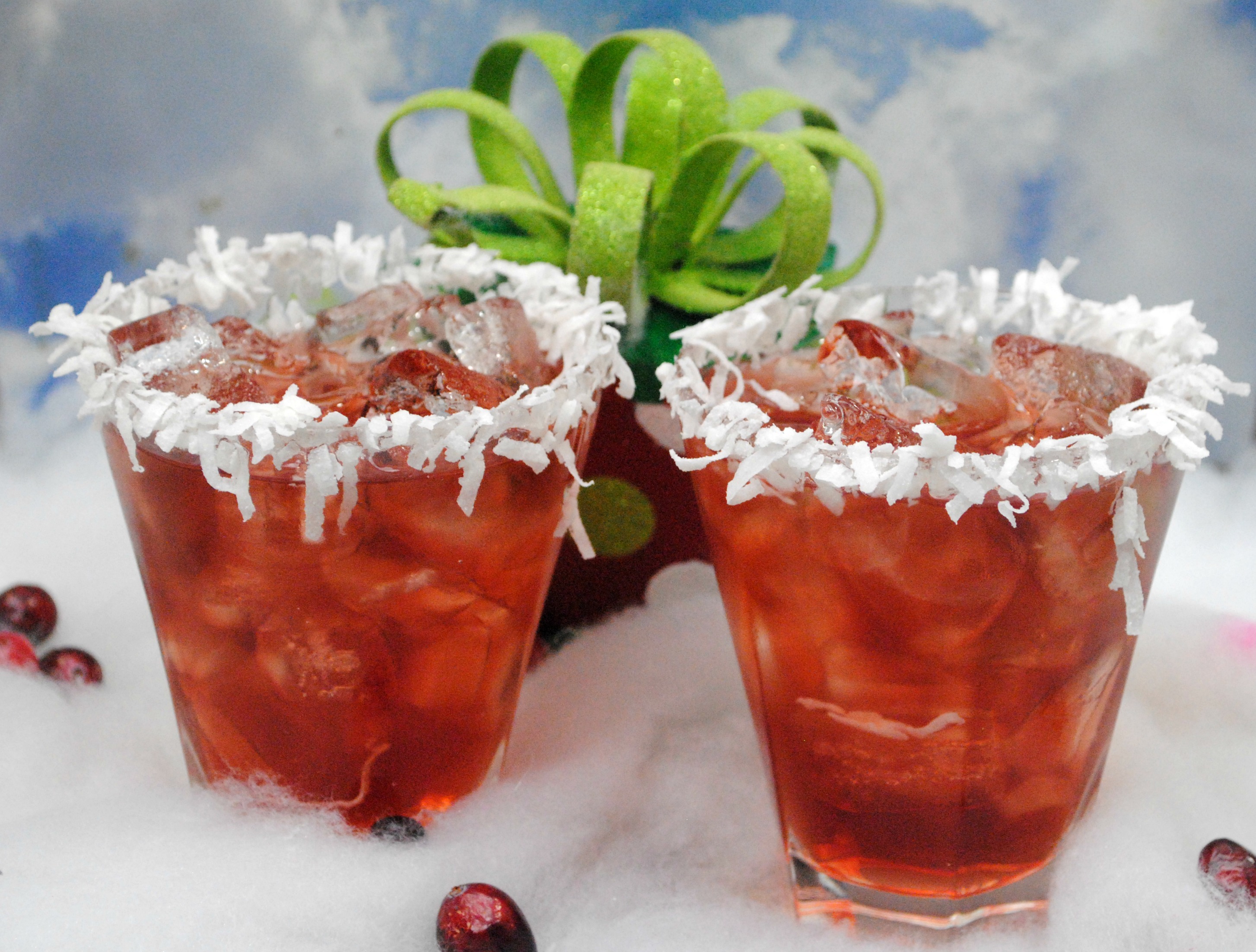 Looking for other cocktail recipes? Try my Cookies n Cream Frozen Cocktail, Strawberry Limeade Cocktail, or the Alice in Wonderland inspire cocktails: Cheshire Cat Cocktail or the Mad Hatter Martini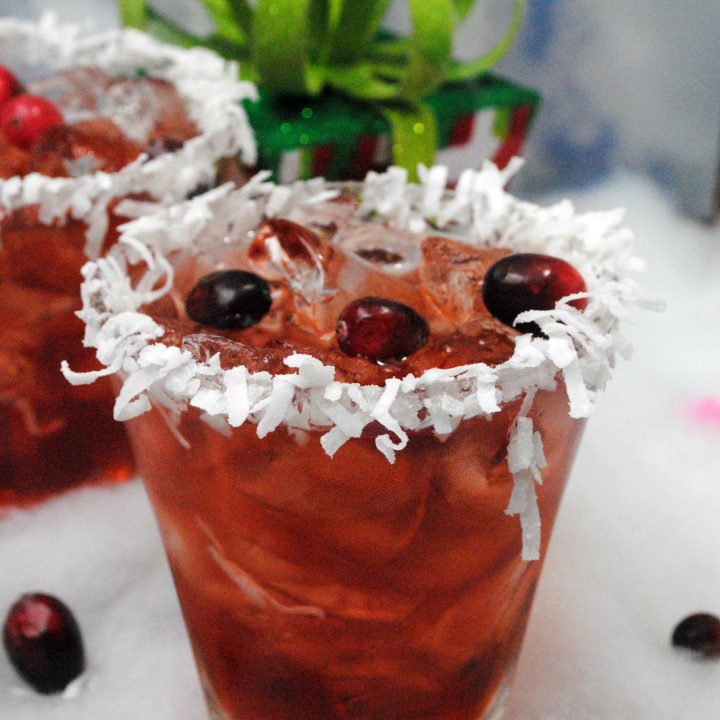 Cranberry Margarita
Ingredients
1 1/2

cups

cranberry juice

3/4

cup

Sweet and sour mix

3/4

cup

Gold Tequila

1/2

cup

Cointreau

Ice cubes
Directions
Add simple syrup to a plate, set to the side.

Add coconut to a plate

Then roll glasses in the coconut sugar

Set glasses aside.

Fill your glasses with ice

Add all ingredients together into a bar shaker and shake until blended.

Pour into your glasses