Looking for a different way to dye Easter Eggs?Try to Dye Easter Eggs with whipped cream. The kids have fun and it tastes yummy too.
Dye Easter Eggs with Whipped Cream
My kids love to dye Easter Eggs. They look forward to every year. But it seems like so much hype and then it is over in almost no time. In the past, in order to create the most amount of fun, I would use 3 or 4 dozen eggs. Do you know how hard it is to eat that many eggs? Really hard when it is only 3 people who like them. So I really needed a better solution. I wanted to make dying eggs more fun. I could dye Easter Eggs with shaving cream.
Related: Did you make too many Easter Eggs? Here are 10 recipes using hard boiled eggs.
I had heard about dying eggs with Shaving cream and I love them way it looked. The eggs had a very pretty tie dye effect. But egg shells are porous. If you have ever dyed Easter eggs and found dye on the egg when you opened it, you have seen what I mean. I didn't want anyone to get sick from shaving cream. Also, we were going to be dying eggs with preschoolers and toddlers during and Easter party, so I needed something that was edible. That is when I started to think about dying Easter Eggs with whipped cream
Whipped Cream Easter eggs
I decided to use whipped cream to dye Easter Eggs. It would have the same effect, could be eaten with no worries, and would make a huge mess that the kids would love. I choose generic whipped topping because it is much cheaper than whipped cream.
Want to make Easter Egg dying a party? Create this tasty Easter punch and Bunny Butt Cheesecake or Peep Cookies. Make these adorable Easter bunny basket to store your eggs in. Try Easter Egg Cookies for a delicious treat.
Or try making Unicorn Eggs. Unicorn Easter Eggs are too cute and kids will love them.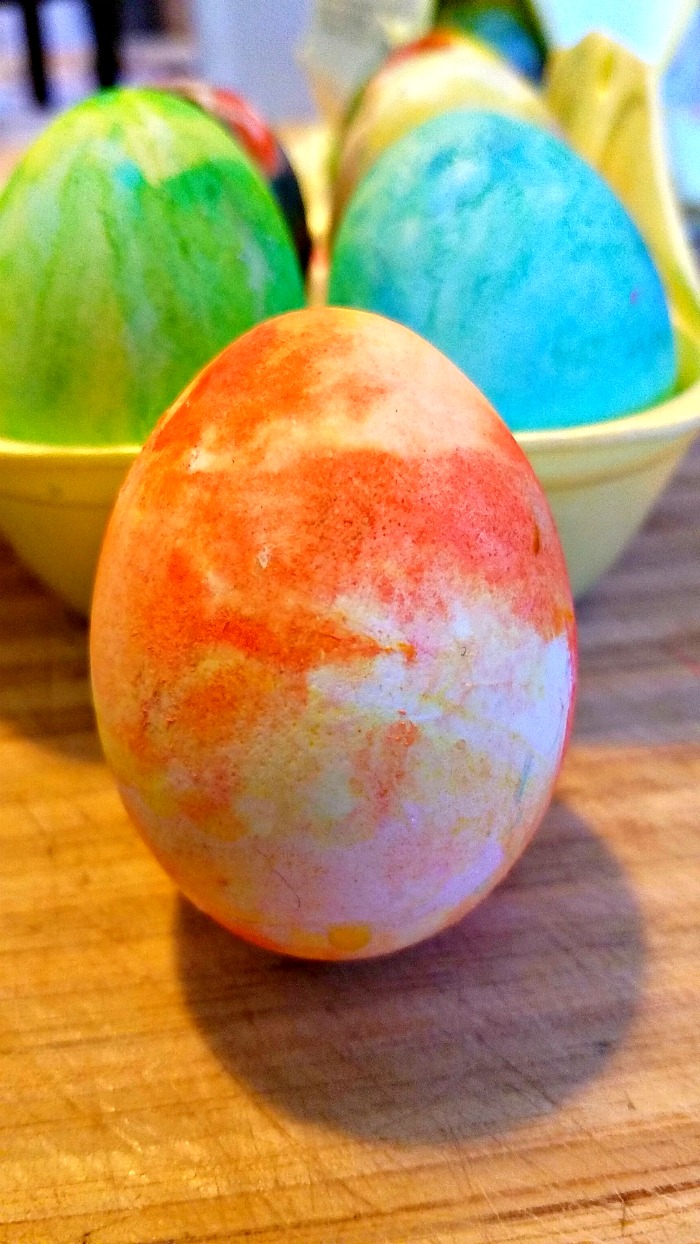 What do you need when dying eggs with whipped cream
Supplies for whipped cream Easter eggs:
Hard boiled eggs
Food Coloring
Vinegar
Whipped topping or whipped cream
Something to cover the table
Squeeze bottles or small containers
Pro Tip: Gel food coloring makes much brighter colors. As for squeeze bottles, these will work great.
Directions for whipped cream Easter eggs:
Hard boil your eggs. Let cool.
Before dying the Easter Eggs, soak the eggs in vinegar for 2 minutes.
Dry off the eggs and you are ready to dye them.
Start by covering your work area. We dyed our Easter Eggs outside during our Easter Party for kids. We covered the table with plastic, although you can also just put the whipped cream on plates or in a bin.
Mix some food coloring with vinegar. A few drops of color to a drop of vinegar. You do not have to do this step but it creates more vibrant colors. The effect will be the same either way, just the vibrancy changes.
Put down dome whipped cream. Add a few drops of food coloring. You can do as many colors as you like. Swirl the colors with a spoon, but do not over mix or else you will get a muddy color.
After you have swirled the colors, the fun part begins.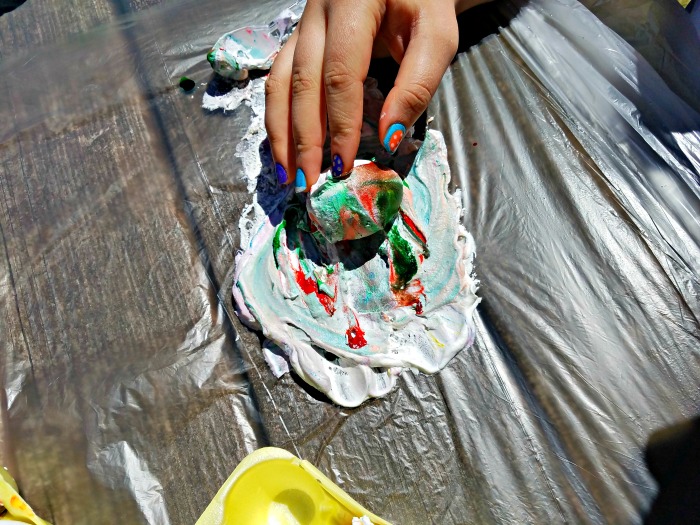 Set the egg aside once it is covered with the whipped cream. You want to egg to sit for about 10-15 minutes. You can wipe it off sooner but letting it sit will give you a bolder color.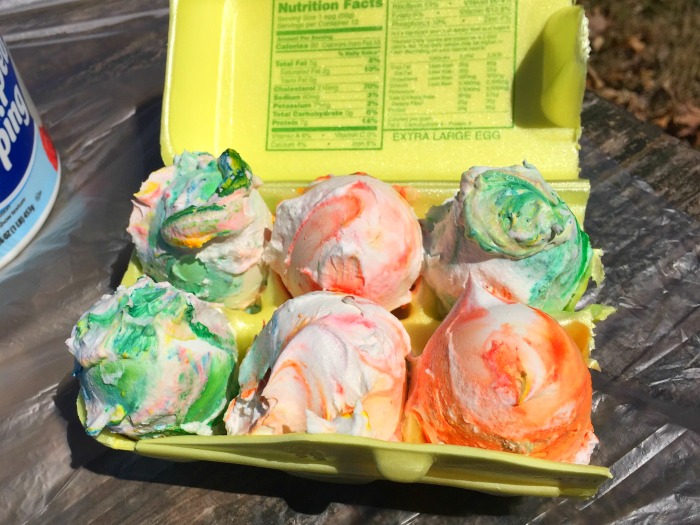 Next, wipe off the wiped cream. As you are wiping off the whipped cream, you will start to see the color on the egg.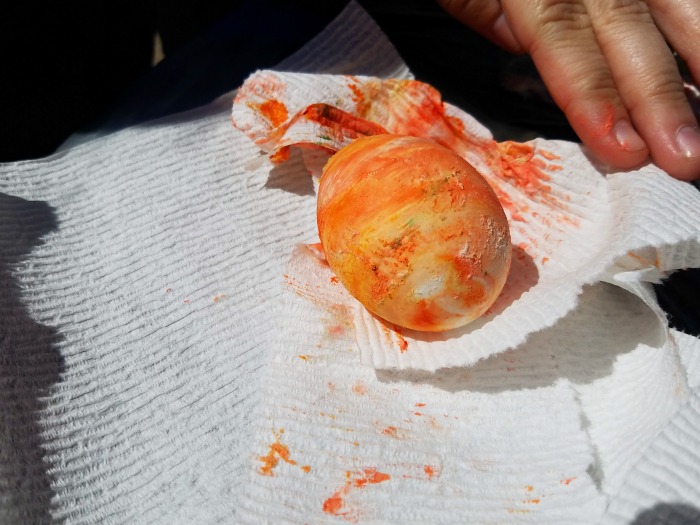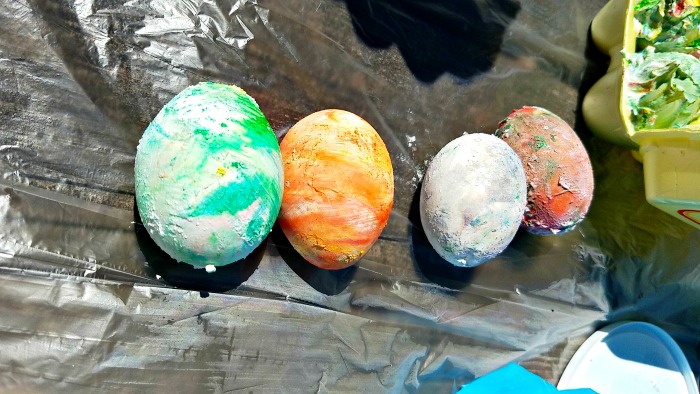 After the whipped cream is taken off, your eggs are done. They are ready for Easter. That is all it takes when it comes to coloring Easter eggs with whipped cream.