Get this Free Family Friendly Memorial Day Activities that everyone will love. This free printable is filled with fun ideas for everyone or you can use the blank printable as a Memorial Day Activities Bucket List.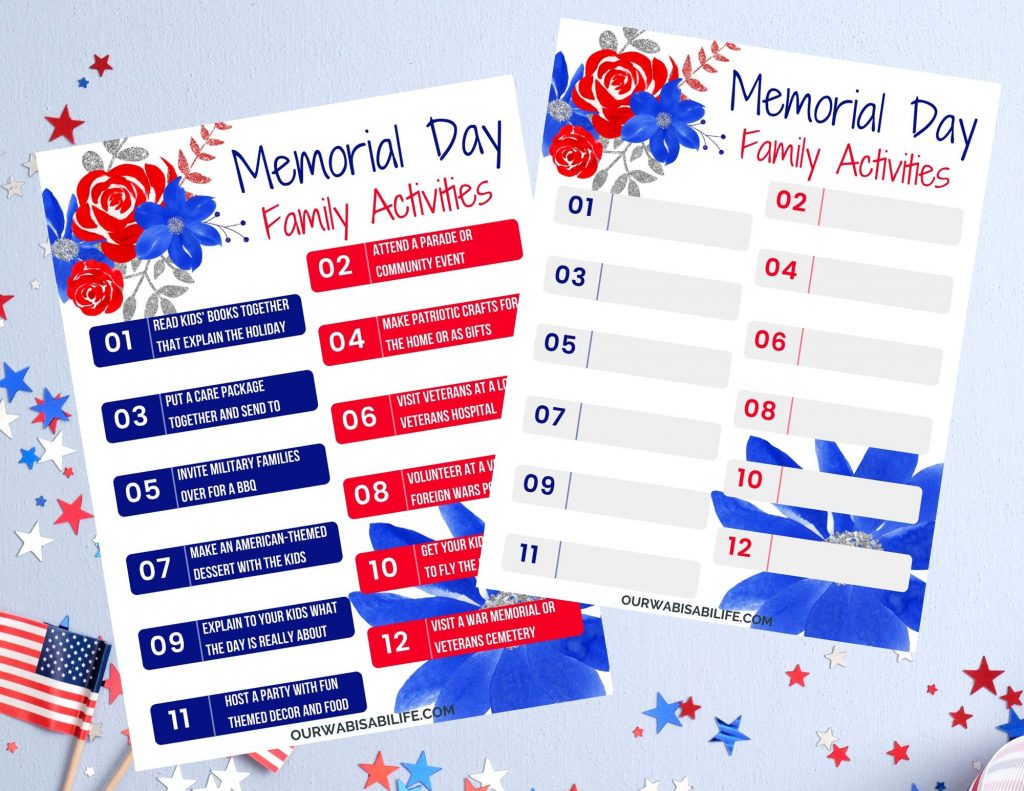 Memorial Day Activities
Today I'm featuring some memorial day activities that the whole family can enjoy. Monday, May 25, 2020, or the last Monday in May, is Memorial Day. This is a day to celebrate and remember those who've fought for our freedom but it's also a day when grilling season begins.
That's why I wanted to share this family friendly memorial day activities free printable for you. This printable features a list of family friendly ideas that you can enjoy in celebration of this annual holiday.
Attend a local parade. Explain to your kids what Memorial Day is all about. Put a care package together to send to a military family. These are just a few of the ideas on this printable.
Want More Ideas?
Have a BBQ with your family and enjoy dinner outside.
Camp in the backyard with your whole family in tents.
Look up local war memories and go visit them.
Place flowers or small American flags on graves of fallen soldiers.
Donate a gift box or bag to local military families.
What is Memorial Day?
Memorial Day is not about picnics and family gatherings. It is more than just showing the Red, White, and Blue. Memorial Day is a federal holiday that offers a chance to mourn those who died while serving in the Military. It's also a day to honor these individuals and the sacrifice they made to serve for our freedom. Memorial Day is always observed on the last Monday during May.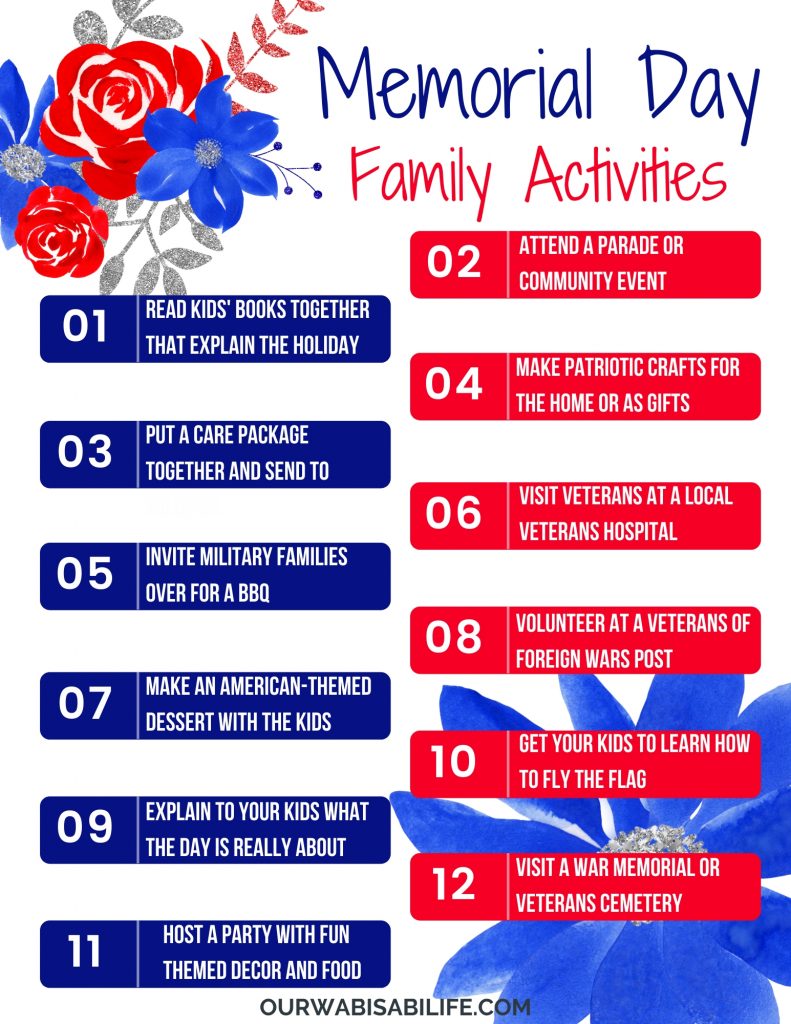 Ways to Teach Kids About Memorial Day
There are many ways you can teach kids about Memorial Day. My free printable is an excellent way to use your creativity to craft up a list of Memorial Day activities that will help teach kids about this annual holiday.
Another option to teach kids about Memorial Day is to visit a Veteran's cemetery or a local war memorial. Consider placing small American flags near the tombstones of those who served in the Armed Forces. Just be sure to check your local regulations to make sure you're allowed to do this at your cemetery.
How Can I Honor Others on Memorial Day?
There are many ways you can honor others on Memorial Day. Using my free printable for family friendly Memorial Day activities, you can make a list of ideas to honor others.
Consider looking up any military families that live in your community, make them a fun care package. Deliver it to their front lawn as a gift.
You can sponsor a thank-you bouquet through the Memorial Day Foundation. They'll lay flowers at a war memorial of your choice. This can be a fun way to learn more about where war memorials are located in the United States, too.
PBS broadcasts a National Memorial Day Concert. Check your local listings to get the correct time for your region.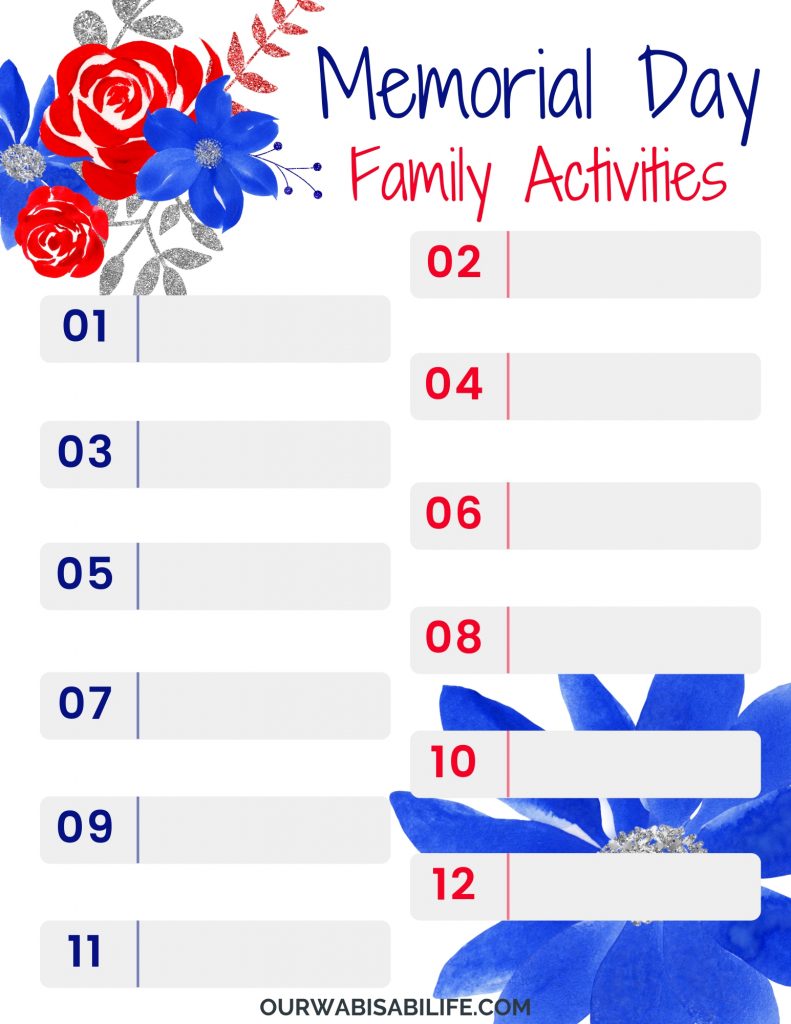 Family Friendly Memorial Day Activities Everyone Loves
Social media is a great idea to use. You can post a tribute to a war hero online by making some Memorial Day crafts. Another idea is editing a video with your family to post on social media.
You can use this free printable to craft up ideas to honor the fallen soldiers who dedicated their lives.
Get the Free Memorial Day Activities Printable Here
There are 2 versions of this free printable. One is filled in already with Memorial Day activities. The other is blank for you to fill in yourself.
You can use the filled in version as a guide or come up with your own ideas.