Looking for Sweet and Tasty Keto Desserts? You will love what is on this list.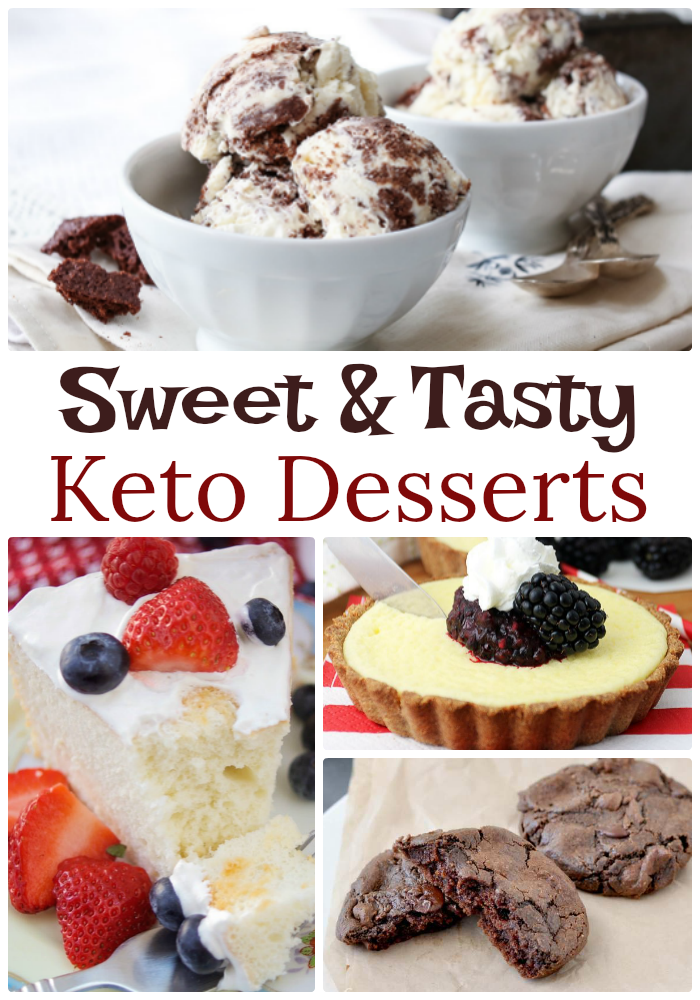 Sweet and Tasty Keto Desserts
Many people are discovering the benefits of adopting a ketogenic way of eating. Not only does a keto diet help you lose weight, but it has also been shown to offer a number of other health benefits. Adherents share experiences ranging from lowering blood pressure and cholesterol levels to completely reversing Type 2 Diabetes – all while enjoying a diet that includes bacon, steak, and cheese!
Unfortunately, one does not live by bacon alone. Sometimes, the only thing that will satisfy that inner craving is a delicious sweet treat. Thanks to this list of Sweet & Tasty Keto Desserts, you can give in to your sweet tooth without blowing your diet!
Looking for more Low Carb and Keto Recipe?
If you are a chocoholic, we have you covered with the "Keto Flourless Chewy Double Chocolate Chip Cookies". Fudgy and delicious, they are sure to satisfy. There's a great recipe for sugar free Angel Food Cake that uses only one cup of flour (although to make it truly keto, I would use coconut flour instead). And if you are a fan of cheesecake, ice cream, or mousse, you will love this list!
Looking for other low carb recipes? Try these low carb soups. You will love how great they taste.
1. Keto Flourless Chewy Double Chocolate Chip Cookies
2. Sugar-Free Keto Cookies and Cream Ice Cream
3. Keto Cheesecake Tarts with Blackberry Compote
4. Whipped Chocolate Ricotta
5. Low Carb Sugar Free Jello Fluff Salad Recipe
6. 3-Ingredient Low Carb Peanut Butter Cookies (Keto Friendly)
7. Low Carb Blender Sherbet
8. Incredibly Delicious Sugar Free Angel Food Cake
9. Easy Keto Pistachio Shortbread Cookies
10. Low Carb Pistachio Macarons
11. Keto Pumpkin Cheesecake Mousse
12. Sugar Free Low Carb Coffee Ricotta Mousse
13. Keto Choconut Almond Butter Cups
14. Ket-Oreos! (Low-Carb Oreos)
15. Low Carb Sugar Free Crustless Cheesecake (in the pressure cooker)
You could even try pruvit keto supplements to help with the weight loss process.