This post contains affiliate links. If you buy something from them, I earn a small percentage that helps keep The Spring Mount 6 Pack running.
This is a Sponsored post written by me on behalf of Dollar General for SocialSpark. All opinions are 100% mine.
Everyone needs more time ina day and a little more money, Well, since no one has come up with the magic formula for that, I have at least found a way to save a little money on making dinner, which I am making easier in my slow cooker.
My family (well, except for Anthony because he is the fussiest child in the world) love chicken and rice. What makes this clow cooker dinner great is because I can get all of the ingredients I need from Dollar General, and saving myself over half. So my Chicken, Red Beans and Rice cost me just under $10, to feed my family of 6, because I am mean and make Anthony it anyway.
Chicken, Red Beans and Rice
Prep Time: 10 minutes
Cook Time: 4 hours on high/ 6 hours on low
Ingredients
3- 4 pieces of chicken. The chicken I get from Dollar General are indivdually frozen, are absolutely huge, and cost under $6.
2 boxes of Zannarian Red Beans and Rice.
1 can of Clover Valley Diced tomatoes. Feel free to use crushed tomatoes if you like them better
1 can of Clover Valley corn
7 cups of water
Directions:
Cut up chicken into bite sized pieces. Put in slow cooker.
Add in Rice and Beans, tomatoes, and corn.
Stir in water, mising well.
Turn on slow cooker and get on with your day.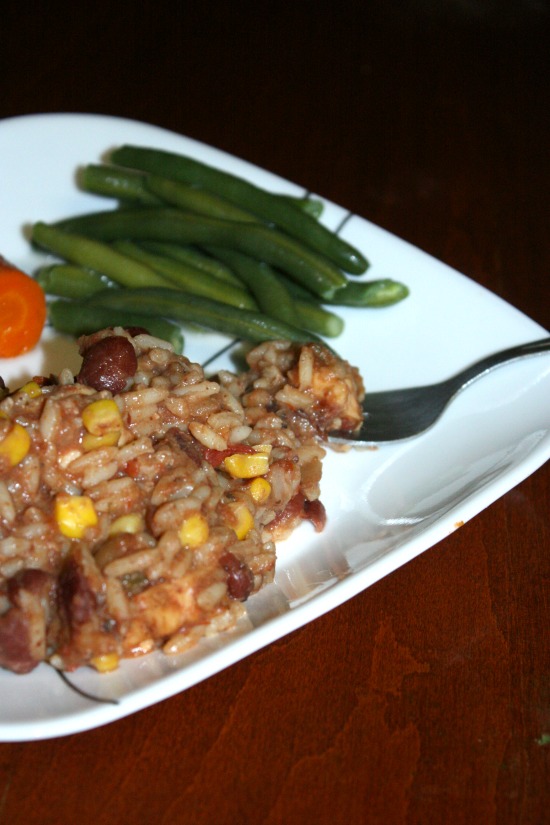 It is that simple. And if you have not checked it out yet, visit Dollar General easy meals to get even more inexpensive dinner ideas to leave some extra cash in your pocket. Also, if you have not yet joined them on on Facebook and on Twitter, you really should. It is a great way to stay connected, and hear about great values and more meal ideas.