Looking for a delicious pumpkin donut recipe? These baked mini donuts are the perfect sized pumpkin treat. Filled with pumpkin spice flavor, these donuts are glazed to perfection. Easy to make and absolutely delicious, this recipe is perfect for you fall season treat.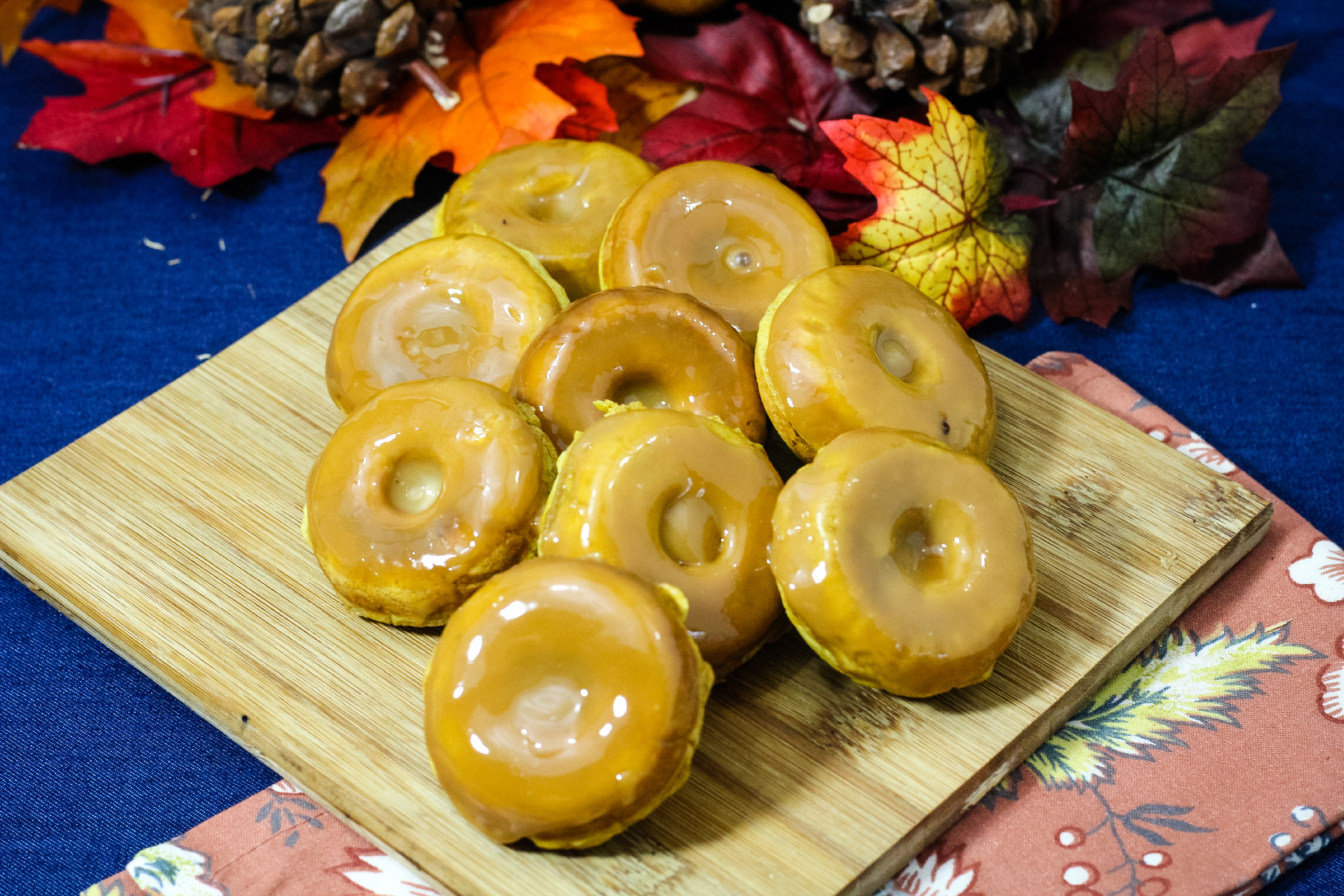 Why You'll Love This Pumpkin Donut Recipe
It's pumpkin season. Whether you have a love of Dunkin Donuts pumpkin spice coffee or you are in love with Krispy Kreme pumpkin donuts, there are so many delicious pumpkins treats everywhere. But if you are like me and you want to make a big batch of pumpkin deliciousness, then this donut recipe is exactly what you want.
The season for pumpkin is officially upon us! Start the fall season off right with these baked pumpkin mini donuts with glaze! As the air starts to get cooler, it triggers the same thought in everyone's (okay maybe not everyone's) mind: Pumpkin Spice! Restaurants start bringing out pumpkin cheesecake, the coffee shops start running specials on pumpkin lattes, it's a dreamy land of pumpkin induced smiles. But what about things you can make at home for your family and friends? This pumpkin donuts recipe makes a great pair for all those yummy pumpkin flavored coffees and teas, plus they are super easy to make!
So simple
Incredibly delicious
Skip buying expensive store bought donuts and make them yourself.
Equipment Needed To Make Pumpkin Spice Donuts
Ingredients For Your Pumpkin Donut Recipe
Flour
Baking powder
Salt
Sugar
Cinnamon
Nutmeg
Allspice
Egg
Pumpkin puree
Whole milk
Vanilla
Canola oil
Unsalted butter
Powdered sugar
Heavy whipping cream
How To Make Pumpkin Donuts
Step 1 – Make the Pumpkin Donut Batter
Combine the dry ingredients in a bowl and combine the wet ingredients in another bowl.
Gently combine the wet and dry ingredients being careful to not over mix.
Step 2- Bake the Pumpkin Spice Donuts
Add the batter to the prepared donut pans. And bake
Step 3 – Make the Pumpkin Glaze
Melt the butter and then add the sugar and cream.
Bring to a boil and remove from heat.
Step 4- Glaze the Donuts
Dip the donuts and set aside.
Enjoy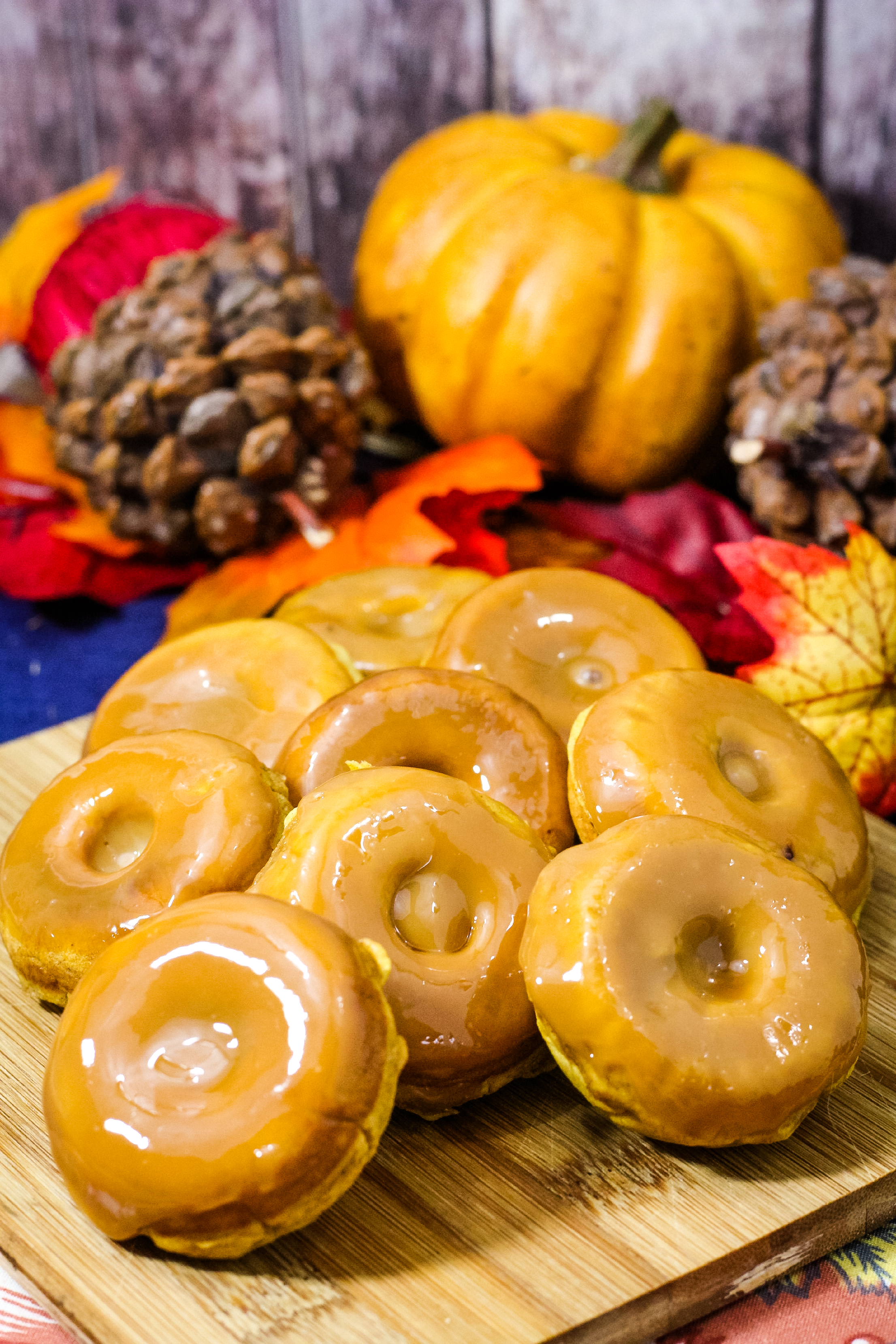 What to Serve with Your Pumpkin Spice Donuts
Breakfast
These pumpkin spice donuts can be served as part of breakfast or brunch. Serve these donuts with other fall favorites like Apple Cider Donuts. You can also serve them with Stuffed Papaya Breakfast Bowl Recipe or Cranberry Eggnog Breakfast Bake
Dinner
You can also serve these donuts for dessert as part of a delicious dinner. Some of my favorite dinner ideas are Turkey Chili Mac Recipe or Leftover Turkey Stroganoff with Mushrooms & Cranberries
Popular Substitutions & Additions
You can add caramel. Pumpkin and caramel go amazing together. You can add some caramel chips to the glaze to create a caramel topping.
Add Chocolate. You can use a chocolate ganache instead of the glaze.
How To Reheat & Store Pumpkin Donuts
Best Way To Store Pumpkin Spice Donuts
These donuts can be stored at room temperature or in the refrigerator. Place the donuts in an airtight container. You can also keep these donuts in the refrigerator to make them last longer.
How Long Will They Last In the Fridge?
If you want to keep the donuts in the refrigerator, they will last for about 5 days. If you keep the donuts at room temperature, they will last for about 3 days.
Can I Freeze Homemade Donuts
Yes, you can freeze homemade donuts. It is best if you freeze them before you add the glaze. However, you can still freeze them even if they are glazed. I like to freeze the donuts on an plate, whether they are glazed or not. Once they are frozen, I move the donuts to the airtight container or freezer bag. This keeps the donuts from sticking together and this prevent the glaze from coming off the pumpkin donuts.
How To Reheat the Donuts
If you like your donuts warm, or you just want to take the coldness off, you can reheat them in the microwave. You only want to reheat them for a few seconds, especially if the donuts are glazed.
Pumpkin Spice Donuts FAQs
Can I Use Pumpkin Pie Filling
No. Pumpkin pie filling is different than pumpkin puree. Pumpkin pie filling as extra ingredients in it. You want to make sure that you are using pumpkin puree.
What should I do? My donuts stick to my pan.
It is important that you have prepared the pan and greased it well. If the donuts are still stuck, let them sit for a few minutes and then take a knife and run it around the edges of the donut.
Can I Make This Recipe Without a Donut Pan?
If you want to make these pumpkin donuts in a classic donut shape, then you have to have a donut pan. If you don't care about the shape, you can use a muffin pan and make something similar to donut holes.
Can I Use Gluten Free Flour
Yes, you can use your favorite one to one gluten free flour.
Other Donut Recipes You'll Love
Don't Forget To Come Back And Let Me Know How Your Pumpkin Donuts Turned Out!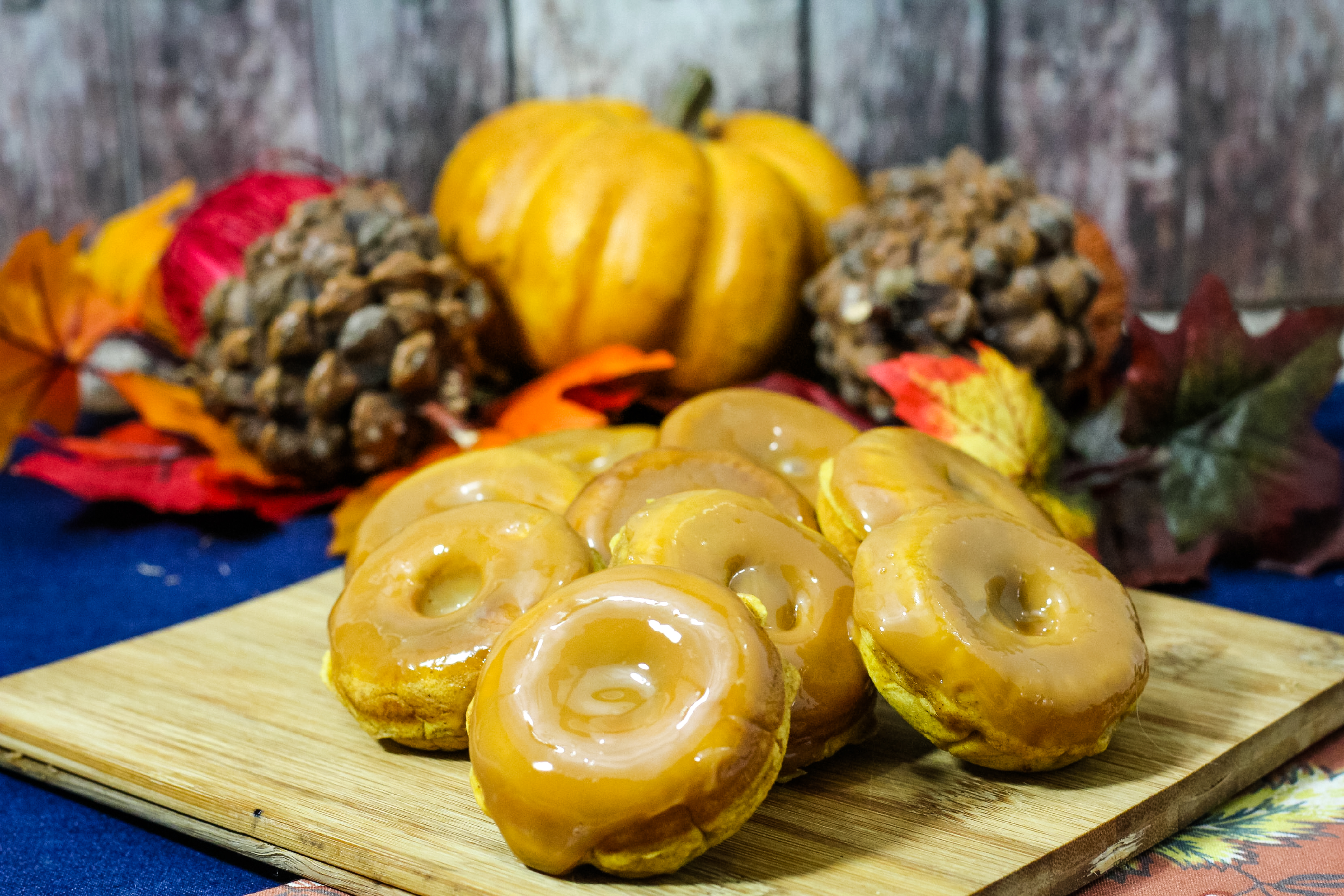 Want other great tasting pumpkin treats? Try this delicious vanilla pumpkin cupcake or make your own homemade pumpkin creamer to drink in your coffee with the pumpkin donuts. Or try any other these 50+ pumpkin desserts.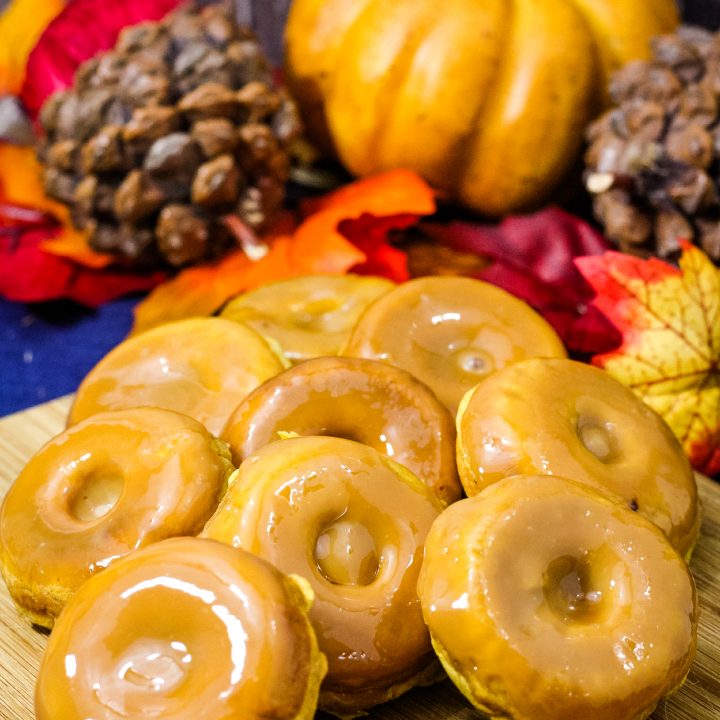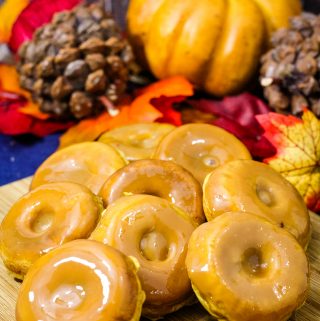 Pumpkin Donut Recipe
Looking for a delicious pumpkin donut recipe? These baked mini donuts are the perfect sized pumpkin treat. Filled with pumpkin spice flavor, these donuts are glazed to perfection. Easy to make and absolutely delicious, these pumpkin spice donuts are perfect for you fall season treat.
Directions
Donut Directions:
Preheat oven to 350 degrees. Prep the donut pan with baking spray.

Combine flour, baking powder, salt, cinnamon and sugar.

In a large bowl add the egg, pumpkin, milk, vanilla and oil.

Whisk the wet ingredients together.

Add the dry ingredients to the wet ingredients.

Gently mix the ingredients together.

Do not over-mix the donuts.

Spoon the batter into a pastry bag with a large tip.

Squeeze the batter into a treated donut pan.

Bake for 8 minutes at 350 degrees.

Allow to cool briefly before moving to a wire rack to cool completely.
Glaze Directions:
Add unsalted butter in a double boiler until the butter melts.

Add sugar and heavy whipping cream in a bowl, stir to combine.

Add the sugar and cream to the double boiler.

Continue to stir and bring to a boil.

Pour into a bowl allow to cool slightly.

Dip doughnuts in the glaze and place on a pan lined with parchment paper
Nutrition
Calories:
193
kcal
Carbohydrates:
21
g
Protein:
1
g
Fat:
12
g
Saturated Fat:
7
g
Polyunsaturated Fat:
1
g
Monounsaturated Fat:
4
g
Trans Fat:
1
g
Cholesterol:
44
mg
Sodium:
87
mg
Potassium:
33
mg
Fiber:
1
g
Sugar:
16
g
Vitamin A:
820
IU
Vitamin C:
1
mg
Calcium:
29
mg
Iron:
1
mg