Try this 2 Ingredient Dough Rolls Recipe today! If you want the best dough recipe that is fast and easy, this no yeast roll recipe is perfect. Have fresh baked rolls in no time.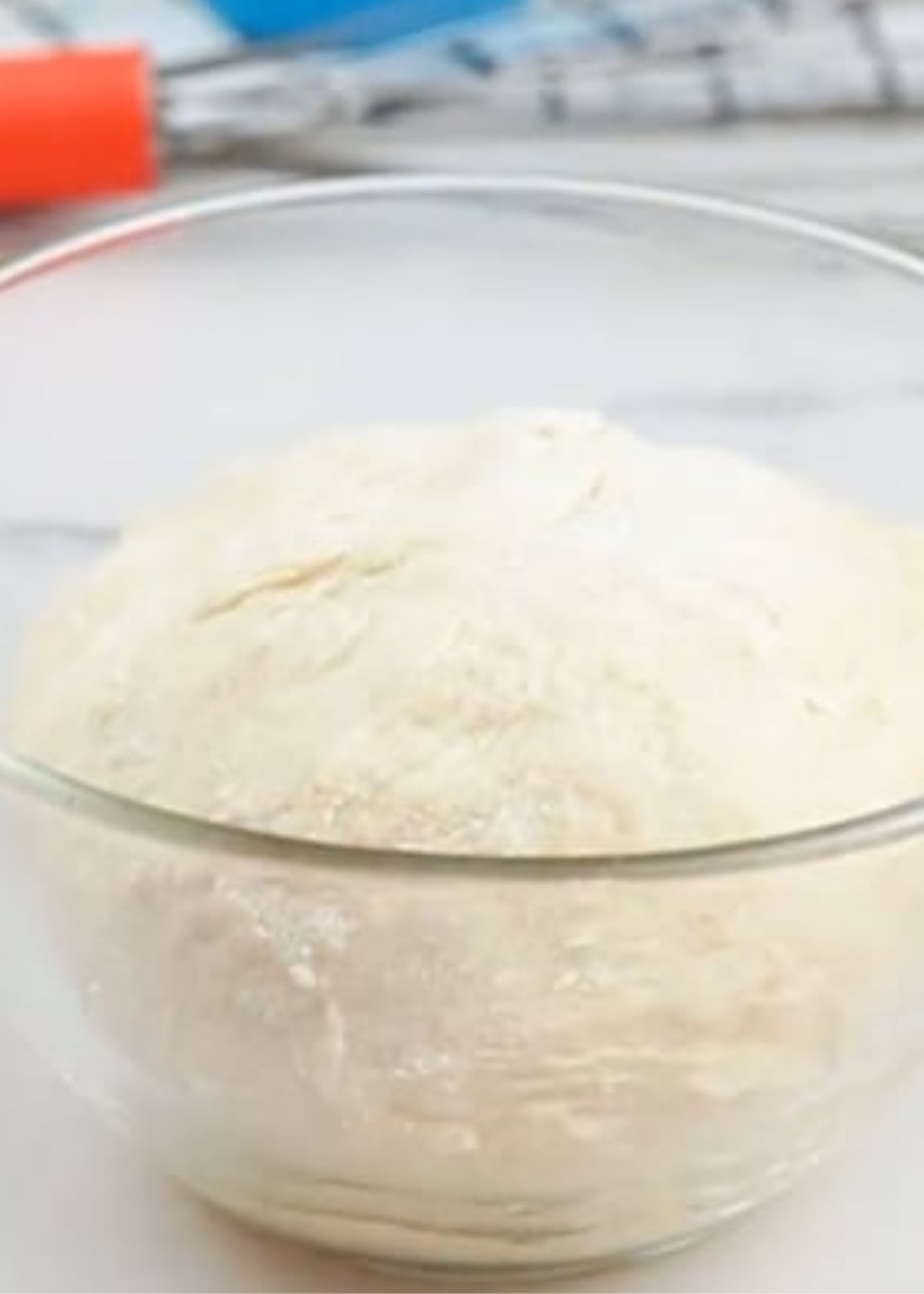 I love homemade rolls and bread. Honestly, I could eat it every day. But, I don't always love how long it takes to make or the amount of points the recipe has.
With this recipe, the rolls are done fast, have no rise time, take 20 minutes to bake, and there are only 2 points per roll.
If you are looking for a traditional roll recipe, you can make these amazing homemade dinner rolls.
With the two-ingredient dough recipe that is the base for this recipe, you can also make:
🥘Ingredients
Other optional ingredients
You will find complete measurements needed in the dough recipe link.
🔪Instructions
You will find the complete instructions in the recipe card below.
🍽Equipment
baking sheet
large mixing bowl
🧾Substitutions
All-purpose flour – you can use all-purpose, however, it will no longer only use two ingredients. To make your own self-rising, combine 1 cup of all-purpose flour, 2 tsp of baking powder and 1/4 tsp of salt.
Yogurt – it's really important that you stick with Greek. You won't get the same results.
📖Variations
While I have never made it myself, I have had readers and other people in WW groups mention that they have used gluten free flour, like the Bob Mills kind, in this recipe.
You want to use one of the flours that is a one to one ratio. I want to try making them with almond flour or coconut flour soon. I will come back and let you know when I have figured it out.
You can also add:
Cheese – Sometimes we put the cheese inside and roll the dough around it. Sometimes we only add a bit of cheese on top.
Bacon– We love bacon. Sometimes we add chopped up pieces of bacon into the dough. Sometimes, we made bacon and cheese sandwiches using the rolls.
Herbs– If you like seasoned rolls you can add any type of seasoning you like. I love adding garlic to mine especially when we are making an Italian style dinner.
Cinnamon Butter– It is not Weight Watchers friendly because it butter and honey but it is GOOD.
🥫Storage
You can freeze these either with or without baking them. If you are freezing the rolls, make sure they are wrapped well to prevent freezer burn.
🔎Top Tips
If you want to make these ahead of time, you can make the dough and wrap it tightly in plastic wrap. Then, it can be stored in the refrigerator for up to 3 days.
Whenever you have made the dough a head, no matter if it was in the refrigerator or the freezer, you want to let it slowly come back to room temperature before working with it.
❔FAQ
What Makes No Yeast Dough Rise for Weight Watchers Bread
The rolls will rise just like roll that have yeast in them. This recipe uses self rising flour, or homemade self rising flour. It is the baking powder in the recipe that gives the dough its rise.
Can I Use Regular Fat Yogurt
So this recipe is originally designed as a Weight Watchers recipe and it used non fat Greek yogurt. If you do not have fat free Greek yogurt, you can use low fat or full fat Greek Yogurt. The dough will still work fine. You do not want to use traditional yogurt since this is a thinner yogurt and it will not work the same.
What If I Don't Have Self-rising Flour?
Use 1 cup of all-purpose flour with 1 1/2 teaspoons of baking powder. Some people will also add 1/4 teaspoon of salt as well.
What If My Roll Dough Is Too Sticky
You can add about a tablespoon of flour at a time until the dough is smooth and workable.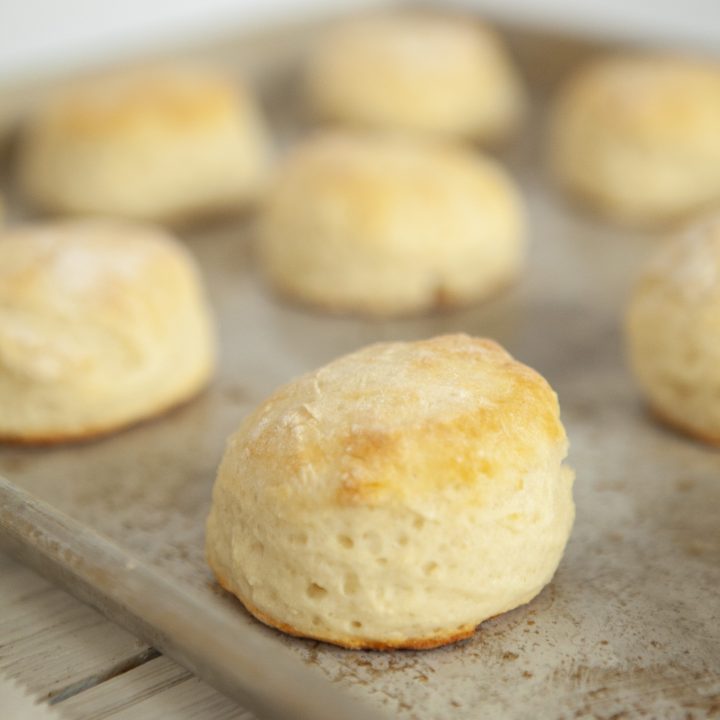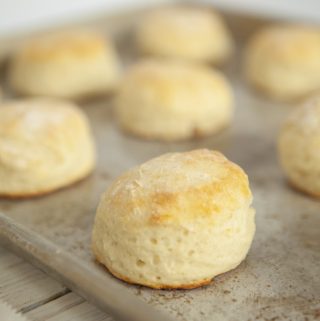 2 Ingredient Dough Rolls
Try this 2 Ingredient Dough Rolls Recipe today! If you want the best dough recipe that is fast and easy, this no yeast roll recipe is perfect. Have fresh baked rolls in no time.
Equipment
parchment paper or silicone mat
Ingredients
2 Ingredient Dough
1

cup

self rising flour

scooped with a spoon and leveled with a knife

1

cup

fat free plain Greek Yogurt
Optional ingredients
½

tsp

garlic powder

optional

egg wash

optional

butter

optional
Directions
Preheat the oven to 350 degrees.

Place the dry ingredients into a large bowl.

Add the yogurt into a bowl.

Then, combine all the ingredients until fully incorporated.

First, press the dough out until it forms to 1/2 inch thick. Then, use non-stick cooking spray to grease a biscuit cutter and separate the dough into 9 biscuit portions.

Second, put the biscuit dough onto a sheet pan greased with cooking spray, then place it into the oven to bake for 19-22 minutes or until they become a light brown.

First you need to divide the dough into 8 pieces that are close to the same size.

Then take one of the pieces of dough, roll it with your hands until it turns into a ball. Then add it to the baking sheet. Repeat this process until you have 8 balls.

Make sure to place them 2 inches apart on the cookie sheet.

Place the baking sheet into the oven and bake for 20 – 25 minutes or until they are done.
Notes
Weight Watchers Points:
1 point on Blue and Purple
2 Points on Green
Points do not include add ins like egg wash or butter
Nutrition
Serving:
1
roll
Calories:
63
kcal
Carbohydrates:
11
g
Protein:
4
g
Fat:
1
g
Saturated Fat:
1
g
Trans Fat:
1
g
Cholesterol:
1
mg
Sodium:
8
mg
Potassium:
45
mg
Fiber:
1
g
Sugar:
1
g
Vitamin A:
1
IU
Calcium:
27
mg
Iron:
1
mg
How Many Weight Watchers Points
This recipe makes 9 rolls. When you divide the dough into 9 rolls, the point count is 1 points per roll, on Blue and Purple ad 2 points per roll on Green.
Have you joined our Weight Watchers Facebook Group? Free recipes and support. Perfect for everyone!
Want to Weight Watchers for almost free? Get a Year's Membership for the Price of a Month – Learn More About Healthi – Use Code Coach_DebiMurray to save
Need more ideas and help to stay on track with Weight Watchers?
Save Money on Weight Watchers- Get a Year for the Price of a Month – Everything You Need to Know About iTrackBites – Use Code Coach_DebiMurray to save
Instagram is one of my favorite places to be. Join us as we share our Perfectly Imperfect Life with recipes, crafts, parenting, and fun! Be sure to check out our stories for real-time fun!