Looking for a simple and easy vase for Halloween? This DIY Googly Eye Vase for Halloween couldn't be easier to make. Make this vase as part of your Halloween crafting or Halloween decorations.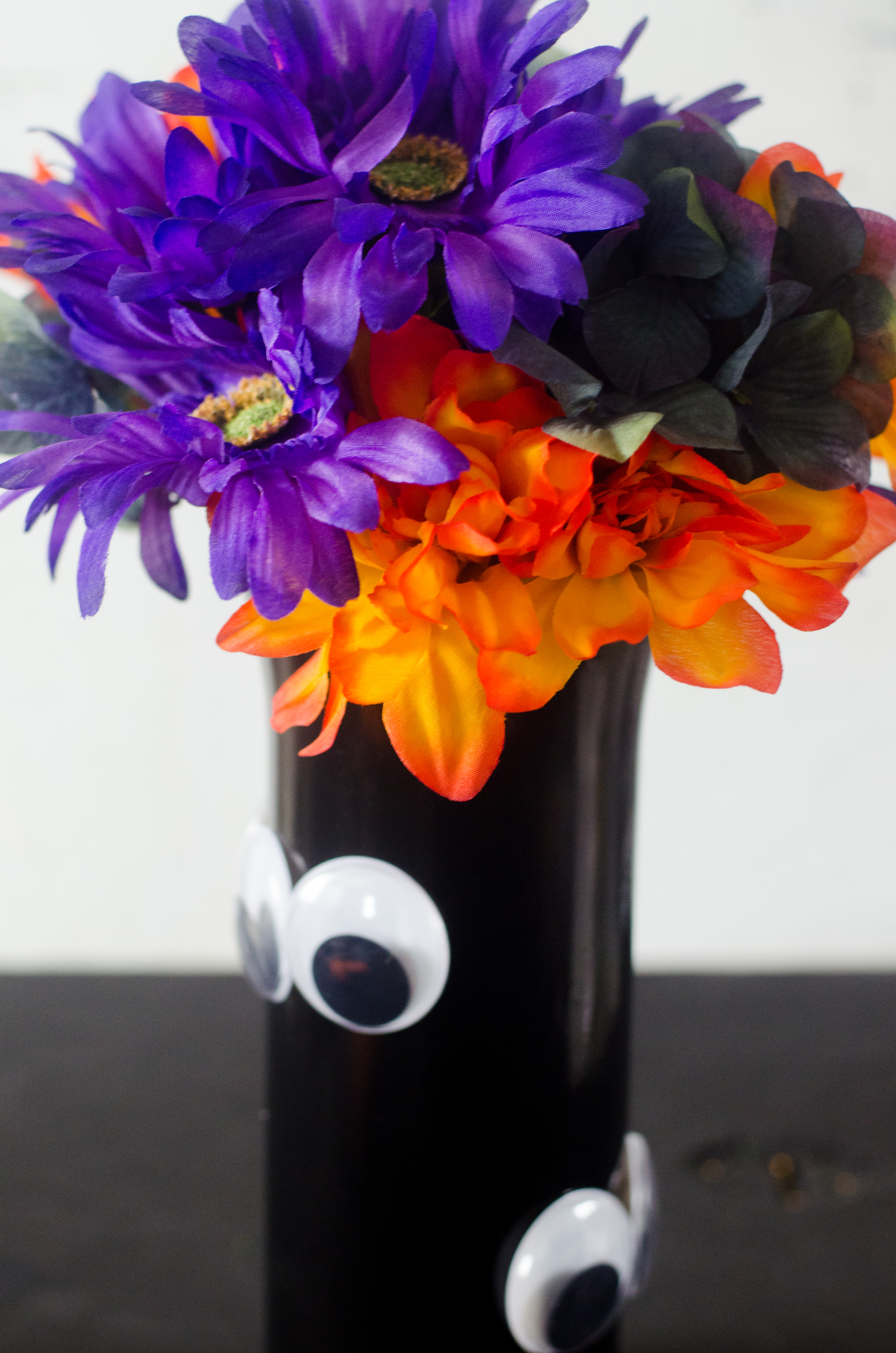 DIY Googly Eye Vase for Halloween
We are always crafting something. When I can make something that doesn't cost a fortune and serves a purpose, I am even more happy to be crafting. That is one of the reasons I love this Googly Eye Vase. It is the perfect dollar store Halloween craft. The supplies are inexpensive and it comes out looking so cute, you will want to use it as part of your DIY Halloween decor every year. You will not believe how easy this Halloween vase is to make. It is a great craft for adults or kids to do for Halloween.
Whether you pick up your supplies at the craft store, the dollar store or online, you will love that this Halloween craft will not cost a fortune to make. I was able to pick up all of the supplies from my local dollar store, including the paint and the hot glue sticks. If your dollar store doesn't have everything you need, you can easily supplement what you are missing from Walmart or your local craft store. You can add in any color flowers. I love how the bright colors in these flowers pop against the black vase, but the black roses with the red tips look amazing too. Add a bit more of a creepy feel.
Can I Make This a Glow in the Dark Vase?
If you want to make this a glow in the dark vase, you can use glow in the dark paint. There are some paints that can be used over colored paint. This lets you paint the vase whatever color you like. There are other glow in the dark paints that are a green colored. If you do not want the vase to be green, be careful which paint you use.
Related: Want another last minute Halloween craft that is perfect on budget. I love this Jack-o-lantern cup or make these other Scary Halloween decorations or these cute dollar store ghost candles.
What Kind of Flowers Should I Add to Decorate?
The great thing about this Halloween vase is that you can use whatever kind of flowers you like. I love how these bright flowers stand out against the black of the vase but there are a lot of Halloween themed flowers, that are orange, black or red, that will look gorgeous in this vase.
Join Our Easy Budget Crafts Group to get even more great ideas and connect with others who love to craft.
Supplies Needed
1 glass vase (dollar tree)
3 sets of large googly eyes
1 bottle of black acrylic paint
1 paint brush
Fall flowers
1 hot glue stick
hot glue gun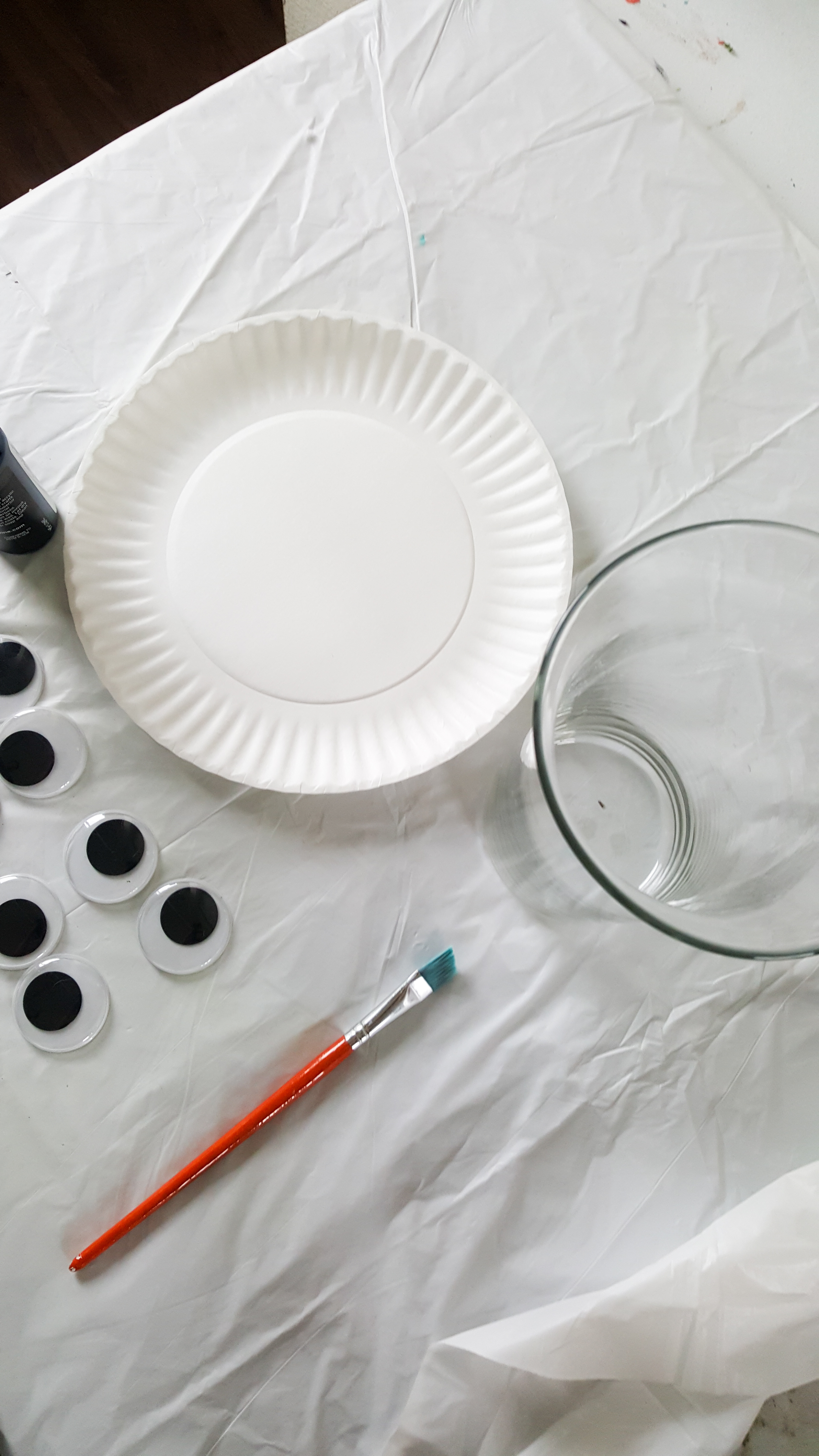 How to Make a Googly Eye Vase for Halloween
Be sure to cover your work area with newspaper or a drop cloth.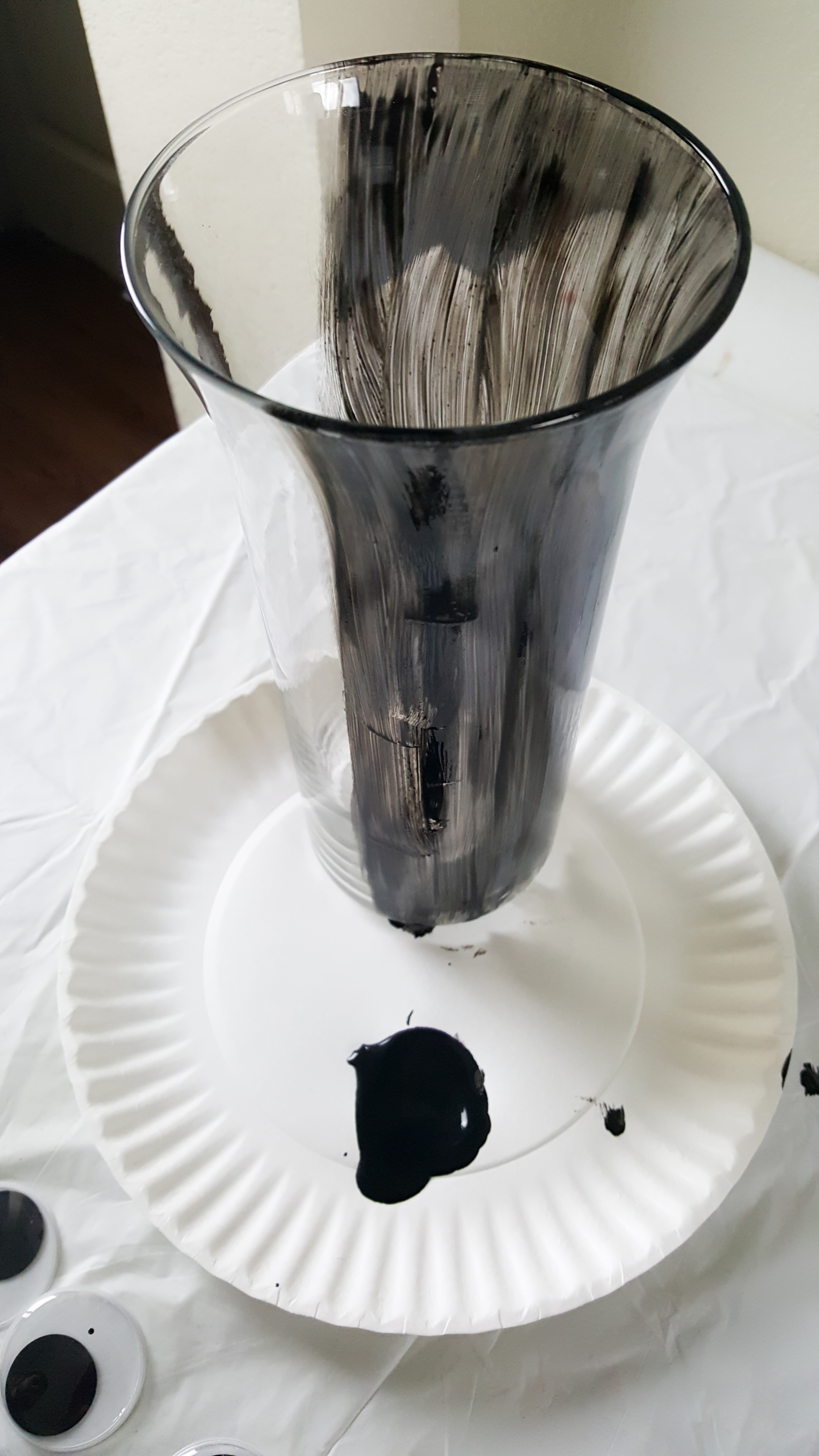 Paint vase with black paint. You will need to do this in two or three coats. Let the vase dry between coats.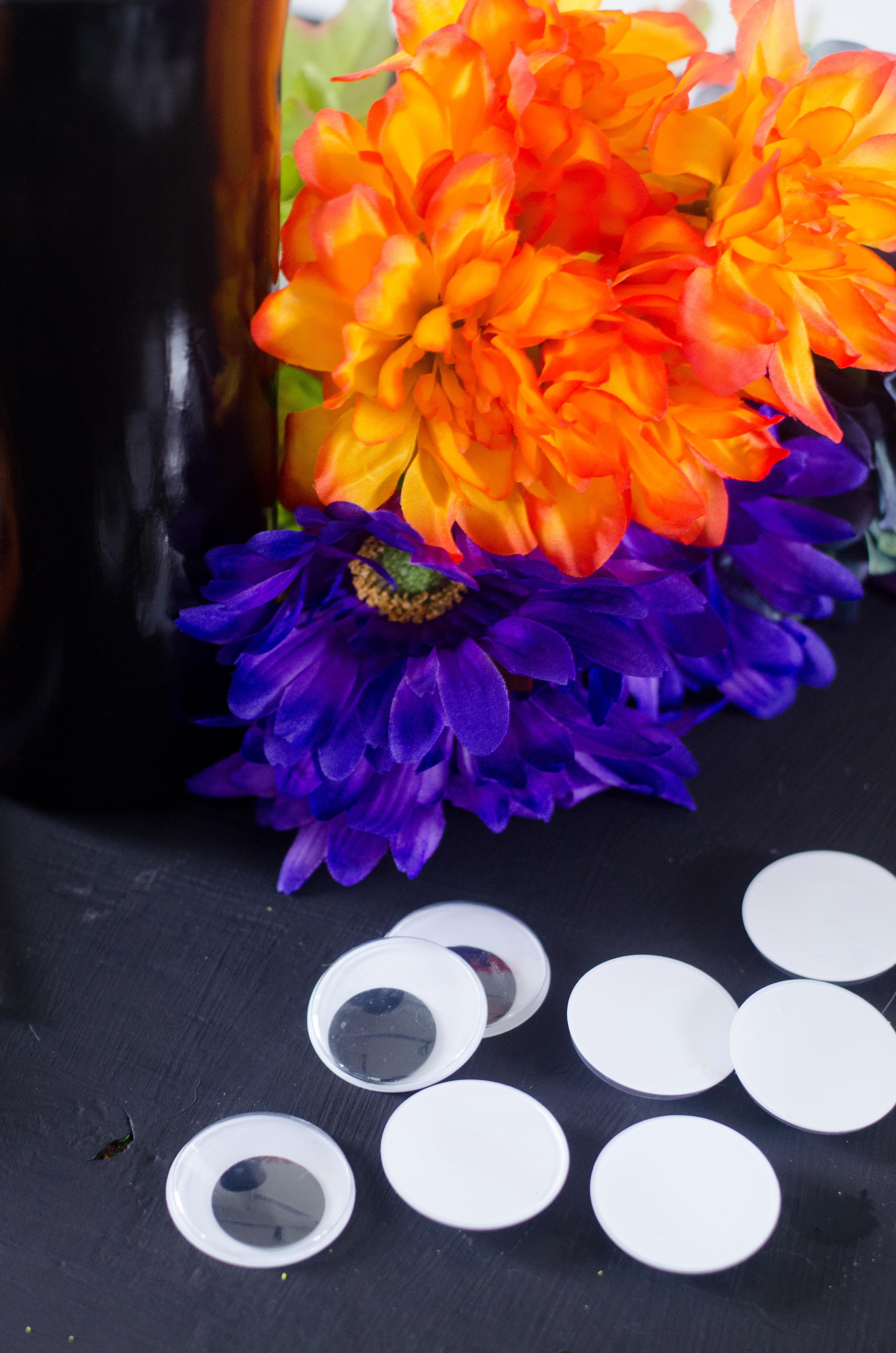 Once the vase is dry hot glue the eyes to the vase in sets.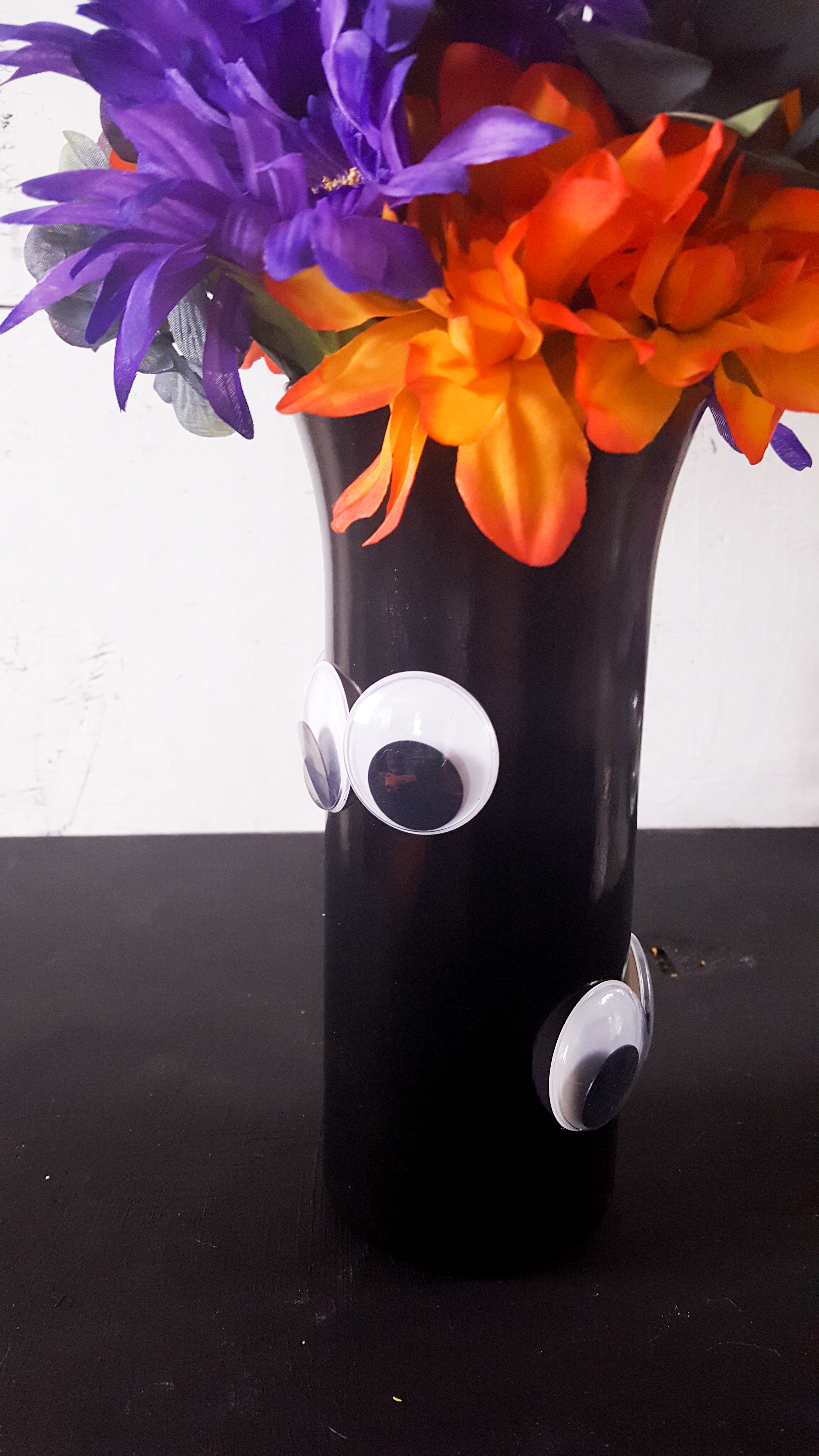 Place flowers in vase and use it for a decor piece at Halloween.
More Halloween Craft Ideas