Do you love Hocus Pocus and the Sanderson sisters? Do you love popcorn? Well, now you can have the best of both worlds with these free Hocus Pocus printable popcorn boxes! Just print them out, cut them out, and assemble them following the instructions. Then fill them with your favorite popcorn flavor and enjoy!
These popcorn boxes are the perfect way to enjoy a classic Halloween movie while snacking on some delicious popcorn. They're also great for parties or any other time you want to show your love for Hocus Pocus withces . So what are you waiting for? Print out your own Hocus Pocus printable popcorn boxes today!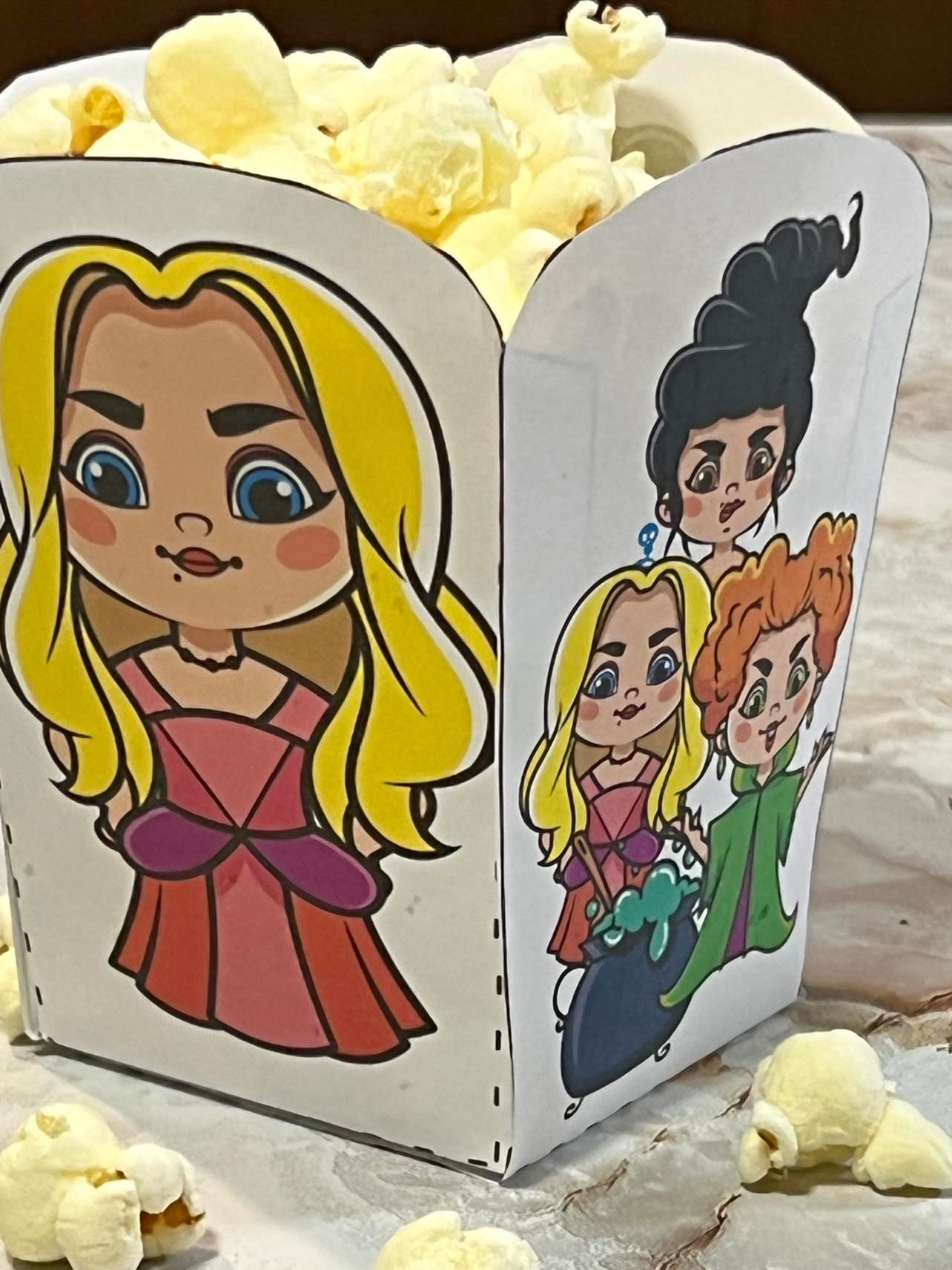 Free Hocus Pocus Printable Popcorn Boxes
Want free printables of Hocus Pocus as a fun way to show your fandom? These free printable popcorn boxes are the perfect way to show your love for the classic Halloween movie. They're easy to make and can be used to hold candy, popcorn, or other treats.
Whether you're passing them out to trick-or-treaters, as part of your Hocus Pocus Movie Night Party Printable or using them as part of a Halloween party decoration, these boxes are sure to please any Hocus Pocus fan. And best of all, they're completely free!
Hocus Pocus Movie Night Popcorn
It is no surprise that we love Hocus Pocus. I mean we have everything from Hocus Pocus and the list is only growing. With Hocus Pocus 2 finally out on Disney+, we had to have a Bunch of Hocus Pocus movie night. I wanted something special for everyone so decided to make this hocus Pocus printable popcorn bucket. They don't have to be just for popcorn either. Fill them with whatever snacks you like. They are small enough for little hands but perfect for parties.
Tips for Hocus Pocus Printable Popcorn Box
It truly couldn't be easier to make this popcorn bag printable. Once you have downloaded the file, which is 2 pages, you will print it out. Once printed, take one of each page, cut along the solid lines. Then fold along the dotted lines. You can either glue them together or use tape. If you want to use glue, a simple glue stick will work on the printable popcorn box.
For the Hocus Pocus Printable Popcorn Box, make sure you do not print it double sided. You need to print 2 pages.
Make sure you are using heavy paper. You can print this popcorn box printable using traditional printer paper but they do not hold up well. You want a thick card stock paper for the best results.
Kids can easily help make this Hocus Pocus Printable. It is a fun way to work on scissor skill.
What Else Can I Use The Hocus Pocus Printable Popcorn Box for?
You can also use these printable boxes for Halloween decor around the house. You can get very heavy paper like 80# cardstock and use this printable popcorn box as a holder for all kinds of things. Use the Halloween printables to hold small pieces of Halloween candy. We love to use them as as a pencil or pen holder. Use it to hold small trinkets to give a spooky look to a table or centerpiece. Even as a printable Hocus Pocus gift box.
The options are endless for this Halloween popcorn box.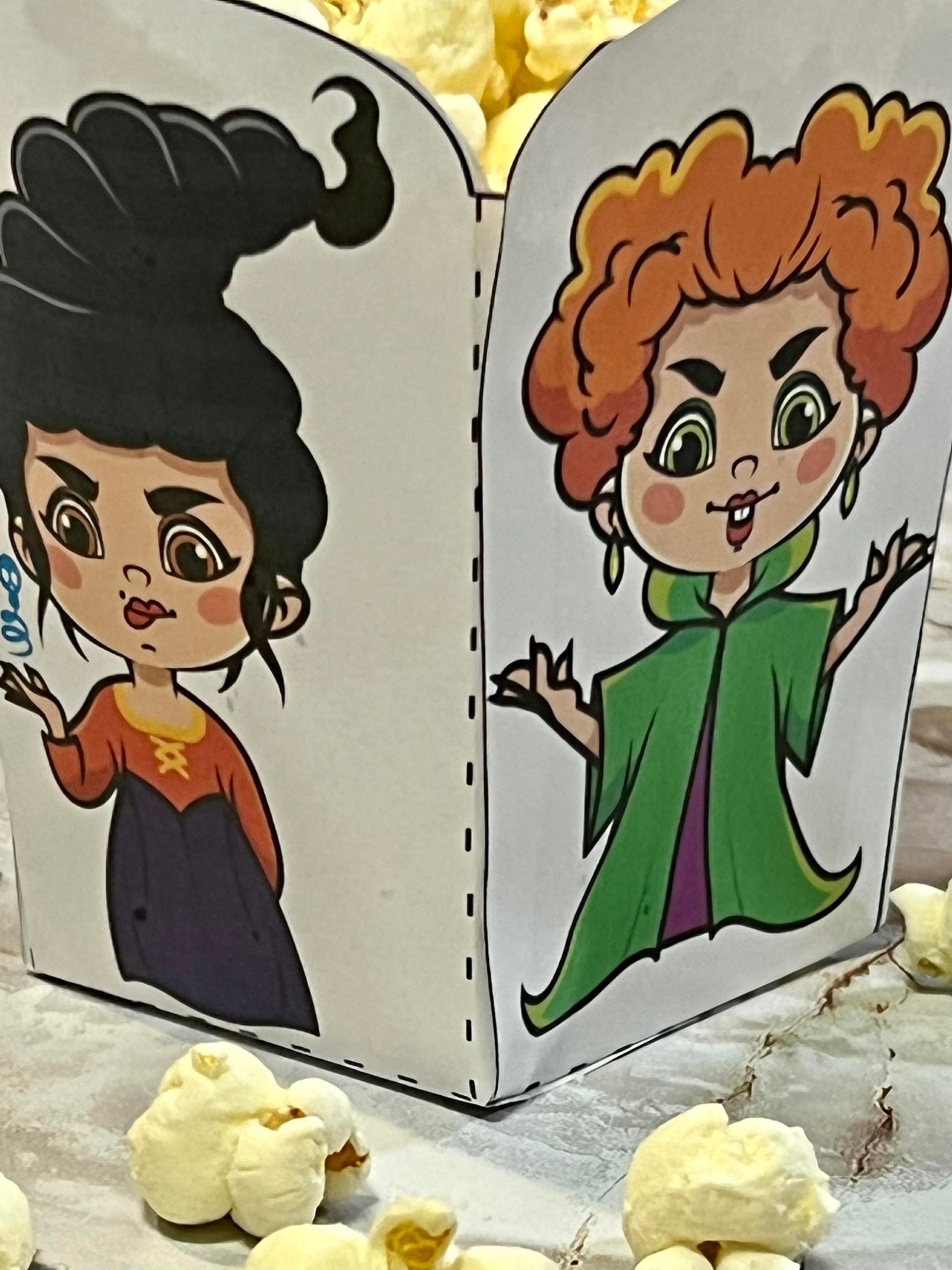 To Download the Hocus Pocus Halloween Popcorn Bag
Grab the file here. Remember to print both pages on white card stock and do not use the double sided feature.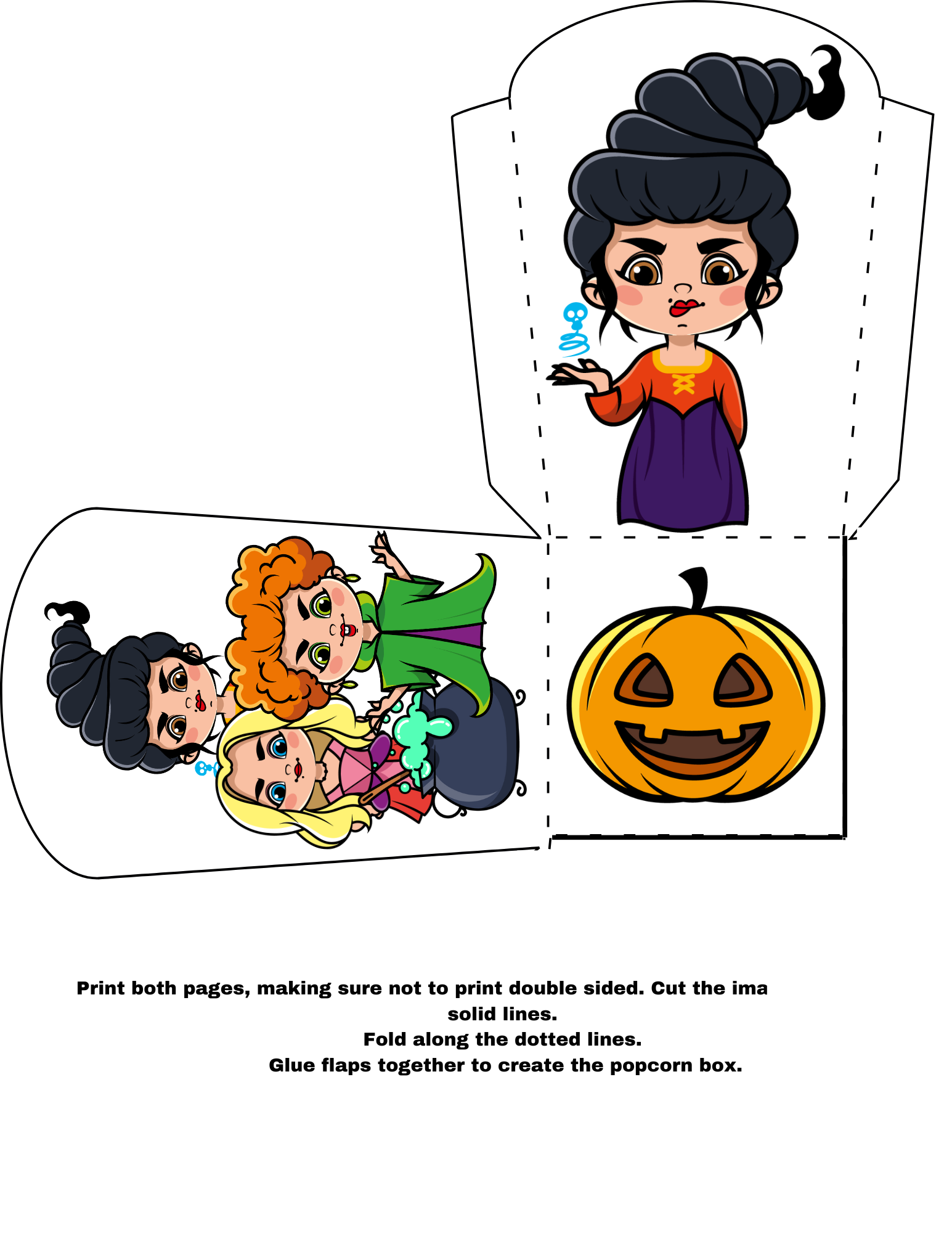 Cut the printable popcorn box along the black solid lines.
Fold the paper along the dotted lines.
Glue or tape the flaps of the bag together.
Then, you are ready to use with you Hocus Pocus Popcorn.
You are welcome to use this Free Hocus Pocus Printable Popcorn Box for personal use. You may not use it commercially or sell it.
Having a Hocus Pocus Party?
Need more ideas to go with you popcorn box printables? Get these other Hocus Pocus party ideas. Enjoy these other Hocus Pocus crafts and recipes and have a very Happy Halloween.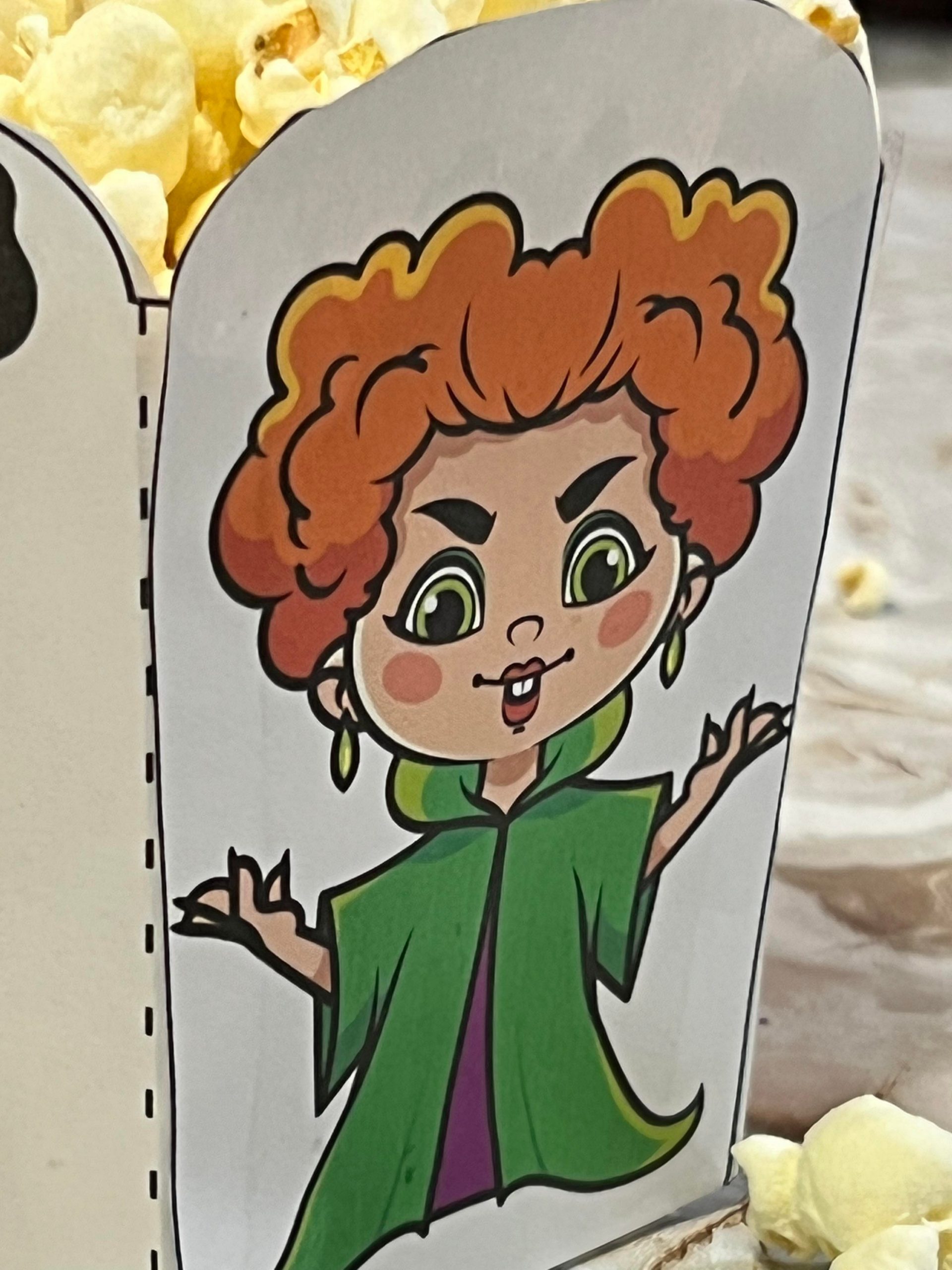 Hocus Pocus Movie Night Ideas